This fun homemade latte has the taste of your favorite campfire treat. Relax this afternoon with a mug of this S'mores Latte. The housework and dinner prep can wait.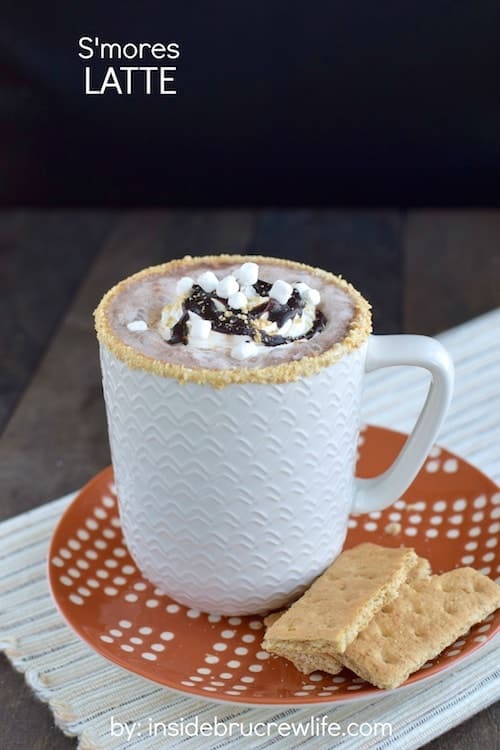 Spring is pretty much here. The birds are chirping early in the morning, the grass is bright green from all the rain, and flowers are starting to appear in flower beds. With this nice weather comes lots of bonfires out on our back deck. And of course, when you have a fire, you have to make s'mores.
But s'mores are so messy...not to mention dangerous with children running around with pointy sticks. Whoever invented the first s'mores was not thinking clearly. I mean fire, sticks, and children? Ok, it had to have been someone who didn't have kids. Anyway, even with all this gooey dangerous talk, we let our kids roast marshmallows. We know to keep our eyes open and to duck when those sticks start moving.
Want to know another fun way to enjoy a s'mores without the mess of a fire? This S'mores Latte can be in your hands in a matter of minutes.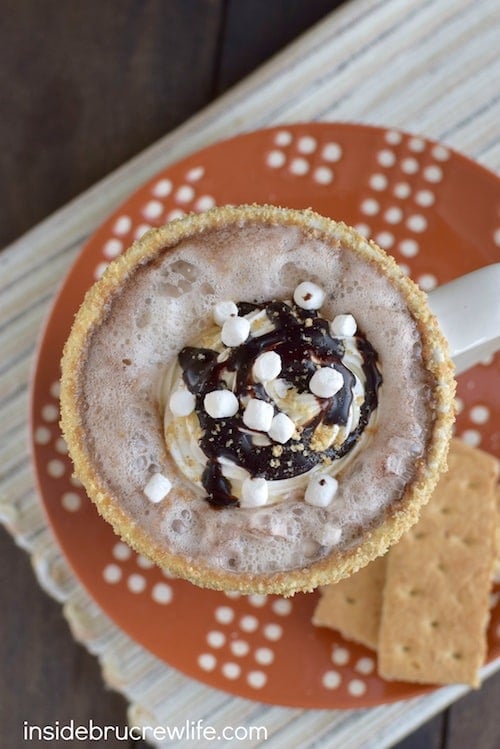 Go ahead and go whip up a mug of chocolate marshmallow coffee. You know you want one right now. I'll wait right here, then we can continue our chat. One of my favorite kitchen tools is a milk frother. It whips warm milk into frothy goodness. If you haven't gotten on yet, give your milk a quick whirl in the blender. That works ok too.
Ok, now that you have your mug of goodness, let's talk about the elephant in the room. Lately, I have been getting so many emails and complaints about the ads on my site. People say they are taking over. I have been working with my ad provider to keep these ads to a minimum, but you have to know that I work super hard on this little 'ole blog and buying sugar and butter isn't cheap. Ads are a necessary evil to keep the recipes coming.
A few years ago my husband changed jobs and went into full-time ministry. You can read more about our job change and get a delicious banana split cheesecake recipe too. We knew that our income was going to change substantially, so I started to transition blogging from a hobby into a job.
God has blessed our work ethics and efforts so much. I love creating these recipes for you, and I love that I can help support my family with the work I do here. But a big way I can earn an income is to run ads.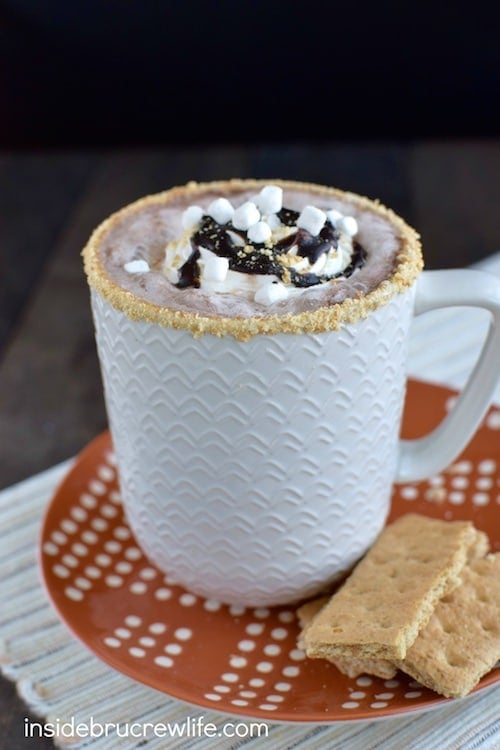 I know mobile ads are not the greatest or easiest to navigate, but most of the time there should be an "x" that lets you close the ad out. Now there are times that ads have issues. It is technology after all, and technology fails here and there. I appreciate the emails that I have received letting me know when something isn't working great. Most of the time I am working from my laptop, so I do not see problems right away.
Please keep the emails coming...just please try to be nice about it! Most of you have been so super sweet when letting me know your feelings on the ads. I do appreciate that so much. I also appreciate you learning to go with the flow as I change things around with how I do ads.
Just keep in mind that making these recipes to share with you is a job, and in order to get paid for my job I have to work with brands and ads. Like I said necessary evil, right?
Now how about that S'mores latte? Did you totally love how the chocolate and marshmallow worked so well with the hot coffee? And I sure hope you added the ring of graham cracker crumbs to your cup because it makes it so much fun and delicious!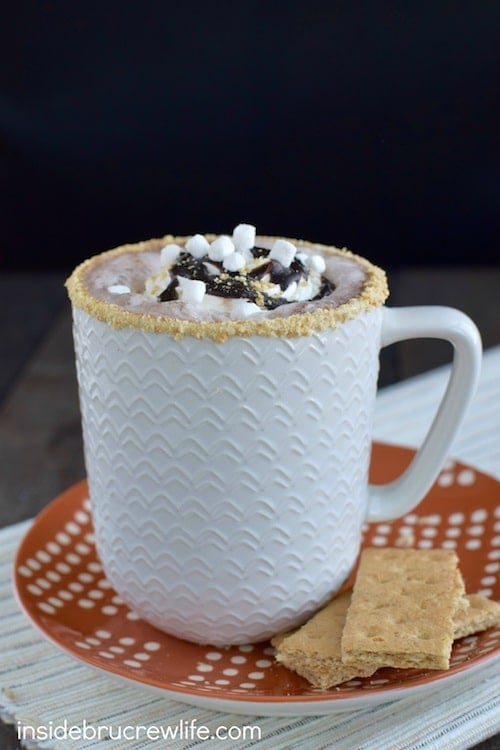 Do you love a recipe you tried from Inside BruCrew Life?
Please leave a 5-star ⭐️ rating and a review in the comments section below.
Try these fun homemade latte's the next time you need a caffeine jolt!
Salted Caramel Mocha Latte
Peanut Butter Chocolate Latte