This Banana Split Cheesecake has all your classic ice cream sundae flavors. Layers of creamy banana cheesecake, strawberry pie filling, and a fun chocolate topping creates a delicious dessert that everyone loves.
Jump to:
In college, I worked as a waitress at Friendly's. One of my favorite desserts to make and serve was the banana split sundae. There is just something about the combination of vanilla, chocolate, strawberry, and banana that is so delicious.
Over the years I have been inspired to add those flavors to different banana split desserts. Some of our favorites are banana split pie, banana split cake, and this dessert salad.
Since we love cheesecake, I decided to add the sundae flavors to a full sized cheesecake too. I changed the toppings on this banana pudding cheesecake and added a graham cracker crust. The end result was the most delicious banana split cheesecake!
Bonus: Love cheesecake? Check out our favorite 37 cheesecake recipes.
Why You Will Love This
This banana cheesecake with ice cream toppings is a gorgeous dessert to make for summer parties, picnics, or potlucks. It looks impressive, but is actually quite easy to make.
Combination of banana cheesecake and banana split toppings makes it taste so good.
Takes the flavors in a banana split sundae to a whole new level.
Easy and fun to customize with your favorite ice cream toppings.
Great dessert for special holidays or fun family gatherings.
Main Ingredients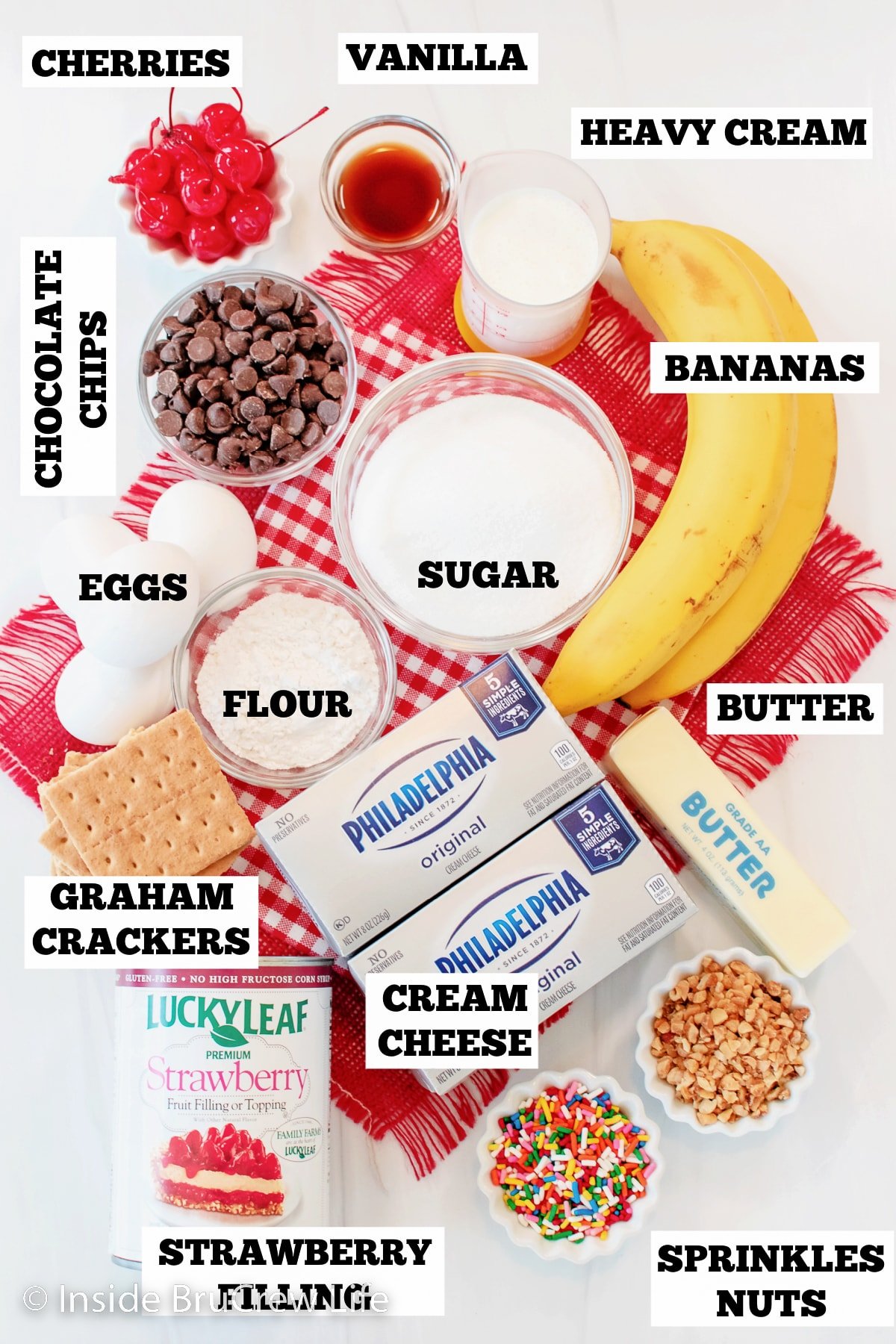 Grab your favorite sundae toppings and basic cheesecake ingredients and get ready to make this easy banana split cheesecake.
Graham Cracker Crust - A mixture of graham cracker crumbs, granulated sugar, and melted butter makes an easy cheesecake crust.
Cream Cheese - Full fat cream cheese gives the cheesecake the creamiest texture.
Granulated Sugar - Sweetens the cheesecake filling and also helps to smooth out the cream cheese.
Large Eggs - Adds a smooth and rich flavor to the filling.
Bananas - You will need a few ripe bananas for this recipe. Make sure they are yellow and not brown with spots. Set one aside to use for the topping after the cheesecake has baked.
Strawberry Pie Filling - Strawberry is a traditional flavor for a banana split, but you can also use cherry or triple berry.
Chocolate Chips - Adding hot heavy whipping cream to the chocolate will make a smooth and creamy chocolate ganache.
Banana Split Toppings - Whipped cream, rainbow sprinkles, mixed nuts, banana slices, and maraschino cherries with stems make a fun topping.
BruCrew Tip: Looking for a no bake version? Try this easy no bake banana split dessert.
How To Make a Banana Split Cheesecake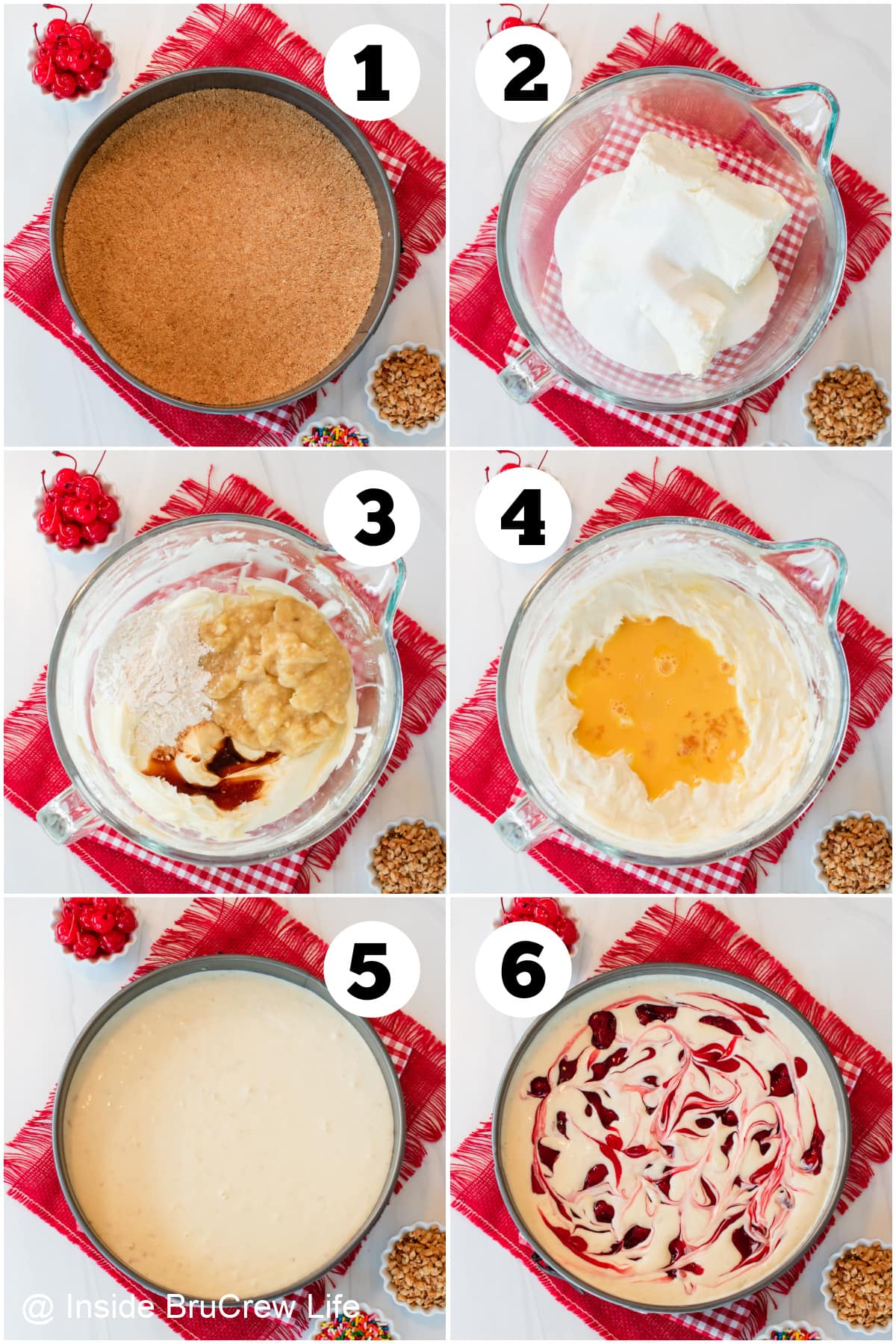 Make this banana split cheesecake recipe in 3 easy steps. Start by making the crust, adding the cheesecake filling, then decorating the top with your favorite toppings. It sounds like a lot of steps, but you got this!
Graham Cracker Crust
Crush the graham crackers into crumbs using a food processor. In a small bowl mix together the crumbs, sugar, and melted butter.
Dump the mixture into a 10-inch springform pan and pat them down evenly in the bottom of the pan.
Banana Cheesecake Filling
In a large bowl beat the softened cream cheese and sugar until creamy. Add the vanilla extract, flour, and mashed banana and beat the mixture again.
Whisk the eggs and gently mix into the batter just until combined. Do not over beat the batter.
Pour the cheesecake filling into the prepared pan. Drop spoonfuls of strawberry pie filling on top of the cheesecake and swirl gently.
Place cheesecake in oven and bake until the sides are set and the center is still wiggly like Jello.
Let the cheesecake cool for 1-2 hours on the counter. Place the pan in the refrigerator for at least 6 hours or overnight to cool completely.
Banana Split Toppings
Remove the sides of the springform pan and place the cheesecake on a serving platter or plate.
Place heavy cream and chocolate chips in a microwave safe bowl. Place in microwave and heat for 1 minute. Stir until melted and smooth.
Pour the chocolate ganache on the center of the chilled cheesecake. Use an angled spatula to spread it out, letting some of the chocolate drip over the sides.
Top with rainbow sprinkles and mixed nuts and let the chocolate set before decorating.
BruCrew Tip: Add whipped topping, maraschino cherries, and banana slices right before serving.
Storage Recommendations
In the Refrigerator - Store any leftovers in an airtight container in the refrigerator for up to 4 days.
In the Freezer - Wrap the entire cheesecake or single slices in plastic wrap, then place in a freezer safe container. Freeze for 1-2 months. Thaw overnight in the refrigerator before decorating and serving.
FYI: For best results, freeze the cheesecake without the chocolate and toppings.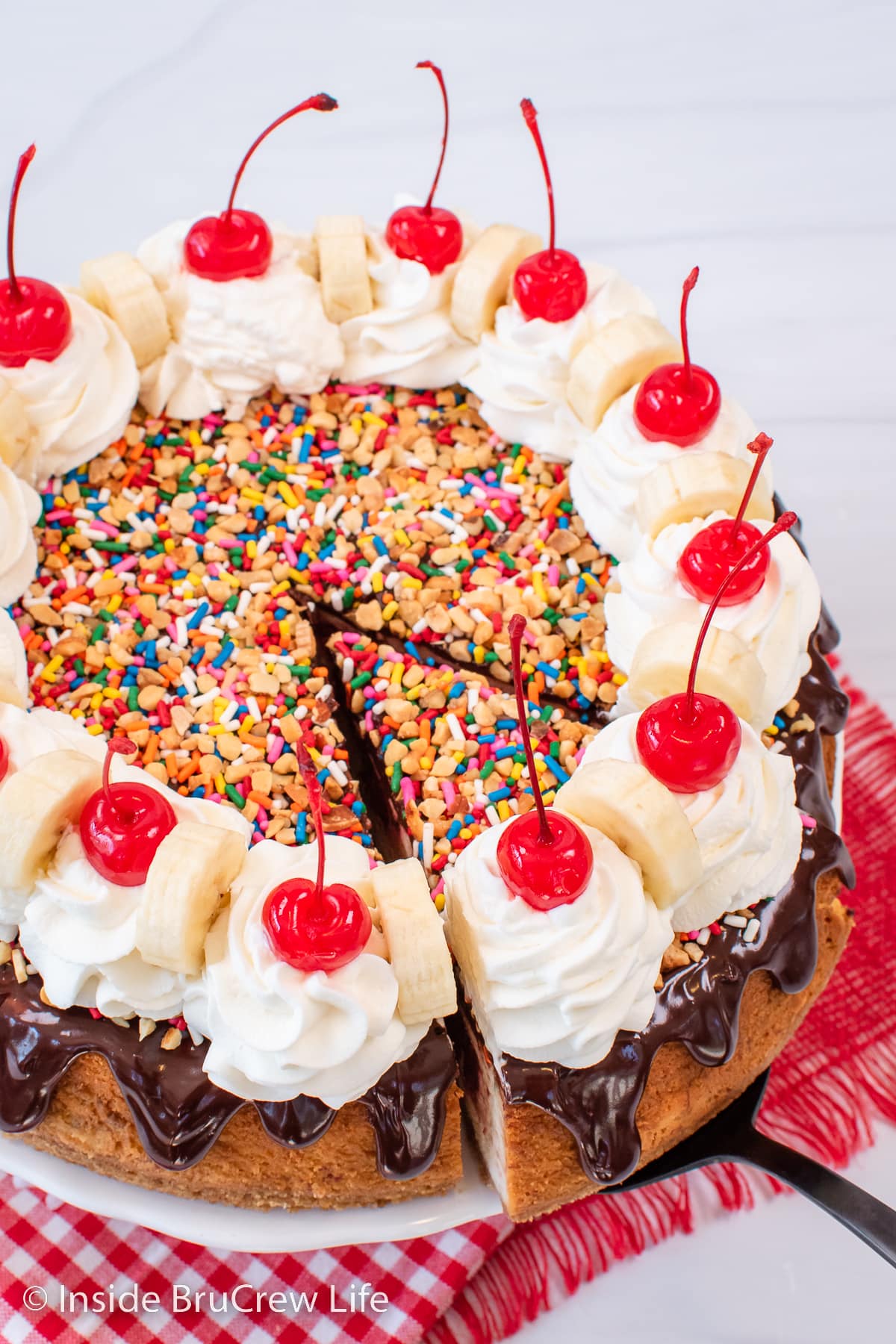 Tips and Tricks
Set the cream cheese out ahead of time, so it can soften. Room temperature cream cheese is easier to beat into a creamy consistency.
Preheat your oven and place a large sheet pan on the very bottom rack of the oven. Fill it halfway with water for a steam bath. This is so much easier than a water bath. Plus, you don't have to worry about water seeping in and ruining a perfectly good cheesecake.
Do NOT use overripe bananas in the cheesecake because they will cause the filling to bake a little bit brown.
Change up the fruit swirls with this cherry pie filling.
Line your springform pan with parchment paper, so that you can easily remove the entire cheesecake from the pan.
When you bake the cheesecake, place the pan on the oven rack directly ABOVE the steaming pan of hot water.
Quickly dip banana slices in lemon juice or pineapple juice right before serving the cheesecake, so they don't turn brown.
FAQs
How many servings does a full cheesecake make?
This banana cheesecake serves up to 14 people. It really depends on how small or large you cut your slices.
Can I freeze a cheesecake?
Yes you can. Before adding the toppings, simply wrap the cheesecake tightly in plastic wrap and freeze for 1-2 months. Thaw in the refrigerator overnight.
Does this taste like a banana split?
It really does have all the same flavor and taste of a banana split! It's like having an old-fashioned banana split sundae in cheesecake form!
Do you have to use a water bath when making cheesecake?
No, you can bake a cheesecake without the traditional water bath. We like to bake our cheesecakes with a pan of water underneath the cheesecake. This creates a steamy atmosphere while the cheesecake bakes.

The steam keeps the cheesecake from drying out as it bakes. Plus, using a steam bath keeps the water from leaking into the cheesecake pan.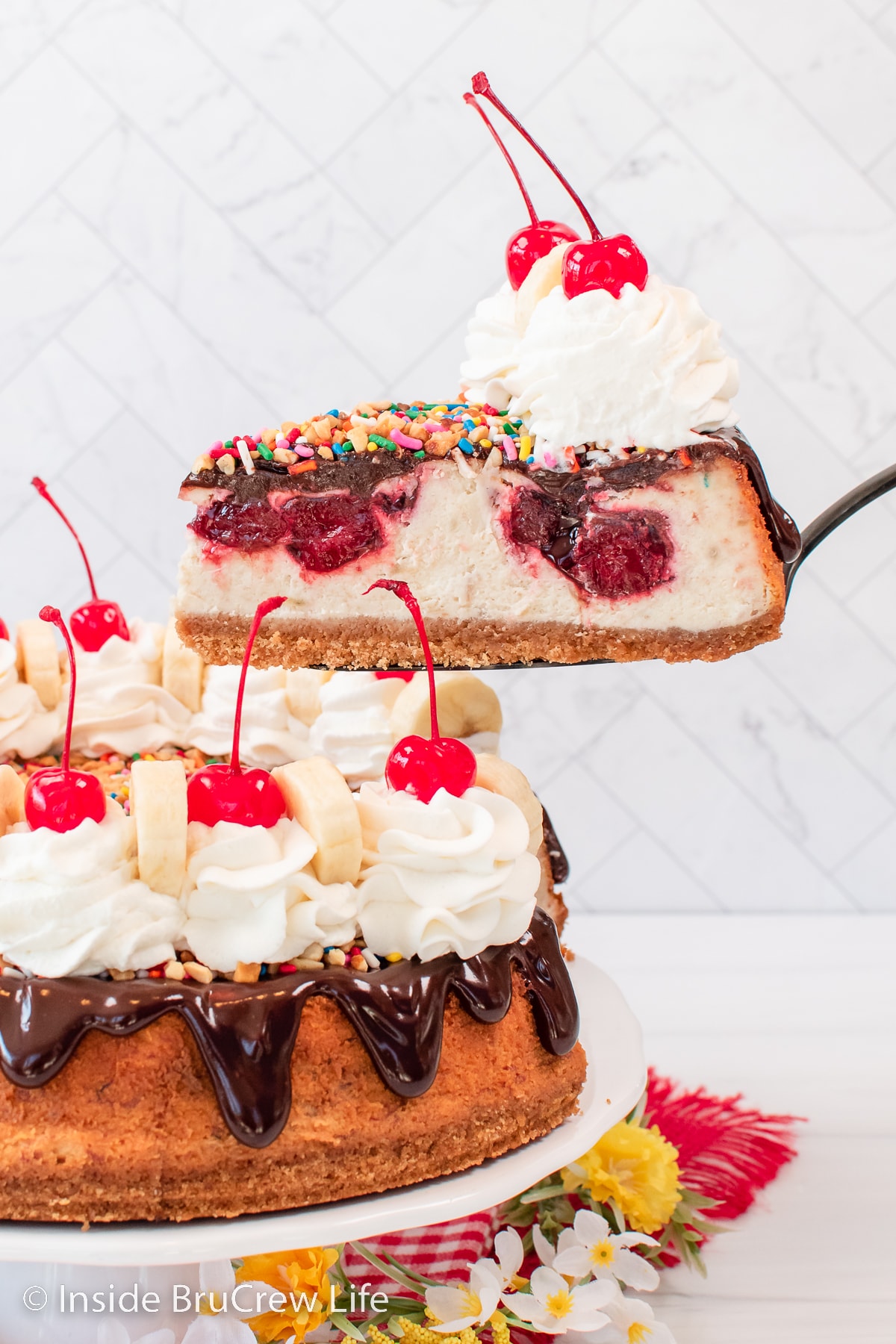 More Cheesecake with Fruit
Do you love a recipe you tried from Inside BruCrew Life?
Please leave a 5-star ⭐️ rating and a review in the comments section below.
*The post for Banana Split Cheesecake was first published January 2013. It was updated with new pictures and tips and republished February 2023.
**We participate in the Amazon Services LLC Program, an affiliate program designed to provide a means for us to earn fees by linking to Amazon.com .