Making gourmet coffee drinks at home is easy and is great for your wallet. This Peanut Butter Chocolate Latte tastes like peanut butter cups swirled in your coffee. It is amazing to wake up to in the morning.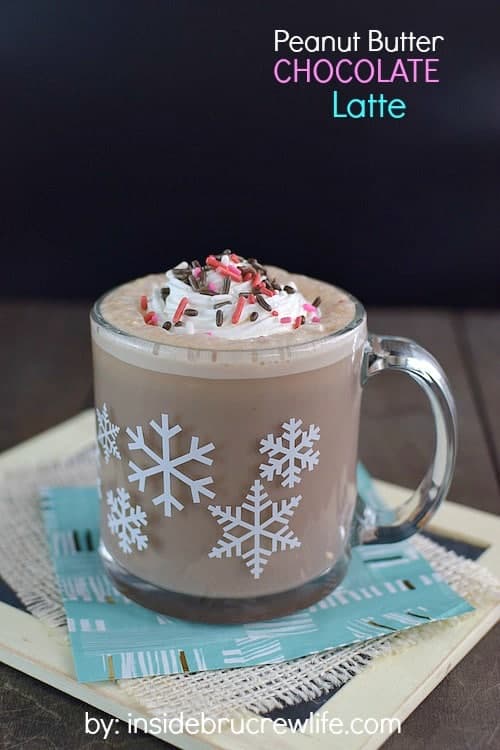 I started drinking coffee in college. It just seemed like the adult thing to do at the time. And by drink coffee, I really mean drink liquid sugar and creamer with a little bit of coffee added to it.
Over the years, I have slowly backed off the sugar and creamer amounts. I still cannot drink it black, but it is definitely not as sweet as what I used to make it. Maybe that means I am growing up...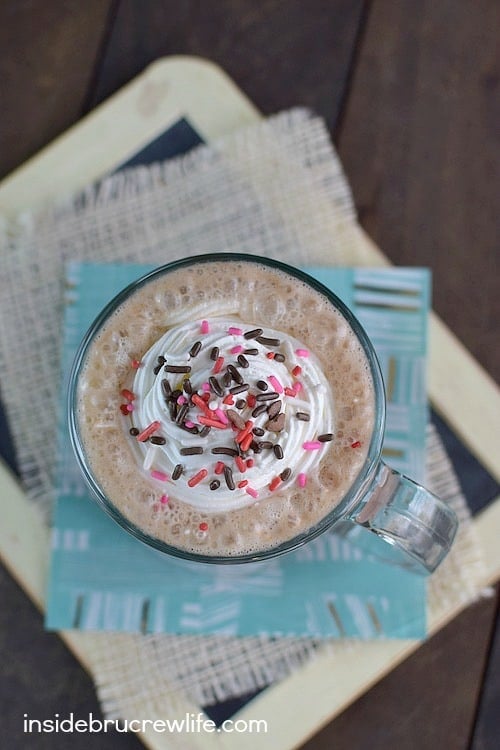 Going out for coffee is always fun to do with my hubby or with friends. And of course any time I can grab a random gourmet drink, I do. I have become quite spoiled by these delicious sweet caffeinated treats.
But my wallet doesn't like the cost of these specialty drinks, so I have been limiting myself to one here and there.
Then I realized that I can make them at home for so much less than the coffee shops...and they taste even better too. Coconut Nutella Latte, anyone?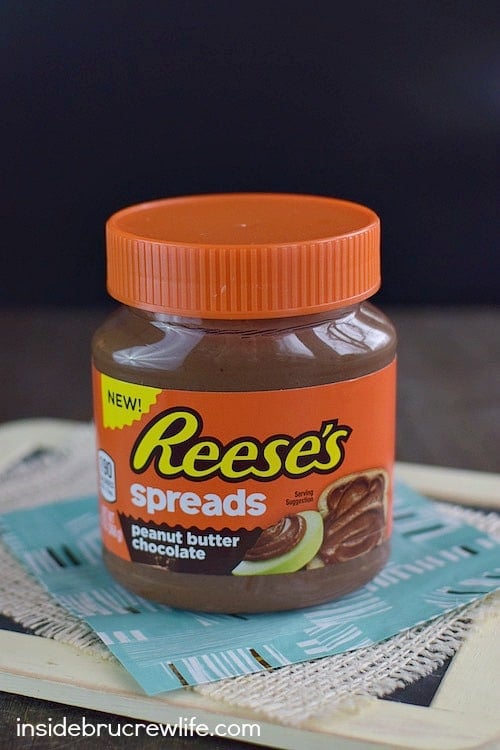 Ok, let's talk about this jar of Reese's spread!
Holy cow!!!! It should really come with a warning. The first jar I bought may have been completely devoured with a spoon! No, not all in one day, although that could totally happen. I mean it tastes like someone put peanut butter cups in a blender and beat it all up! I am in love with this stuff!
So, I got thinking that this would be an awesome addition to my homemade lattes. I warmed it up in a pan of milk until it was all melted and the milk was hot. Do not boil your milk or it will not froth properly!
When I first started making homemade lattes I used this Ninja blender. Pour the milk in and froth for 1-2 minutes. But just recently I bought this aerolatte milk frother. It is so cute and fun to use. Makes a homemade latte feel more like a coffee house drink when it is made with cute accessories, right?
Cool Whip, sprinkles, and a good devotional are a must with my peanut butter chocolate latte. You do what feels right with yours.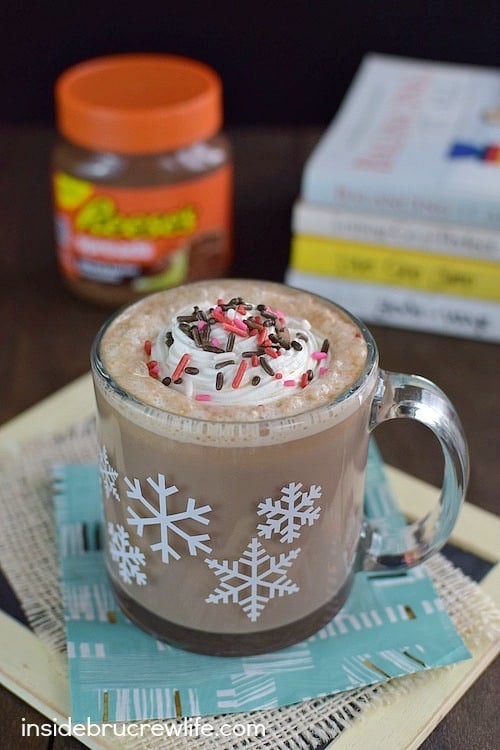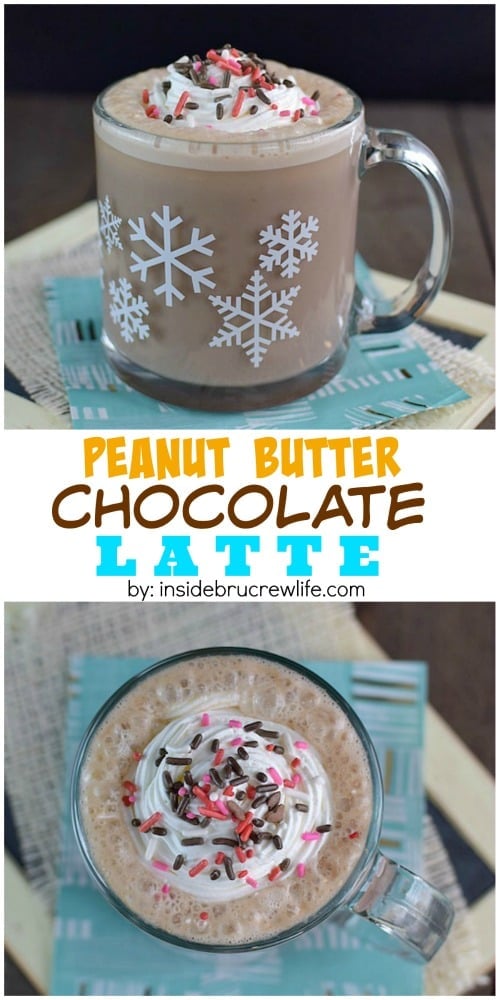 More fun ways to enjoy your morning coffee: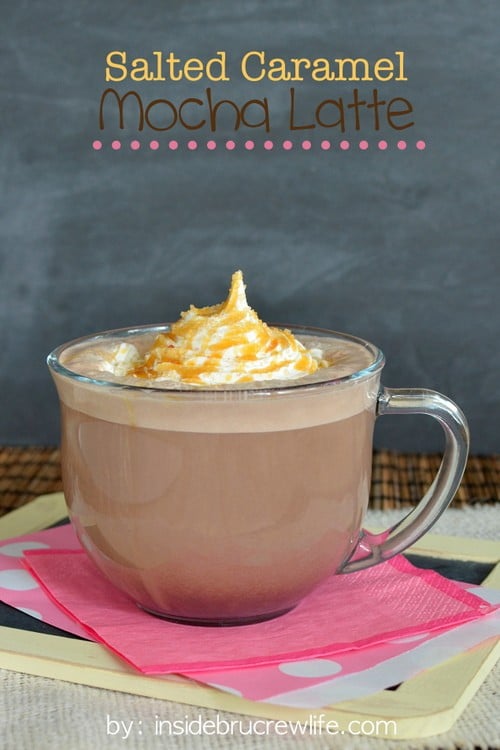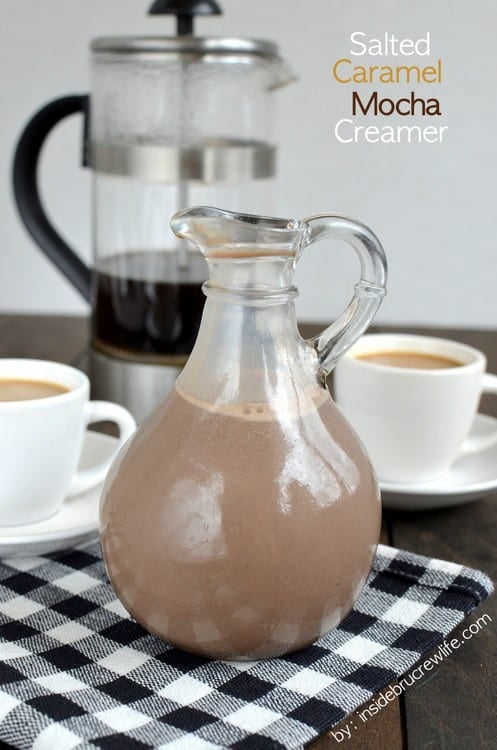 *This post contains affiliate links. I do receive a small percentage of sales made from these links. But I only share products that I know and love.