Eating cheesecake that takes after a candy bar is definitely something you want to try. Wait until you take a bite of these Take 5 Cheesecake Brownies. You will always want your brownies this way.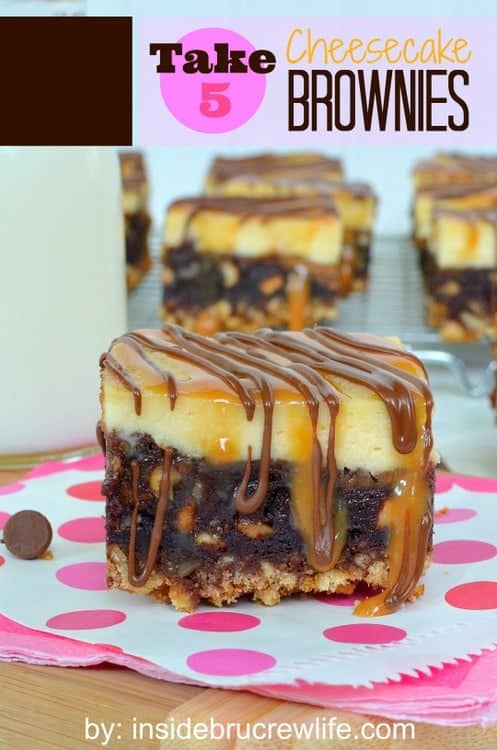 What can I say? I couldn't help but make another cheesecake recipe for you. Especially with it being National Cheesecake Day and all. This is definitely a day that had to be celebrated for sure. We just love making cheesecake over here a little too much.
Have you seen this Strawberrylicious Chocolate Cheesecake or this Mocha Oreo Cheesecake? Those were some of the very first cheesecake creations that we have come up with…and we haven't stopped since then.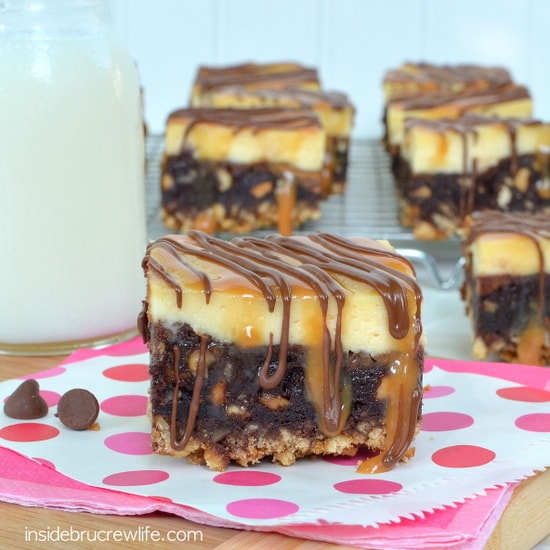 It is safe to say that cheesecake is one of the top things I love to bake the most. There are just so many different ways to enjoy the creamy goodness. Pie, cupcakes, brownies, cookies, no bake, parfaits…I could go on and on. Clearly I have thought about this a little too much and a little too long 🙂
Today's cheesecake was a combination of two other desserts that I made a few years ago. I combined these Caramel Pretzel Cheesecake Brownies with these Take 5 Bars…best idea ever!!!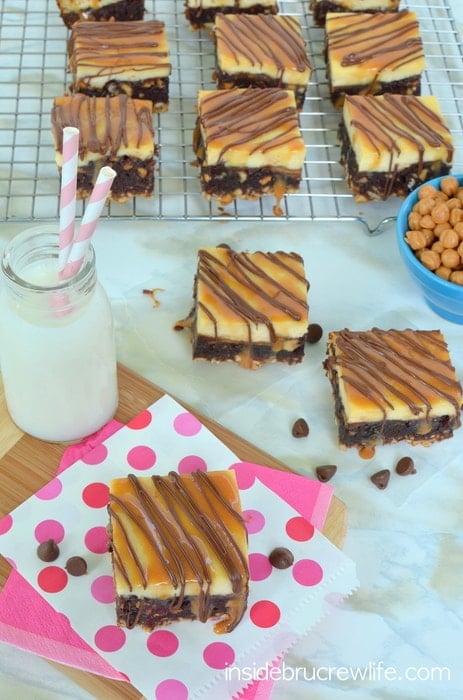 Take 5 candy bars are one of my favorites. I think mostly because of the salty and the sweet together. And this cheesecake offers you all of the same flavors.
I started with a crunchy pretzel layer. I chopped them coarsely because I wanted a good crunch for the brownies to sit on. Peanuts and melted peanut butter got added to the brownie layer. And then a caramel cheesecake layer went right on top of everything. It was pure torture waiting for this to bake and then chill. I was so excited to eat these brownies. Of course I had to jazz them up even further by adding a caramel and chocolate drizzle to the top. It just seemed like the right thing to do. Melty drizzly caramel makes me go weak in the knees.
Drop everything you are doing today!
You need to make these Take 5 Cheesecake Brownies right away. National Cheesecake Day only comes once a year…let's celebrate it in style this year.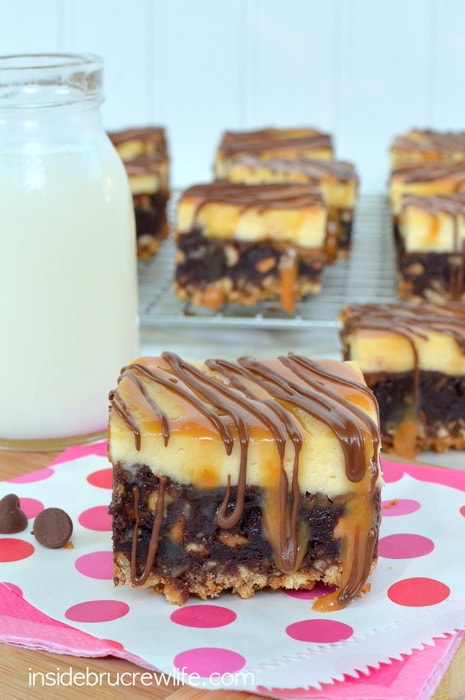 Stay up to date on the BruCrew baking:
FACEBOOK | PINTEREST | GOOGLE+ | TWITTER | INSTAGRAM | BLOGLOVIN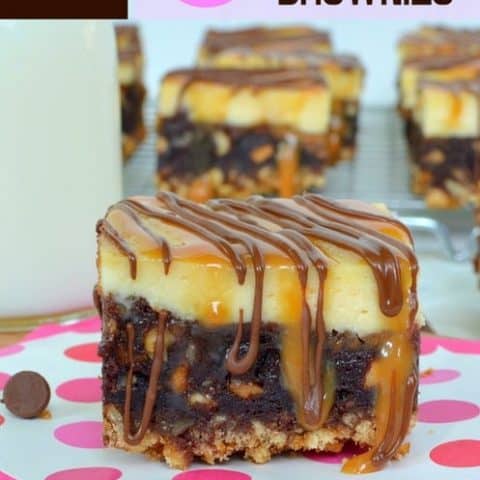 Take 5 Cheesecake Brownies
Yield:
24 cheesecake brownies
Total Time:
1 hour
20 minutes
Cheesecake brownies with a Take 5 candy bar twist.
Ingredients
For the Crust
2 cups coarsely chopped pretzels
1/2 cup unsalted butter, melted
1/4 cup sugar
For the Cheesecake Brownies
1 - 9x13 box brownie mix
1 cup chopped peanuts
1/2 cup peanut butter
2 - 8 ounce packages cream cheese
1/2 cup sugar
2 eggs
2 Tablespoons Greek yogurt
1 teaspoon vanilla extract
1/4 cup caramel ice cream topping
For the Topping
1/2 cup caramel baking bits
2 teaspoons whipping cream
1/4 cup chocolate chips
1/2 teaspoon shortening
Instructions
Preheat oven to 350 degrees. Spray a 9x13 pan with nonstick baking spray.
Combine the pretzels, sugar, and melted butter. Press into the bottom of the prepared pan. Bake for 8 minutes. Cool.
In a mixing bowl, make the brownie mix according to the directions on the back of the box. Stir in the chopped peanuts.
Gently spoon the brownie batter over the cooled pretzel crust.
Place the peanut butter in a microwave safe bowl and heat for 30 seconds. Stir until creamy. Drop by spoonfuls onto the brownie batter. Very gently swirl the peanut butter with a knife. Do not go all the way through to the crust. You want to only swirl the top.
In a mixing bowl, cream together the cream cheese, sugar, eggs, yogurt, vanilla, and caramel topping until creamy.
Gently spoon the cheesecake onto the brownie batter. Bake for 45-50 minutes. Let cool completely. Cut into 24 squares.
In a small saucepan heat the caramel bits and whipping cream until melted. Drizzle with a spoon over cheesecake squares.
Place the chocolate chips and shortening in a microwave safe bowl and heat for 30 seconds. Stir until creamy. Spoon into a plastic bag with one tip cut off. Drizzle over squares. Keep refrigerated.
Nutrition Information:
Yield:

24
Serving Size:

1
Amount Per Serving:
Calories:

253
Total Fat:

17g
Saturated Fat:

8g
Trans Fat:

0g
Unsaturated Fat:

8g
Cholesterol:

45mg
Sodium:

207mg
Carbohydrates:

21g
Fiber:

1g
Sugar:

15g
Protein:

5g
More of our favorite cheesecake recipes: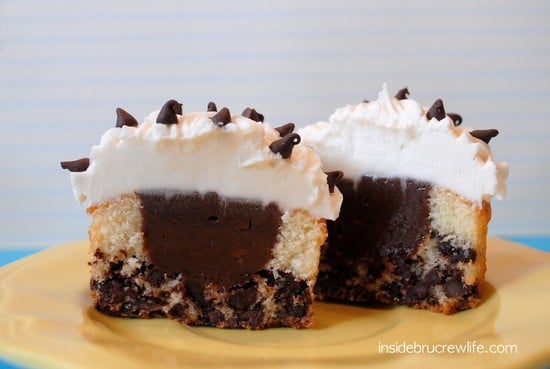 Chocolate Chip Nutella Cheesecake Cupcakes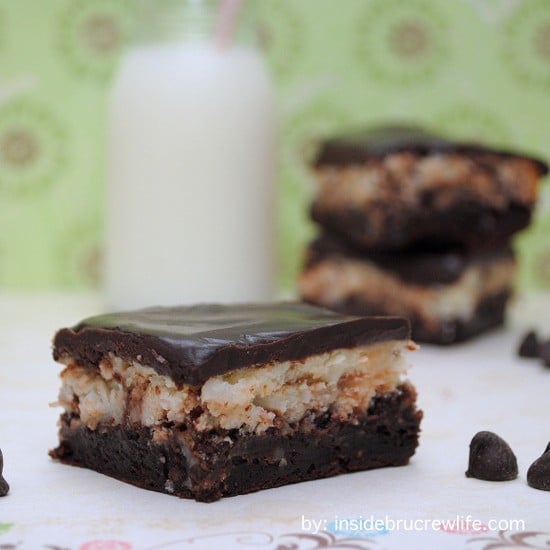 Coconut Cream Cheesecake Brownies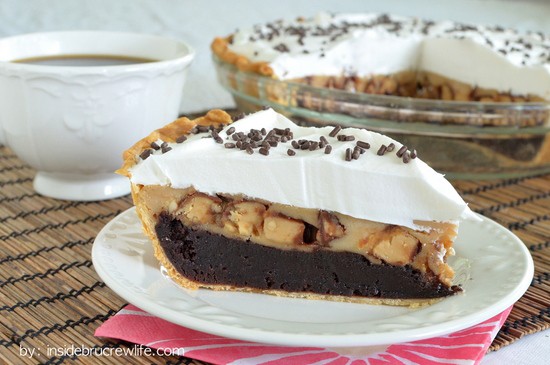 Peanut Butter Snickers Cheesecake Brownie Pie