The sweet layers in this Coconut Cream Cheesecake Brownies recipe will have you going back for more dessert in a hurry. Great treat for the chocolate and coconut lover in your life.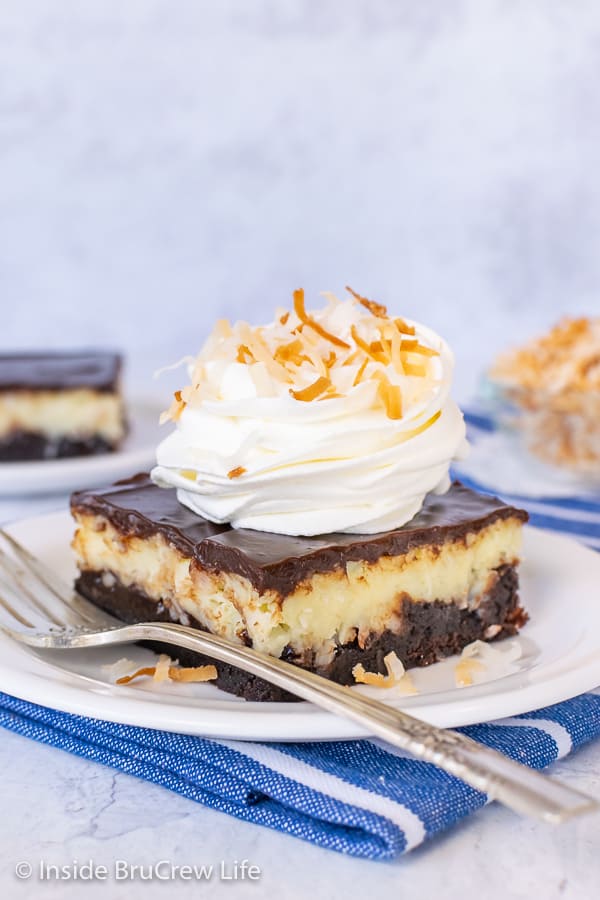 Brownies are something that I crave all the time. It doesn't matter how long I resist eating sugar, my craving for a gooey chocolate brownie never goes away. Don't try to tell me it will. I've gone weeks without eating sugar, and I still want all the sugar.
Working out and eating right has been a little hit or miss the past few months. So, I have changed up my eating and added working out back in my routine the past two weeks because summer is almost here.
Then I made a pan of these Homemade Chocolate Chip Brownies for the boys in our house, and I stumbled. I took one bite, and then another, and then another and before I knew it, two brownies had disappeared.
One or two brownies here or there is an ok thing. Now if I had eaten the whole pan, that would be a different story.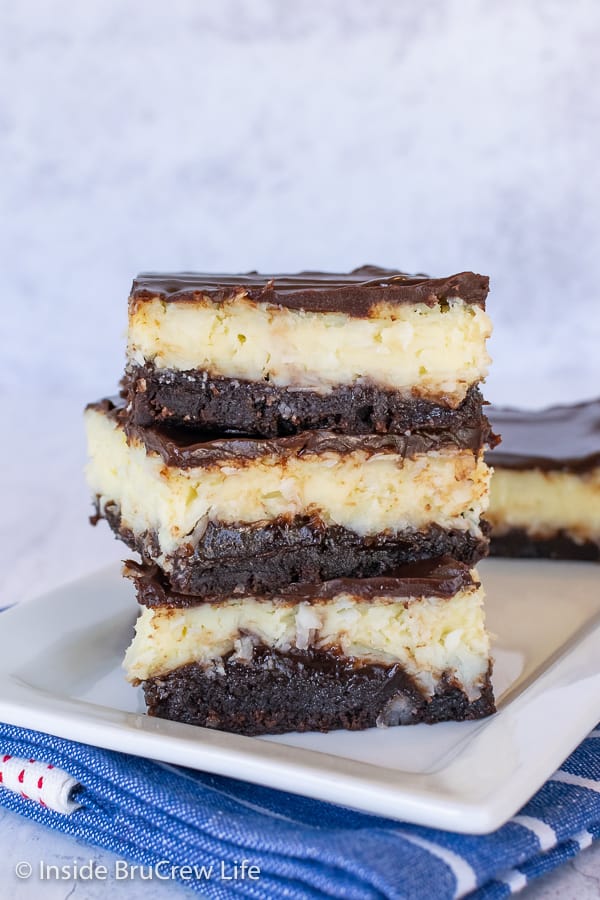 These Coconut Cream Cheesecake Brownies are one of my favorite recipes from many years ago. I was looking at some old pictures here on the blog, and I decided it was time to give the pictures a much needed facelift.
It has been a while since I had made this particular recipe, and holy cow! I knew they were good, but I had forgotten how good they were. These cheesecake brownies are fudgy, gooey, and absolutely amazing!!!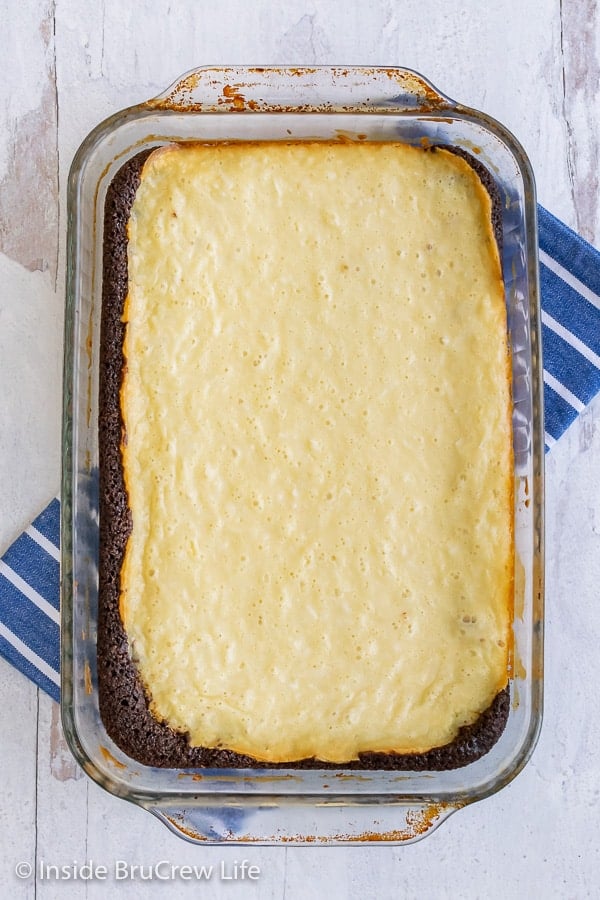 The layers of brownies and coconut cheesecake are baked right on top of each other. As you can see, it's ok if the edges of the brownies bake up around the outside.
How to make Coconut Cream Cheesecake Brownies:
Line a 9x13 pan with foil and spray it with nonstick spray. (full recipe at bottom of post)
Mix together a brownie mix (for a 9x13 pan), water, eggs, and oil. Spread in prepared pan and set aside.
Beat the cream cheese, butter, and sweetened condensed milk until creamy.
Add cornstarch, extracts, and egg and beat again.
Gently mix in the sweetened shredded coconut.
Spoon or pour the cheesecake batter slowly over the top, making sure to cover all the brownie batter.
Bake for 45-55 minutes, or until a toothpick inserted in the center comes out mostly clean from the brownie batter.
Remove and let cool on wire rack for one hour, then refrigerate for 3-4 hours or until completely chilled.
Heat chocolate chips, butter, and heavy cream in the microwave. Stir until creamy and spread on top of the chilled cheesecake brownies.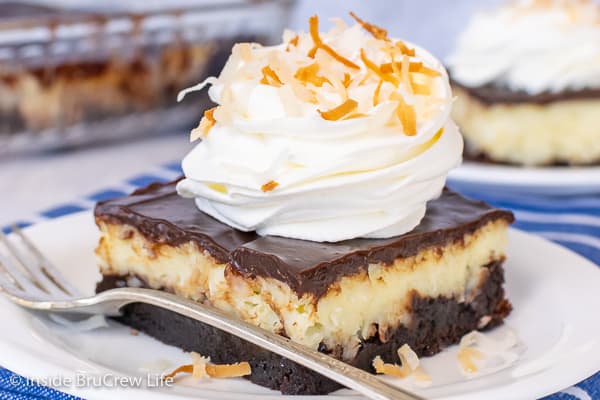 Let's talk about cheesecake brownies for a minute. I get comments all the time about how you either love them or you are disappointed because your centers are "raw". If you baked the cheesecake brownies for 45-50 minutes, the batter is not raw.
Yes, it may be GOOEY where the cheesecake and brownie meet, but that does not mean it is raw. If you have an aversion to gooey, delicious food, you can bake the brownie layer for 15-20 minutes first, then add the cheesecake layer and bake an additional 30 minutes.
Recipe Tips for baking Cheesecake Brownies:
Ovens all bake differently. Some ovens run cooler, while other ovens run hotter. This will affect the end product. Using an oven thermometer can help you understand which way your oven runs.
The type of pan you use will make things bake differently. Glass and dark metal pans generally take a little longer time to bake.
Make sure you use the size pan that the recipe calls for. Smaller pans will need extra time, while bigger pans need less time.
When you test the brownies with a toothpick or knife, make sure there are crumbs on it. If you do not get any crumbs, the brownies are over baked.
Brownies will continue to bake in the pan as they sit on a cooling rack.
Allow the cheesecake brownies to cool and set completely.
Elevation and weather can/will play a part into how a recipe bakes.
I understand the disappointment of waiting for a delicious treat, and then not enjoying the end product. Unfortunately, trouble shooting why it worked for one person and not another can be hard to figure out.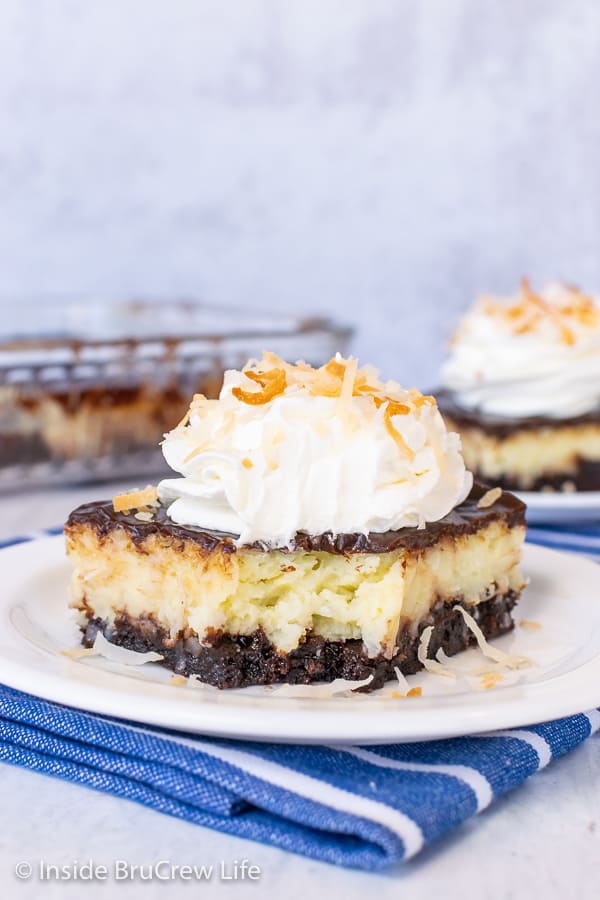 Other cheesecake brownies recipes you may like: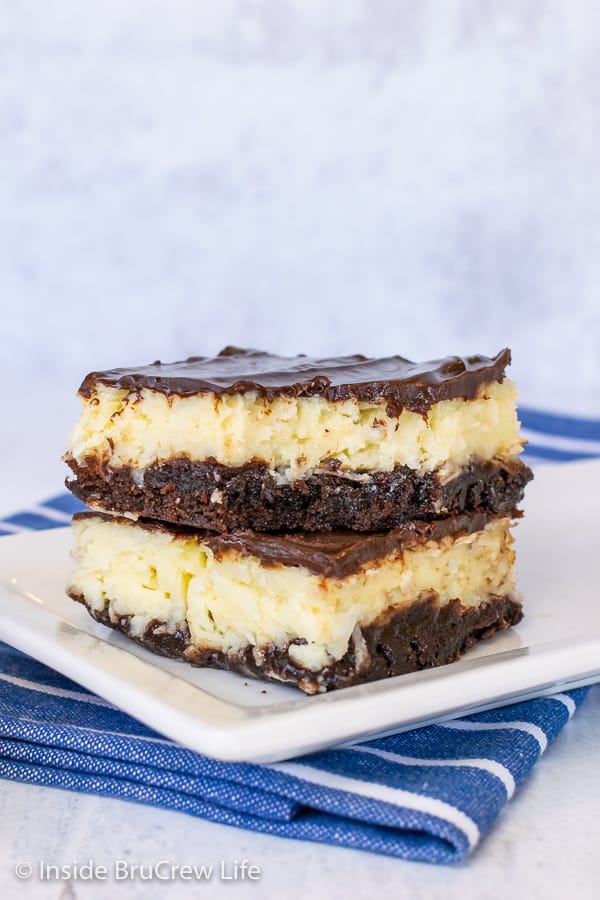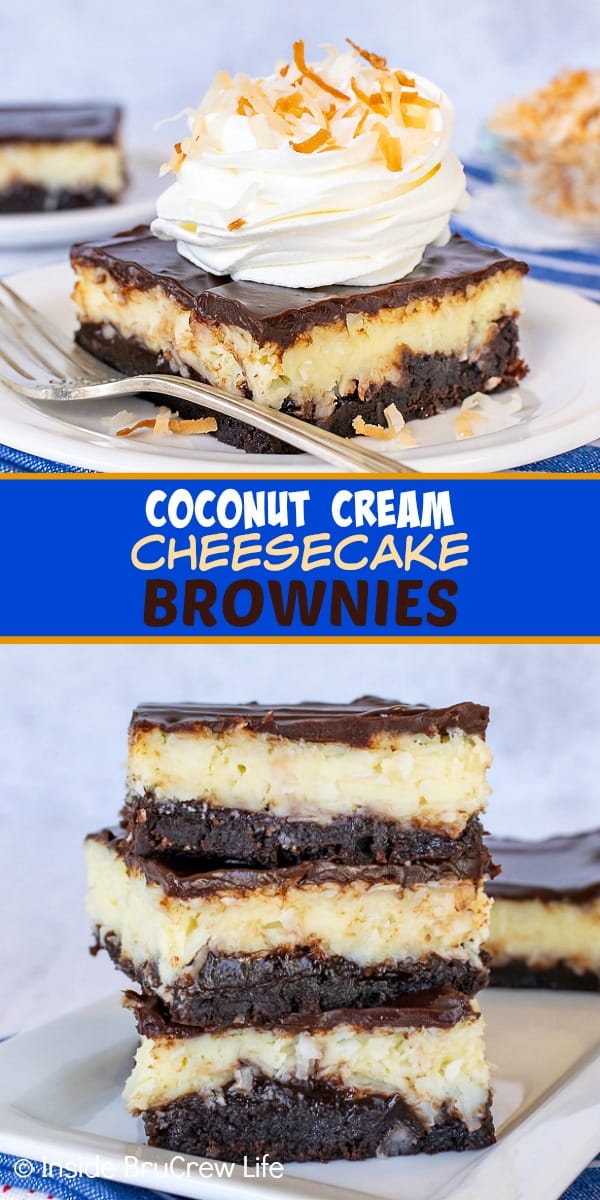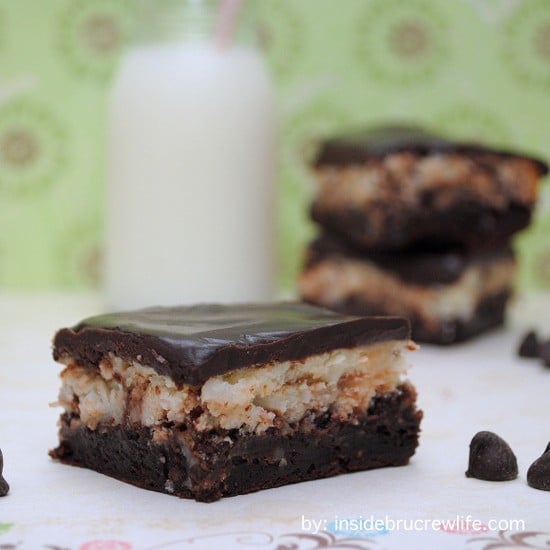 (original photo from May 2011)
*The post for Coconut Cream Cheesecake Brownies was first published on May 17, 2011. The photos and post were updated and republished May 1, 2020.