The sweet layers in these Coconut Cream Cheesecake Brownies will have you going back for more dessert in a hurry.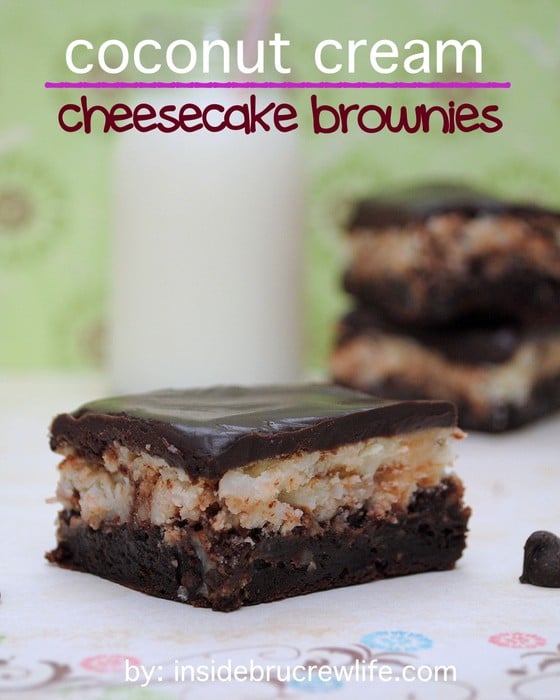 Do you ever have that light bulb moment? You know the one when you have been doing something forever, and all of a sudden you realize this could be better.
That was me this past weekend. I am somewhat of a tank top JUNKIE!
Tank tops are the absolute perfect shirt. You can wear them year round with the right cover, of course.
I have tank tops just for under things. Tank tops for wearing alone. Specific ones just for sweaters. You get the picture.
Anyway, all these tank tops have been STUFFED into a dresser drawer forever.
Do you know how hard it is to find that one particular tank that you know is somewhere buried in the drawer?
I usually end up EMPTYING the entire drawer on the floor, and of course the one I want is always on the bottom.
Do you think I fold them neatly and put them away right? No, because I tried that once, and I still had to unload the drawer. 
So, Saturday the light bulb just went off…and I thought…HANG THEM UP!!!
There was plenty of room in my closet, and I had lots of empty hangers from purging!
I am happy to report I can now find my tank tops so much easier! Please tell me you have these silly little "happy moments".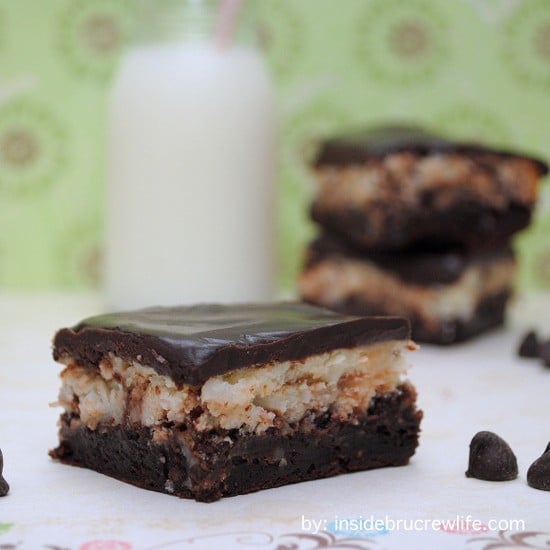 Another HAPPY moment was making and eating these Coconut Cream Cheesecake Brownies! I puffy heart anything coconut, and these didn't disappoint!
How can you resist anything covered in dark chocolate???
Coconut Cream Cheesecake Brownies recipe:
Yield: 24 brownies
Coconut Cream Cheesecake Brownies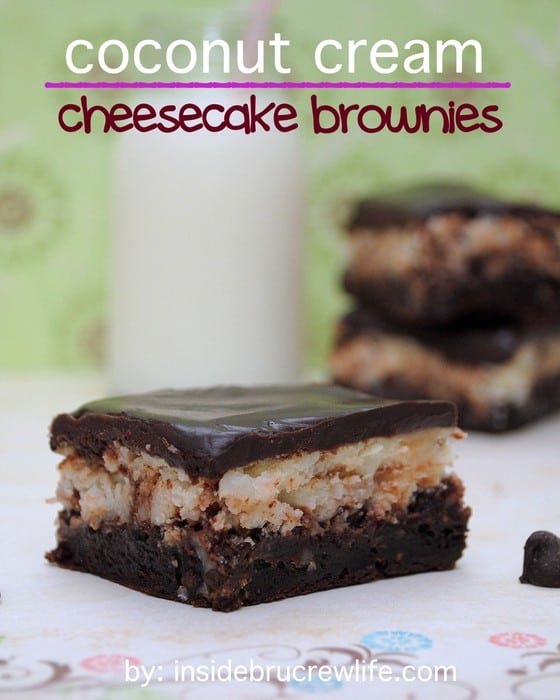 These fudge brownies have a coconut cream cheesecake and chocolate on top.

Prep Time 20 minutes

Cook Time 35 minutes

Total Time 55 minutes
Ingredients
1 - 9x13 box brownie mix
1/4 cup water
2 eggs
2/3 cup oil
1 - 8 ounce package cream cheese
2 Tablespoons butter, softened
1 - 14 ounce can sweetened condensed milk
1 Tablespoon cornstarch
1 egg
1 teaspoon vanilla
2 cups shredded sweetened coconut
1/4 cup whipping cream
2 Tablespoons butter
3/4 cup dark chocolate chips
Instructions
Preheat the oven to 350 degrees. Spray a 9x13 pan with nonstick spray.
Mix brownie mix, oil, water and eggs until combined. Spread in the prepared pan.
Beat cream cheese, butter and cornstarch until fluffy.
Beat in milk, egg, and vanilla until smooth. Stir in the coconut.
Spoon cheesecake batter on top of the brownie batter. Bake for 35-40 minutes. Cool.
In a small sauce pan heat the whipping cream and butter on medium heat, until just before boiling. Remove from the heat and stir in chocolate chips. Stir until completely melted and smooth.
Pour over cheesecake brownies and spread out. Refrigerate until firm. Cut into 24 brownies. Keep refrigerated.