Did you buy
girl scout cookies
this year? These
Thin Mint Cupcakes
are the perfect way to show them off.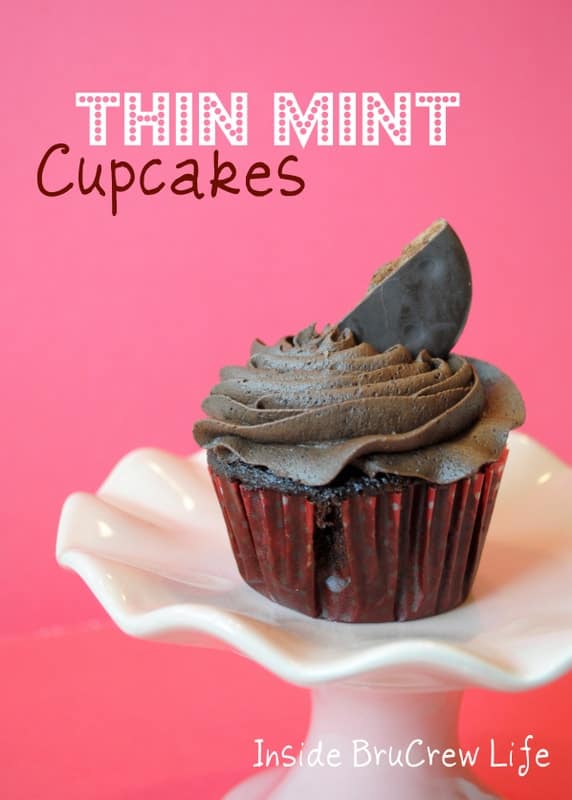 So I have come to realize that I am quite the random shopper.
I make a list to use at the store
(haha when I remember to bring it with me)
because my mommy brain fails me when I get there.
I don't know if I just get so excited to look around
that I totally forget all about what I came for…But even on the days that I remember my list…
I feel like a chicken with my head cut off
running through the store.
Maybe because I go from the top of my list down to the bottom
and my list is never organized!
I try to read through the list and get all the things
from the same spot in the store,
but inevitably I miss something and have to back track.A regular trip to Walmart might look like this:*pick up shampoo and soap
*check out the clearance aisle
*get distracted by the fabric and buttons for a while
*oh yea, someone needs deoderant (backtrack)
*look at kids clothes
*go get milk and creamer
*pick up toilet paper
*pick out cereal
*oh wait I forgot the cheese (backtrack)
*head towards the pb and jelly aisle
*remember that we need paper towels (backtrack)
*time for produce
*yup walked right past the bread (backtrack)
*head to the checkout
*oops forgot eggs (backtrack…again)At least I am getting is tons of extra exercise…right?
You need the extra steps when you are trying
to burn off calories from these yummy cupcakes.When I got my girl scout cookies this year,
I knew that I wanted to make some
Thin Mint Cupcakes.
And then to really give another yummy factor…
I topped it with some Mocha Butter Cream:-)
Yummo!
(If you can't find thin mints,
Keebler has some called grasshoppers,
get them the next time you go to Walmart…
just don't forget and have to backtrack:-)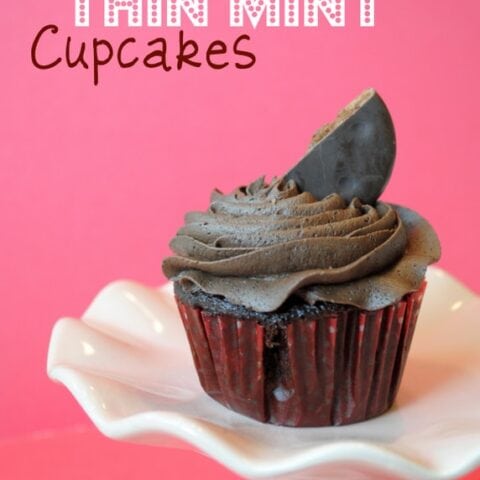 Thin Mint Cupcakes
Chocolate cupcakes with Thin Mint Cookies baked in the bottom and topped with a Mocha Butter Cream.
Ingredients
Thin Mint Cupcakes
1 chocolate cake mix
1 cup mint and chocolate chips
24 Thin Mint cookies
Mocha Butter Cream
1/2 c. butter, softened
1/2 c. shortening
1 tsp. vanilla
2 tbsp. warm water
2 tbsp. instant coffee
4 c. powdered sugar
1 c. dark choc cocoa powder
1/8 tsp. salt
Instructions
Preheat oven to 350* Fill pan with cupcake liners. Toss chips with a tbsp. of flour…this will help them try not to sink in the batter. Mix up cake mix according to package. Stir in chips.
Spoon 1 tbsp. cake batter in liner. Place 1 cookie on top and fill the rest of the way with batter. Bake 19 minutes. Cool.
While the cupcakes are cooling, make the frosting. Dissolve the coffee in the warm water. Set aside.
Cream the butter and shortening until creamy. Add the vanilla, salt and coffee water. Cream again. Slowly pour in powdered sugar and cocoa powder a little at a time. It will be thick, so add another 1-2 tbsp. water and beat after each.
Frost the cupcakes and top with extra cookie pieces. Store in a covered container.