Slices of this Toffee Apple Bread and a cup of hot coffee are the perfect way to enjoy some quiet time in the morning or afternoon.
*I am partnering with Crunch Pak apples as a brand ambassador bringing you delicious apple recipes.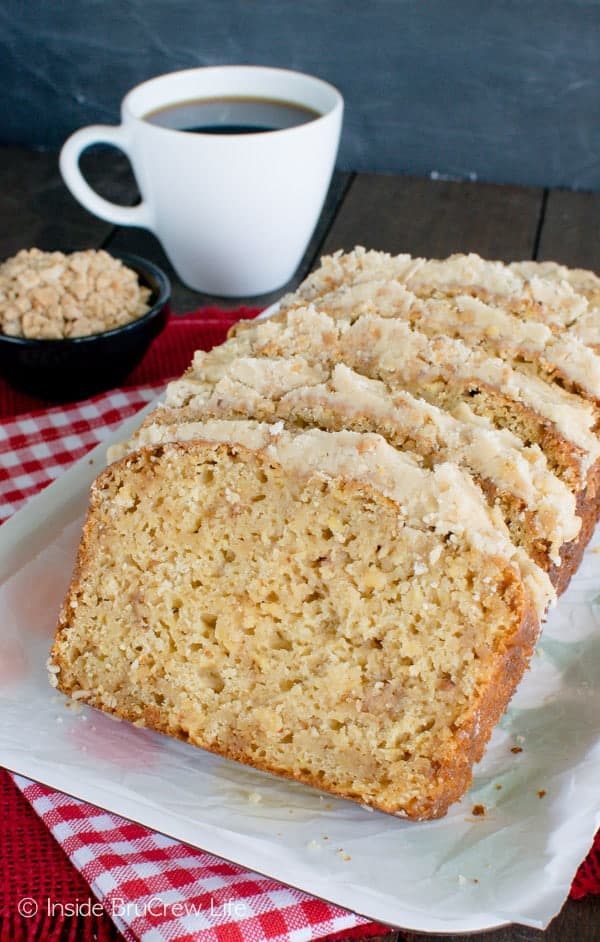 PIN IT NOW TO SAVE THE RECIPE FOR LATER!
Something has definitely changed in our household lately. Our kids are ignoring the cookies and treats that I make each day, and my husband has been eating more baked goods than normal.
You guys, it's crazy weird around here. Not that I'm complaining about our kids not eating sweets...because they are still pillaging the pantry for snack cakes and candy bars. They are just over baked goods, I guess.
The snacking rule after school is a fruit or veggie. They look for every loophole they can use to get around that one. I keep bags of apples and carrots on hand for those munchie moments. These fluffernutter apple nachos are even something I will approve in the afternoon. As long as I can visibly see the fruit or veggie, it's fair game!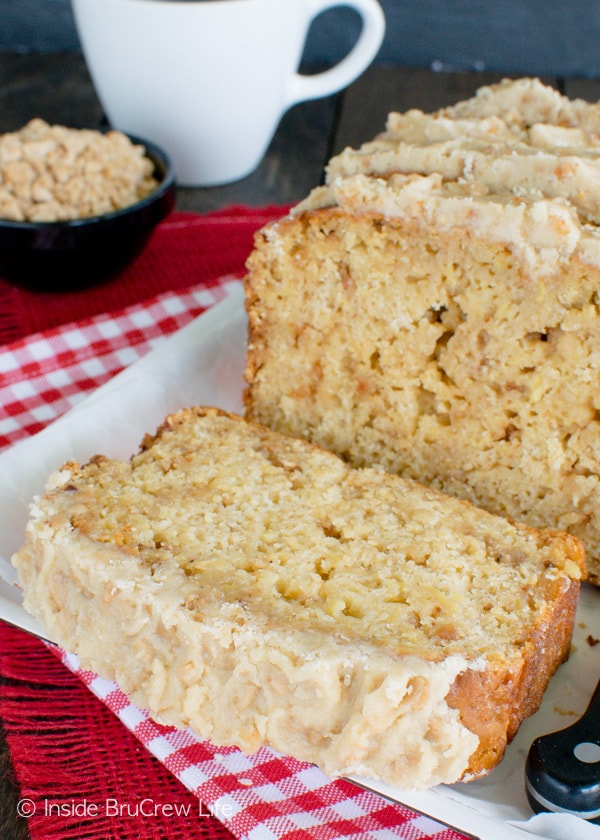 Of course, I did try to sneak some fruit into this sweet bread the other day hoping to tempt them with a sweet baked good. It's definitely not visible, but there are plenty of shredded apples inside this toffee apple bread.
I like to keep bags of peeled Crunch Pak apples on hand for munching on all day too. They are also perfect for baking with because now I don't have to take the time to peel each slice. I just drop them in my Ninja food processor peels and all pulse until shredded.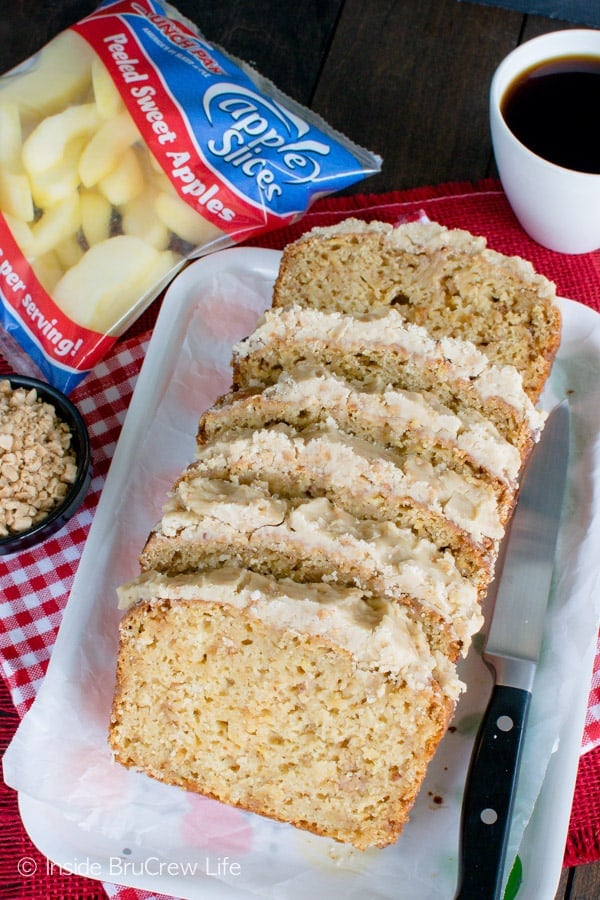 So, did the kids gobble up this awesome bread? Of course not! They took one look and headed to the pantry to smuggle out some chips or cakes. I'm not sure why they didn't want this bread.
I mean, do you see that layer of toffee brown sugar frosting! I may or may not have been snagging pieces of frosting off the bread throughout the day.
At least my hubby was on board with eating all the apple bread! He said he loves that I have been making some more simple and plain desserts lately. That's the way he rolls with dessert!
He and I are very different when it comes to dessert. I mean, I took a somewhat healthy toffee apple bread and had to load it with more toffee bits and frosting. It's just who I am!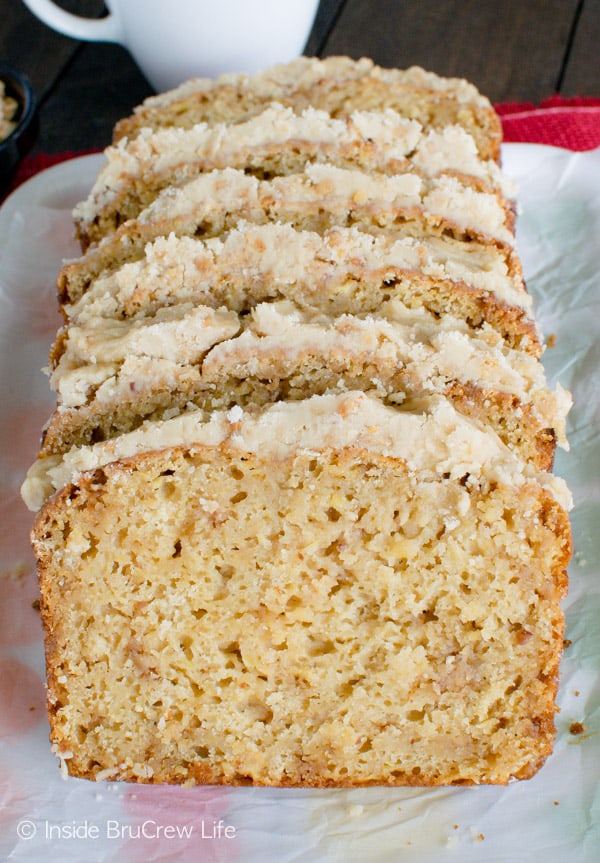 More delicious apple recipes that our family enjoys: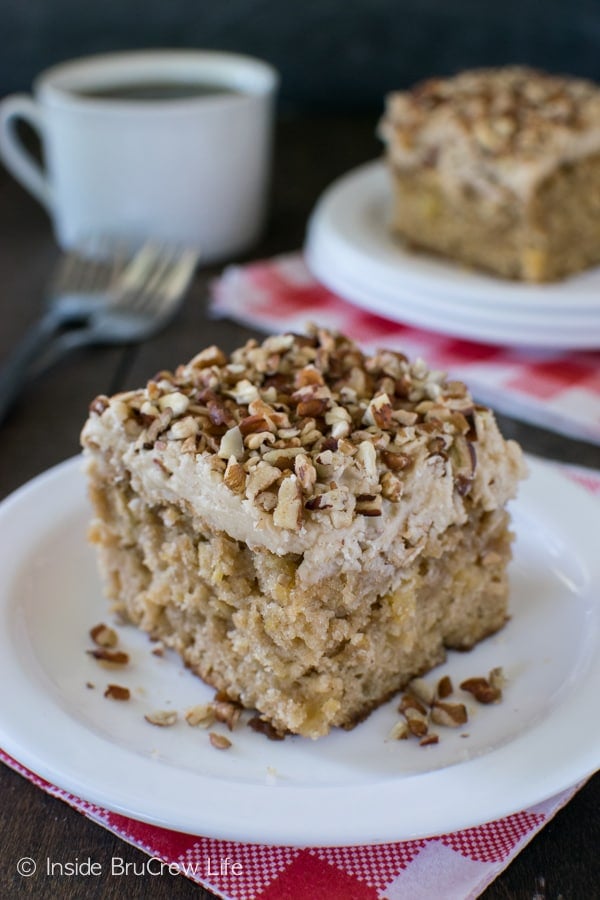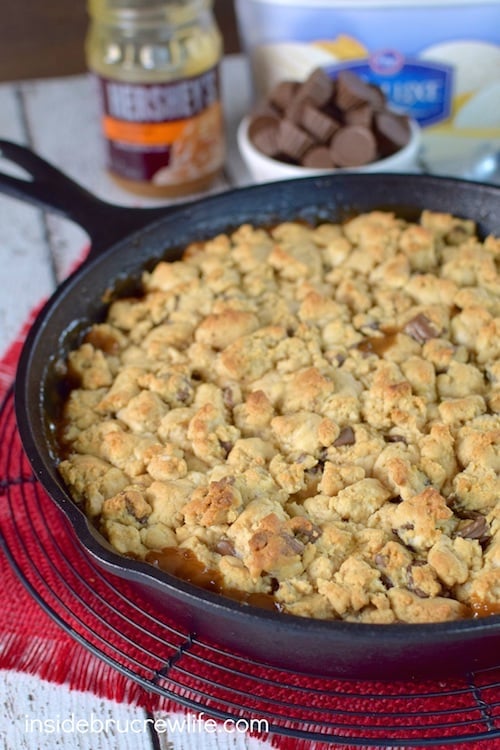 Peanut Butter Caramel Apple Crumble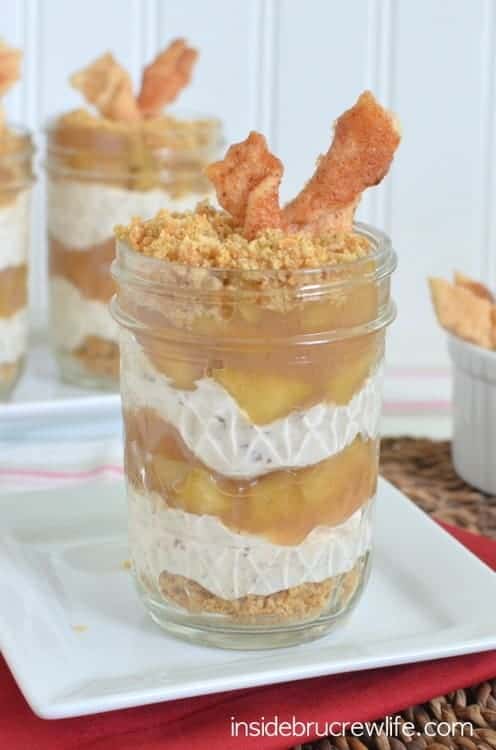 *I am part of the Ambassador program for Crunch Pak apples. This post has been compensated, but all opinions are 100% my own. See my Disclosure Policy for more information.