Do you need an easy skillet dessert that can feed your family this weekend?  This Peanut Butter Caramel Apple Crumble tastes absolutely delicious when served with a big scoop of vanilla ice cream.
*I was compensated as part of the ambassador program for Crunch Pak apples this year bringing you delicious apple recipes.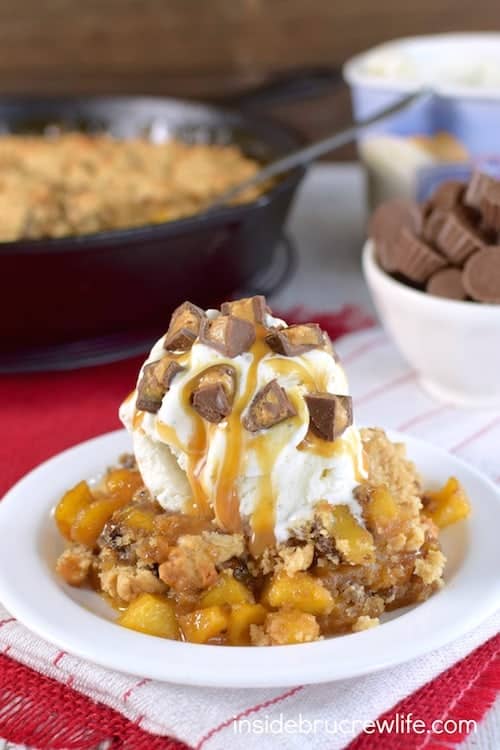 During the summer months, we keep a never ending supply of ice cream in our freezer.
Some days there are boxes of store-bought ice creams stacked in the back, and other days I make a batch of homemade ice cream that I try to hide behind the real food in the freezer.
Along with our ice cream hoarding, we also like to keep bags of Crunch Pak apples in our refrigerator all the time.  The small individual packages are great for grabbing on the go or for car rides to the lake.  Recently though, they came out with these bags of peeled apples that are perfect for doing some baking with.  Or I suppose if you are extra hungry, you could grab one of these bags as you head out the door.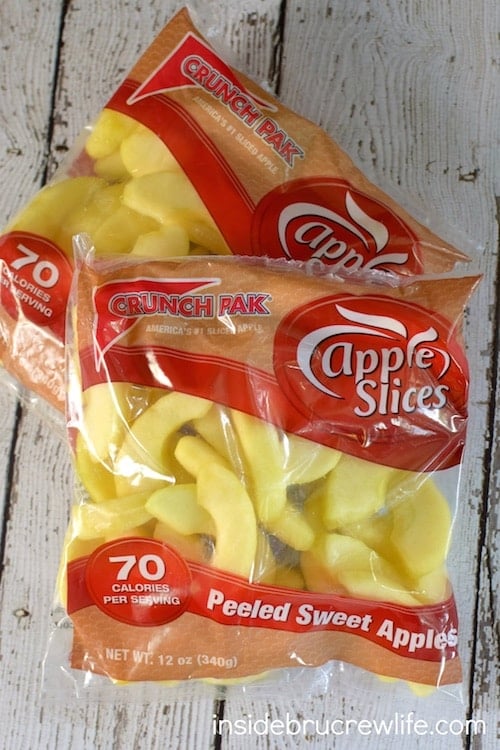 I have the opportunity to be a Crunch Pak ambassador again, along with Aimee from Shugary Sweets.  One of us will be sharing one apple recipe a month for the next year.  I hope you are ready for apple goodness!
Since the weather is definitely heating up here in the midwest, I knew that I wanted some sort to apple crumble that I could top with a big scoop of ice cream.  Hot apples and ice cream are seriously a dream come true dessert!
These diced apples got a coating of caramel ice cream topping, and then they sautéed in the cast iron pan for about 20 minutes or until soft and all the water has simmered out.  All three our kids came wandering in the kitchen while these were cooking.  They thought for sure I had made pancakes and syrup!  Believe me, your kitchen will smell amazing as these simmer down.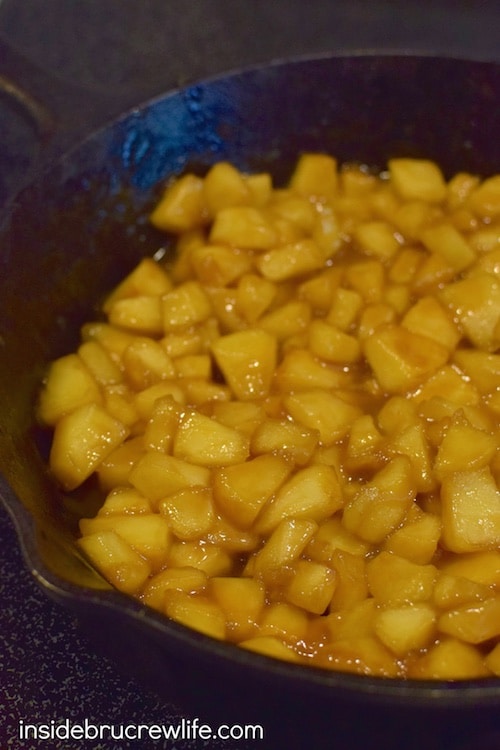 One of our favorite afternoon snacks are these Fluffernutter Apple Nachos.  I knew I wanted to use some of those flavors in a crumble topping, so I added peanut butter and peanut butter cups to the shortcake recipe from the Bisquick box.  Instead of using milk though, I pulled the caramel coffee creamer out of the fridge.  I just love using different creamers in my baking.
Use a fork to pull together the shortcake ingredients until a soft dough forms. Stir in the peanut butter cups, then crumble the dough over the top of the hot apples.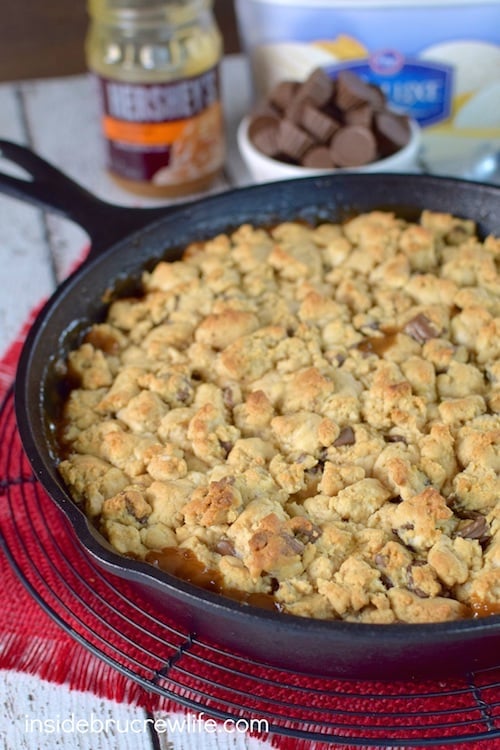 The best part of this recipe is that you will only dirty two pans.  One bowl for making the dough in, and one pan for cooking the apples and crumble in.  That's where a cast iron skillet comes in handy.  It goes from the stove top right into the oven.  Just make sure your pot holders are thick enough to protect your hands when it comes out.  Those pans get super hot.
The bonus to that is that the apple crumble stays warm for longer than a traditional pan.  But if you don't have one, use a regular skillet and spoon the cooked apples into an 8×8 baking dish to finish it off.
This Peanut Butter Caramel Apple Crumble makes enough to feed the whole family.  It would be the perfect afternoon treat to celebrate all the dads this weekend.  Just make sure the ice cream monsters haven't finished off all the ice cream in the freezer first!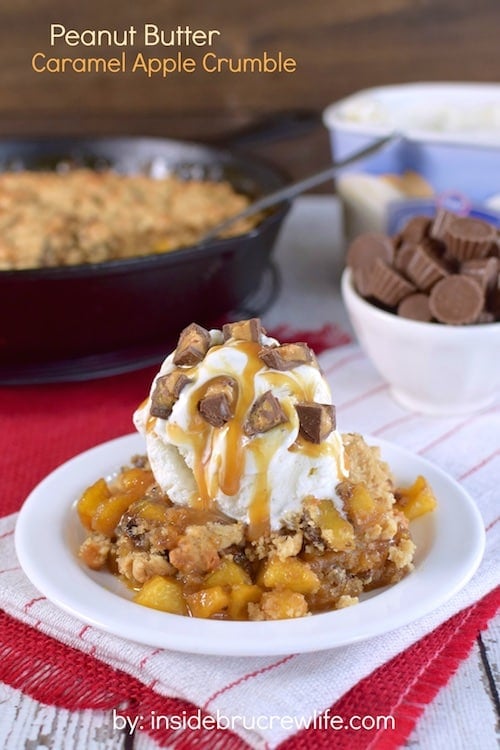 Connect more with Crunch Pak:
Caramel apples and peanut butter crumble makes a skillet dessert that is absolutely delicious with vanilla ice cream.
Ingredients
6 cups peeled diced Crunch Pak apples
1 cup caramel apple ice cream topping, divided
1 1/3 cup baking mix (like Bisquick)
1 Tablespoon sugar
1/3 cup caramel coffee creamer
1 Tablespoon melted butter
1/4 cup creamy peanut butter
1/2 cup quartered mini peanut butter cups
vanilla ice cream
Instructions
Place the diced apples and 1/2 cup caramel topping in a 10 inch cast iron skillet on medium heat. Saute and simmer for 15-20 minutes, stirring occasionally.
Mix together the baking mix, sugar, creamer, and butter with a fork until a soft dough forms. Add the peanut butter and stir until combined. Stir in the peanut butter cups gently. Crumble over the top of the hot apples. Bake at 425 degrees for 10-12 minutes. Serve hot with ice cream, caramel topping, and extra peanut butter cups. Serves 6-8.
Notes
*If you do not have a cast iron skillet, cook the apples in a regular skillet. Then spoon the apples into an 8x8 baking dish and continue with directions.
https://insidebrucrewlife.com/peanut-butter-caramel-apple-crumble/
Copyright Inside BruCrew Life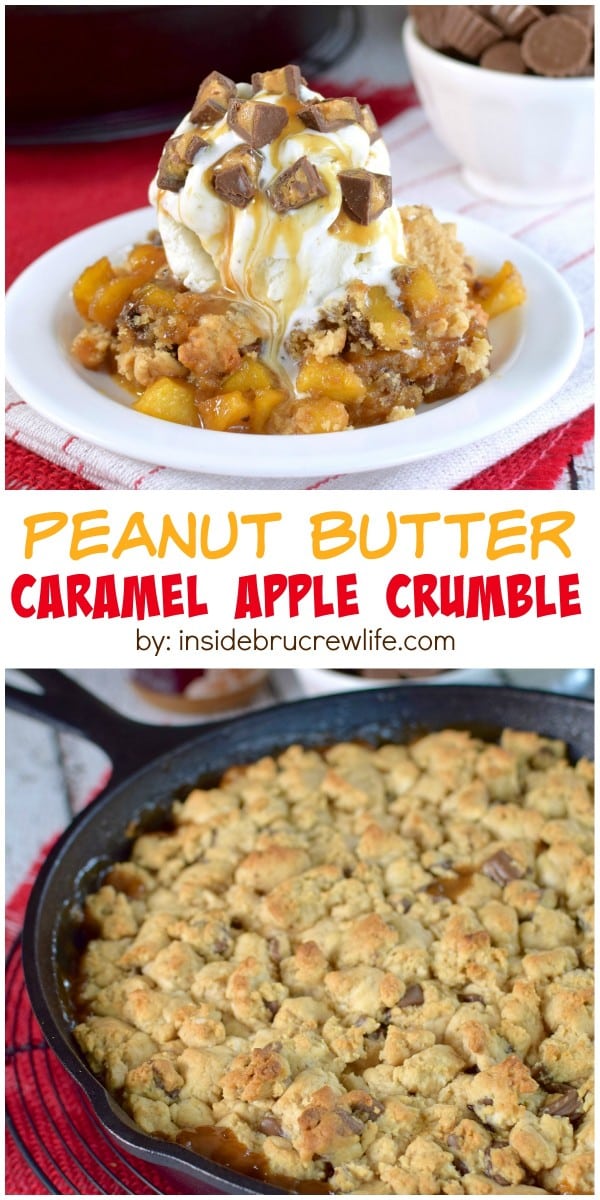 Here are a few more delicious apple recipes our family loves: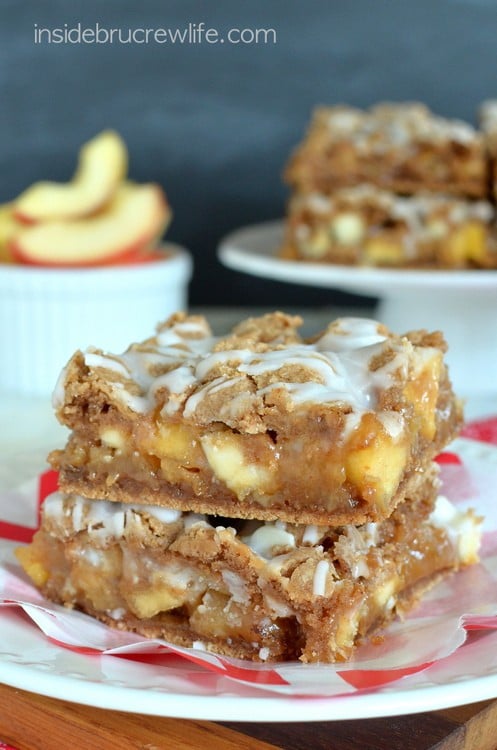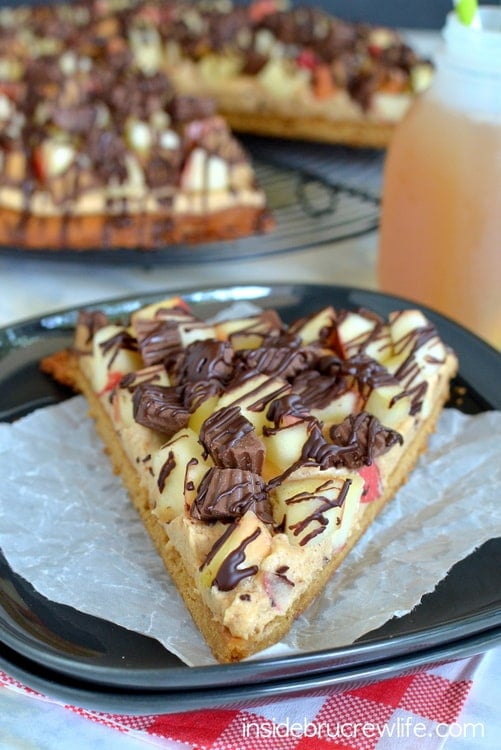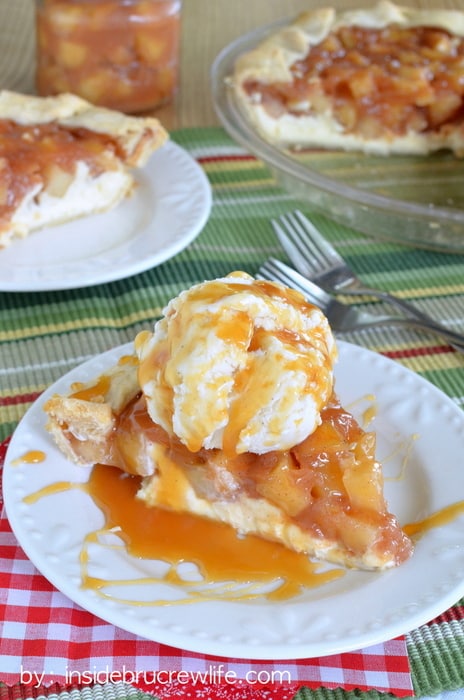 More Apple recipes from friends:
*I am part of the Ambassador program for Crunch Pak apples. This post has been compensated, but all opinions are 100% my own. See my Disclosure Policy for more information.