Looking for a quick and easy meal for those busy nights? This Tomato Basil Sausage Skillet recipe is loaded with meat, veggies, and cheese and can be on the table in under 30 minutes.
*I am partnering with Red Gold® as a brand ambassador this spring creating recipes using canned tomatoes.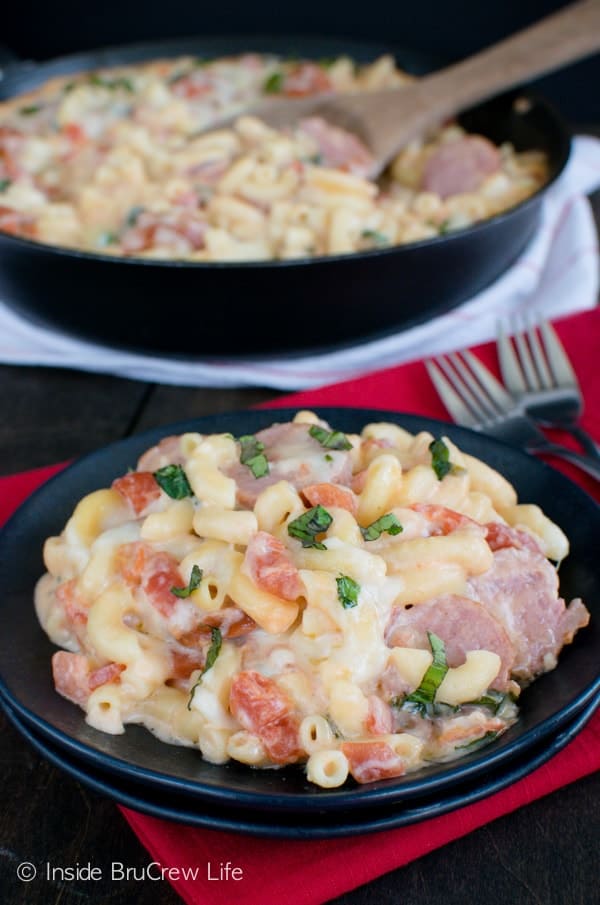 Making dinner is something that I struggle with. Give me a bag of chocolate chips and flour and I can whip up some cookies or homemade chocolate chip brownies in no time at all. But creating dinner is another story.
Cans of food and boxes of pasta can be staring me down from the cupboard, but my mind blanks every time. There are times I have stood there reading the labels over and over again hoping something will come to my mind. Sometimes I just head to Pinterest or a cookbook and find something I think my family will enjoy, then other weeks we make the same thing over and over.
Lucky for you (and my family), I was inspired to create another pasta dish. I have found that pasta and cheese are pretty forgiving. Most of the time...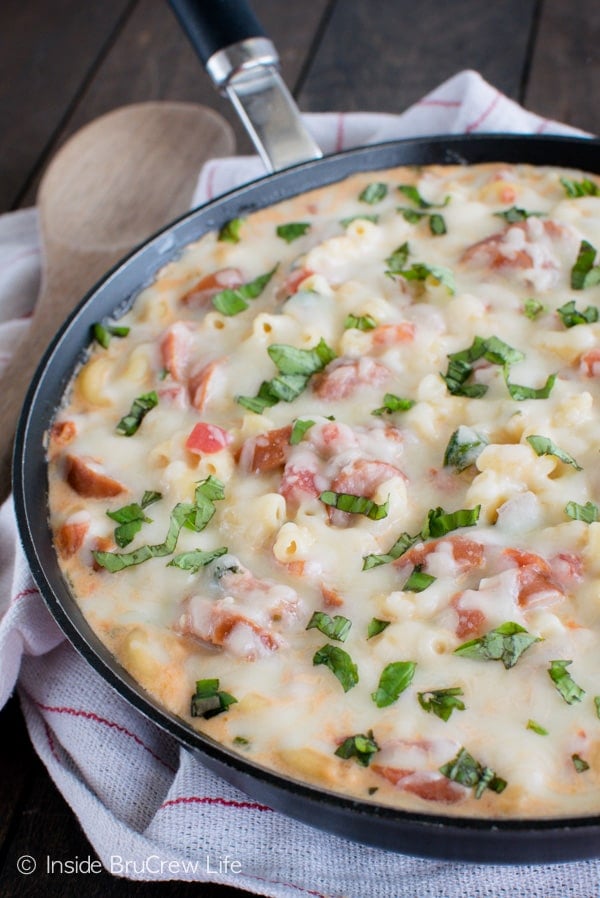 This spring I have the privilege to create new recipes using tomatoes as a brand ambassador for Red Gold®. I have always reach for their label because I'm impressed with the quality of tomatoes every time, so getting the chance to work with them is amazing.
Did you know that all the Red Gold tomatoes are in cans that have non-BPA/BPS liners? Now you might be wondering what that means exactly.
BPA and BPS stands for chemicals that are used in making plastics and coatings that line the inside of containers that store food. These chemicals can seep into foods over time. Now the FDA has said this is safe because it is such a low amount, but I love that Red Gold cares enough about their customers to eliminate this process from their cans.
Just another reason I continue to reach for that yellow label!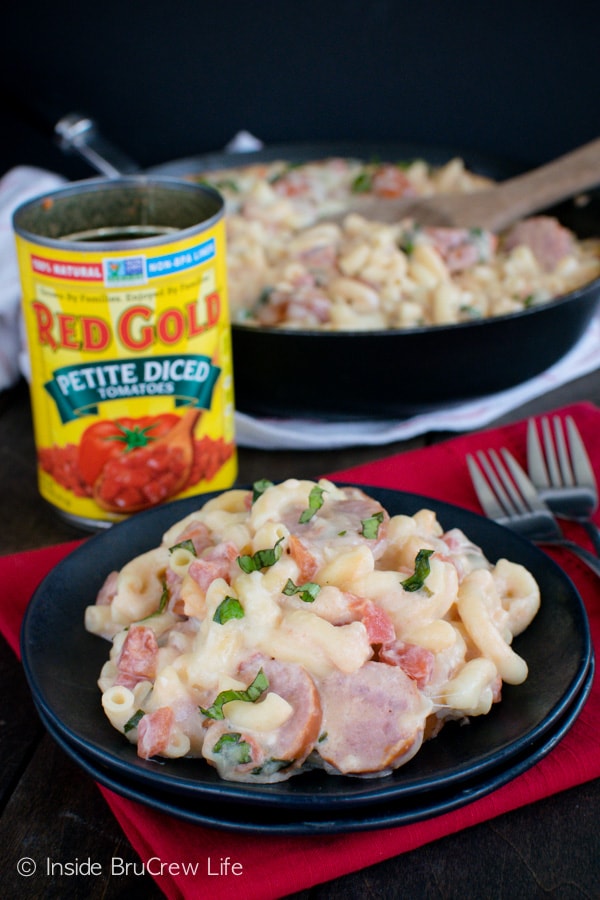 Last week I pulled a box of noodles and a can of tomatoes out of our cupboard. I knew cheesy pasta was a given for dinner, but how could I change it up? My go to meal is usually chicken supreme pasta bake, but today I was feeling adventurous.
Since we always have a big bag of mozzarella cheese in the freezer for pizza nights, I just needed to make a quick run to the grocery store for some smoked sausage and fresh basil. PRO TIP: You can also use frozen sausage and dried basil in case of an emergency.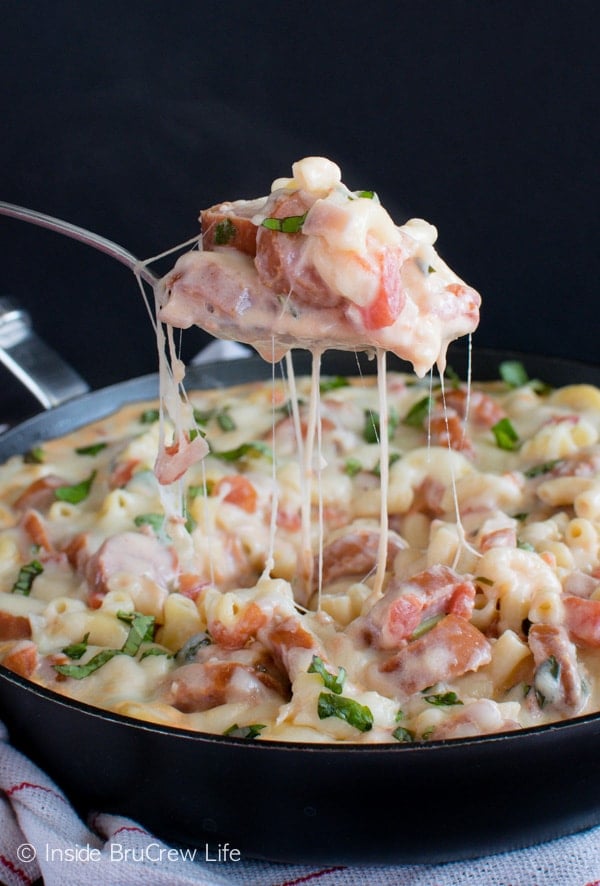 This dish does take two pans. One to cook the noodles and one for everything else. I like to prep all my ingredients while the pasta is cooking. You could also chop everything the night before and have it in small bags or containers.
How to make Tomato Basil Sausage Skillet:
Sautè the veggies, then add a can of tomatoes and some fresh chopped basil. Set aside a teaspoon of basil to add to the top of the pasta dinner later.
After the tomatoes heat up and the basil wilts, add the milk and cheese. Stir it until it gets nice and creamy.
Add the cooked noodles and sliced smoked sausage. Sprinkle a little more cheese on top and cover it with a lid while you set the table for dinner.
When you get ready to eat, the cheese on top will be a melted and gooey. Extra gooey cheese always gets smiles around our dinner table.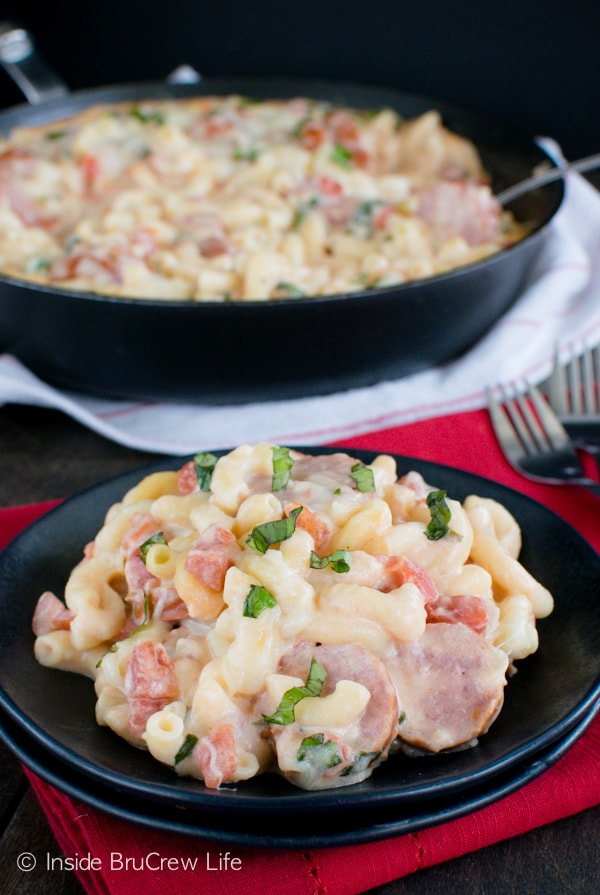 More easy dinner recipes:

*I was compensated for my time creating this recipe as a brand ambassador for Red Gold. All opinions expressed in this post are 100% my own. Thank you for letting me share the brands and products we use and love.