This Veggie Supreme Pasta Bake is easy to make and loaded with cheese and veggies. An easy dinner recipe for busy nights gets two thumbs up every time.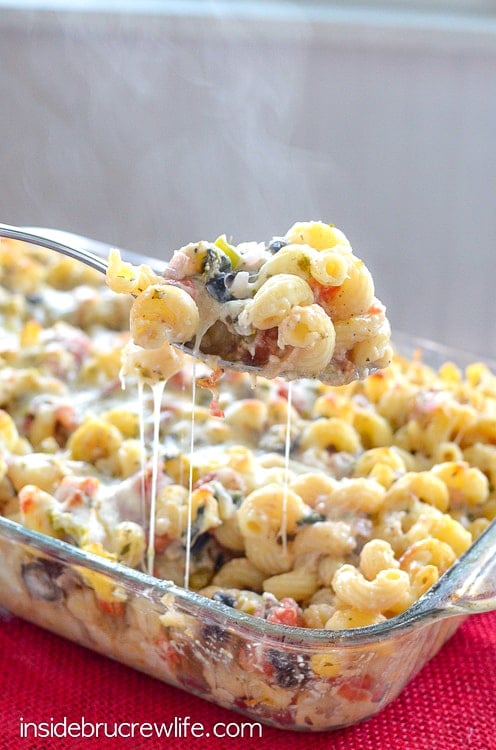 I don't know about your school year, but ours is always extremely busy the first month and a half. Our two boys are playing soccer, and our daughter is playing volleyball and learning tap dance.
Talk about a crazy schedule trying to juggle all those practices and games with our work and life schedule. I'm still trying to figure out where homework is going to fit in.
Even with the craziness of the sports schedule, we still try to sit down for dinner as a family as much as possible. That family time is very important to us.
Obviously, there are going to be some nights where we just grab something quick like these Buffalo Chicken Wraps or Raspberry Chipotle Turkey Thins as we drop off the school bags and head back out the door for a game.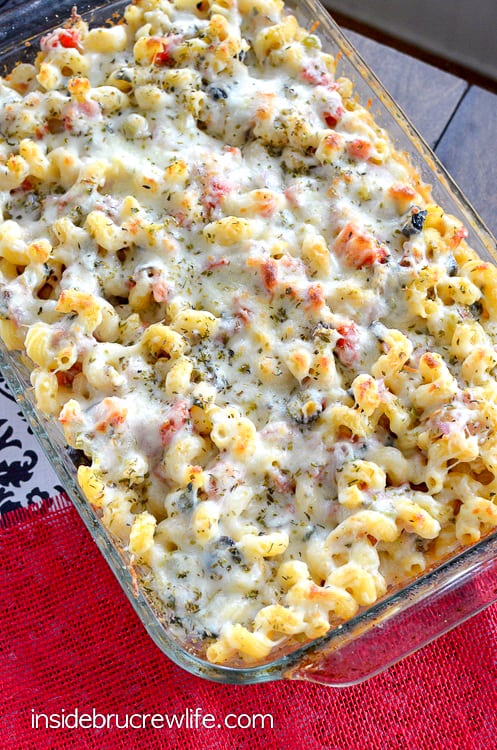 The nights that we do have more time to make dinner, I like to make a cheesy pasta dinner. Pasta and cheese gets thumbs up from everyone here just about every single time we put it on the menu. Our kids always go crazy for this Cheesy Chicken Pasta when we make it for dinner.
Doing all the prep work the night before definitely gets a thumbs up from me on nights when the hungry monsters want to devour everything in sight as soon as they walk in the door.
I like that I can add so many different dairy products into this cheesy dish. Milk, yogurt, and 2 kinds of cheese packs a big protein punch. That protein power will keep everyone full and energized as we move on to the next thing on our schedule.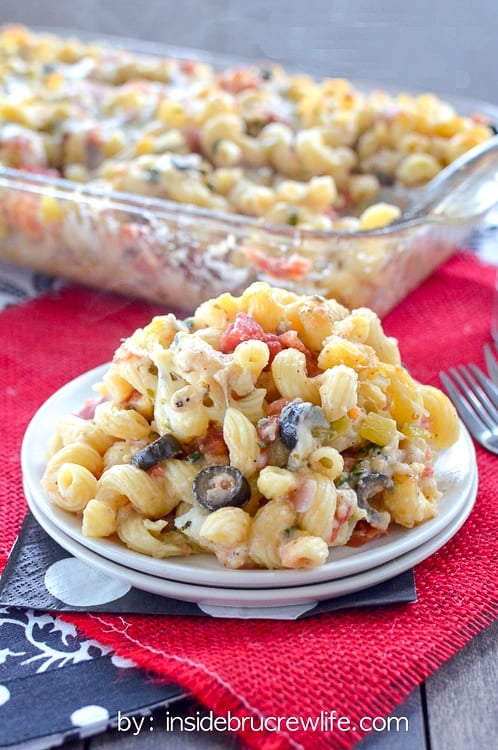 Prepping your vegetables and pasta the night before will help you have dinner ready faster.
I like to cut all the veggies and place them in containers or ziplock bags while my kids are getting ready for bed. You can also cook your pasta and stir some olive oil into it after it drains to keep it from sticking together.
Another great thing about this dish is that you can customize your veggies to suit your taste. I happen to like hiding mushrooms in mine, so our kids never know until after the fact. Although, they are getting wise to my tactics.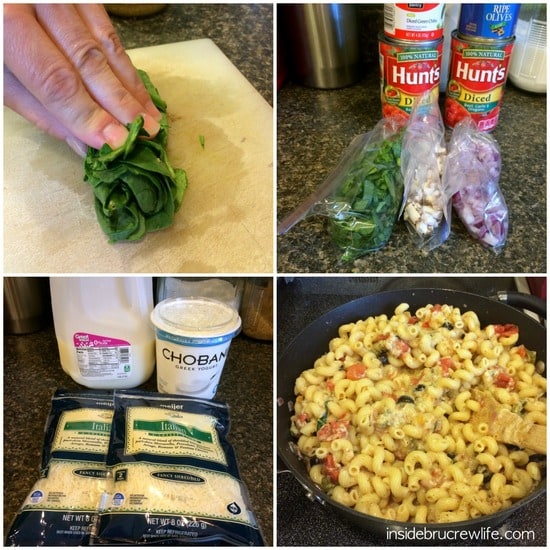 How to make Veggie Supreme Pasta Bake:
Sauté the butter and onion, then add more of the veggies and some flour. Make sure you cook that for another 1-2 minutes to get that flour cooked down.
Whisk in the milk and cook until it thickens slightly. I use skim milk, so it never really gets too thick.
Let it cook about 2 minutes and then add the cheese and yogurt. Stir until you get a thick and creamy sauce.
Stir in the cooked noodles and tomatoes.
Spoon into a casserole dish and top with remaining cheese. Bake until heated through and cheese is melted.
Now if you are in a hurry just add the extra cheese on top and cover the skillet for a few minutes to melt the cheese on top. BUT...I recommend baking it in the oven to melt the cheese.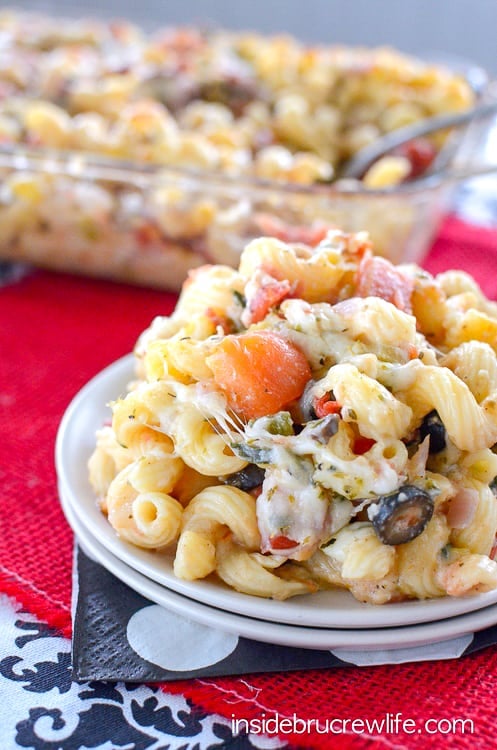 More easy pasta recipes you may like: