Need a quick and easy dinner for those busy after school nights?   This Veggie Supreme Pasta Bake will have you sitting down to dinner with your family in no time.
Today I am partnering with the American Dairy Association, Mideast again to show you how to add more healthy dairy to your life.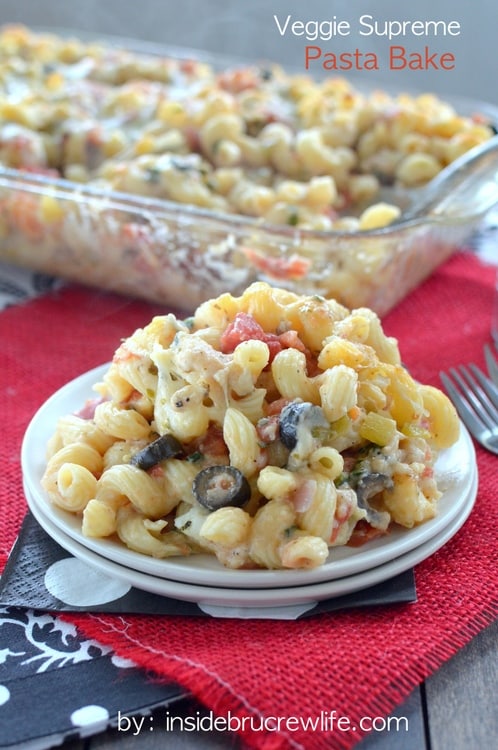 I don't know about your school year, but ours is extremely busy the first month and a half.  Our two boys are playing soccer, and our daughter is playing volleyball and learning tap dance.  Talk about a crazy schedule trying to juggle all those practices and games with our work and life schedule.  I'm still trying to figure out where homework is going to fit in.
Even with the craziness of the sports schedule, we still try to sit down for dinner as a family as much as possible.
Obviously there are going to be some nights where we just grab something quick as we drop off the school bags and go right back out the door for a game.   Those days might even be easier if we hit the drive thru.  What?  There are some healthy options there too.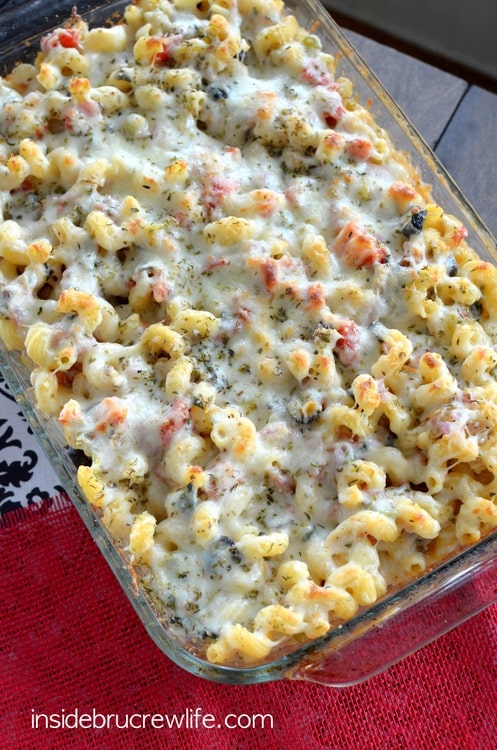 Pasta and cheese gets thumbs up from everyone here just about every single time we put it on the menu.   Doing all the prep work the night before definitely gets a thumbs up from me on nights when the hungry monsters want to devour everything in sight as soon as they walk in the door.
I like that I can add so many different dairy products into this cheesy dish.   Milk, yogurt, and 2 kinds of cheese packs a big protein punch.  That protein power will keep everyone full and energized as we moo-ve on to the next thing on our schedule.
Experts recommend that everyone should be consuming 3 servings of dairy per day, but did you know that most people only eat 1?  By getting more dairy into your diet, you are paving the way for a healthier lifestyle later in life.  Who doesn't want strong bones and healthy teeth as they get older.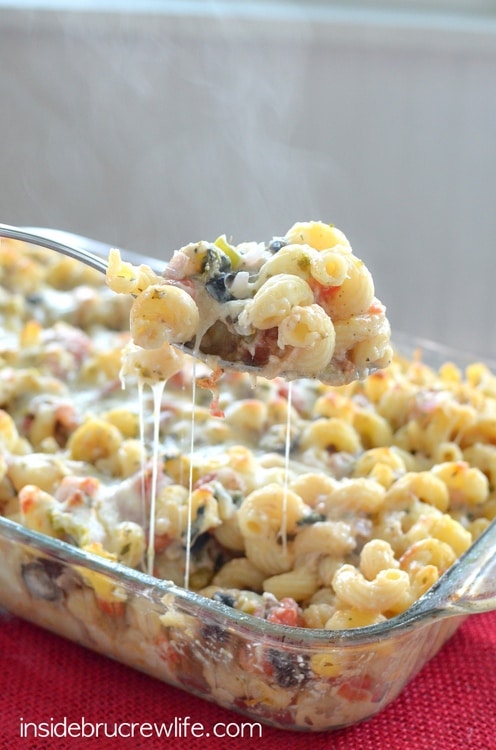 Prepping your vegetables and pasta the night before will help you have dinner ready faster.
I like to cut all the veggies and place them in containers or ziplock bags while my kids are getting ready for bed.  You can also cook your pasta and stir some olive oil into it after it drains to keep it from sticking together.
Another great thing about this dish is that you can customize your veggies to suit your taste.  I happen to like hiding mushrooms in mine…my kids never know until after the fact.  Although they are getting wise to my tactics.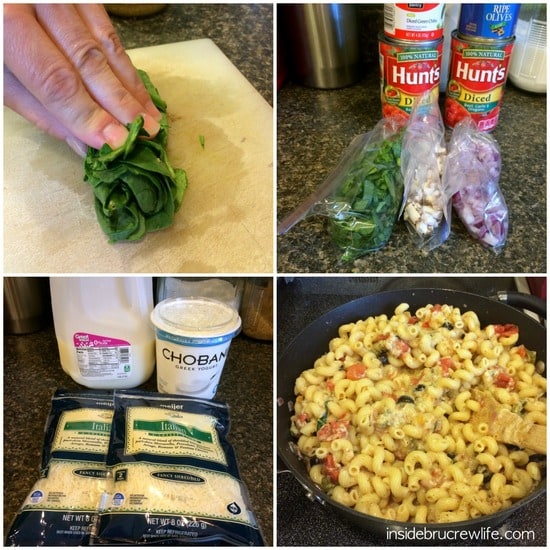 Start by sautéing the butter and onion, then add more of the veggies and some flour.  Make sure you cook that for another 1-2 minutes to get that flour cooked down.  Whisk in the milk and cook until it thickens slightly.  I use skim milk, so it never really gets too thick.  Let it cook about 2 minutes and then add the cheese and yogurt.  It's an moo-velous sight to see all that thick and creamy sauce.
Stir in those noodles and the cans of tomatoes and green chilies.  Now if you are in a hurry just add the extra cheese on top and cover the skillet for a few minutes to melt the cheese on top.  BUT…if you can stretch dinner time for another 20 minutes, I recommend baking it in the oven to melt the cheese.
Then set it on the table and watch everyone's eyes light up as they see all that melty cheese goodness!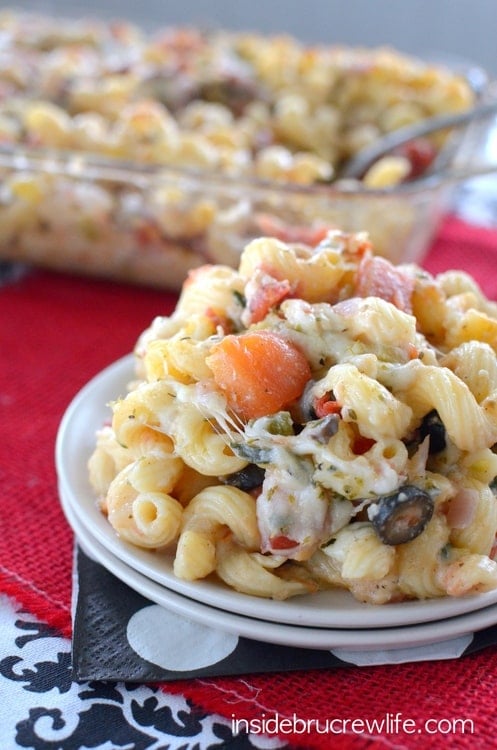 Connect more with the American Dairy Association:
Use your favorite veggies and cheese to make this cheesy pasta bake for dinner. Easy prep the night before makes it a fast dinner to serve on a busy night.
Ingredients
16 ounce box pasta (I used cavatappi)
1Tablespoon olive oil
3 Tablespoon butter
1/2 cup chopped onion
1 Tablespoon minced garlic
1/2 cup chopped green peppers
1/2 cup chopped fresh mushrooms
1 - 2.25 ounce can sliced black olives, drained
1 cup chopped spinach
3 Tablespoons flour
2 cups milk
1/4 cup grated parmesan cheese
1 cup plain greek yogurt
3 cups shredded Italian blend cheese, divided
1 - 4 ounce can diced green chilies
2 - 14.5 ounce can diced tomatoes, drained
salt and pepper
1-2 teaspoons oregano
Instructions
Cook the pasta to al dente following the package directions. Drain. Spoon back into hot pan and stir in olive oil. Cover and set aside.
Melt the butter in a large skillet. Add the onions and sauté for 2 minutes. Add the garlic, green pepper, mushrooms, olives, spinach, and flour. Stir and cook for 1-2 minutes.
Whisk in the milk and cook until it thickens slightly. Stir in the parmesan cheese, yogurt, and 2 cups cheese. Stir until melted.
Stir in the tomatoes, green chilies, and cooked pasta. Season to taste with the salt and pepper.
Spoon into a greased 9x13 baking dish. Top with the remaining cheese and sprinkle with oregano.
Bake at 350 degrees for 20 minutes. Broil for 2 minutes to brown the cheese. Serve immediately. Serves 8-10.
Notes
*Use your favorite veggies in place of ones you may not like.
https://insidebrucrewlife.com/veggie-supreme-pasta-bake/
Copyright Inside BruCrew Life
 I am joining a fabulous team of bloggers to bring you dairy recipes for your Back to School days.  Make sure you visit each one for a delicious recipe to add to your menu.
 Join all of us for a Twitter party where we will tweet all things dairy and back to school ideas!
More delicious ways to add some dairy to your meals: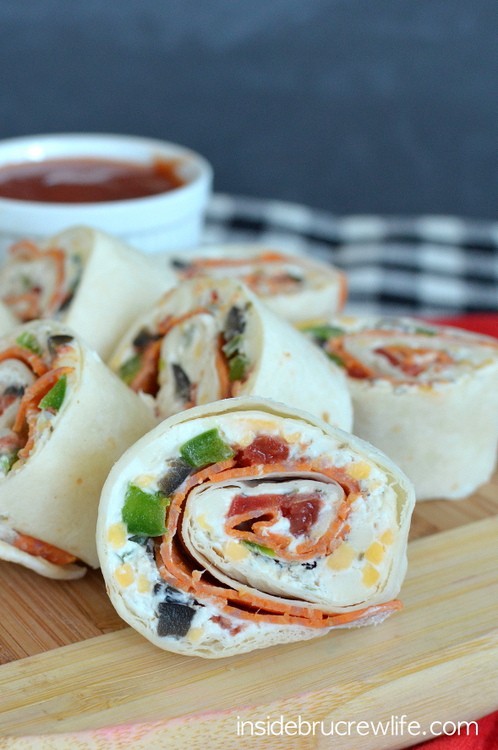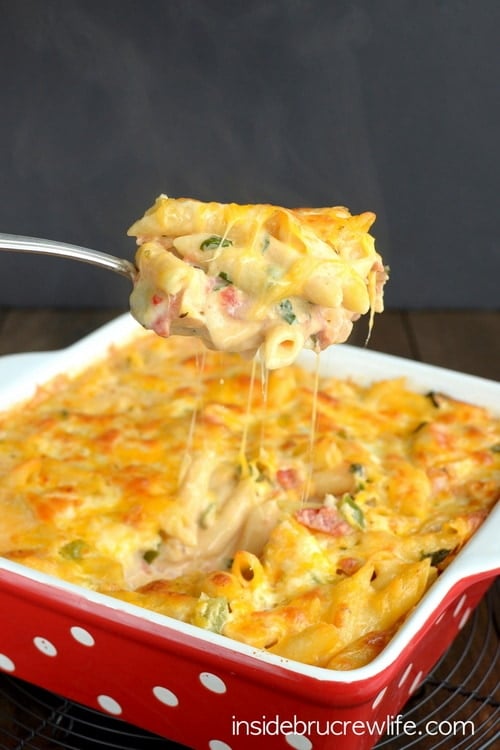 Chicken Bacon Ranch Pasta Bake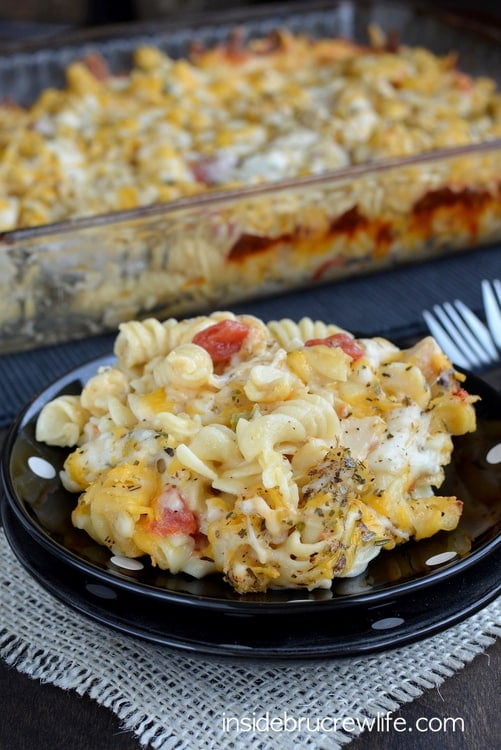 *Inside BruCrew Life was compensated by ADA Mideast for my time in creating this recipe and post. All opinions are 100% my own.