This White Chocolate Caramel Poke Cake is a great way to end the meal. Chocolate, caramel, and white chocolate...it's the perfect trio of flavors.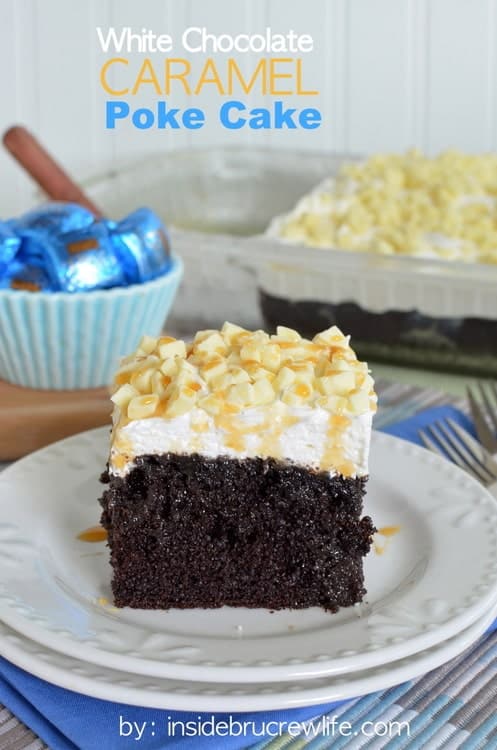 When our kids have tests, we have them study, and then we will quiz them to see how much they really studied. Nothing like a good study session to make you realize how much school stuff you have forgotten and how dumb you have become. That was me the other night. My son had a biology test that he wanted me to quiz him for. Biology is one of those classes I learned at the time, and then promptly forgot as soon as school was over.
Yikes! It has been way too many years since being in school. My brain does not remember things like ATP energy, autotrophs, chloroplasts, adenosine, thylakoids. Shoot! I can't even remember how to pronounce some of those. My son had a good laugh at me as I was asking him some of the things on his papers. The sad thing is that I just went over all those things with him the other day, and I couldn't tell you what any of those are now. Well, maybe chloroplasts...I think those are some sort of plant cell where the color is stored...or something like that. The other ones I have no clue. Obviously I forgot again!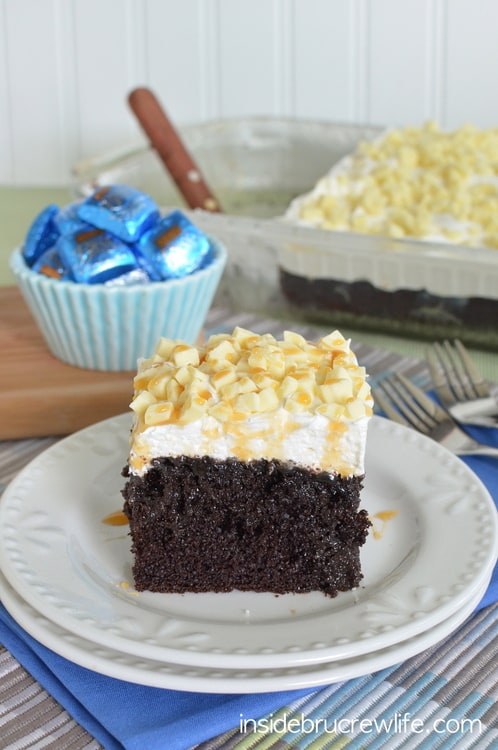 I think it is safe to say that I need to stick to studying things like chocolate, caramel, and candy bars. That is definitely a test I would ace. Bio bad...baking good!
So a few weeks ago I was "studying" the aisles at the store. (confession: I lose more time wandering the grocery store aisles than anywhere else) I took a turn down the coffee aisle and checked some of the instant coffee flavors. My eye landed on a white chocolate caramel coffee, and I knew right away that I wanted to bake something with those flavors. After a few more aisles of wandering/studying I came up with this White Chocolate Caramel Poke Cake idea.
If you are wondering what a poke cake is...it is just what it sounds like. You bake a cake, and then "poke" holes all over the top of the warm cake for the caramel and sweetened condensed milk to soak into. Then cover it with a Cool Whip topping.
This cake actually has a white chocolate pudding Cool Whip on top of it to give it even more white chocolate flavor. I found some Hershey's white chocolate pudding while I was aisle wandering and decided to give it a try on this cake. I also used some white chocolate Hershey bars for the topping! I don't know about you, but I can't resist something that decadent looking.
Chocolate, caramel, and cake...I think all my studying paid off! 🙂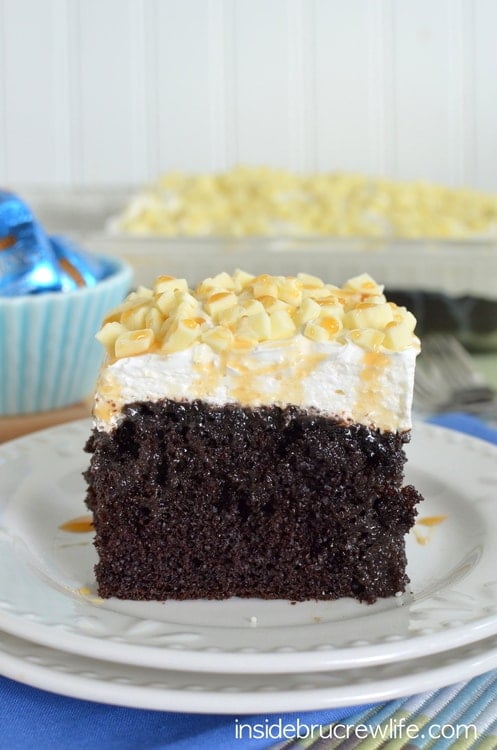 Stay up to date on all the BruCrew baking here:
FACEBOOK | PINTEREST | GOOGLE+ | TWITTER | INSTAGRAM | BLOGLOVIN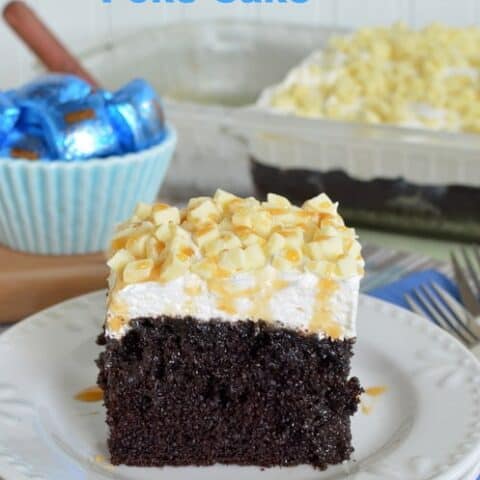 White Chocolate Caramel Poke Cake
A chocolate cake drizzled with caramel and topped with a white chocolate pudding Cool Whip and candy bars is a great way to satisfy your sweet tooth.
Ingredients
1 chocolate cake mix + ingredients from back of box
1 ½ cups cooled coffee (substitute this for the water in the cake)
1 can sweetened condensed milk (14 oz.)
1 cup caramel ice cream topping + extra for drizzling (Hershey's)
1 cup milk
1 box instant white chocolate pudding (3.4 oz. Hershey's)
2 cups Cool Whip
2 cups chopped Hershey's White Chocolate Bliss Bars
Instructions
Preheat oven according to the cake package directions.
Mix up the cake mix according to the package directions. Substitute cooled coffee for the water. Pour into a greased 9x13 pan and bake for 28-30 minutes.
While the cake is baking stir together the sweetened condensed milk and caramel topping.
When the cake is done, remove from the oven. Take a wooden spoon and use the round handle to poke holes all over the cake. It doesn't matter how the cake looks at this point.
Slowly drizzle the sweetened condensed milk mixture all over the cake. Fill every hole and go slowly so it can soak in. Cool the cake completely.
Whisk together the milk and pudding. Fold in the Cool Whip. Spread over the top of the cooled cake. Sprinkle with the chopped candy bars. Drizzle with extra caramel topping before serving.
Makes 24 pieces of cake. Keep the cake covered and refrigerated.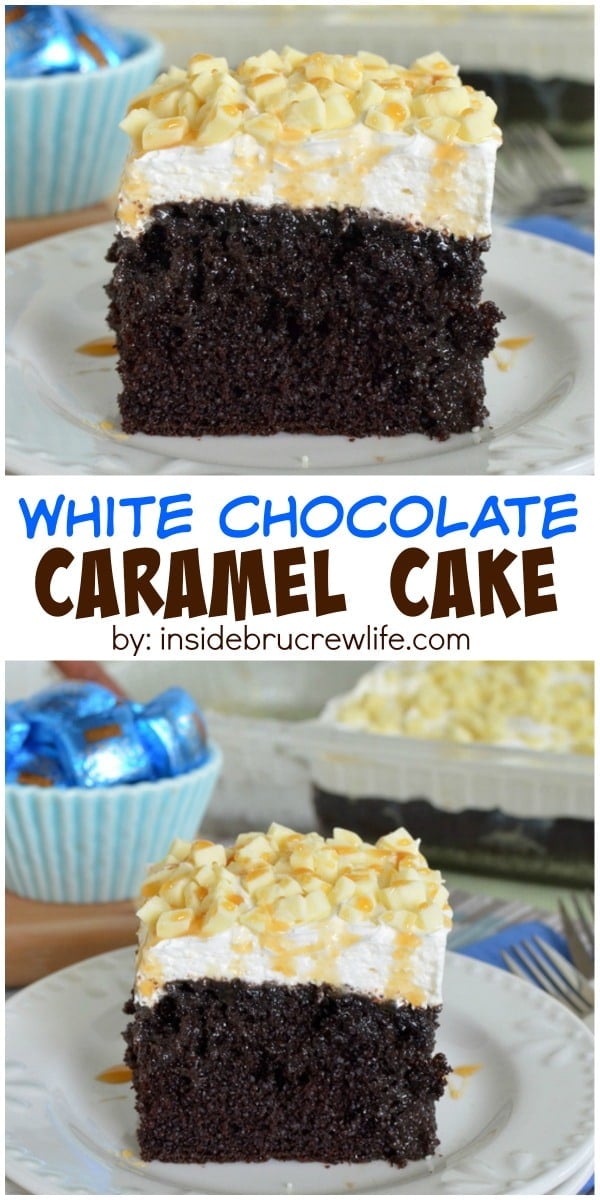 Other fun white chocolate recipes that we enjoy: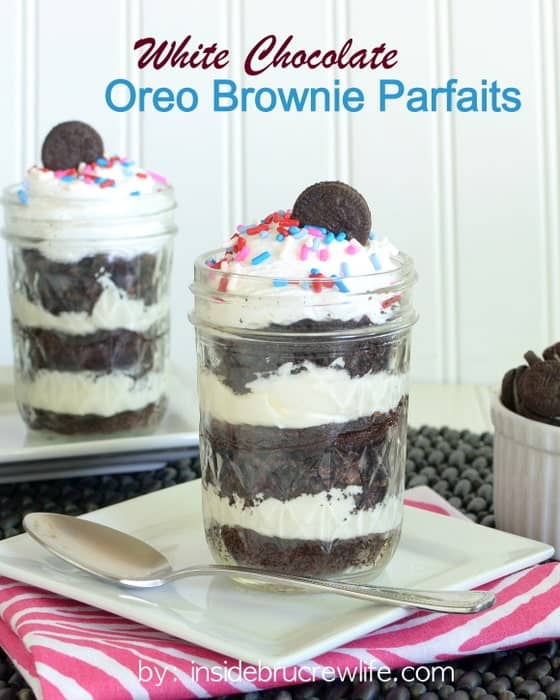 White Chocolate Oreo Brownie Parfaits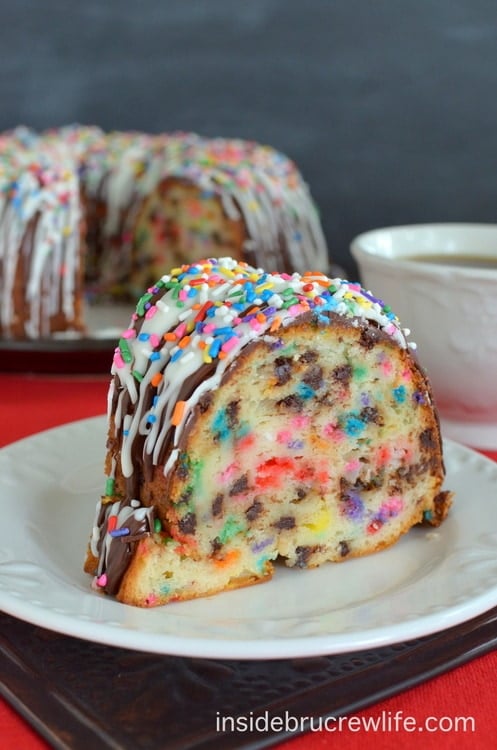 White Chocolate Funfetti Chip Cake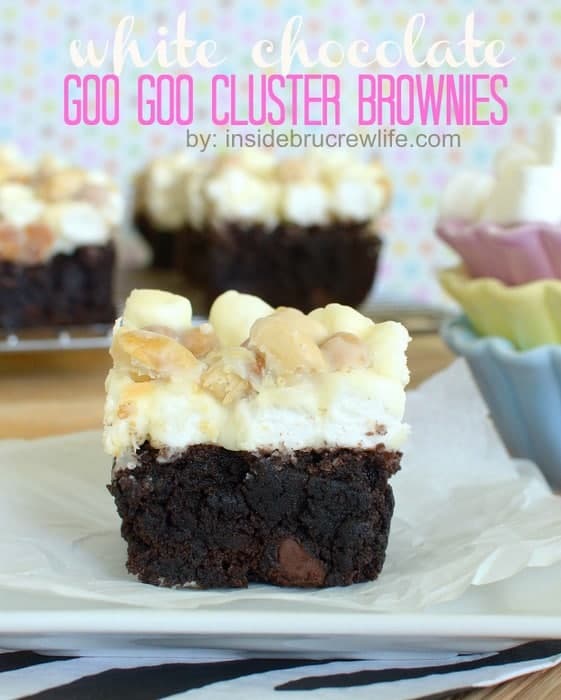 White Chocolate Goo Goo Cluster Brownies