Hiding candy inside of cookies is a fun way to surprise everyone at dessert. These White Chocolate Lemon Funfetti Cookies have a sprinkles and a hidden pocket of candy inside. They are the perfect cookie jar treat to share with everyone this week.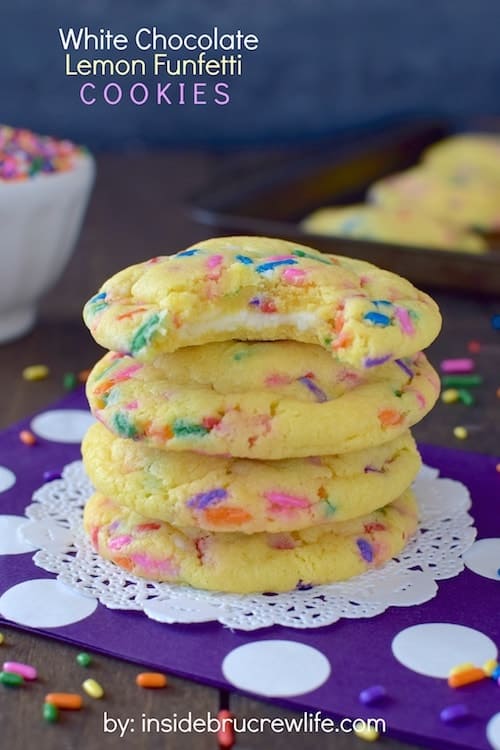 I hope everyone had a wonderful Easter Sunday yesterday. We enjoyed two great services with our church family celebrating our risen Savior, then we headed out to do lunch with our family. There is never a shortage of food and laughs when we get together. And it just warms my heart to see how well the cousins all get along. Our kiddos are the oldest grandkids, and they are such big helpers with their little cousins.
Ok, so second reason for celebrating this week...the 10th anniversary of my 29th birthday is coming up in just a few days. Hahaha! That's 39 if you were trying to figure that out. Actually, I am totally ok with my age. In fact, I feel awesome, and I'm in the best shape of my life. Notice I didn't say best weight of my life though. It's a good thing I have decided I like to work out because my sweet tooth gets me every week. Just like these funfetti lemon cookies...they got the best of me. I finally had to get rid of them because I couldn't stay out of the cookie jar.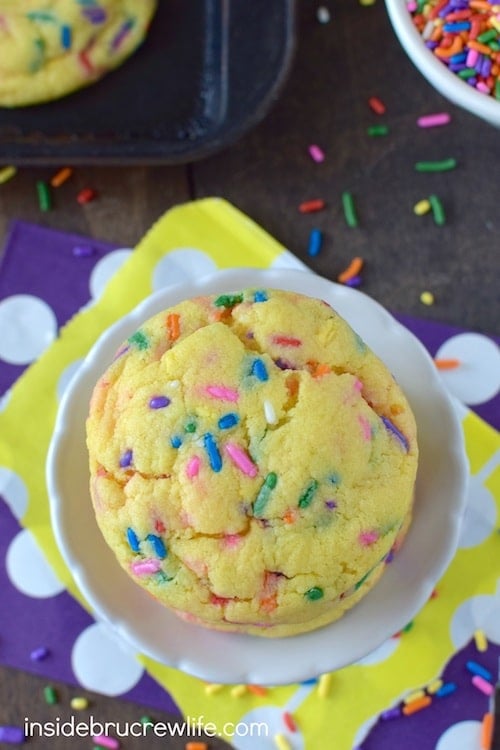 Can you believe that I used to think I didn't like lemon? In fact, until just a few years ago, I used to turn my nose up at lemon treats. I would see a lemon dessert and totally just walk right on by. Then one day I tried something and realized the error of my way. I just have to be in the mood for lemon goodness apparently.
Second confession of the post...I actually made these cookies two years ago and never shared them. I know shame on me for keeping the goodness from you! I just kept looking at the pictures and not liking them. But I never got around to redoing them until recently. Having your computer crash and lose pictures kind of gets you motivated to make the things you really liked.
But to make it up to you, I ramped the cookie up by hiding candy inside. A few months ago I made these Cinnamon Caramel Cookies, and it was the start of a beautiful cookie trend in my cookie jar's life. So, when I bought a bag of the white chocolate cream filled candy bars, I knew they needed to be hidden inside cookies.
The cookie dough does need to be refrigerated before you add the candy inside and bake it. I usually let my bowl sit in the fridge for at least 30 minutes...usually longer though because I usually get distracted with other things around the house. After the dough is firm and can easily be rolled, divide it into 24 even balls. Flatten each one and form it around an unwrapped candy bar, then roll it up again and bake.
Now here's the thing with these cookies...Do NOT over bake them! They will look very undone when you pull them out. That's how they should look!!! Trust me on this! The cookies set up as they cool. Leave them on the cookie sheet for 2-3 minutes, then move them to parchment paper on your counter and leave them alone until they cool!
Sprinkles and white chocolate is definitely a fun way to ramp up a lemon cookie this spring! Perfect treat to celebrate anything with...even if it is getting older 😉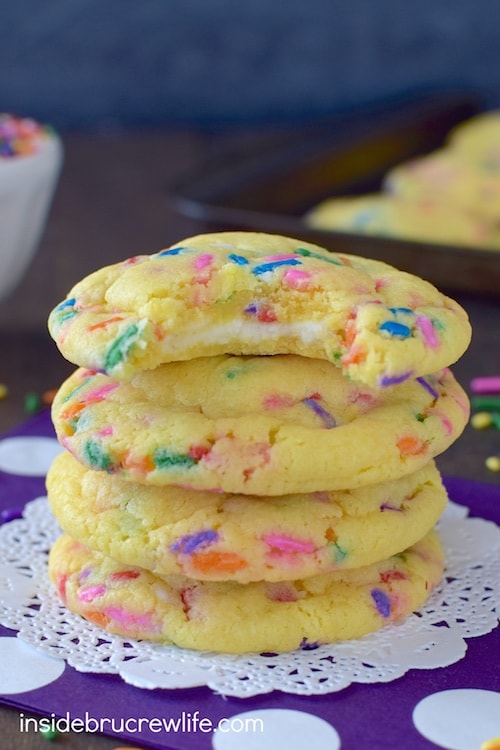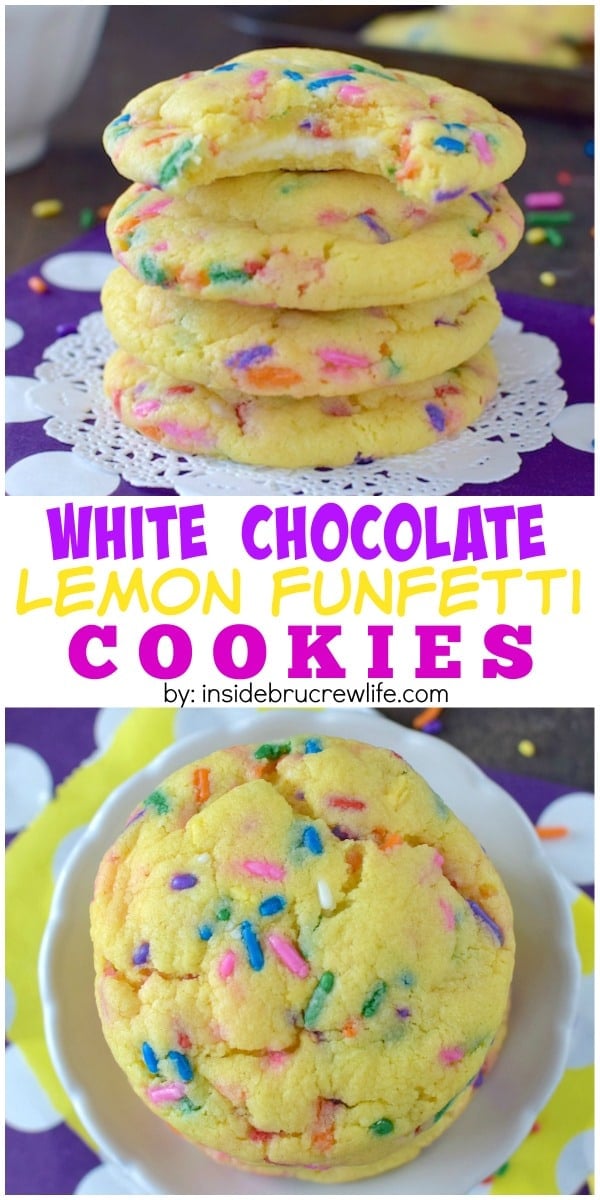 More lemon treats that we enjoy: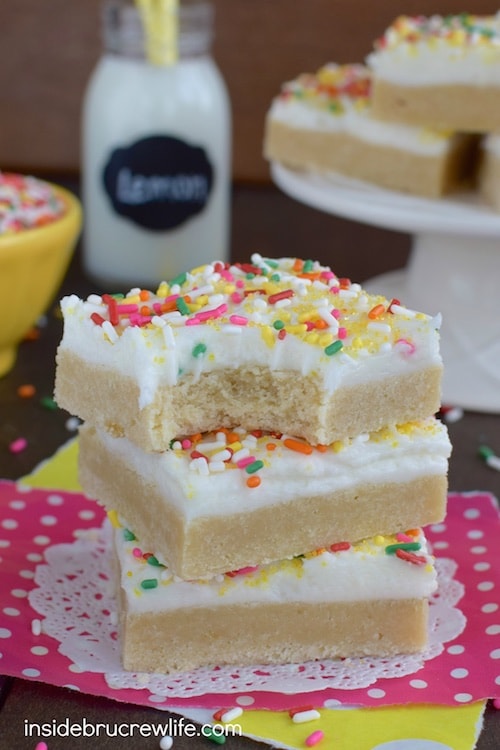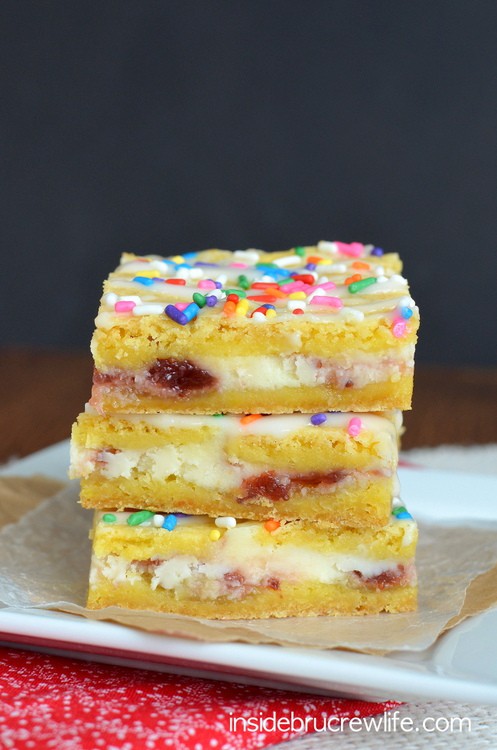 Strawberry Cheesecake Lemon Bars