These Strawberry Cheesecake Lemon Bars have a sweet cheesecake swirl in the center that adds a creamy texture to these easy lemon bars.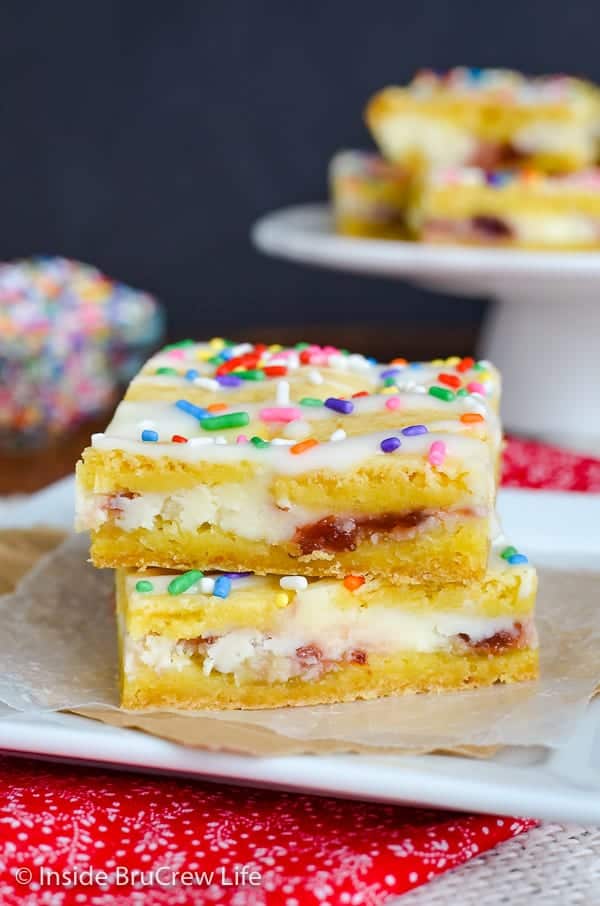 Warmer weather is here! Can I get a woot woot from the crowd? Well, from the Florida crowd that is.
Time to open the windows, air out the house, clean those corners, and wipe down the fridge. There is something so exciting and fun about warm weather and the newness it brings.
The other day as I ran outside the birds were chirping like crazy. It put a smile on my face to hear how happy they sounded. I am now waiting excitedly for tree buds and spring flowers to start popping up.
Yes, I do realize that half the country is still under snow and dealing with cold blasts of wind. But here in Florida the weather is perfect. Give it a few more months and the humidity will return with a vengeance, and then I won't be as excited.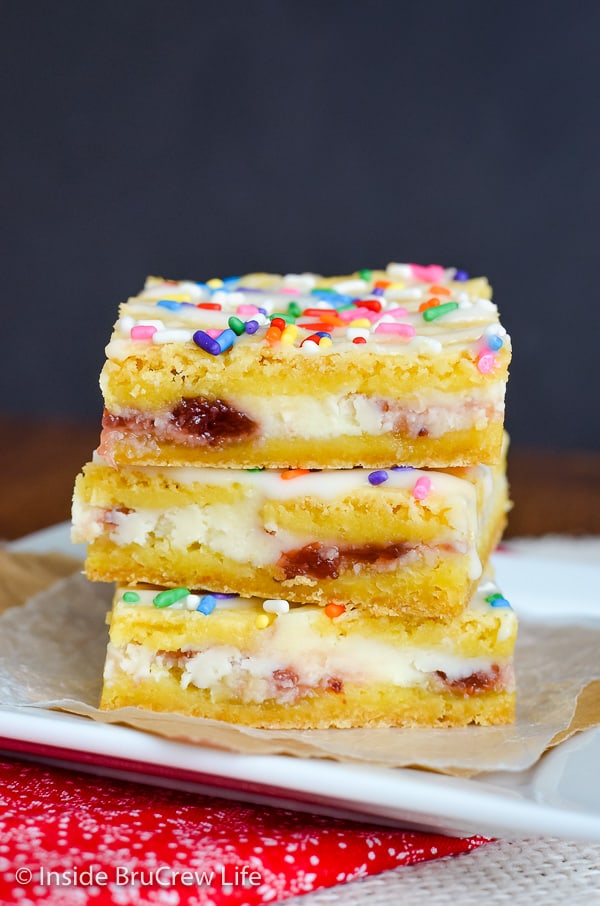 Warm weather brings out the lemon lover in me. It is such a bright and cheery flavor. It's why I love these Best Lemon Bars so much.
The other day I had to bring dessert to a dinner, and I couldn't get the idea of making lemon bars with cake mix out of my mind. Have you ever had one of those ideas that you just had to make right away? It happens to me all the time.
The pockets of strawberry preserves add a nice burst of flavor to this lemon bar recipe. This Honey Blueberry Sauce would be another delicious flavor to pair with the lemon and cheesecake.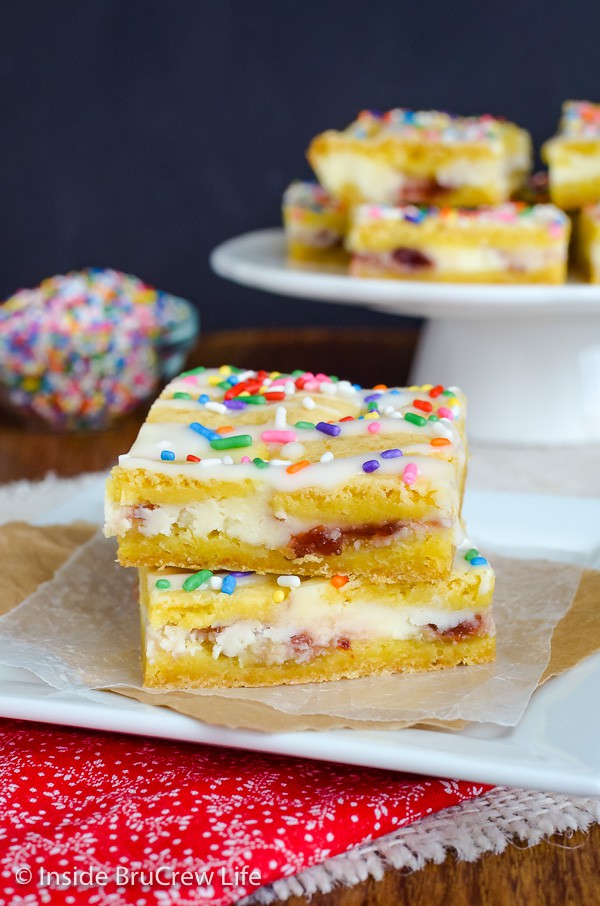 Ingredients needed for this Lemon Bars recipe:
lemon cake mix
butter
lemonade
cream cheese
sugar
egg
strawberry preserves
powdered sugar
sprinkles
Tips for making Strawberry Cheesecake Lemon Bars:
Add melted butter and lemonade to a dry cake mix and mix until a soft dough forms. This is an easy way to make lemon bars from cake mix.
Spray a 9x13 pan with nonstick spray. Press half the dough into the pan for the crust. The dough can be sticky. Spray a little bit of the nonstick spray on your hands before you press the dough in the pan if this happens.
Mix together the cream cheese and sugar until creamy. Add an egg and mix it again. Spread the cheesecake mixture over the dough in the pan.
Microwave the strawberry preserves for about 20 seconds to melt it slightly. Drop it by spoonfuls onto the cheesecake. Use a knife to swirl it gently.
Take the remaining dough and flatten small pieces with the palm of your hands. Place it over the cheesecake. Try to cover as much as possible, but it will be ok if some of the cheesecake still shows.
Bake and chill the lemon bars before adding a sweet lemon glaze and sprinkles.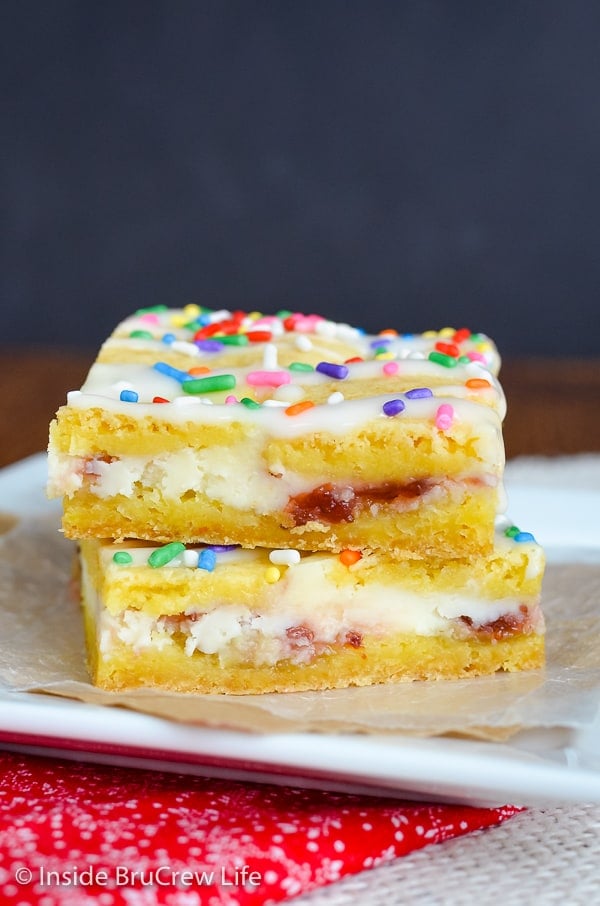 Other easy lemon dessert recipes:
This easy two ingredient Lemon Cream Fruit Dip is a delicious and fresh treat to dip any kind of fruit in.
This gooey Blackberry Lemon Dump Cake is made with just three ingredients. Serve it warm with vanilla ice cream for an amazing dessert!
This Strawberry Lemon Snack Cake is delicious for breakfast or for any time of day. Fresh strawberry pie filling and a lemon glaze will have you smiling in no time.
Layers of cake, lemon mousse, and fresh fruit make these no bake Lemon Mousse Fruit Parfaits a sweet ending to any meal.
Circles of buttery, flakey pie crusts filled with lemon curd make the cutest little Mini Lemon Hand Pies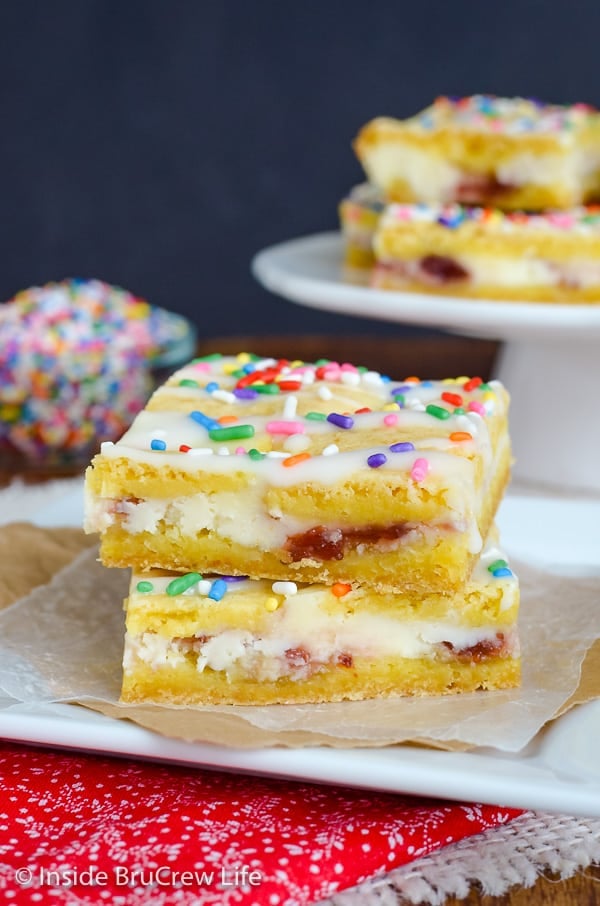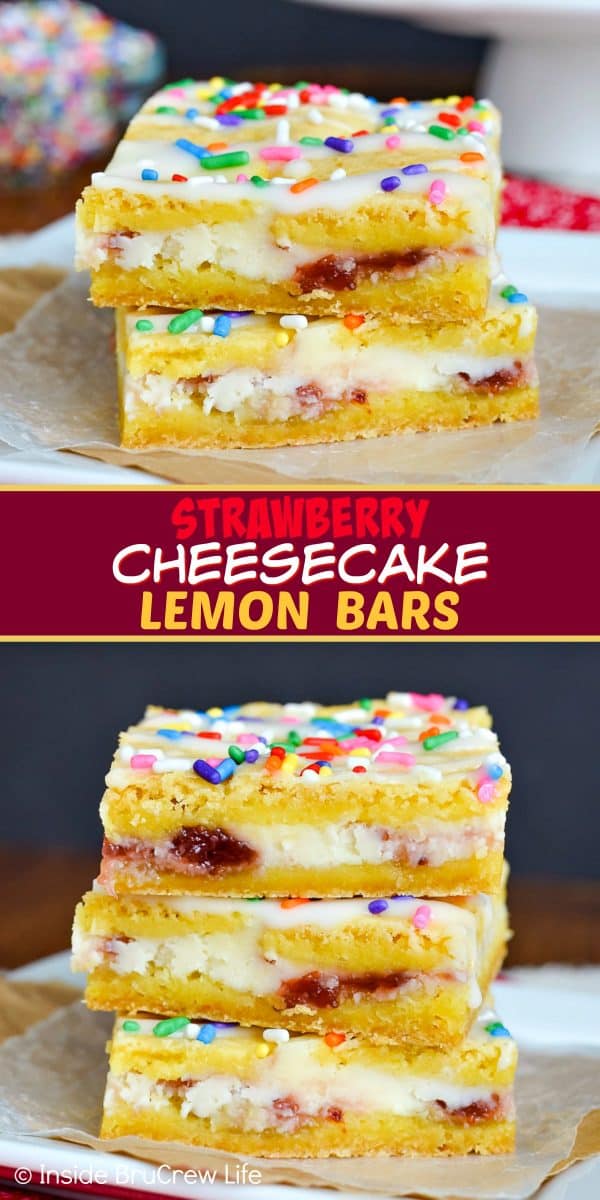 *The post for Strawberry Cheesecake Lemon Bars was originally published on March 20, 2014. It has been updated and republished on February 20, 2019.