These Carrot Cake Cookies with white chocolate chips and caramel bits are a sweet treat to enjoy any time of year.
Here is my big philosophical reason on beds and cookies…I like big cookies, and I have discovered that I like big beds. The more the merrier, right?
See, in my mind, cookies are like beds. The more cookies I have the merrier I am, and the bigger the bed, more merriment I get from all that space! Yes, I have strange ways of looking at things.
Last week we spent a week at the beach with my family. The room we stayed in had a king sized bed.
I am more than ready to upgrade to one that size for my room at home.You could do "snow angels" and not bump into the other person.
I have to admit something…I kind of like my own space when I am sleeping. Now don't get me wrong, I like to cuddle. But when it is time to sleep, lots of space is nice!!!
Well, unless it is freezing cold out, then I "steal" my hubby's body heat. So that King sized bed wouldn't be as practical in the middle of winter, I guess.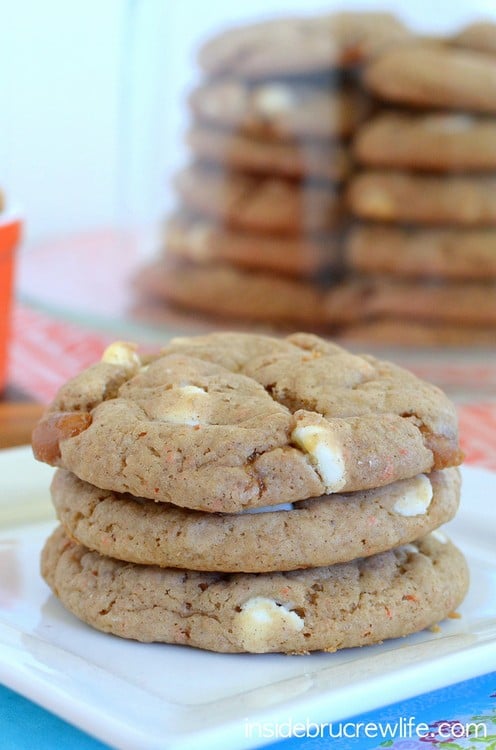 Want to know something else I like to "steal"? Cookies from the kitchen when no one is looking. It's a problem, I know!
Lately I have been all about making cake mix cookies, so making a carrot cake version was bound to happen sooner than later. I just love how quick and easy they are to make!! (and to eat)
A few weeks ago my husband and I went on our church staff retreat. Guess who was in charge of making sure we had enough sweet stuff to munch on? Silly question to ask, huh? Me, of course!!!
I made these cookies, some fudge, and some Oreo truffles. These cookies disappeared at an alarming rate. In fact, I do believe the last cookie got hidden, so it could be enjoyed later. (and no, not by me)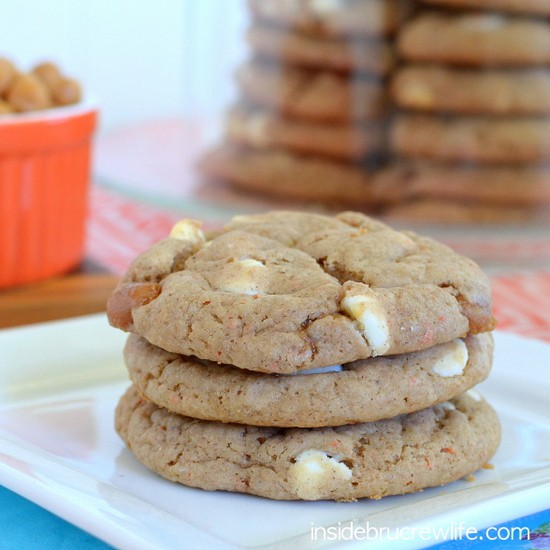 The cinnamon and spice really stood out in these, and the warm rich flavor just made them melt in your mouth. These Carrot Cake Cookies have the perfect fall feeling to them. Caramel, cinnamon, spice…
Yup, I totally can't wait for fall to get here!!!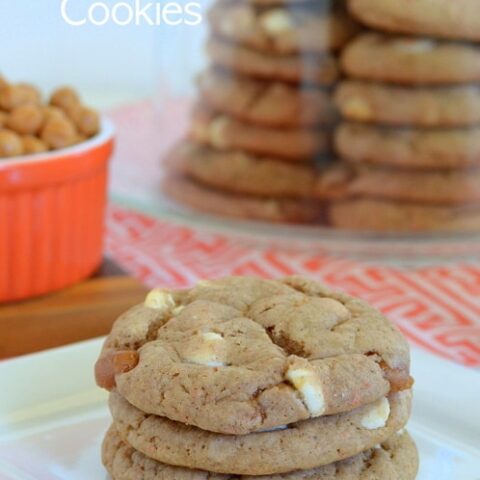 Carrot Cake Cookies
Ingredients
1 carrot cake mix
1/2 cup unsalted butter, melted
2 large eggs
1 teaspoon vanilla
1 teaspoon cinnamon
1 cup white chocolate chips
1/2 cup Kraft caramel bits
Instructions
Preheat oven to 350°.
In a large mixing bowl, combine the cake mix, butter, eggs, vanilla, and cinnamon. Beat until combined.
Stir in the white chips and caramel bits by hand. Chill dough in refrigerator for at least 30 minutes.
Form dough into 36 balls and place 12 balls on baking sheet. Bake for 10 minutes.
Let cool on pan 2-3 minutes. Gently remove from pan to cooling rack. Cool completely. Store in air tight container.
Notes
Use a metal spatula to remove the cookies from the baking sheet. The caramel will start to stick to the pan if you leave it cool too much. Baking on a Silpat will also help keep them from sticking.
Nutrition Information:
Yield:

36
Serving Size:

1
Amount Per Serving:
Calories:

78
Total Fat:

5g
Saturated Fat:

3g
Trans Fat:

0g
Unsaturated Fat:

2g
Cholesterol:

21mg
Sodium:

36mg
Carbohydrates:

7g
Fiber:

0g
Sugar:

7g
Protein:

1g
Nutrition facts are an estimate and are not guaranteed to be accurate. If you need special diet advice, please see a registered dietician.