Homemade pie filling and an oatmeal crumb topping make this Apple Crisp Pie the perfect fall dessert. Add this easy pie to your Thanksgiving day dessert plans.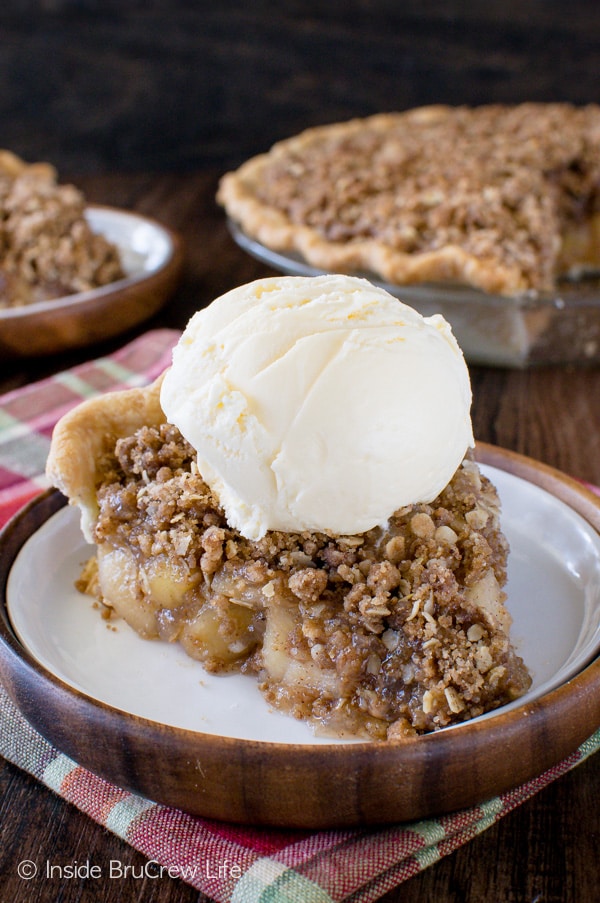 CLICK HERE TO PIN THIS RECIPE FOR LATER!
Do you have certain pet peeves that only bother you at certain times?  I have one that the only time I think about it is when I'm driving into a store parking lot.  Lately every time I have been at any store, there are people walking in the parking lot.
Now, I realize that sounds a little strange.  People in the parking lot…walking.  Yes, I know they have to get out of their cars and walk to the store doors.  But do they have to walk down the middle of the aisles as I'm trying to drive down it to find an open parking space?
It drives me bonkers that people think they own the parking lot and will meander slowly down the middle of the aisle as a car is right behind them.  Maybe it's just me, but when a car comes up behind me, I get over and let them pass. Ok, rant over!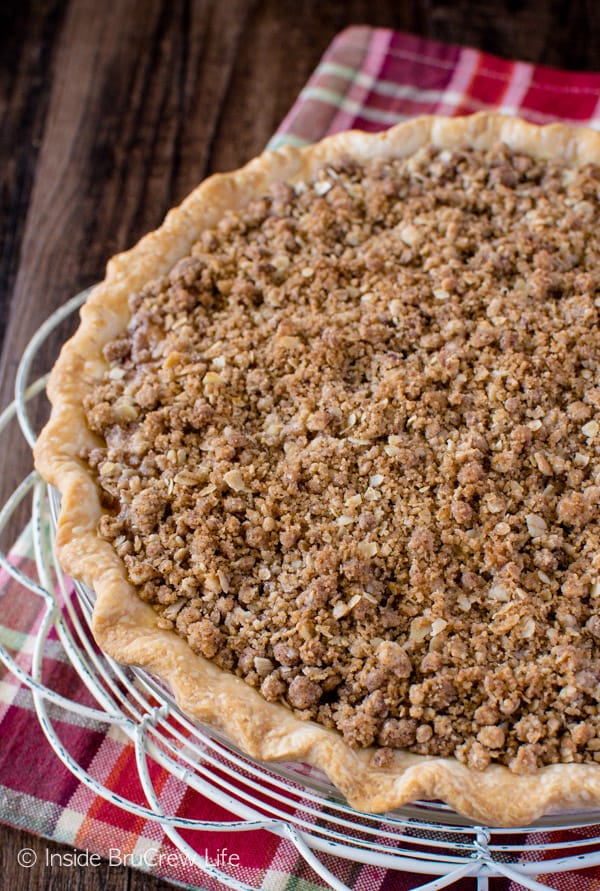 Another small pet peeve that I have is that pie seems to get the shaft most of the year.  Everyone breaks out their pie plates in the fall.  I get it because I'm guilty of the same thing.  Pie just isn't one of those desserts that I make very often other times of the year.  That needs to change for sure!
A few years ago I came up with my own recipe for Homemade Apple Pie Filling and then made this Cheesecake Apple Pie.  That pie quickly became one of our favorite desserts. It was so popular that we included it in our cookbook Cheesecake Love too.
My husband absolutely loves anything apple, so he gets excited when I start making apple desserts.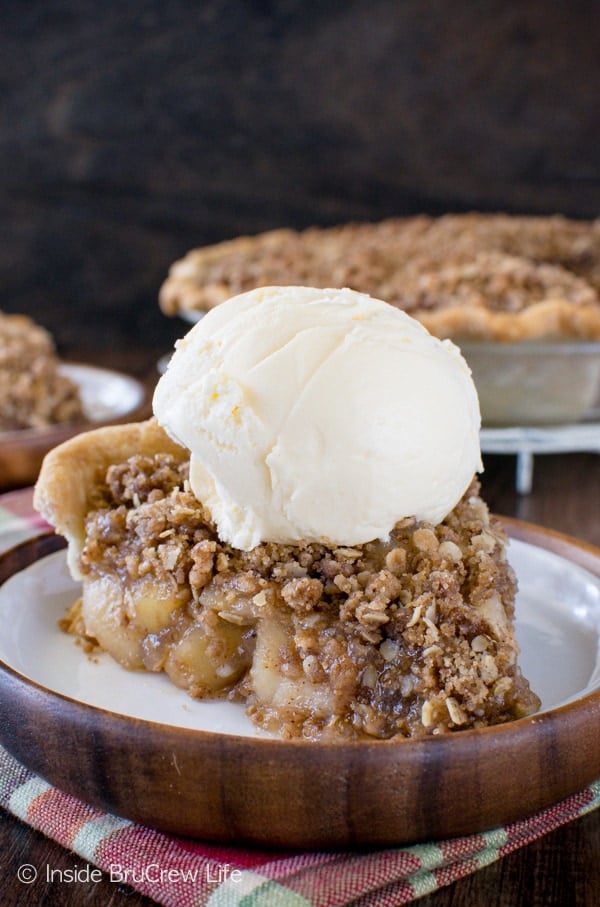 I decided to make another apple pie this year, but with a slight twist.  Instead of adding a layer of cheesecake on the bottom, I added a double batch of oatmeal crumble to the top. Warm apple pie filling, a crispy topping, and melty vanilla ice cream…you see where this is going, right? This pie has all the components of a quick apple crisp.
We had good intentions of sharing this apple crumble pie with friends.  But it got forgotten because we were chatting outside around the campfire.  Whoopsy! Hosting fail right there.  I probably should have set the pie out with the rest of the food, instead of thinking I would do it later.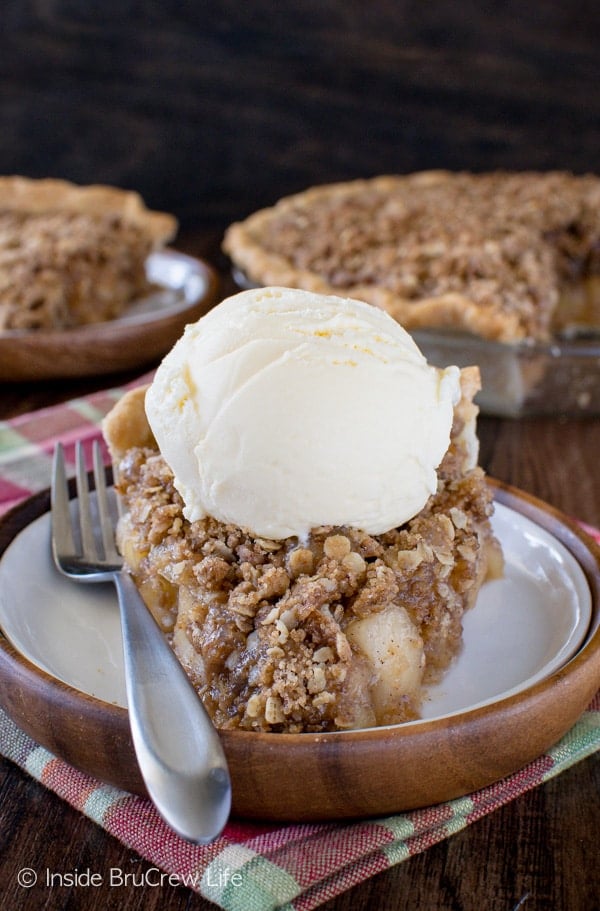 Do yourself a favor and make an apple crisp pie for your Thanksgiving dessert table this year. It will not last long. I know because we devoured this one in no time at all!
How to make this Apple Crisp Pie:
Make the homemade apple pie filling the night before.  It needs time to chill and thicken before putting it in the pie crust.
Let the store bought pie crust sit on the counter for about 15 minutes before trying to unroll it.  I usually get impatient and try to do it too early. No biggie though.  Just press the tears together, if needed. You can also make a homemade crust if you prefer that instead.
Mix together the flour, sugar, oats, spices, and butter until it is crumbly.
Don't scrimp on the oatmeal topping.  You may think it is too much, but trust me and use all of it for the pie.
Cover your crust with a pie shield, if you are worried your edges will get too dark while it is baking.
Serve the apple pie warm with lots of ice cream and caramel topping.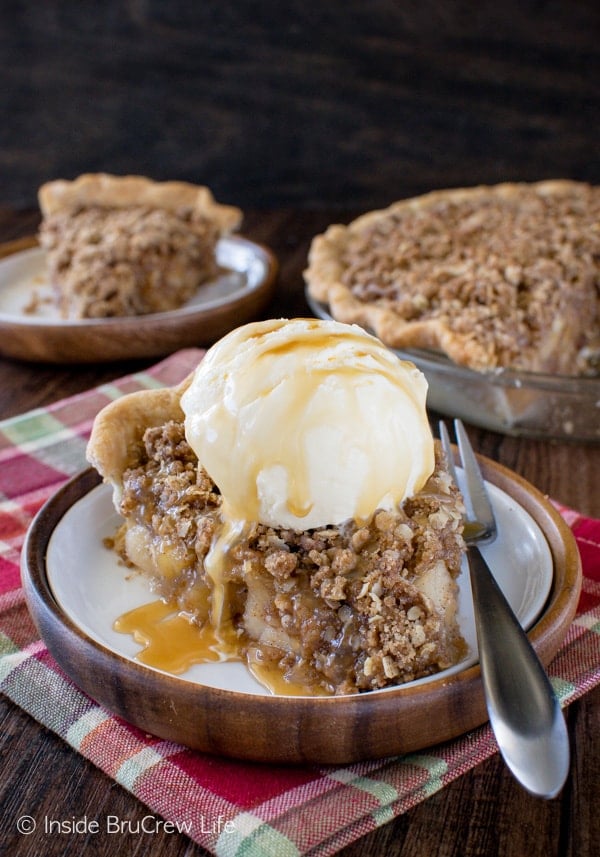 If you are in the mood for more pie, you need to check out these few recipes I found.  I love how creamy and delicious this Homemade French Silk Pie looks. And the fluffy topping on this Lemon Angel Pie looks perfect. Of course, these little Peach Hand Pies are totally calling my name.  I love how easy they are! And that glaze…
Stay up to date on all the BruCrew baking here:
FACEBOOK | PINTEREST | GOOGLE+ | TWITTER | INSTAGRAM | BLOGLOVIN
 Sign up to receive an email in your inbox for each new recipe:
EMAIL SUBSCRIPTION
Yield: 10 slices
Apple Crisp Pie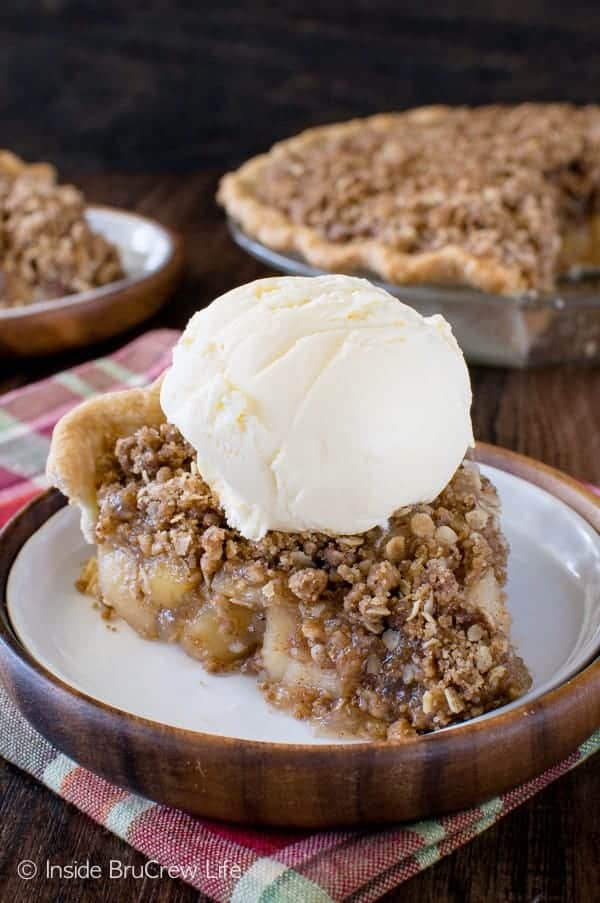 Homemade pie filling and a crunchy topping make this Apple Crisp Pie a delicious fall dessert.
Ingredients
1 pie crust
4 cups homemade apple pie filling
1/2 cup flour
1/2 cup quick oats
1/2 cup brown sugar
2 teaspoons cinnamon
1 teaspoon nutmeg
1/2 teaspoon ground star anise
1/4 cup butter, melted
Instructions
Preheat the oven to 375 degrees. Spray a 9 inch pie plate with nonstick spray.
Place the pie crust in the pie plate and crimp the edges. Spoon the pie filling into the crust.
Mix together the flour, oats, brown sugar, cinnamon, nutmeg, star anise, and butter until crumbs form.
Place the mixture on top of the apple pie filling. Bake for 35-40 minutes. Let cool on a wire rack. Cut into 8-10 slices. Serve with ice cream, if desired.

*This post does contain affiliate links.  We receive a very small percentage of sales from purchases made through these links.  Thank you so much for supporting Inside BruCrew Life and letting us share products and brands we know and love.