Swirls of chocolate make these gooey Banana Nutella Blonde Brownies a delicious way to use up those ripe bananas on the counter.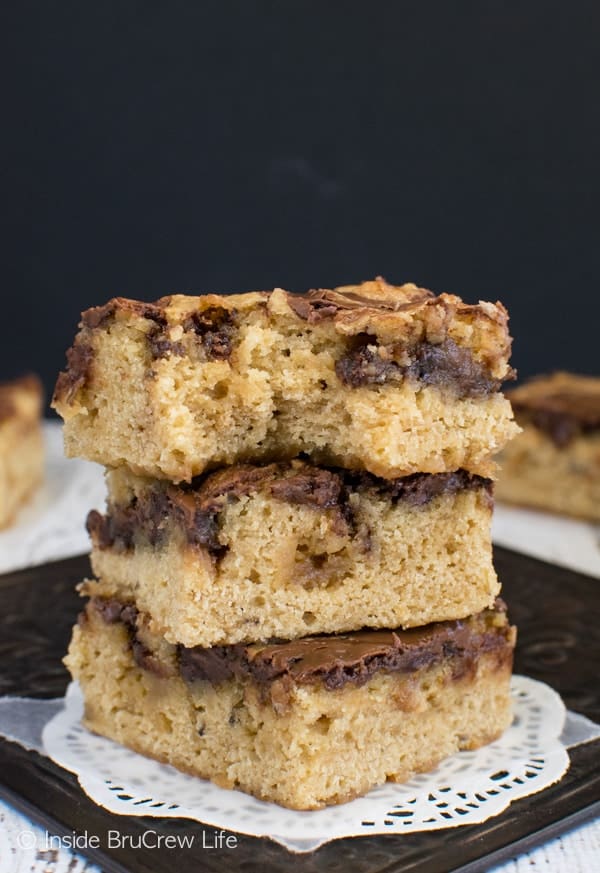 CLICK HERE TO SAVE THE RECIPE FOR LATER!
Are you surprised to see more banana treats staring at you? I'm serious about changing the blog name to Bonkers for Bananas because I seem to bake with banana on a pretty regular basis. I mean this zucchini banana cake just happened a few days ago, and here we are with more banana!
Well, except that then I would have to deal with all the changes and SEO and whatever else goes with doing that. Yeah, never mind. I'm sticking with this blog name forever because that means less work and hassle for me.
So, back to the bananas on the counter. It seems like every week I have a few black bananas that get left in the corner of the counter. If my husband had his way, they would get tossed out every time. He still doesn't realized that the blacker the banana, the better it makes your baked goods. I'll convert him one day.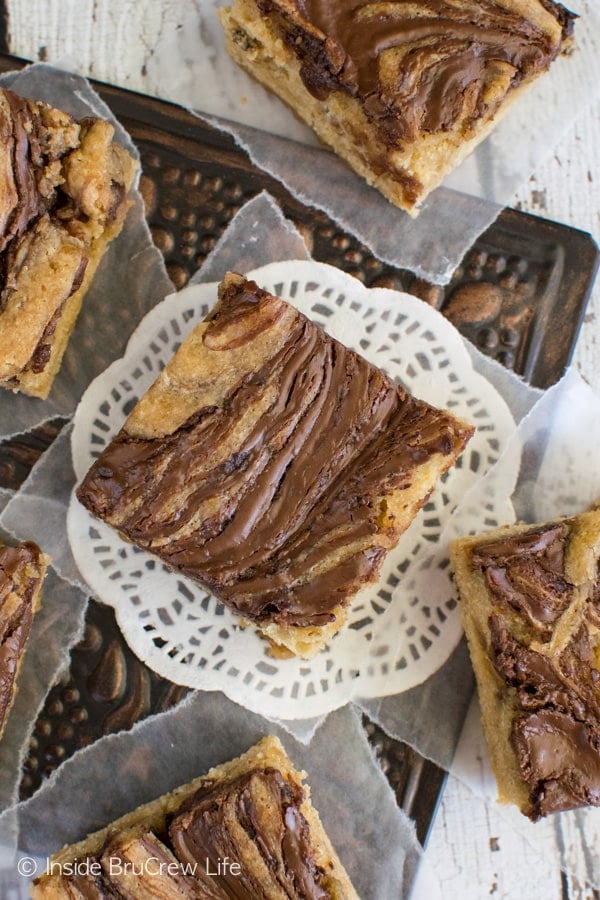 Usually those ripe bananas find their way into things like banana bread muffins. (You definitely have to check those out and see my secret ingredient for making them so soft and fluffy.)
Or they get mixed up into one my many sweet bread recipes. My kids aren't too picky about which one I decide to go with each week.
But this week, I started wondering what would happen if I made my usual blonde brownies and threw some of those extra bananas into the batter and swirled Nutella on top...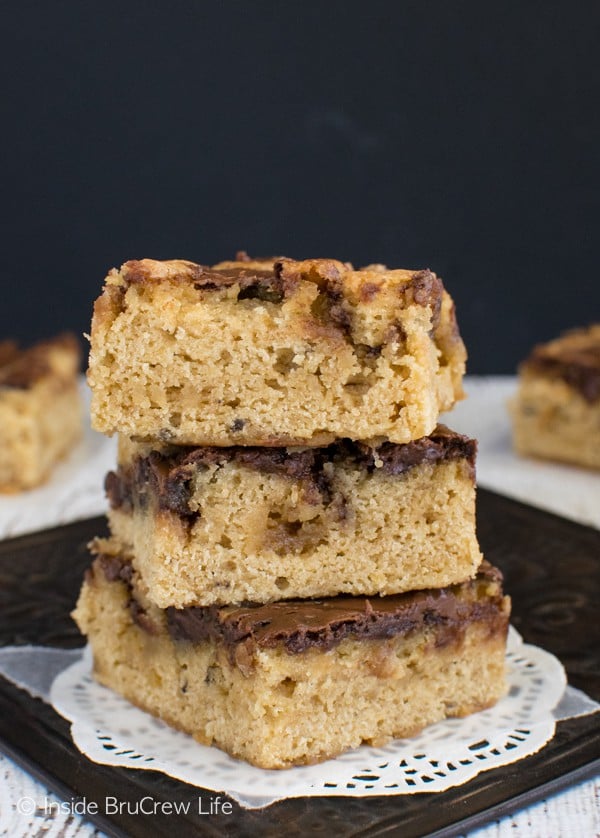 Heaven!!! That's what happens when bananas marry blonde brownies. If you were wondering, that is.
Think banana bread texture but in bar form. Soft, gooey, fluffy, and delicious all on one bite.
Trust me and make a pan of these right away. You will not be sorry! Well, your jeans and shorts might hate you because you won't be able to stop sneaking bites. It's a real danger to consider!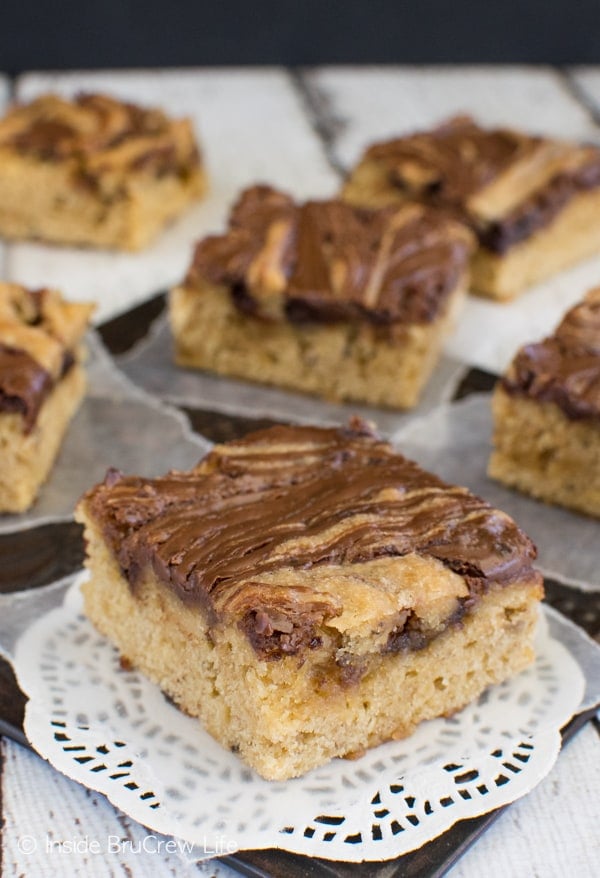 The swirls of chocolate on top totally added an awesome taste to these sweet banana Nutella blonde brownies.
Heat the Nutella up for about 30 seconds in the microwave. Then use a spoon to drizzle it in lines across the top of the batter. Yes, lick the spoon. You know you want to anyway! Use a knife to swirl it and make the top look pretty. Just be careful not to over swirl, or the top with just look like chocolate. Not that it would be a bad thing...we just want to see pretty swirls.
The hardest part of these bars was waiting for them to cool. Although, I have a feeling these brownies would be pretty amazing warm and gooey from the oven too. Darn! I guess I will have to make another pan to test that theory.
Oh, the sacrifices I have to make for recipe research. LOL!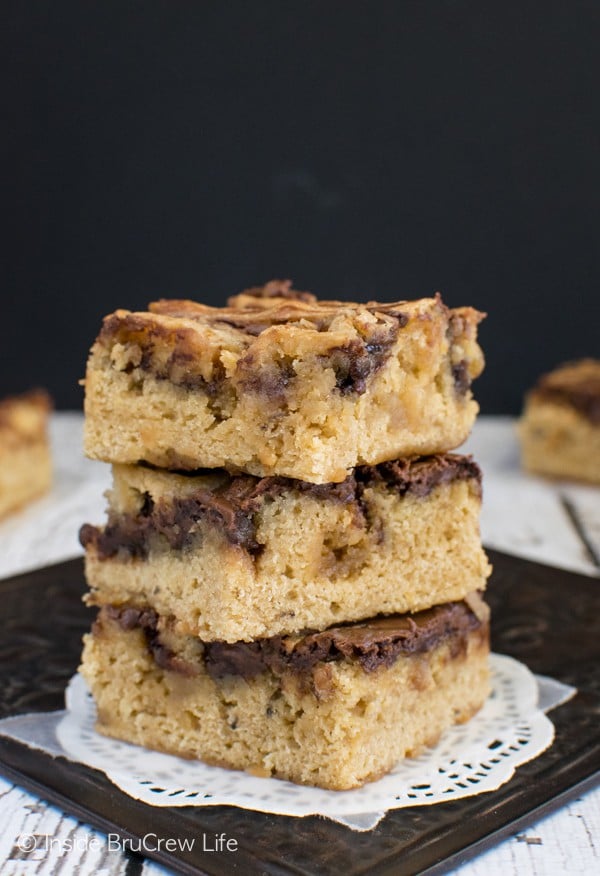 More delicious ways to use up those ripe bananas: