Layers of chocolate cookies and no bake cheesecake makes this Oreo Banana Cream Icebox Cake a delicious treat to enjoy on a hot summer day!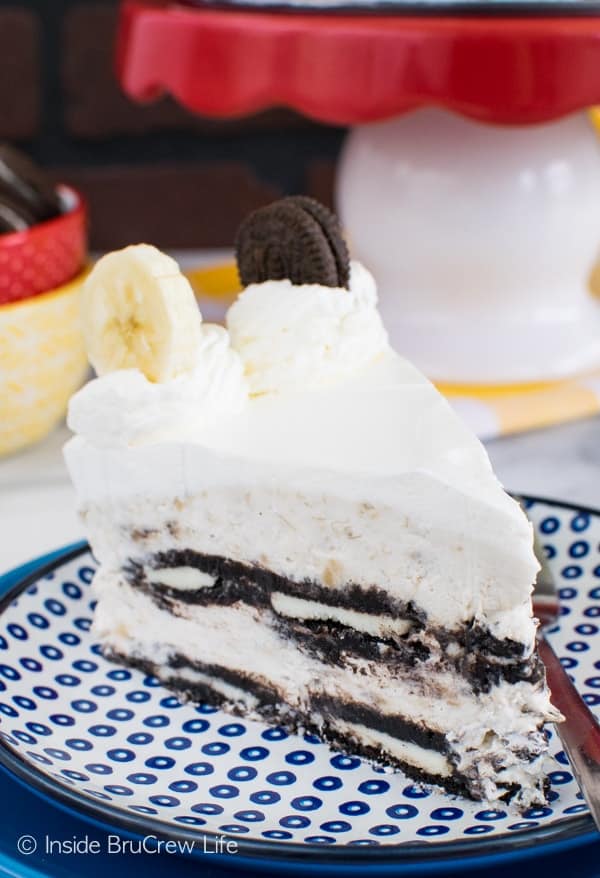 Last weekend we headed to the mountains to enjoy a fun-filled few days in the mountains of New Mexico with some of our church families. I came prepared for the sun, bugs, and no internet with a bottle of sunscreen, a bottle of bug spray, and everything for work scheduled out.
I have to admit that it was very, very nice to be completely unplugged from the phone and computer for a few days. All thoughts of work and food related things got put aside while we did some paint balling and rappelling and hanging out around the bonfire.
I could actually get used to this no work thing, I think...well, until the bills come due that is.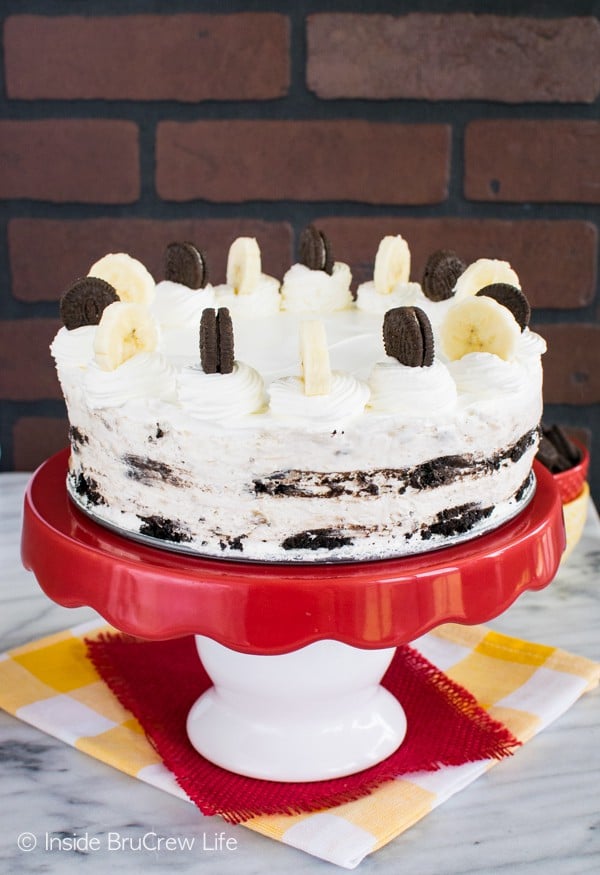 I was also pleasantly surprised that the bugs did not bother me at all while we were there. Normally I am a walking smorgasboard for mosquitos, which is why I brought bug spray. But that bottle of spray stayed in the cabin the whole time.
The last night around the bonfire my husband actually was getting a few bites. I think the bugs usually eat me first because of all the desserts I inhale at home. It's my sweet blood they love.
But when I am away from home, I do much better about eating healthy. Apparently not eating sweets makes the bugs leave me alone...at least that's my theory. Or mountain mosquitoes like sour blood instead...
You would think that would motivate me to put down the chocolate candy cookies. Nope, I came home and promptly had a few loaded blonde brownies. And then I paid for it while we were outside watching fireworks. I think every single bug came and found me while we sat there. Curse my sweet tooth!!!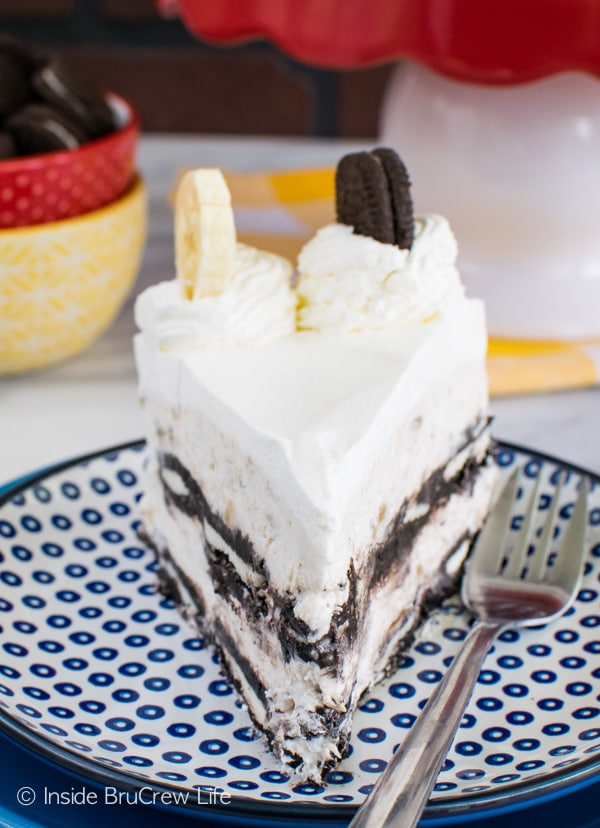 It's that same sweet tooth that makes me crave fun and crazy layered desserts like this Oreo banana cream icebox cake. I'll never have sour blood with all the bites I kept taking out of this yummy cake.
Oreos and bananas are almost always in our pantry and on the counter. For some reason I have this crazy impulse to buy both of those items almost every time we go grocery shopping. And then because I can only eat green bananas, I end up with lots of very ripe bananas sitting on my counter.
Lucky for me, I haven't run out of banana ideas...yet. This time I decided to use a few of those ripe bananas in a no bake cheesecake. Yup, even after writing an entire book about cheesecake, I'm still coming up with more ideas!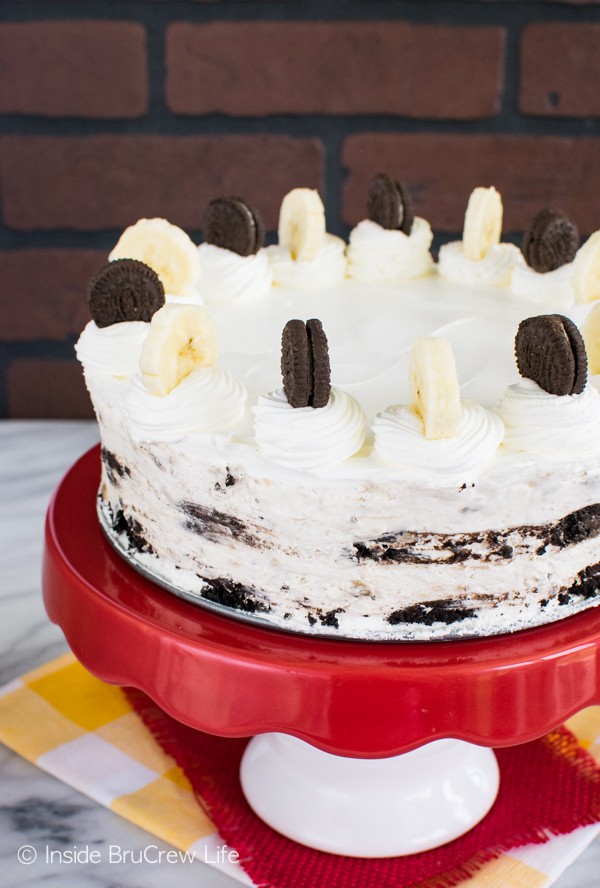 Layers of soft cookies and banana cream cheesecake will have you going back to the refrigerator for another slice. How do I know this? Well, someone in my house told me that. And no, it wasn't me.
That time anyway...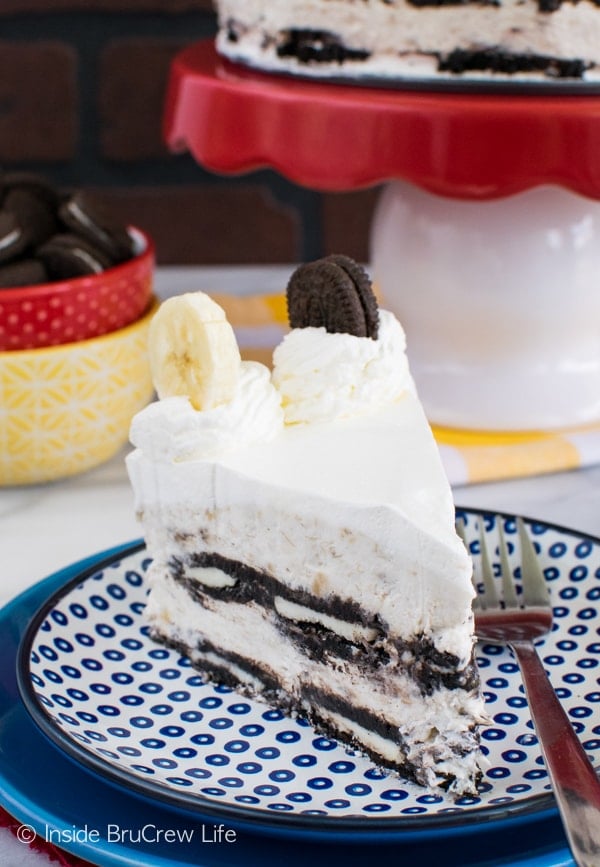 More delicious and fun ways to use up ripe bananas: