Adding chocolate chips and cherries makes this banana cake extra special. Bring this Banana Split Bundt Cake to those weekend picnics and watch it disappear.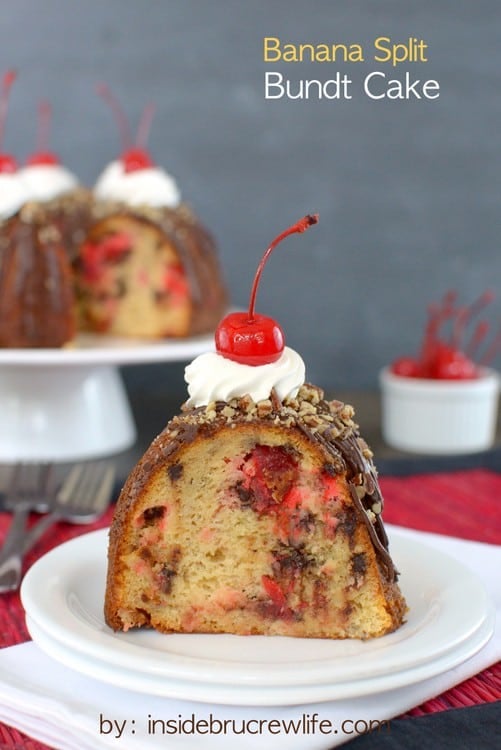 One of my favorite jobs when I was in college was at a restaurant in PA called Friendly's. I waitressed there with my two best friends, and I have so many fond memories from those days. There were so many days of just goofing off, laughing when we had to work the "butt" tables, flirting with the customers (yeah, we had no shame then), and trying to get our tables to order an ice cream dessert.
On the busier nights we had someone who would make the ice cream treats for us. But there were those slow days and nights when getting the ice cream order just went with the job. I have to admit I really loved making those fun treats.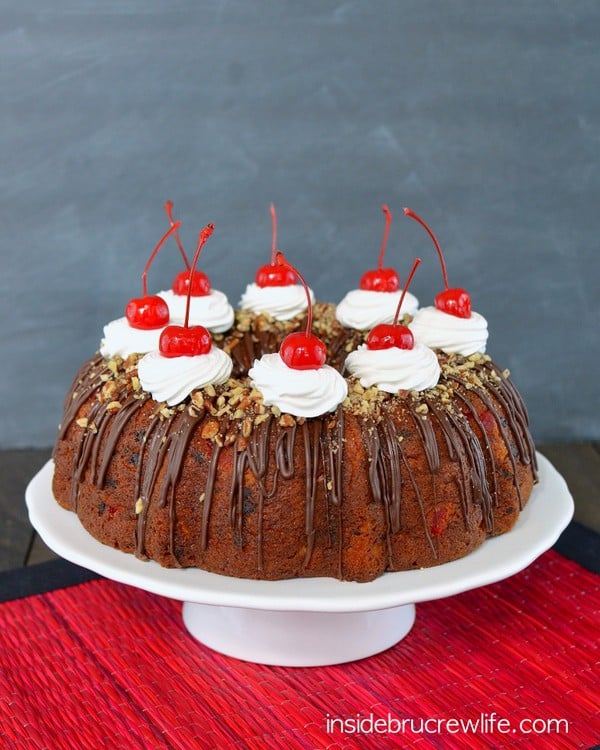 We served milk shakes, clown sundaes for the kids, Reese's sundaes, and of course banana splits. You can order all the sundaes as either a 3 or 5 scoop sundae. And the bowl that the 5 scoop Jim Dandy sundae came in was massive. Seriously, the thing was huge. And was it ever fun to make.
5 scoops of chocolate, vanilla, and strawberry ice cream topped with fudge, marshmallow, strawberry, walnuts, Cool Whip, sprinkles, a cherry, and of course a banana cut in half, sliced and stuck all around the top of the bowl. This is not a sundae for the faint of heart. Just carrying the dessert around the restaurant was nerve wracking because the thing was so heavy.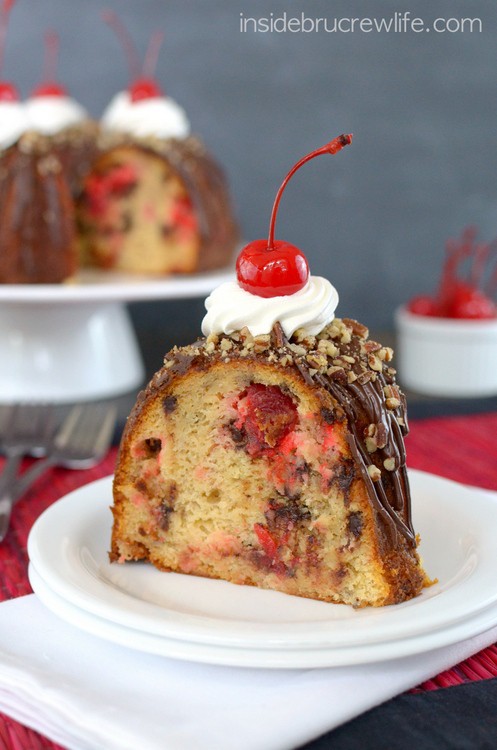 As a waitress, you were always trying to get people to order dessert. The higher the bill, the higher the tip...hopefully. If a table said they were too full for dessert, my classic response was, "Oh, you don't need to be hungry for dessert. It just melts and fills in the cracks."
Seriously? Who says that? And really, who would believe that?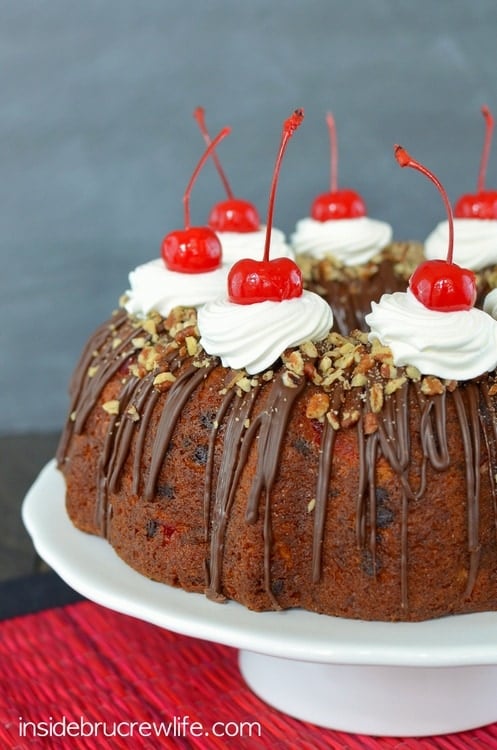 Of course to celebrate Banana Split Week, I decided to make a Banana Split Bundt Cake.
For this fun Banana Split Bundt Cake, you are going to incorporate that melty ice cream in place of other liquids. Yeah, baby! You read that right! Ice cream is going into this cake! Now it's like a real Banana Split.
Measure the ice cream first, then leave it in a bowl on the counter for 10-15 minutes before starting. Stir it up before you get started baking. Remember when you were a kid and would make ice cream soup? Ok, maybe that was just me. Anyhoo...make sure it is in liquid form when you add it to the cake batter. If you forget to get it out early, pop it in the microwave for 15-20 seconds.
This cake starts out with a cake mix and a box of banana pudding. To amp up the banana flavor some more, you will add a little bit of oil and 2 ripe bananas mashed up. The extra bananas add the extra flavor and moistness this cake needs. A whole jar of maraschino cherries diced up and mini chocolate chips knock the socks off this cake.
To complete the banana split sundae look, top the cake with chocolate drizzles, nuts, Cool Whip, and cherries. I like to buy the cherries with the stems on because I think they are just so much more fun. But if you can only find normal no stem cherries, those work just as well.
Make sure you visit Aimee and see her banana split week recipe. I hear she made a very delicious Banana Split Poke Cake.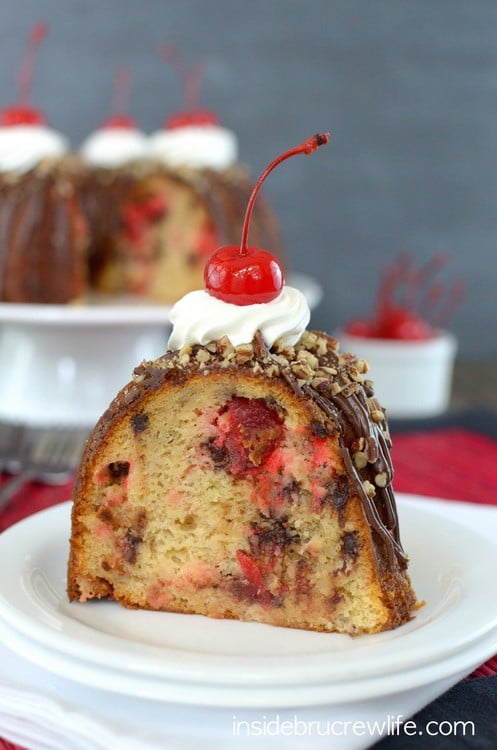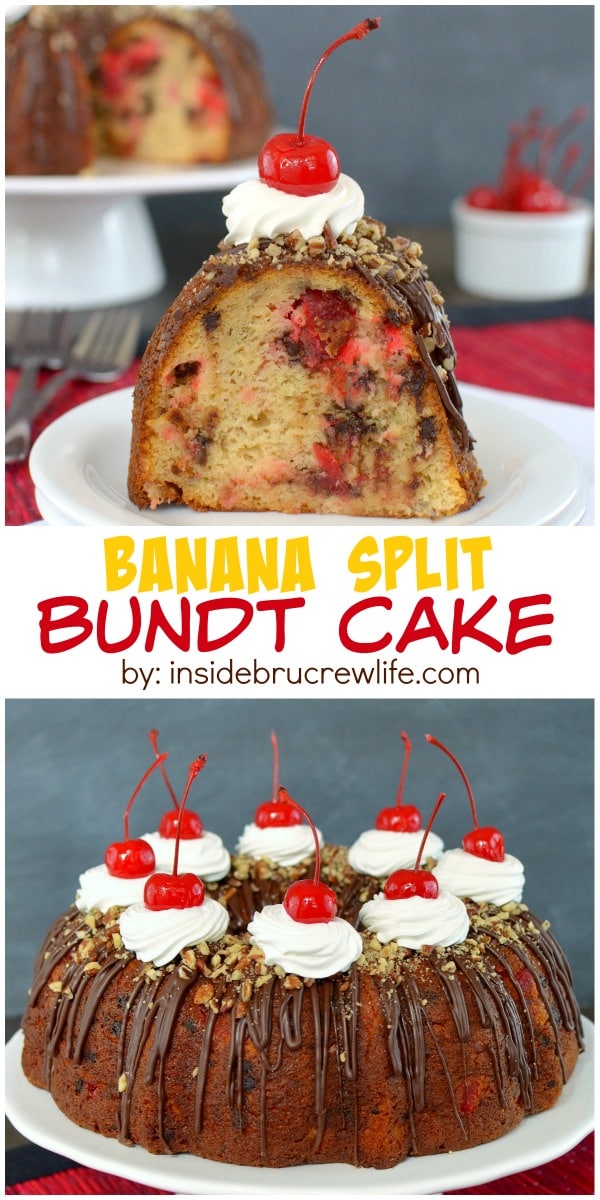 More fun and delicious ways to put that bundt pan to use: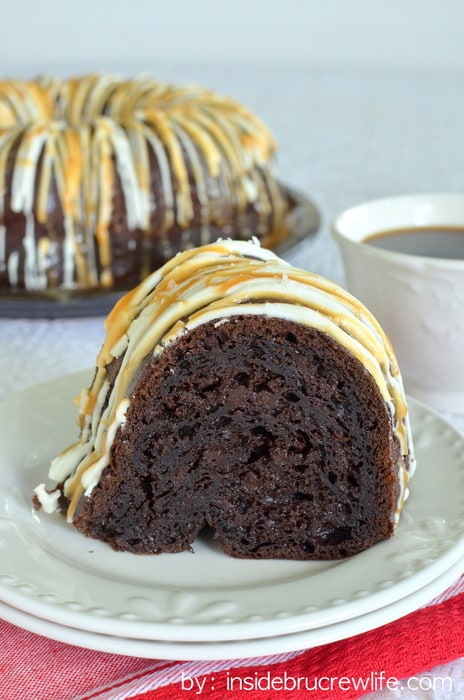 Salted Caramel Mocha Bundt Cake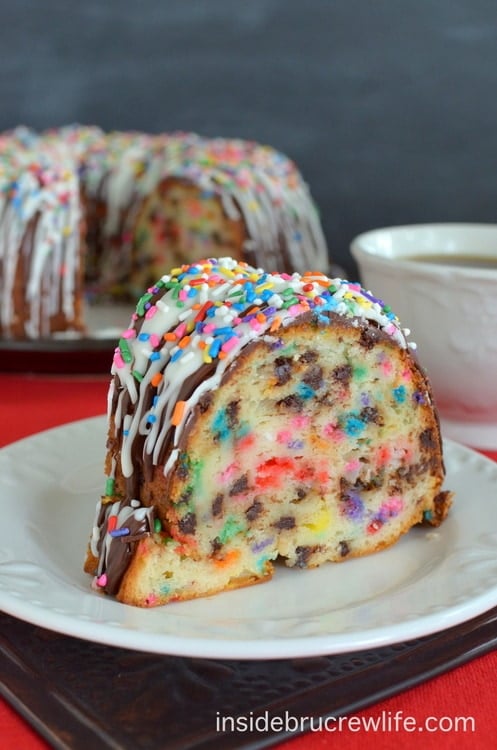 White Chocolate Funfetti Chip Bundt Cake