This Coconut Cream Bundt Cake is easy to make and enjoy.  Three times the coconut in it makes the flavor shine through.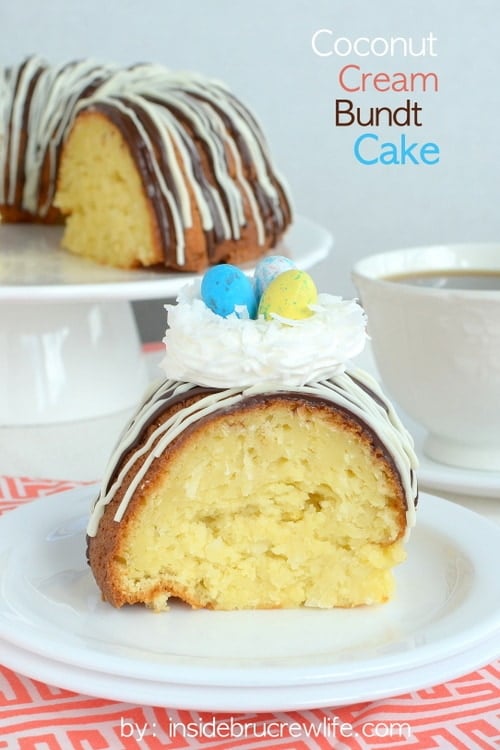 There are days I stare into my closet and dresser drawers and think that I have absolutely nothing to wear.  Never mind the fact that the closet is exploding with clothes and the drawers are stuffed to the max.  I still have "nothing" to wear.
After a long time of fussing and fuming at the clothes,  I can usually put together an outfit that is "new" and totally different.  So much for having nothing to wear.  It is all about perspective and seeing something that is right in front of you.    Sometimes my baking is like this.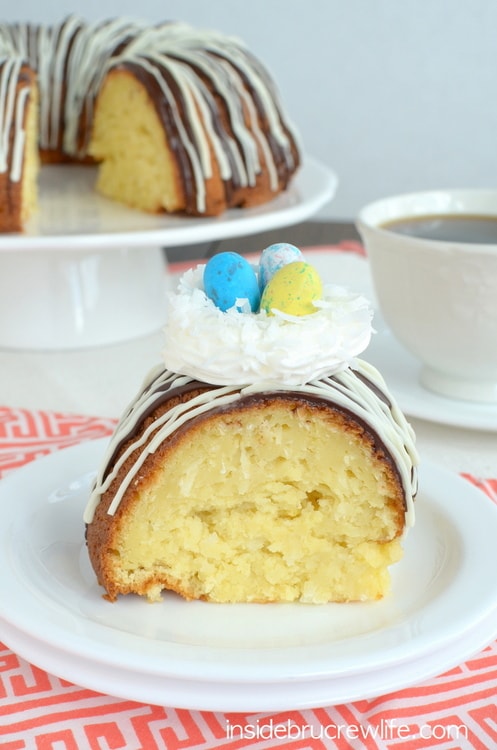 Some days I stare into my refrigerator and my cupboards and think there is nothing to eat or bake.  Again, both of those have plenty of food items staring right back at me.  The cupboards are packed with all sorts of fun baking things I have picked up here and there.
It takes a few minutes, but sure enough I can usually put something together using the ingredients we have.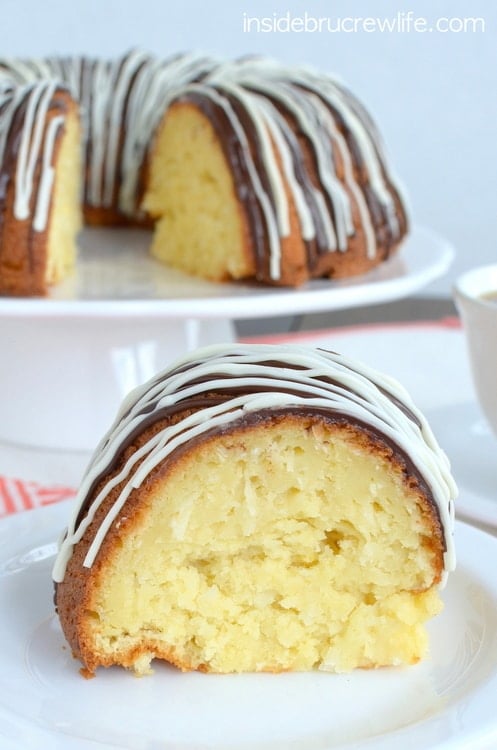 This fun coconut cake started with a bag of shredded coconut and a vanilla cake mix.   A little digging in the cupboard and refrigerator and some coconut milk, coconut extract, and chocolate chips all decided to join in on the cake fun.   And I thought there was nothing to make!!!   I wish picking out clothes from the closet was that easy!
Three times the coconut makes this a coconut cake to love.  The topping of coconut and Robin Eggs was a last minute decision while doing pictures.  It totally took the cake from being having nothing to wear to having a cute little Easter hat.
Maybe it is time to organize the closets and cupboards.  If I knew what outfits and supplies I had on hand right away, it would make getting dressed and baking a little easier and faster.  Or I could go shopping.   Of course that doesn't help with the organization I need, but it sure would be more fun.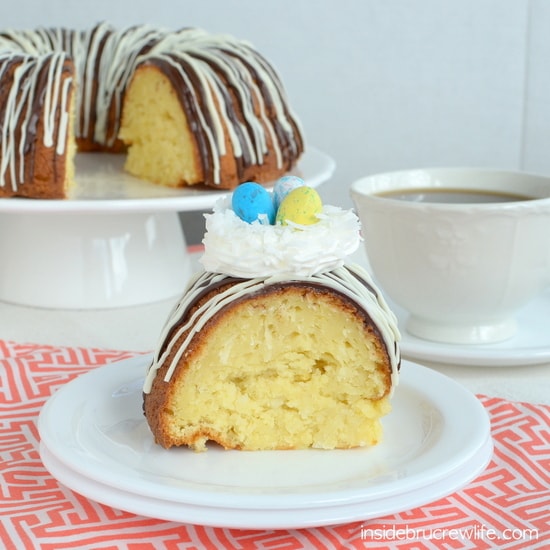 Stay up to date on all the BruCrew baking here:
FACEBOOK | PINTEREST | GOOGLE+ | TWITTER | INSTAGRAM | BLOGLOVIN
Yield: 14 cake slices
Coconut Cream Bundt Cake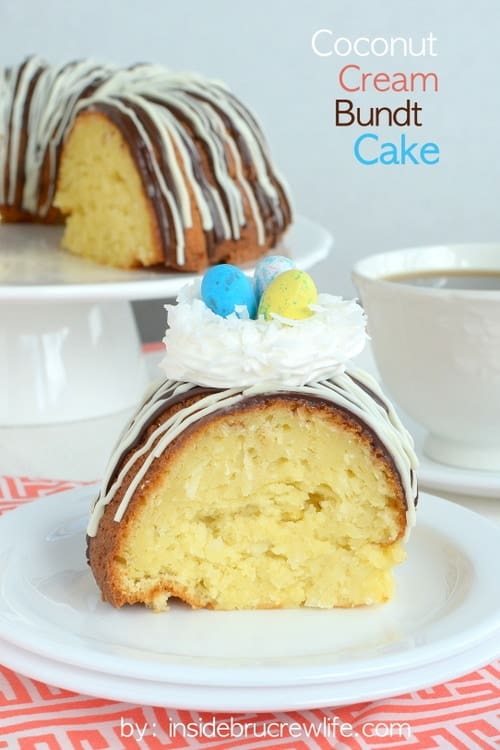 Three times the coconut gives this coconut cream cake an amazing coconut flavor. It is sweet and delicious. The chocolate coating on top is a fun way to make it look fancy.
Total Time
1 hour
15 minutes
Ingredients
1 box vanilla cake mix
1 - 3.4 ounce box instant coconut pudding
1 cup sour cream
4 eggs
2 teaspoons coconut extract
1/2 cup canola oil
1 cup unsweetened coconut milk
1 1/2 cups shredded coconut + extra for garnish
1/2 cup dark chocolate chips
1/4 cup white chocolate chips
1 1/2 teaspoons shortening
Cool Whip (optional)
egg shaped candies for garnish (optional)
Instructions
Preheat oven to 350 degrees. Spray a 12 cup bundt pan with nonstick baking spray.
Place the cake mix, dry instant pudding mix, sour cream, extract, eggs, oil, and milk in a mixing bowl. Beat for 1 minute on low speed and 2 minutes on medium speed.
Stir the shredded coconut in by hand.
Spoon the batter into prepared pan. Bake for 55-60 minutes. Cool in the pan for 15 minutes, then flip out onto a plate to cool completely.
Place the chocolate chips and 1 teaspoon shortening in a microwave safe bowl. Heat for 1 minute. Stir until melted and creamy. Spoon into a plastic baggie and cut one tip off. Drizzle over the cooled cake.
Repeat with the white chips and remaining shortening. Let set.
Cut cake into wedges. Serve with Cool Whip, extra coconut, and egg candies if desired. Store cake in a sealed container.
Recommended Products
As an Amazon Associate and member of other affiliate programs, I earn from qualifying purchases.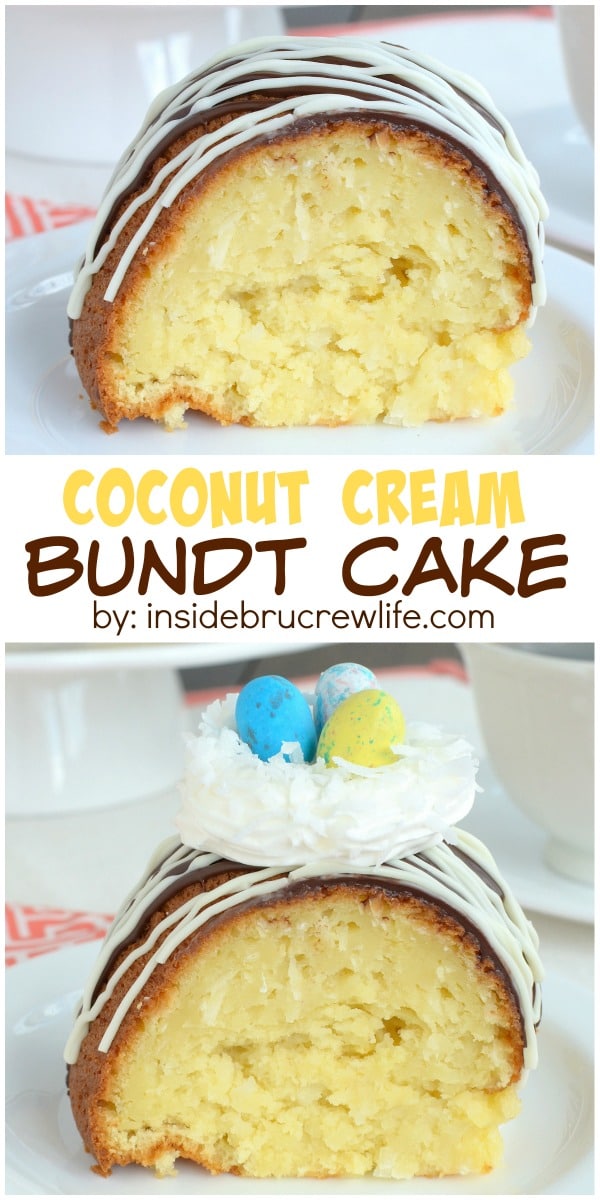 A few more of my favorite coconut desserts: