Spice up your life with this easy Cake Spice Recipe! This delicious mixed spice is made from baking spices that you already have in your pantry. It's the perfect addition to any baked goods.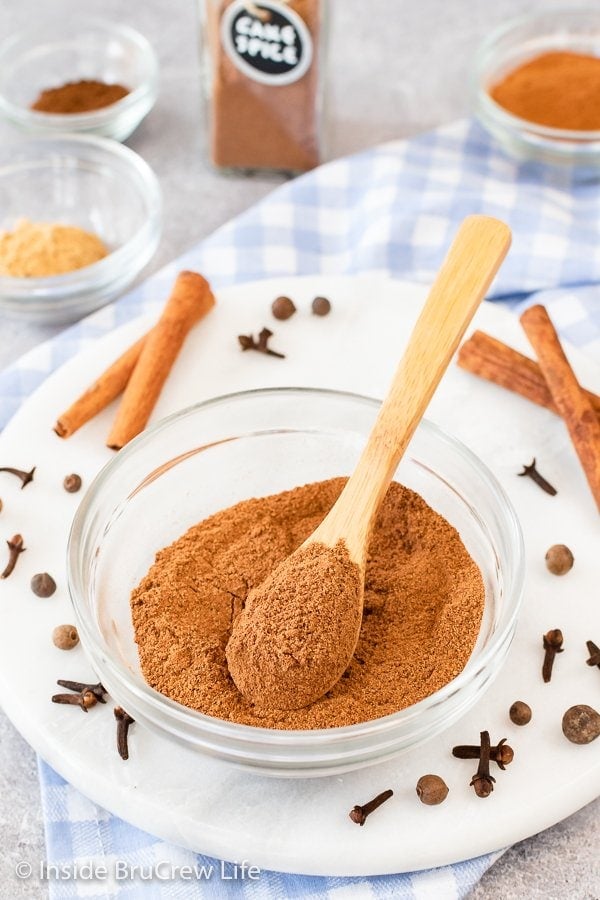 Years ago I visited a large spice store. They had every single spice and seasoning you have ever heard of, plus tons more. It was so much fun smelling the different varieties and blends that they had.
Some of the things I purchased was a cinnamon syrup for pancakes and a cake spice for donuts and muffins.
Most people only use a few basic spices in their cooking and baking, but there are so many more flavors and blends that taste so good.
Cake spice is one of those blends that I have come to love. Unfortunately, it can be hard to find this baking spice mix in local grocery stores.
Why This Recipe Works
Did you know that you can make your own homemade spice mix from ingredients that you probably have in your pantry right now?
If you are looking for an exciting flavor to add to your baked goods, you need to try this cake spice recipe.
The blend of spices used together creates a warm and spicy taste.
It can be used in place of cinnamon in any recipe.
Adds a delicious homemade flavor to your favorite baked goods.
Cheaper than any store bought variety.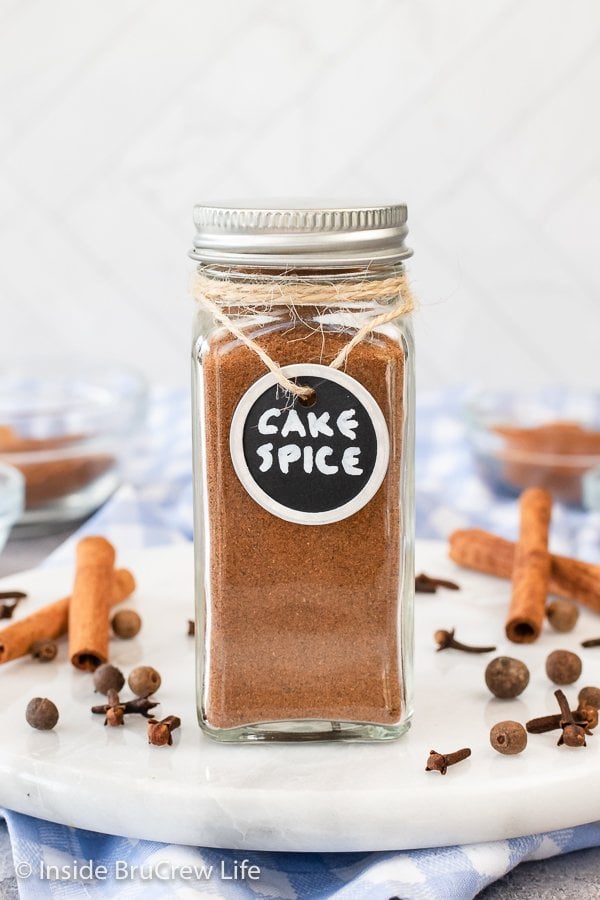 What is Cake Spice?
Cake spice is a British mixed spice blend that has 5-6 different spices mixed together in one bottle. It is a popular spice that is used in many baked goods during the holidays, so it is also called Christmas spice.
It has a warm and spicy flavor that is slightly similar to pumpkin pie spice.
What You Need
You can make your own homemade cake spice mix from spices that you already have in your pantry. It's easy to do with a 1:1 ratio, and the results are delicious.
Allspice is ground from allspice berries. It has a sweet, warm smell, along with a very slight pepper flavor.
Cinnamon comes from cinnamon tree bark. It has a sweet, yet slightly spice smell and flavor.
Cloves are ground from the dried bud of a clove tree flower. It has an intense warm and slightly bitter flavor and smell.
Ginger is ground from dried ginger root. It has a sweet, spicy, and pepper flavor.
Nutmeg is ground from the seed of the nutmeg tree. It has a nutty and slightly sweet flavor.
Star Anise comes from dried star anise pods. It is warm, sweet and spicy, and has a mild licorice flavor.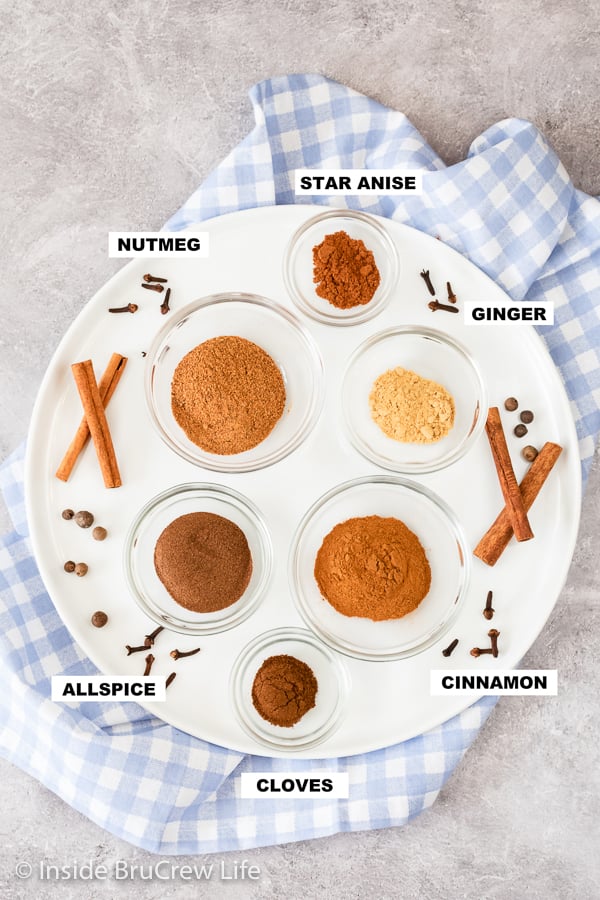 How to Make Cake Spice
It is so easy to make your own spice blend with this easy recipe. It literally takes less than 5 minutes to mix it together.
Combine the spices. Use a small whisk to stir together all the ground baking spices in a small bowl.
Store in a jar. Spoon the spice blend into an air tight container.
Shake before using. Give the bottle or jar a gentle shake to make sure everything is combined.
Storage
The best way to keep this spice mix is in a tightly sealed bottle or jar for 6-8 months. Exposure to air can cause your spices to loose flavor quickly.
Keep the bottle in a cool dark place away from air, light, and moisture.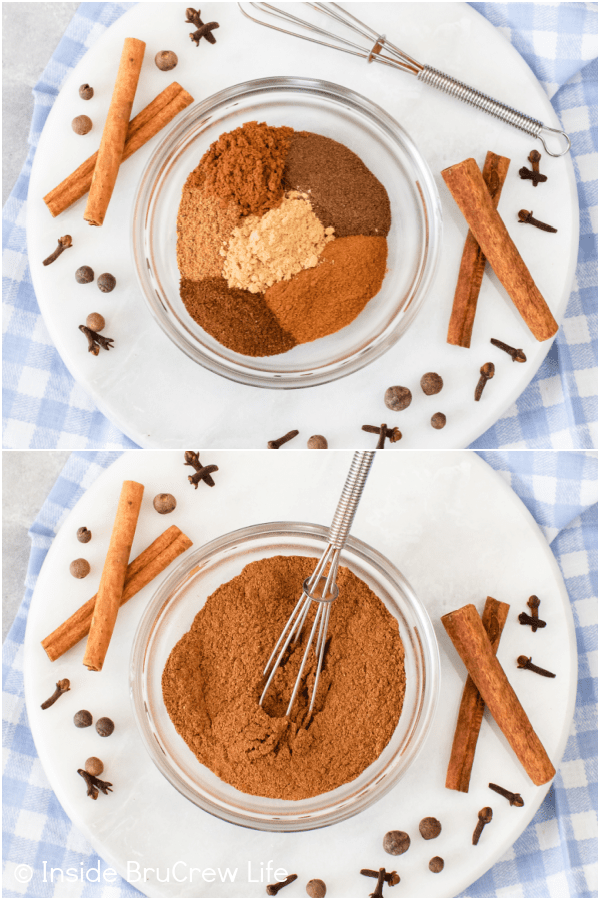 Recipe Tips
Spices tend to lose their strength over time, so it is best to make a small batch at a time.
Make sure you are using fresh spices for the best flavor.
Spices are perishable, so store them in an air tight container in a dark place.
Place a label on the bottle and write the date you make your spice blend on it. This way you know how old the spices are.
FAQ'S
What can you use in place of cake spice?
Feel free to substitute cinnamon or pumpkin pie spice, if you do not want make a cake spice mix.
Why do you keep spices in the dark?
Sunlight and natural light will speed up the loss of flavor.
Can you freeze spices?
It is NOT recommended to keep your baking spices in the freezer or refrigerator. The constant opening and closing of the bag or container can allow moisture to get into the spices. Moisture can destroy the flavors in spices, and can cause mold to start growing in it.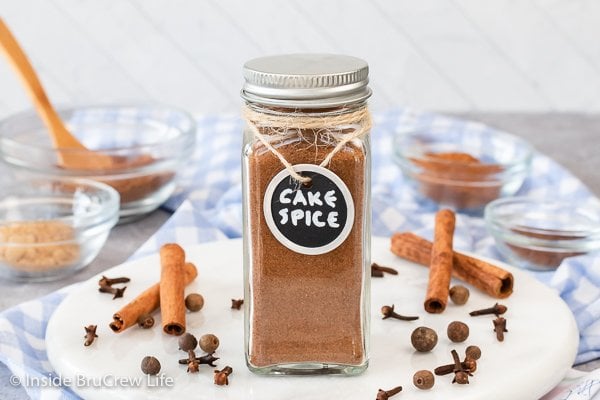 How to Use It
This mixed spice blend can be used in any baked good that calls for cinnamon. It adds just the right amount of spice and flavor.
Add 1-2 teaspoons to box cake mixes.
Whisk it into eggs and milk for french toast.
Other Baking Basics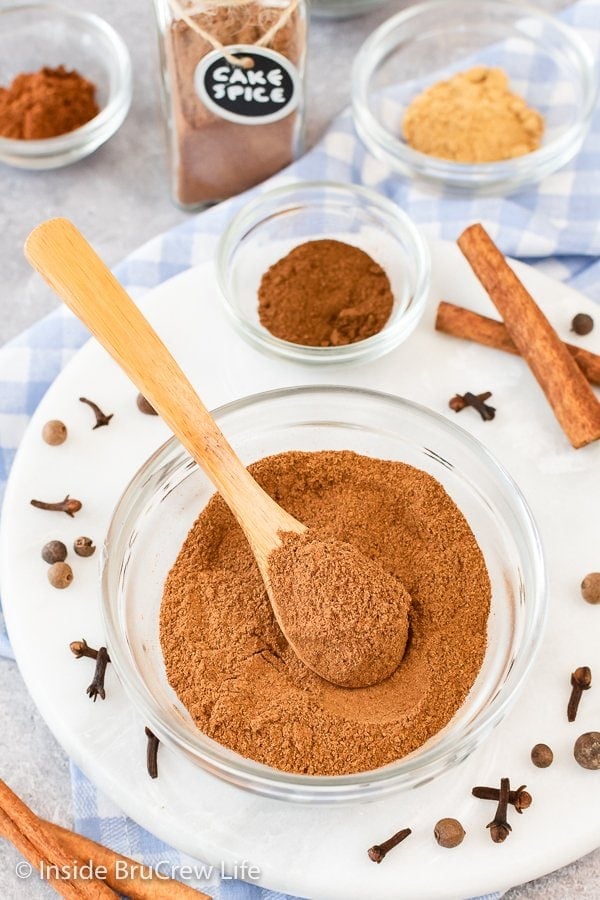 Do you love a recipe you tried from Inside BruCrew Life?
Please leave a 5-star ⭐️ rating and a review in the comments section below.