Carrot cake is one of my favorite cakes of all time.  These baked Carrot Cake Donuts are just like having cake for breakfast.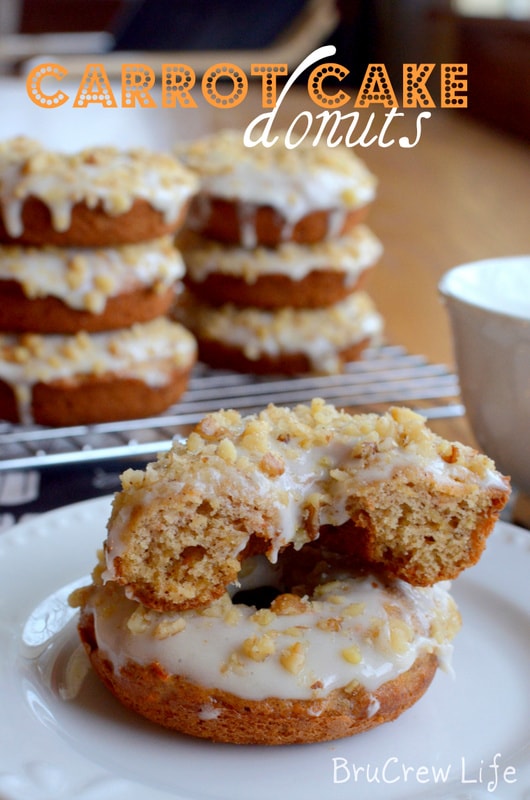 It makes me feel like I am eating a healthy dessert because:
A. there are carrots in it
B. there is pineapple in it
Last time I checked, carrots and pineapple are still healthy foods, so that makes these Carrot Cake Donuts healthy, right?
YAY! A yummy healthy breakfast coming right up.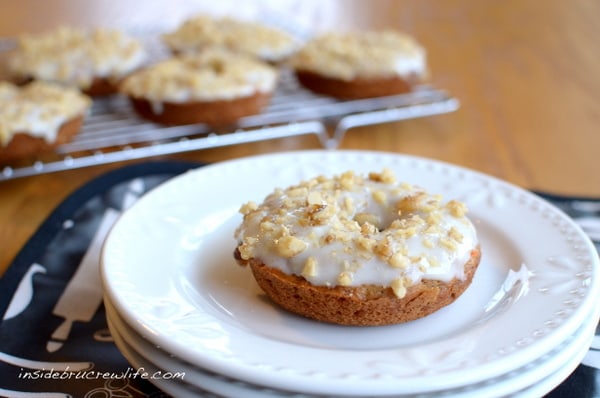 Ok, fine.
You got me. These Carrot Cake Donuts I made aren't really healthy at all.
But they do have carrots, pineapple, AND yogurt in them, so they can't be all THAT bad for you.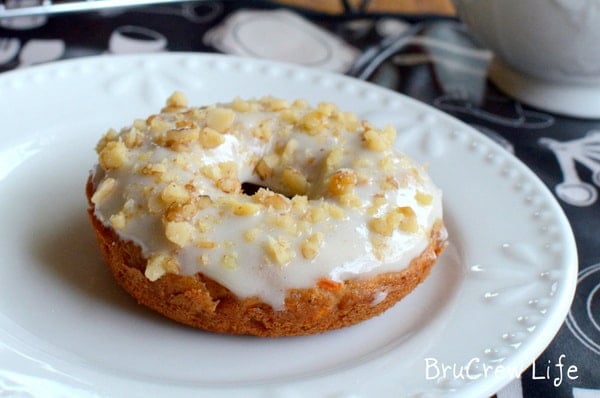 "Veggies are a must on a diet. I suggest carrot cake, zucchini bread, and pumpkin pie" Jim Davis
I love this quote! It is now my life motto!  LOL!
Power to the VEGGIES!!!
Carrot Cake Donuts recipe: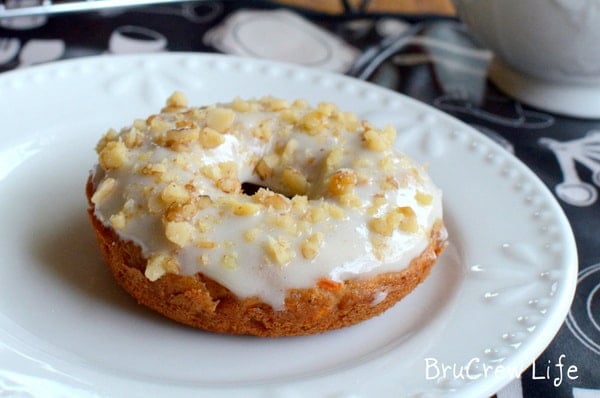 Homemade carrot cake donuts topped with a cream cheese glaze
Ingredients
For the Donuts

1/2 c. butter, softened
1 egg
1/2 tsp. salt
1/2 tsp. vanilla
2/3 c. brown sugar
2/3 c. vanilla yogurt
2/3 c. crushed pineapple, drained (save juice)
2/3 c. shredded carrots
2 tsp. cinnamon
1/2 tsp. nutmeg
1 1/2 tsp. baking powder
1 1/2 tsp. baking soda
2 c. flour
For the Frosting

4 oz. cream cheese
4 tbsp. butter
2 Tbsp. pineapple juice
3/4 c. powdered sugar
1/2 c. chopped walnuts
Instructions
For the Donuts

Cream butter, sugar and salt. Add the egg, vanilla and yogurt and beat until smooth. Stir in the pineapple and carrots.
Sift the flour, cinnamon, nutmeg, baking soda and baking powder. Slowly beat into the butter mixture.
Fill a bag with the donut mixture and snip a corner off. Squeeze into donut pan cavities filling 1/2 full. Bake at 375* for 10 minutes. Cool a few minutes in the pan and remove to wire rack to cool completely.
For the Frosting

While the donuts are cooling, beat the cream cheese, butter and pineapple juice. Slowly add the powdered sugar until smooth. Dip the cooled donuts in frosting and sprinkle with chopped walnuts.
https://insidebrucrewlife.com/carrot-cake-donuts/
Copyright Inside BruCrew Life