Maple syrup gets a fun and delicious twist when infused with real cinnamon sticks. Our easy two ingredient Cinnamon Syrup has a warm flavor that will melt in your mouth. It's easy to make and will add an extra kick of flavor to your favorite foods.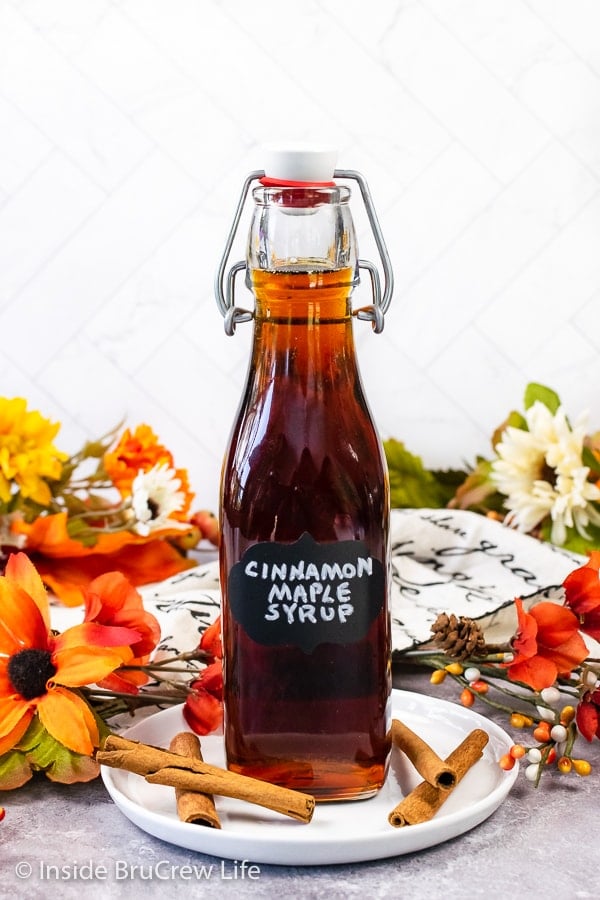 Have you ever had flavored maple syrup? Most people don't realize that cinnamon and maple syrup are the perfect pair because it is hard to find a good bottle of cinnamon infused maple syrup in stores.
We have been making this easy two ingredient recipe at home for years. Cinnamon maple syrup has the perfect combination of sweet and spicy flavors that makes you crave more. It tastes great on top of breakfast recipes such as pancakes or waffles.
And the best part is that you only need two ingredients to make it yourself!
Why This Syrup is So Good
The cinnamon maple syrup is warm and comforting and really does taste like French toast in a bottle. Plus, there is no wrong way to use this syrup.
Try it on oatmeal or yogurt. Sweeten your cup of coffee. Use it as a substitute for processed sugar in baking. Flavor meats, veggies, or salad dressings with it.
However you serve it, our cinnamon syrup will have everyone asking for your secret recipe. With the holidays coming up, it's also the perfect gift - just add a ribbon and homemade tag.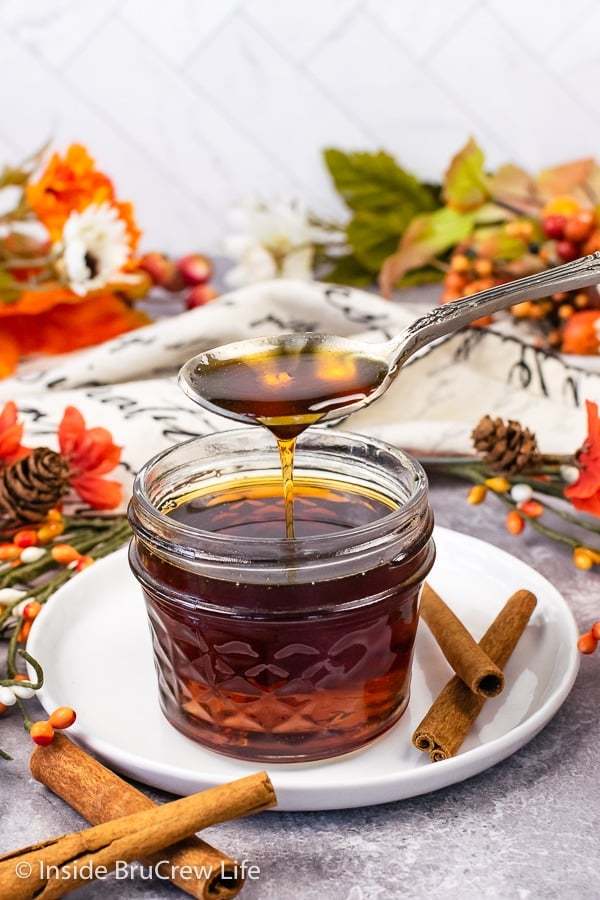 Ingredients Needed
Our cinnamon pancake syrup is easy to make and only requires two ingredients. It will definitely be the star of any meal you serve it with.
Pure Maple Syrup - Check the label on the container to make sure it is pure syrup, not processed corn syrup. Choose a mild to robust flavor depending on what you prefer. A darker color or lower grade will have a more caramel flavor.
Cinnamon Sticks - Find fresh cinnamon sticks in the spice aisle at your local grocery store. They will last for a few months, if kept in a tightly sealed container in your pantry.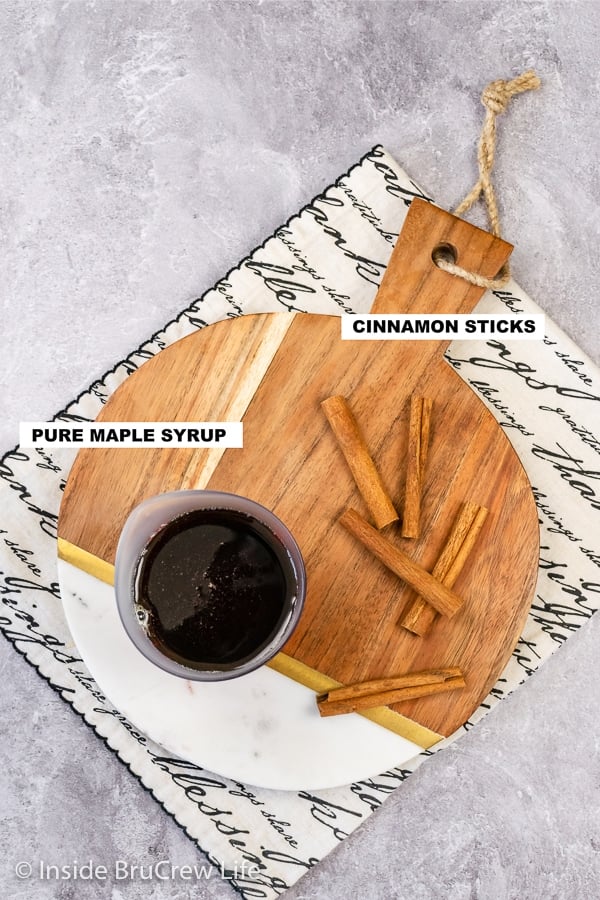 How to Infuse Maple Syrup
It is quite easy to infuse any flavor into maple syrup using heat. Once you try this delicious concoction, you won't be able to go back to plain maple syrup again.
In a small saucepan over medium heat bring maple syrup to a simmer.
Add your ingredients and simmer on medium-low for 5-10 minutes, stirring often.
Remove from the heat and let it steep for at least 10 minutes.
Discard or strain out ingredients before serving syrup.
Let cool before pouring into containers and refrigerating.
Variations
Get creative with your homemade maple syrup infusions and try different ingredients. It is easy to make a sweet, spicy, herby, or savory syrup.
Vanilla - Add a teaspoon of vanilla extract or vanilla bean paste to the syrup after it is done simmering. Other extracts can be used for different flavor profiles.
Orange - A few large pieces of orange peel or zest adds a very nice flavor.
Allspice - Whole allspice berries can also be added with the cinnamon sticks for richer spice flavor.
Cinnamon - Add ½ teaspoon or 1 teaspoon to the cinnamon syrup.
Lavender - Simmer 2 tablespoons dried lavender in the syrup.
Coffee - Stir in 1-2 tablespoons instant coffee to the warm syrup.
Bacon - Add pieces of cooked bacon to the syrup as it simmers. This is great for barbecue sauce or using on roasted Brussels sprouts.
Butter - Add 1-2 tablespoons of butter while the infused syrup is still hot.
Spicy - Add ¼ - ½ teaspoon of crushed red pepper flakes to 1 cup of syrup. Awesome on chicken and waffles!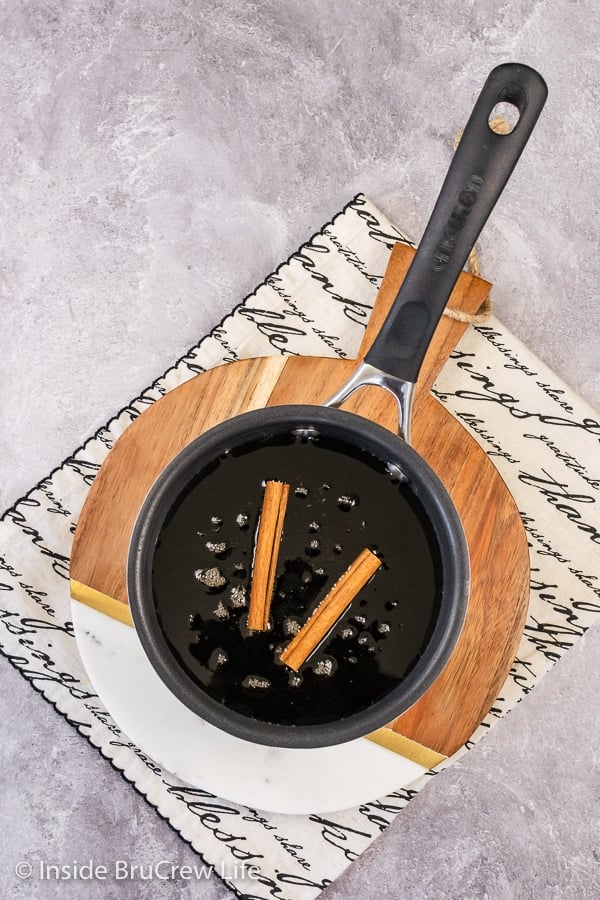 Storage Ideas
The best way to store this cinnamon maple syrup is in glass jars that have lids on them. Using glass jars prevents chemicals from leaching into the syrup.
How to Reheat
For the best flavor, bring the syrup to room temperature or heat it in the microwave or on the stove slightly before serving.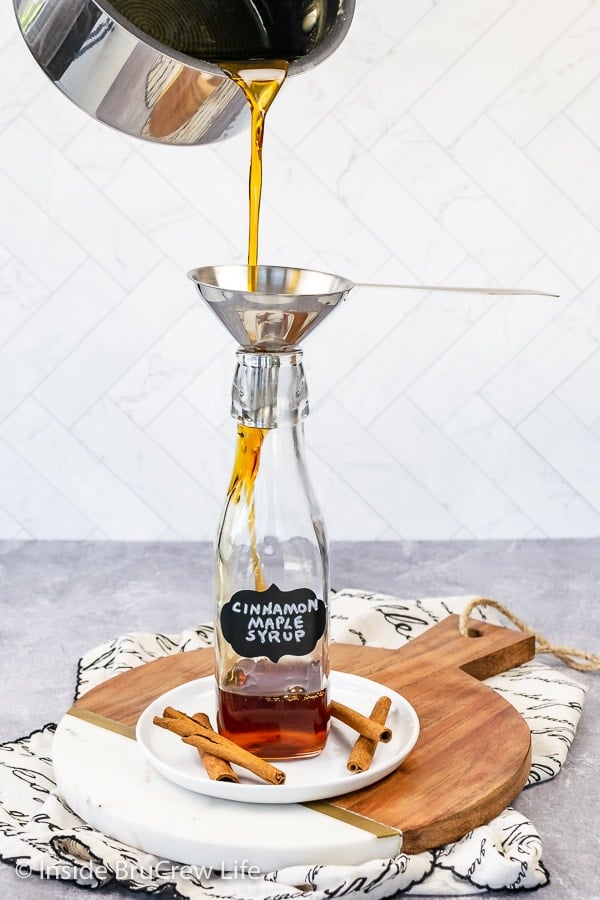 Frequently Asked Questions
Does this need to be refrigerated?
Pure maple syrup should be refrigerated once it is open because it can start to mold when air comes in contact with it. Keeping it refrigerated also keeps it from evaporating and crystalizing.
How long does maple syrup last?
Unopened jars of maple syrup will keep in your pantry for up to a year or whatever the best by date is. Once it is opened, you can keep it in the refrigerator for 6 months to a year.
Can you use maple syrup in baking?
Liquid sweeteners are great for baking. Honey, maple syrup, and molasses are three great choices. Maple syrup is as sweet as sugar, so you can replace it with an equal amount of syrup. (1 cup sugar = 1 cup syrup.)
You may need to reduce liquids in the recipe by a few tablespoons. If the recipe does not call for extra liquids, add a few extra tablespoons of flour because of the liquid sugar added.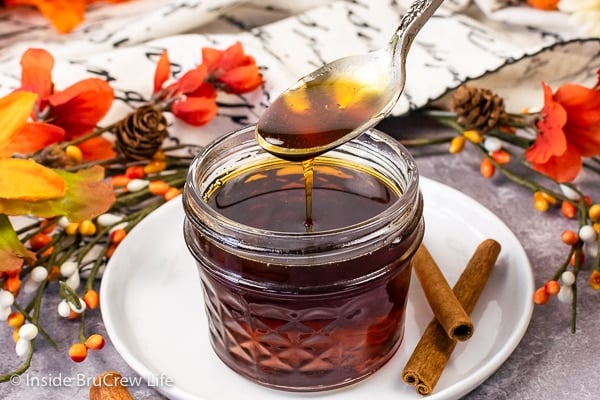 How to Use It
This is not the same as a cinnamon simple syrup that you use in drinks and cocktails. We like to use this cinnamon syrup recipe on breakfast items and in different baked goods.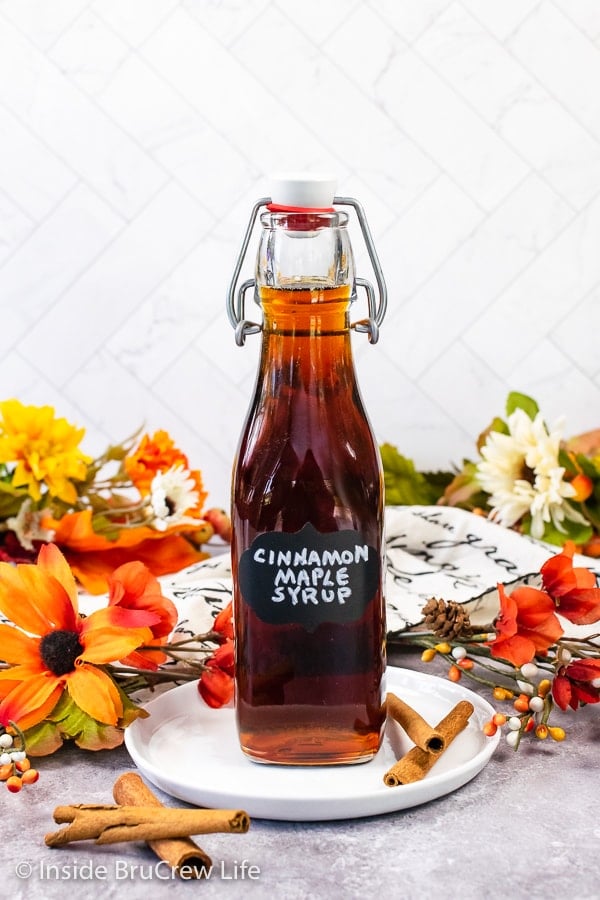 Love a recipe you tried from Inside BruCrew Life?
Please consider leaving a 5 star ⭐️ rating in the recipe card below and/or a review in the comments section further below.