Soft and fluffy Blueberry Zucchini Muffins loaded with fresh berries and drizzled with a sweet glaze are the perfect summer breakfast treat.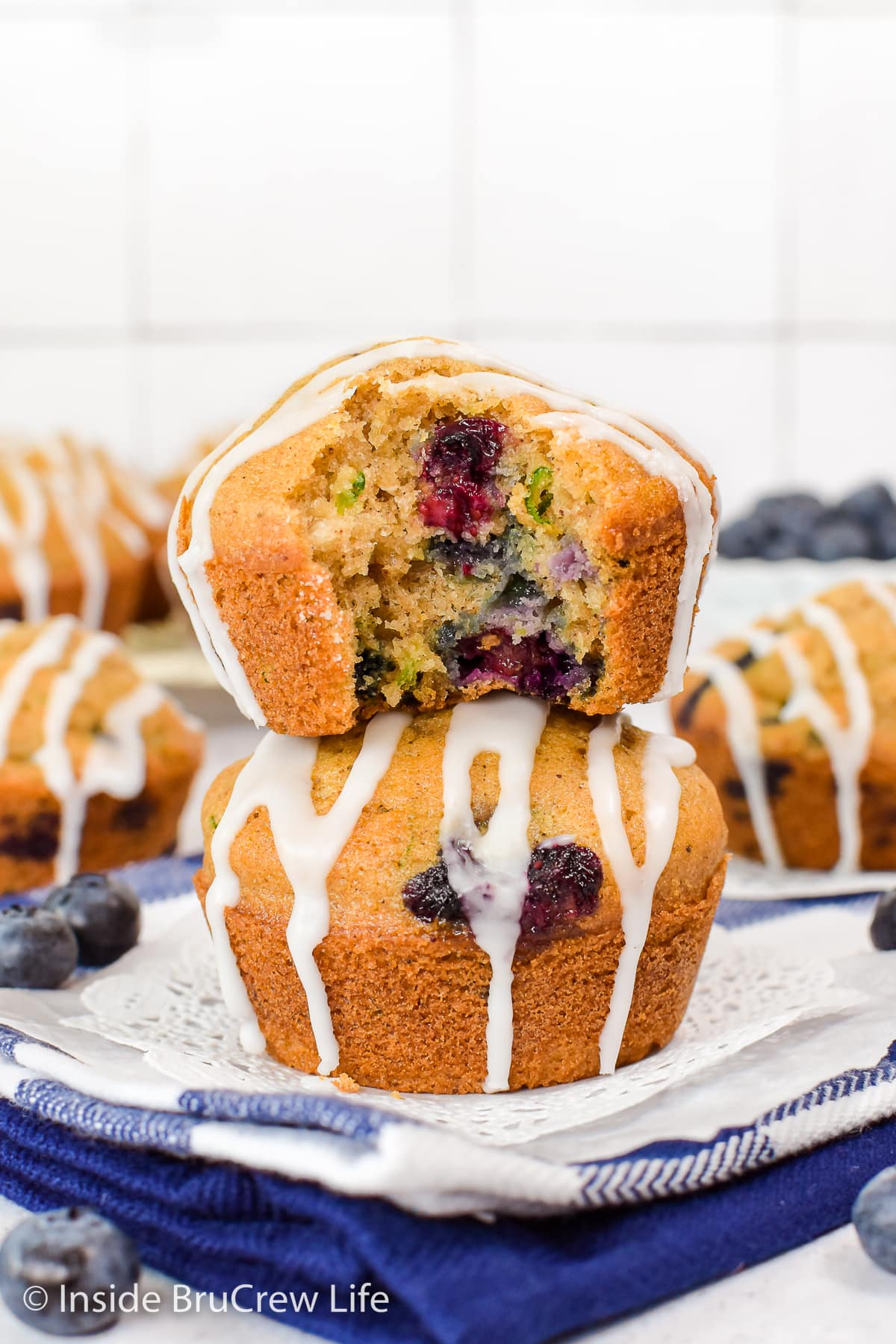 The end of summer means it's time for zucchini season. Are you cheering at the thought of having too many green veggies to deal with?
We enjoy making healthy dinners with them, but, I honestly love baking with zucchini so much more. Some of our favorite things to make are zucchini bundt cake, zucchini bread, or zucchini muffins with blueberries.
Why This Recipe Works
You are going to love how moist zucchini makes these muffins. Shredded zucchini is similar to using applesauce or bananas in baked goods.
It adds a great texture and keeps everything moist and delicious. Zucchini also has a mild flavor, so you can pair it with just about anything.
By adding blueberries you get the benefits of veggies AND fruits in your breakfast muffins. These blueberry zucchini muffins have plenty of fresh juicy berries in each one.
Plus, the sugar glaze drizzled on top adds a sweet taste that makes theses zucchini muffins completely irresistible.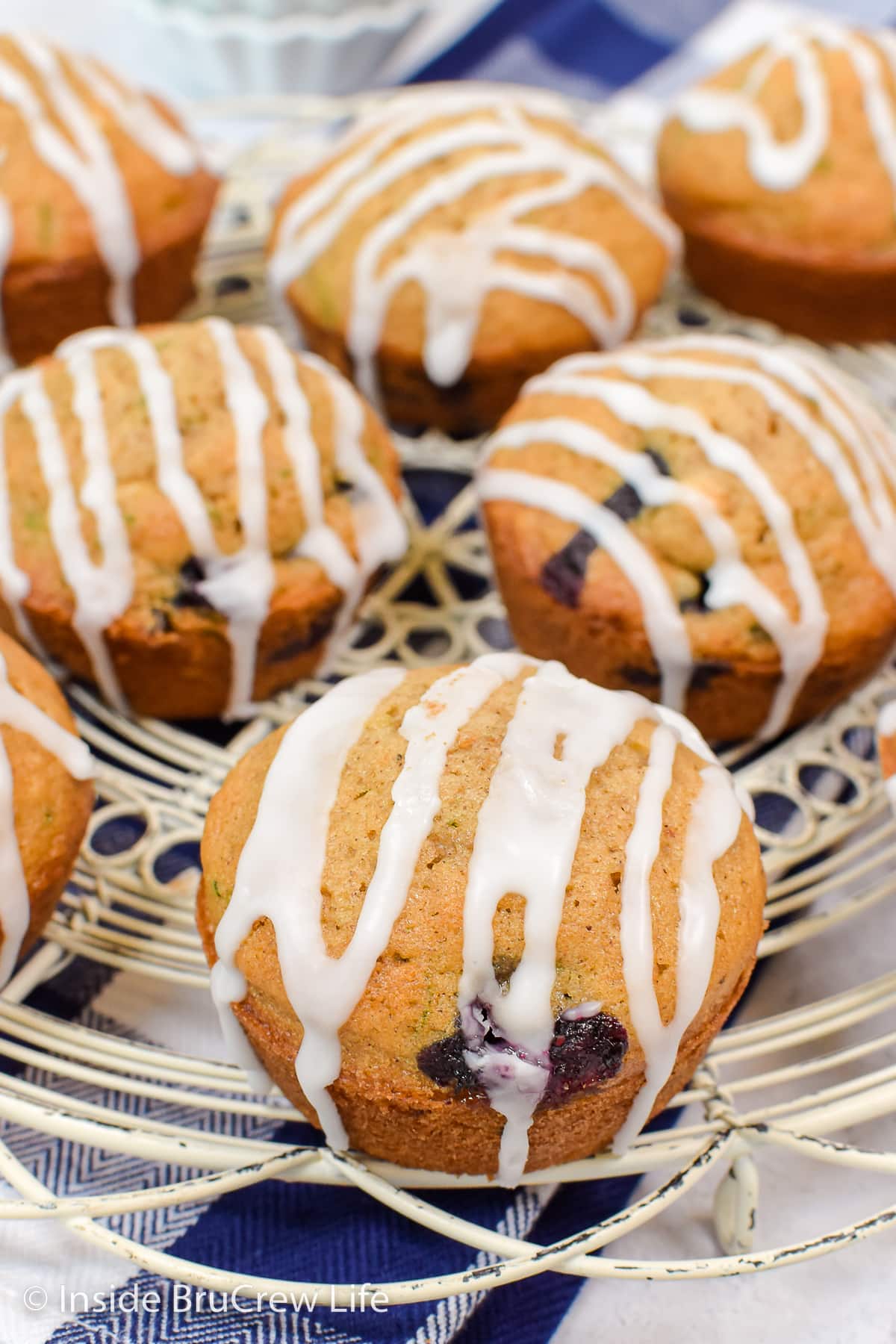 Key Ingredients
If you are looking for a new and delicious zucchini muffin, this easy recipe is for you. All you need are a few pantry ingredients, plus a zucchini and some fresh blueberries.
Sugar - A mixture of granulated sugar and brown sugar sweetens the batter and makes the muffins a little more moist.
Oil - Using oil in baked goods makes them more moist and gives them a soft tender texture.
Buttermilk - Not only does it react with the baking soda to make muffins rise, it also adds a delicious flavor and soft texture.
Baking Soda and Baking Powder - The combination of both makes the muffins rise and turn a golden brown color.
Cake Spice - This blend of spices gives the muffins a warm and slightly spicy taste. You can buy it in some stores or make our homemade cake spice blend.
Zucchini - One medium sized zucchini should give you a little more than 1 cup shredded zucchini.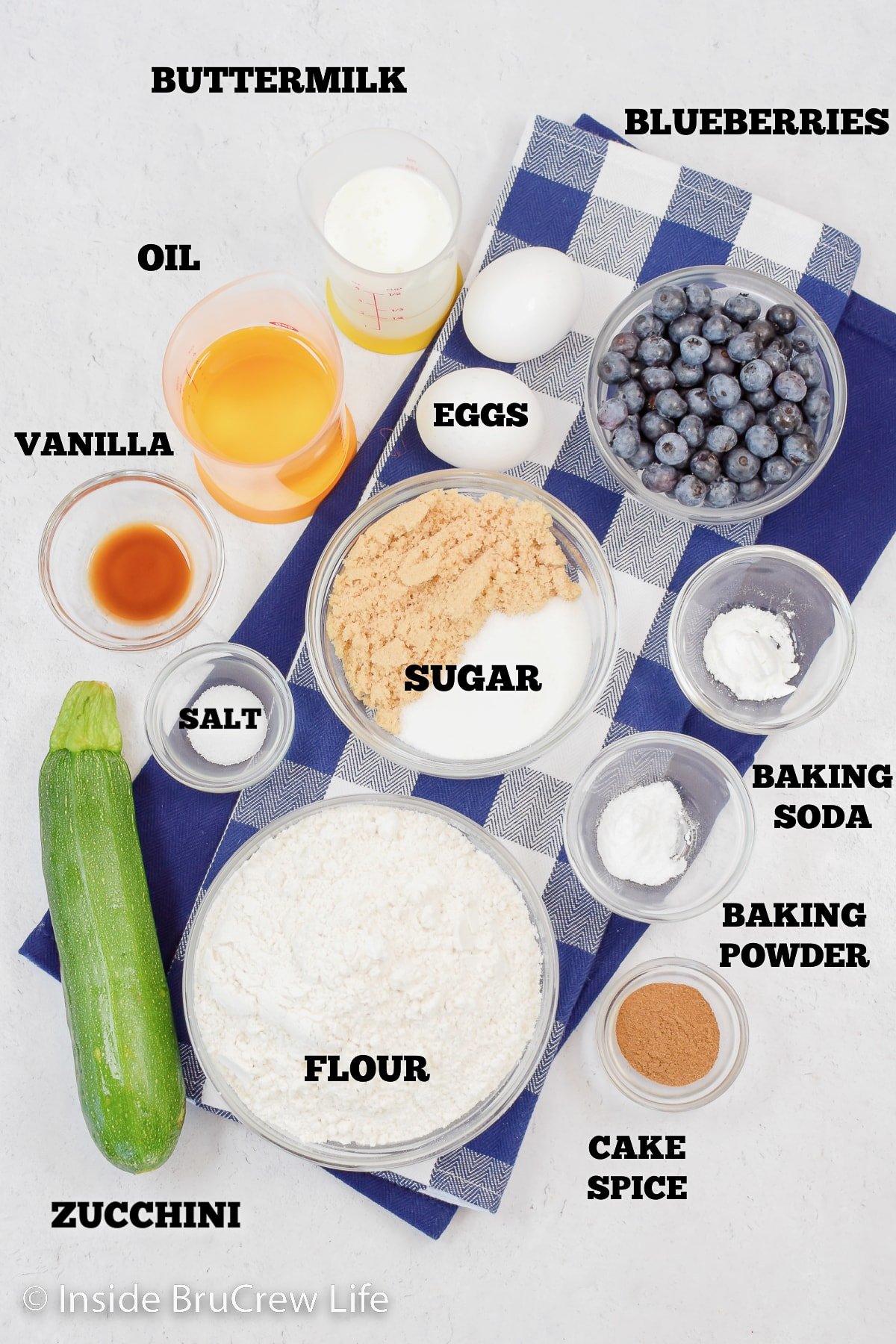 How to Make Blueberry Zucchini Muffins
These zucchini muffins just might be your new favorite way to get your veggies for the day. They are simple to make, and most picky eaters won't even realize they are eating veggies.
Mix together the oil and sugar in a large bowl, then mix in the eggs and vanilla extract.
Stir in the baking powder, baking soda, cake spice, and shredded zucchini gently.
Beat in half the flour and the buttermilk. Toss the fresh blueberries in the remaining flour and stir it in.
Spoon the batter evenly into 16 muffin holes. Bake until light and fluffy.
Remove and let cool in the pan for 2-3 minutes, then run a knife gently around the muffin edges and lift them out
Place on a wire rack and cool completely before storing in an air tight box.
Storage Recommendations
Store the blueberry zucchini muffins in a tightly sealed container on the counter for 2-3 days.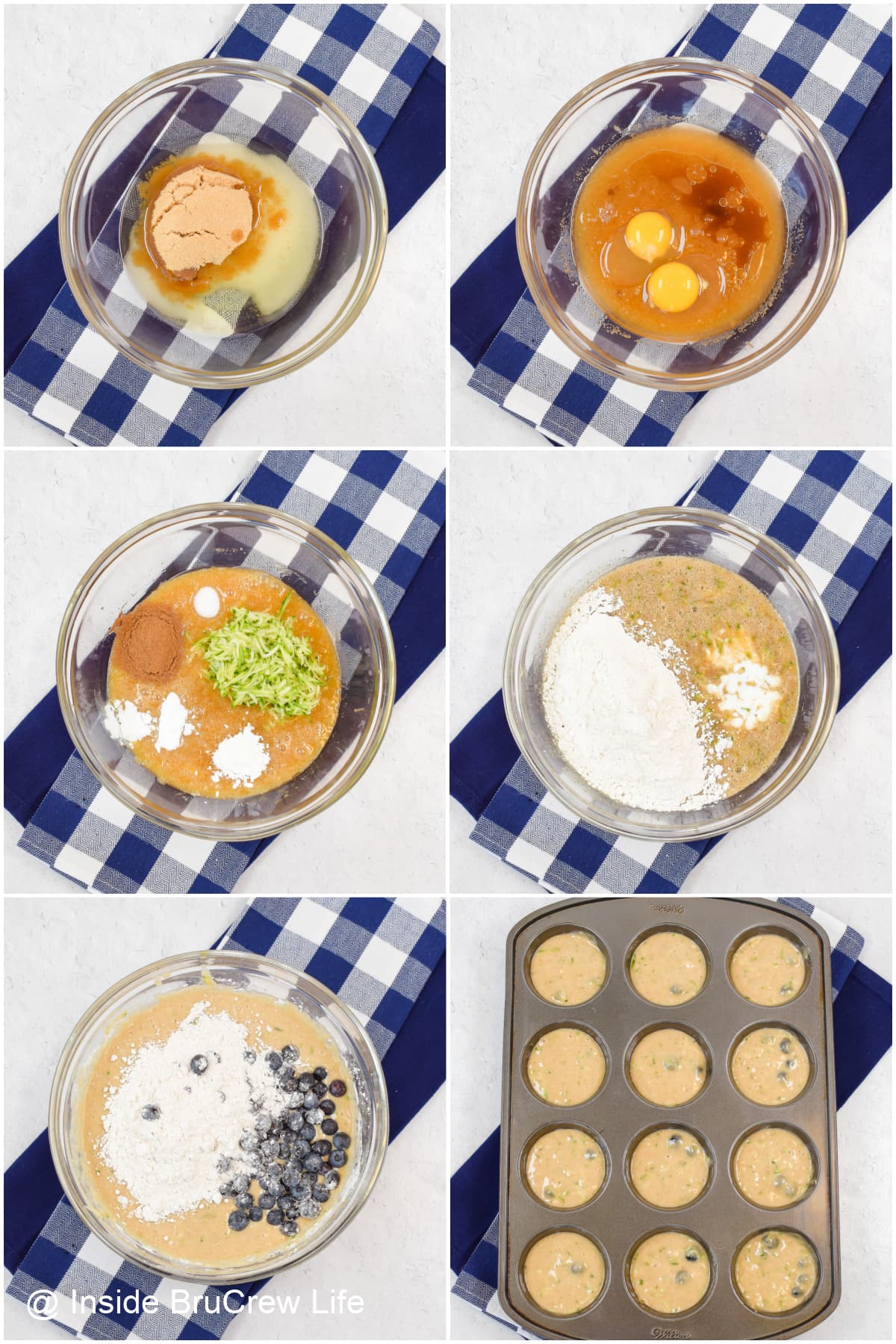 Tips and Tricks
Choose firm and shiny zucchinis from the store or farmers market. If they sound hollow when you tap on them, move on because these are old.
Look for zucchinis that are medium sized. The large ones tend to be drier and not good for baking.
Most of the time you will NOT press or squeeze the excess water out of shredded zucchini because this water content is what gives baked goods their moist texture.
Spray muffin tins with nonstick baking spray and wipe out the excess. Too much leftover spray can make the muffins "slide" down the pan instead of climbing the sides and baking tall.
Feel free to add some lemon zest to the muffin batter before baking. You can also use a little bit of lemon juice instead of milk in the glaze for an even bigger lemon flavor.
Recipe FAQ'S
How do you keep the blueberries from sinking?
If you coat the blueberries in a light coating of flour, it helps to absorb some of the fruit's moisture and also helps to make the berries "float" in the batter better.
How do you shred zucchini?
Use a box grater or food processor fitted with a grating disc to shred or grate the zucchini. Feel free to leave the peels on the veggies as you shred it. Most of the fiber and nutrition is in the skin. Plus it tends to "melt" into baked goods so you won't see much of it.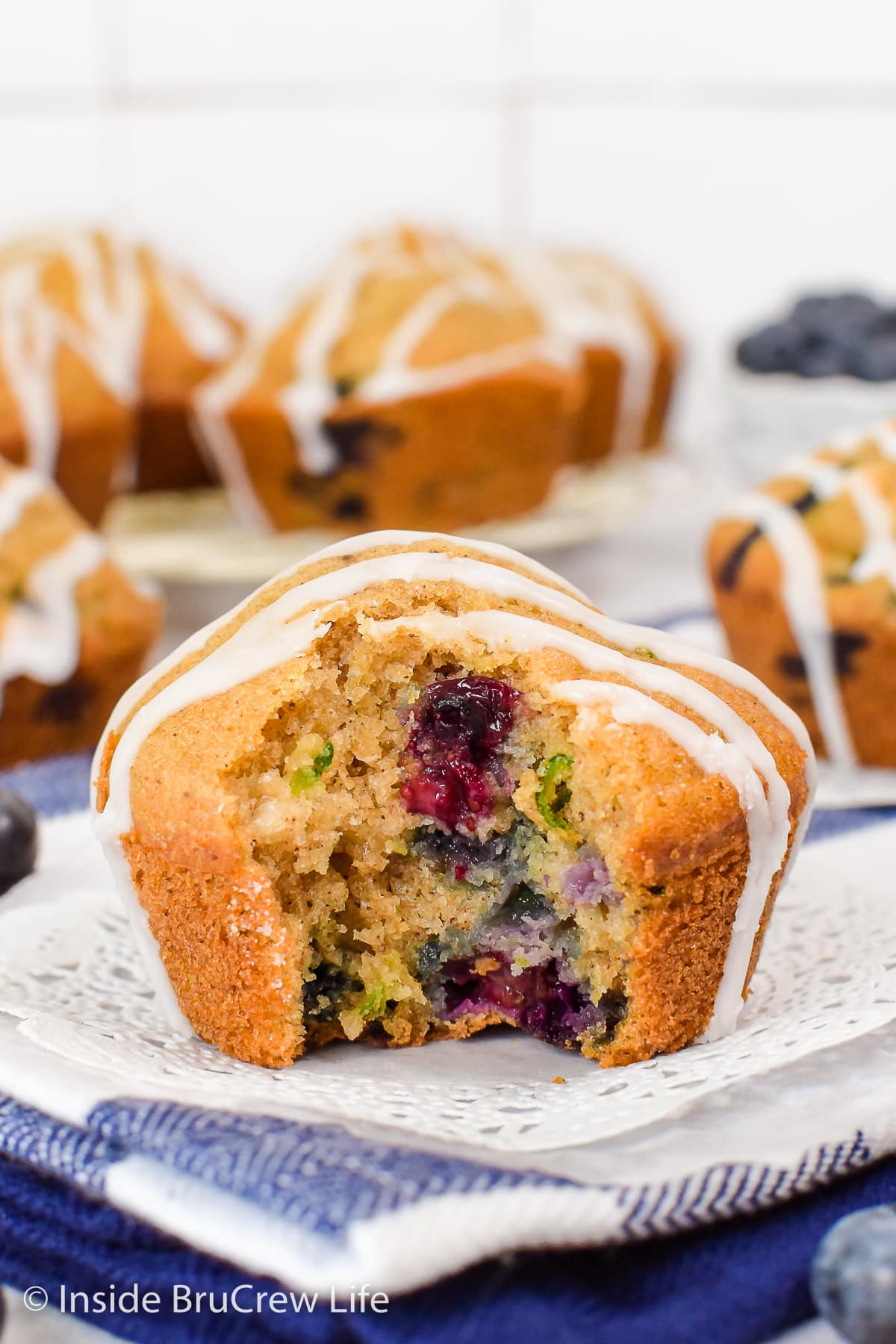 More Zucchini Recipes
Do you love a recipe you tried from Inside BruCrew Life?
Please leave a 5-star ⭐️ rating and a review in the comments section below.