These Caramel Milky Way Cheesecake Bars almost didn't make it here. But the drizzles of chocolate and caramel convinced me to share.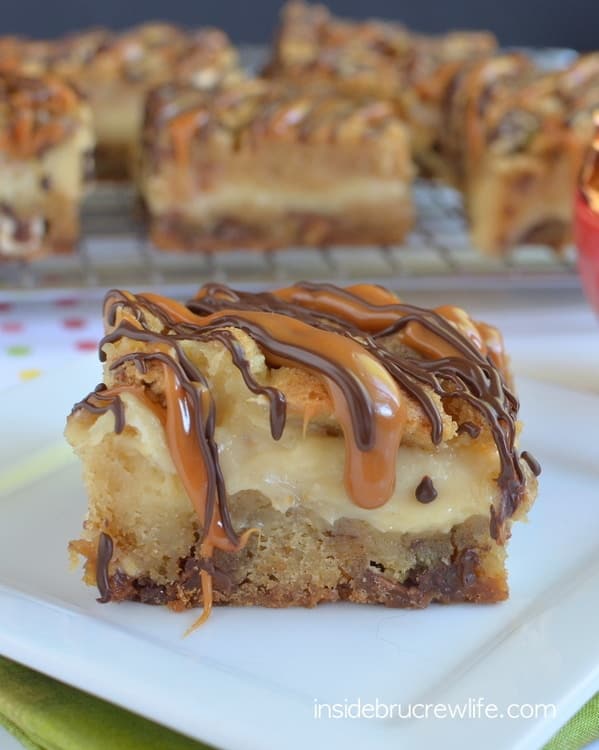 Do you ever have one of those days? Just kind of an off kind of a day where you have no idea what you did all day.
That was my yesterday. I honestly only did about 2 hours of email catching up and surfing, and then I went for a run.
But what happened to the other 3 hours of my childless day because I'm really not sure where it went.
Part of the day was fighting with caramel and cheesecake cookie bars, and trying to take pictures without it looking like a hot mess.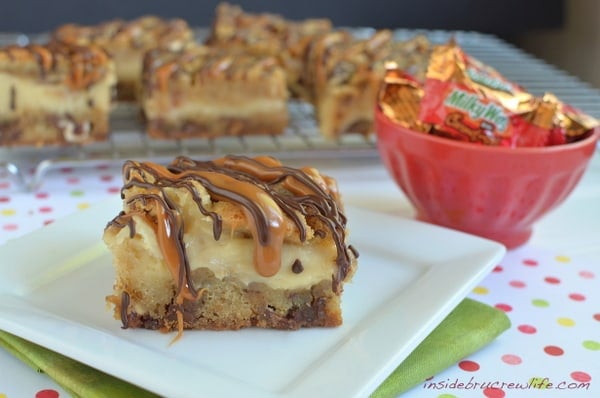 I am a huge procrastinator. I like to think that I work better under pressure. One of these days, that is going to bite me in the butt!
Apple week has been planned for weeks...you would think I would have everything done. Oh no!
On Wednesday, I finally made my last recipe that's due Friday. NO PRESSURE!!!! Only I started it a little late, and it was coming out of the oven when I had to be at the school picking up the kids.
Slight problem! No biggie though. My husband was next door at the church, so I called and asked if he could come home for a bit. I reassured him that all he had to do was remove the pan from the oven.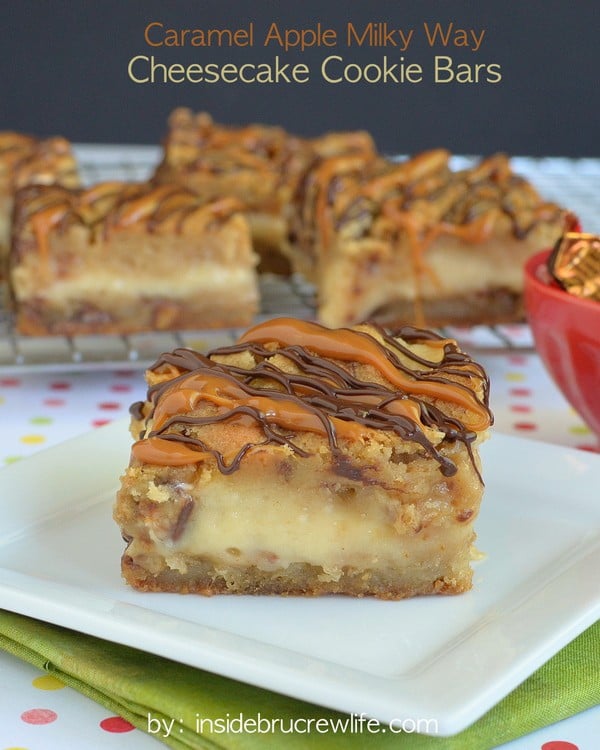 So, then on Thursday all I had to do was cut them into bars and drizzle some happiness.
Oh, and take pictures, edit, write, post, create a hop button. Days like this should seriously cure me from waiting to the last minute because it's always crazy!!!
As I was trying to cut the bars into presentable looking squares, I forgot about the caramel that was melting on the stove.
Fortunately, I caught it before it was ruined because that would not have been good. It just didn't drizzle quite as neatly! Would you like some caramel chunks with your cheesecake?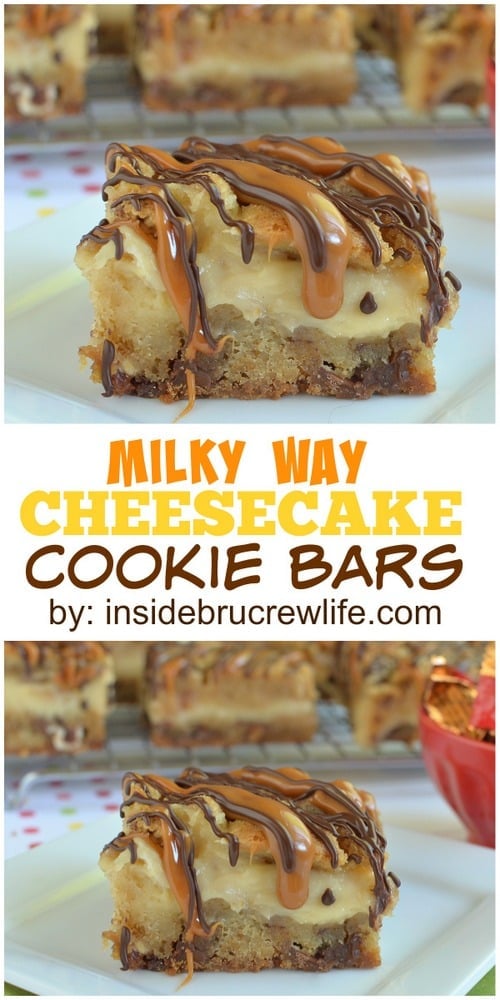 Oh and I don't recommend licking the spoon covered in hot caramel. Just trust me on that one!
The stress in the kitchen was crazy high. I really was worried about this not working out, until...I ate one of the extra side pieces.
These creamy Caramel Milky Way Cheesecake Bars mixed with cookies, candy bars, and caramel will send you to your happy place.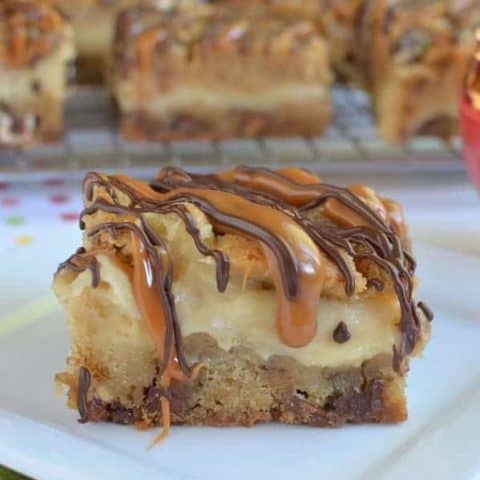 Caramel Milky Way Cheesecake Bars
Total Time:
1 hour
10 minutes
These Caramel Milky Way Cheesecake Bars are loaded with candy bars and are topped with caramel and chocolate. It's the best dessert to end the night with!
Ingredients
For the Cookie Layer
½ cup butter
½ cup shortening
½ cup sugar
1 cup brown sugar
2 eggs
1 teaspoon vanilla
½ teaspoon baking soda
½ teaspoon salt
2 ¼ cups flour
½ cup graham cracker crumbs
2 cups chopped Milky Way candy bars (I used the Caramel Apple ones)
For the Cheesecake Layer
1 - 8 ounce package cream cheese, softened
¼ cup sugar
1 egg
¼ cup caramel ice cream topping
2 Tablespoons flour
For the Topping
4 ounces caramel candies (about 14 squares)
2 Tablespoons heavy cream
¼ cup chocolate chips
1Tablespoon heavy cream
Instructions
Preheat the oven to 350 degrees. Line an 8x8 pan with foil. Spray it with nonstick spray.
Cream the butter, shortening, and sugars until creamy. Add the eggs and vanilla.
Sift together the flour, crumbs, baking soda, and salt and slowly add to the butter mixture.
Stir in the candies by hand. Press half the mixture into the bottom of the prepared pan.
Beat the cream cheese and sugar until creamy. Add the egg, caramel, and flour and beat again. Pour the cheesecake mixture on top of the cookie dough in the pan.
Crumble the rest of the cookie dough gently on top of the cheesecake.
Bake for 45-50 minutes. Let cool on the counter for 1-2 hours. Refrigerate 4-6 hours.
Place the caramels and heavy cream in a small saucepan. Heat and stir until melted and creamy. Let cool slightly. Drizzle over the top of the cooled bars.
In a small microwave safe bowl, place the chocolate chips and heavy cream. Heat for 20 seconds. Stir and repeat until melted and smooth.
Place in a bag and cut one corner off. Drizzle over the cookie bars. Let set. Cut into 16 squares. Store in a sealed container in the refrigerator.
Notes
*The Caramel Apple Milky Ways are a seasonal candy, so feel free to use regular Milky Ways instead.
**You can also bake this in a 9x13 pan by decreasing the bake time to 30 minutes.
It HAS been a fun Applicious Week
with lots of yummy goodies.
I hope you printed some new recipes
to try out in the near future.
Now it is time for one more HOP... to check out what everyone is showing off today!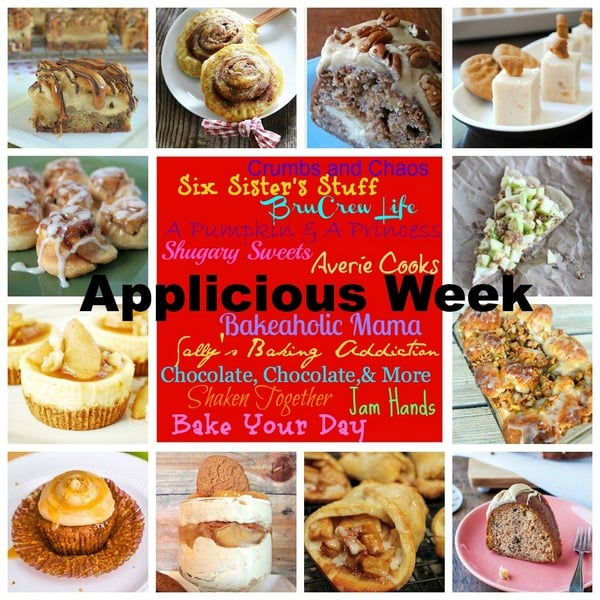 Shugary Sweets - Apple Pie Fudge
Shaken Together - Apple Pie Cheesecake Gingersnap Trifles
Sally's Baking Addiction - Apple Spice Cupcakes
Crumbs and Chaos - Caramel Apple Cinna-minis
Chocolate, Chocolate and More - Apple Danishes
Bakeaholic Mama - Caramel Apple Spice Cupcakes
A Pumpkin and A Princess - Caramel Apple Cheesecakes
Bake your Day - Cinnamon Streusel Apple Pizza
Jam Hands - Apple & Cream Cheese Bundt Cake
Six Sisters Stuff - Apple Walnut Pullapart Bread
Averie Cooks - Spiced Apple and Banana Bundt Cake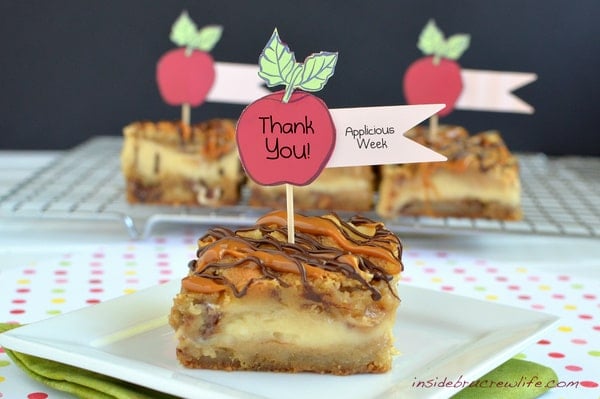 Thank you to all the girls for participating...
and thank you for reading all about our apple obsessions every day!