A pan of these Caramel Apple Granola Bars and a glass of apple cider is the perfect way to enjoy an after school snack this fall.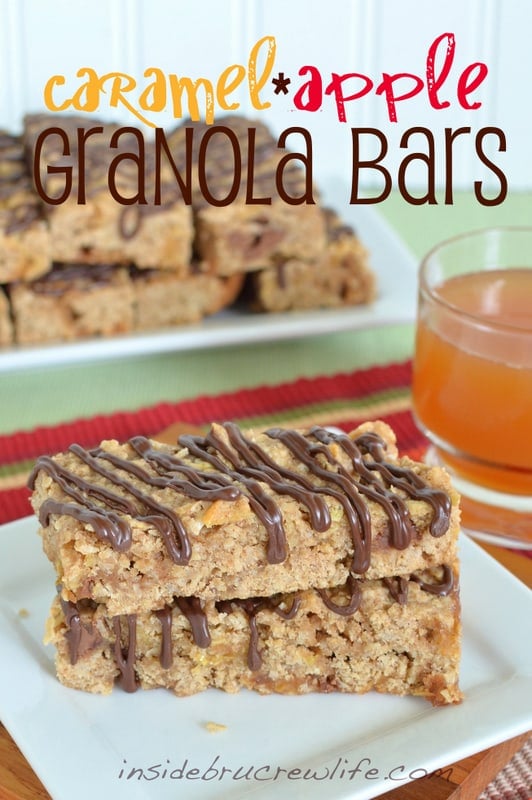 I have a small confession to make…I'm a lazy shopper.
You know the one who parks at one store, goes in, comes back out,
gets back in the car, and drives to the next store….you know, the store that is only 2 stores over!
I must say, I do have good intentions of walking to the next store.
After all, when I am exercising and running outside, I run at least 3 miles.
So, what makes me get back in the car for such a short distance?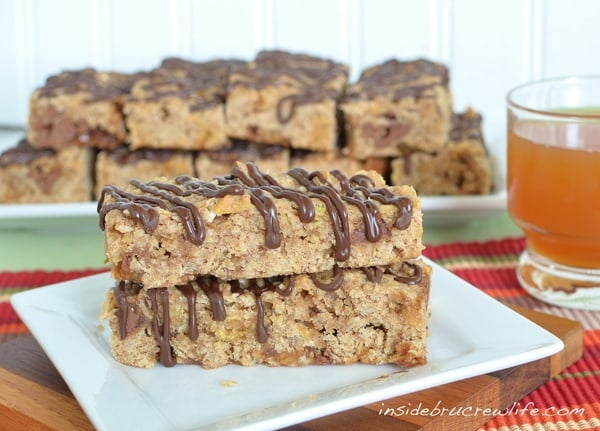 Usually I have some bags from the first store that I don't want to lug around the 2nd store,
so I will walk to the van and put them in.
Then logic (or craziness) takes over and I think to myself,
"Why not just drive over?  You are already at the van.  Just get in and get a little closer."
I like to think of it as the non-exercise devil that sits on my shoulder…
the one that also tells me it's ok to miss an exercise routine…one day won't matter.
Until here it is 3 weeks later, and I haven't worked out much at all.
It's now jeans weather and somehow those jeans in my drawer shrunk over the summer.
It's bad people.
Maybe if I start being, oh I don't know, not such a lazy bum!!!
Time to flick the little pest off my shoulder and man up and do some work.
First step, I'm going to park once and walk to all stores…
well, all that are in walking distance.
I wouldn't want to park at Target and walk the 2 miles to Walmart.
Second step, get back on the daily exercise wagon.
No, I don't want to do it, but I have no intention of buying new jeans.
They may look painted on for a few weeks, but I have a plan.
Ok, moving on…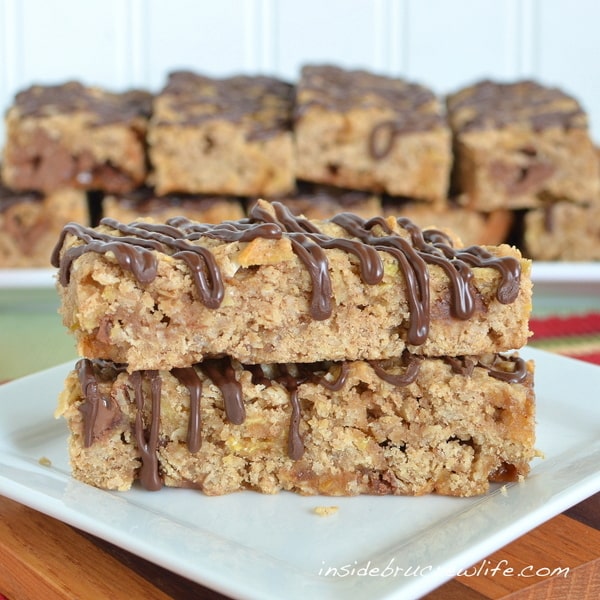 A couple months ago, I made these oatmeal bars.
My kids loved them so much that I knew we were going to make them a lot!
So, for APPLICIOUS WEEK I decided to change out the salty chips from the last ones
with fun apple chips…and Rolos.
Because adding Rolos to anything is the way to go.
Shhhh…don't tell the jeans what we are making.
There's another confession coming today.
I had every intention of baking my own apple chips for these granola bars.
I had the apples in our fridge…all I had to do was slice them thin and bake them.
It's easy to do.
Until I was walking into the grocery store the other day for the Rolos.
Right now every store has their Fall displays up.
The ones that get you to throw extra things into your cart.
Things like apple cider, Halloween candy, caramel apples…
apple chips!?!?!?
A whole end cap of apple chips were staring me down.
What should I do?  I DO need apple chips for the granola bars.
I stood there for a few minutes wrestling with the bag of chips.
The bag might have been picked up and put down a minimum of 5 times.
There are apples at home…I don't need these.
But these are already baked.
I can be all homemaker-y and make my own.
It's one less thing I have to do today.
Until I looked at the price…$1 for a bag?
Shoot!  That sealed the deal.
The bag went into my cart and I went to pay.
Score – 1 point for the grocery store getting me to buy something I didn't need and
0 points for me being lazy again.
I recommend trying these fun granola bars.
They will taste the same if you buy or make your own chips!
Who doesn't like crumbly soft granola bars with chewy Rolo candies and apples?
The kids devoured all of these fun bars…I guess it's time to make another batch.
The good thing with these bars is that you can pretty much add anything to them.
So all those extra bags of Halloween candy that has been jumping in your cart…
sure, why not.  Add it to these caramel apple granola bars!
It's my way of thinking I'm eating healthier.
And I wonder why my jeans shrunk!!!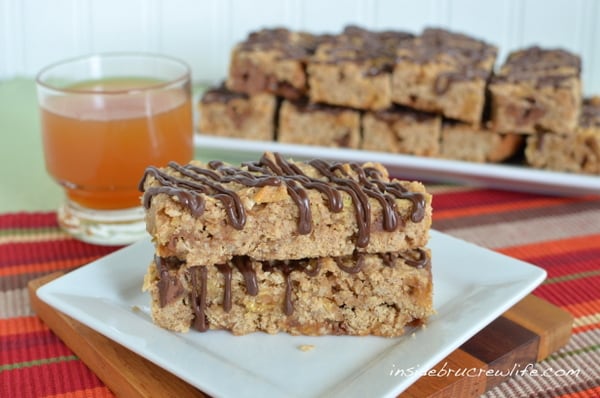 Make sure you visit all my Applicious Friends to see what apple goodies they made this week.

Or follow along on our Pinterest Board : Applicious Goodies
Yield: 16 bars
Caramel Apple Granola Bars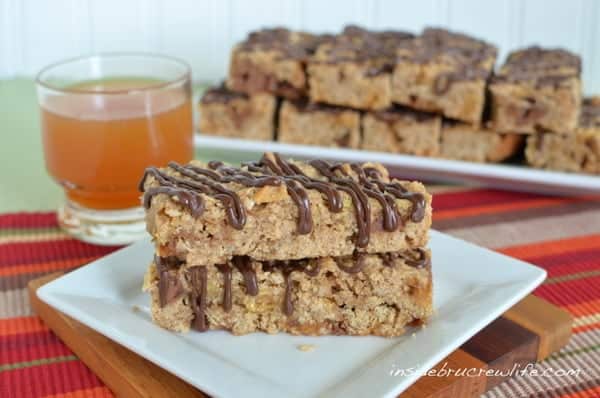 Easy oatmeal bars made with caramel bits and apple chips.
Ingredients
3/4 cup butter
3/4 cup brown sugar
2 eggs
2 teaspoons caramel extract
1 1/2 cups flour
2 1/2 cups quick oats
1/2 teaspoon salt
2 teaspoon cinnamon
1/2 teaspoon nutmeg
1 cup Rolos, quartered
1 cup apple chips, crushed lightly
3/4 cup miniature marshmallow bits
1/4 cup chocolate chips
1/2 teaspoon shortening
Instructions
Preheat oven to 350 degrees. Spray a 9x13 pan with nonstick spray.
Beat the butter and sugar until light and creamy. Add the caramel extract and eggs and beat again.
Stir together the flour, cinnamon, nutmeg, and salt. Slowly add it to the butter mixture.
Add the oatmeal a little bit at a time. The dough will be very stiff. Stir in the Rolos, marshmallows, and apple chips by hand.
Spread the batter evenly in the prepared pan. Bake for 20-22 minutes. Cool completely. Cut into 16 bars.
In a microwave safe bowl, combine the chocolate chips and shortening. Heat for 30 seconds and stir. Repeat until melted and creamy.
Spoon into a plastic bag and cut one corner off. Drizzle over the bars. Let set. Store in a sealed container.
Nutrition Information:
Yield:
16
Serving Size:
1
Amount Per Serving:
Calories:

304
Total Fat:

14g
Saturated Fat:

8g
Trans Fat:

0g
Unsaturated Fat:

4g
Cholesterol:

48mg
Sodium:

211mg
Carbohydrates:

42g
Fiber:

2g
Sugar:

24g
Protein:

4g