I scream, you scream, we all scream for big bowls of this Caramel Snickers Ice Cream. This easy ice cream doesn't need a special machine for you to enjoy it this summer.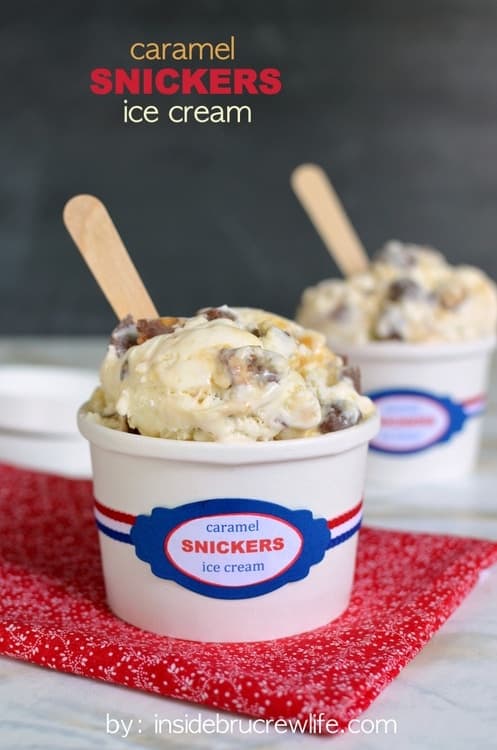 Sprinklers, fresh cut grass, sunshine, pool days, and ice cream are definitely summer favorites in our house. Add a few surprise thunderstorms and humidity and we are in the middle of all things summer.
Did you know that you can make ice cream without an ice cream maker? This easy ice cream only has a few ingredients and can be customized to your taste every single time. We went with caramel and Snickers bars this time. But just think of all the combos you could come up with. I have a feeling a few more varieties will be showing up this summer in our freezer and on the blog.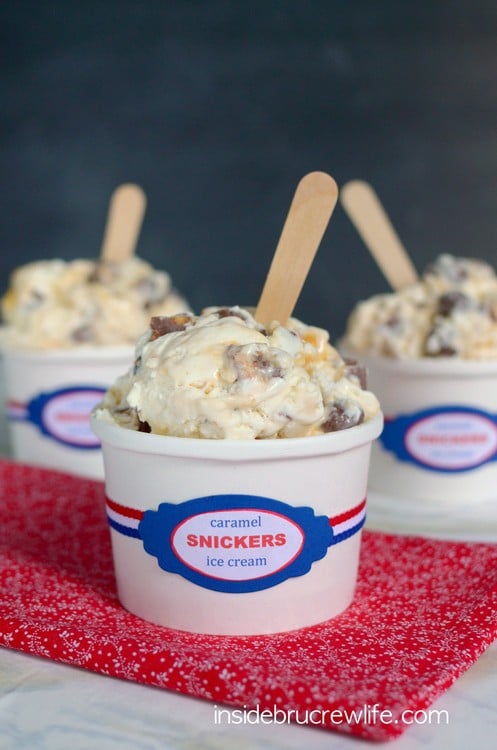 There is something so satisfying about a cup or cone of ice cream on a hot summer day. I like to keep different varieties in my freezer for our kids to snack on. They hear the ice cream truck music coming, and I pull out the ice cream.
Is it just me or is there something scary about the music from that truck? I mean some guy driving slowly along tempting children to come to his vehicle...yeah, I'm going to keep my kids running to my freezer instead. Not to mention the price of one ice cream bar is crazy. That is almost scarier than the music and creepy truck.
This ice cream starts with heavy whipping cream. Make sure to freeze your bowl and wire whisk beater for at least 30 minutes before starting. The cold from the bowl will help the cream whip up faster. It takes about 5-7 minutes for the cream to get thick and fluffy. Set it aside. Now beat the cream cheese until creamy and slowly add the sweetened condensed milk. You can add your toppings to this mixture. Then fold the whipped cream into it. Folding just means slowly and carefully stir your whipped cream in so that the air doesn't deflate. You can use a spatula to lift your mixture up and over. It sounds complicated, but it really isn't that hard. You just don't want to stir it vigorously.
Spoon ⅓ of the mixture into a freezer safe container and add a little bit of caramel. Swirl it with a knife. Repeat this 2 more times. Just be careful as you swirl, so you do not mess up the lower swirls. You want pockets of caramel in every scoop.
Now all you have to do is wait for it to freeze. I do recommend making it the night before you want to eat it. That way it is ready to go first thing in the morning. But if you waited until the afternoon, I suggest mowing the lawn or taking a walk while you wait.
Or find that scary ice cream music and buy an overpriced drumstick. Your call 🙂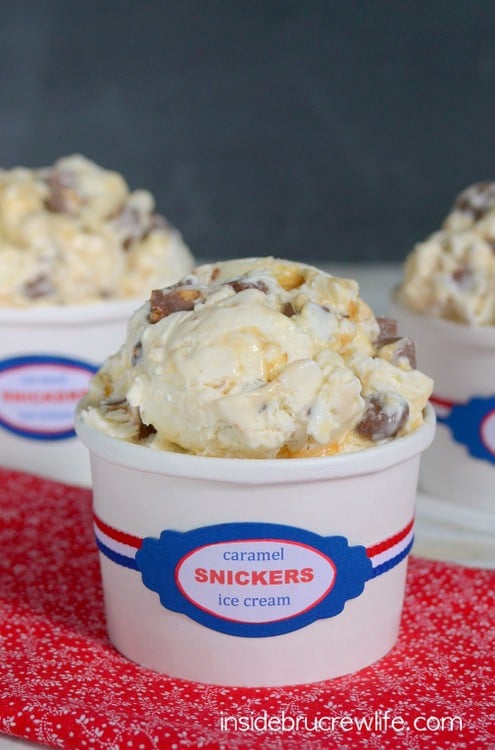 More delicious and fun desserts that have Snickers candy bars in:
Peanut Butter Snickers Brownie Pie
Peanut Butter Snickers Cookies
Sweet treats from friends:
Snickers Muddy Buddies from Chef-In-Training
Frozen Snickers Pie from Shugary Sweets
Snickers Cupcakes from Life, Love, and Sugar