Cherry Chocolate French Toast Bake is a delicious way to wake up in the morning. Chocolate and cherries make this breakfast casserole taste amazing.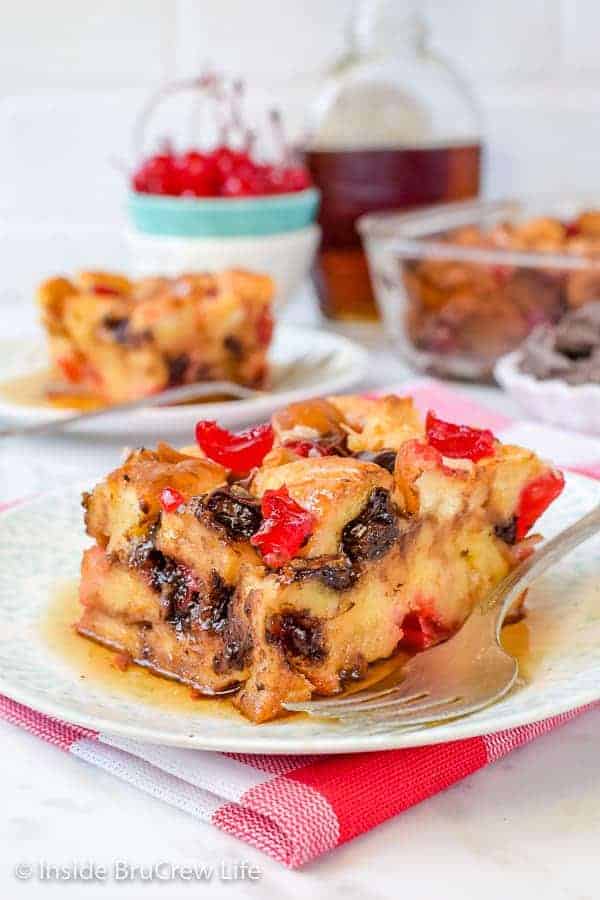 This weekend we kept pretty busy. My husband and I went for a run on the beach Saturday morning, then we did a little bit of work in our backyard patio. There was this one plant that needed to be relocated to outside the pool fence.
While my husband did that, I potted a few hibiscus plants for around the edge of the pool. We also hung a few hanging baskets out there too. Fingers crossed that I can keep all of these alive through the summer. I have quite a black thumb, so this could be interesting.
Then on Sunday we had three different activities to attend to in between church and running our daughter to babysitting. Some weekends I feel like we chill and do nothing, then other ones are crazy busy all day long. It's a good busy though.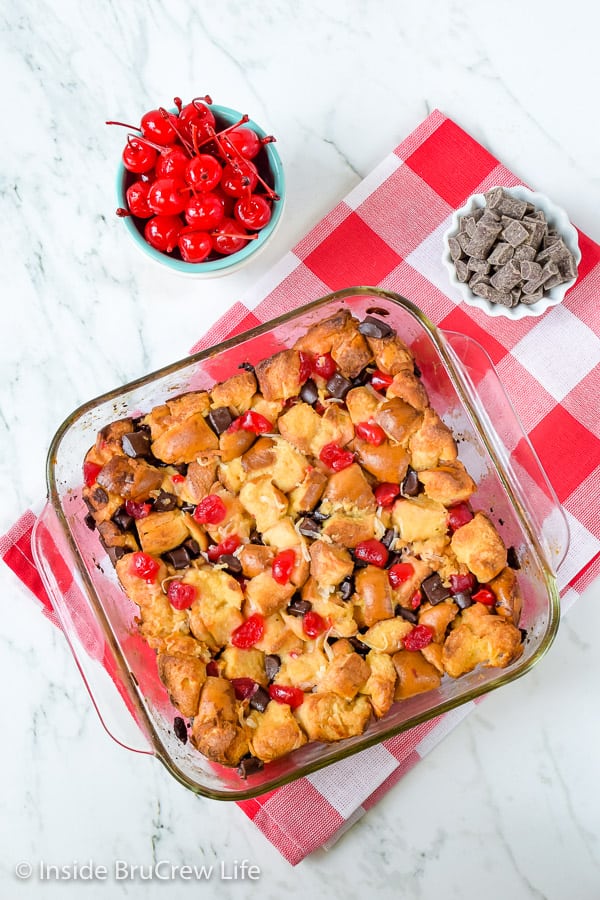 I didn't do too much baking since we were outside so much, but I did pop in the kitchen for a little while to remake this French toast bake.
This sweet breakfast casserole was one that I made years ago in small little tins, so I wanted to change it up and make it a little easier. This would be a delicious breakfast choice to make for Mom next weekend. Just saying...
Or you could enjoy it for an afternoon snack like we did. Breakfast around here looks more like coffee, protein shakes or bars, or eggs. It all depends who you ask.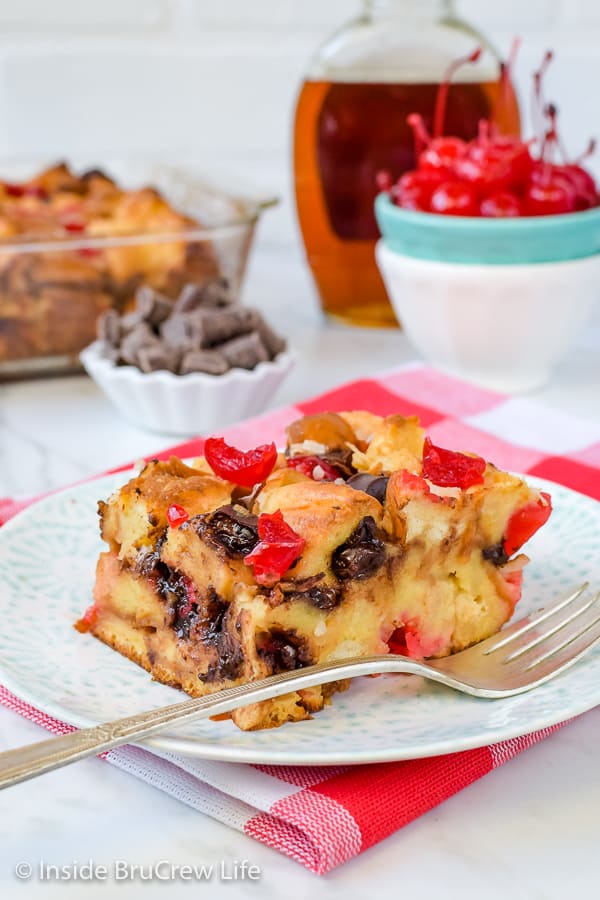 I am not much of a morning person, so I tend to make things like this the day before. If you are wondering, it reheats really well and still tastes just as amazing.
One of my favorite things to use for an easy French toast bake are bagels. This Cherry Blueberry French Toast Bake is a great way to incorporate fresh fruit into your breakfast casserole while using up extra bagels.
You can also use bread, cinnamon rolls, or donuts to make a breakfast casserole.
My personal favorite way to enjoy this French toast bake is warm and drizzled with some maple syrup. It's also quite delicious just by itself. You could also sprinkle a little bit of powdered sugar on top to make it look pretty, if you like.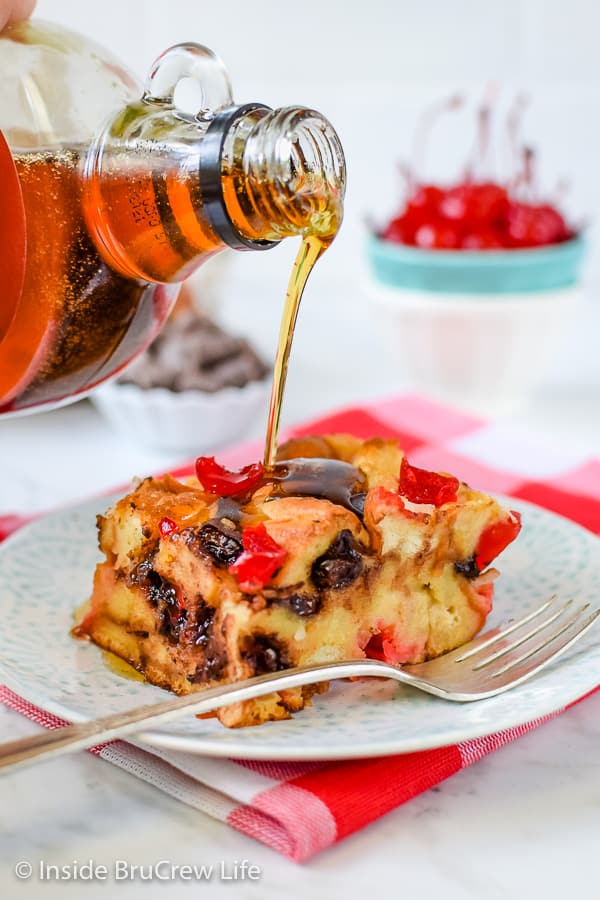 How to make a Cherry Chocolate French Toast Bake:
Preheat your oven and cut the bagels into bite sized pieces.
Toast the bagel pieces on a large sheet pan for about 10 minutes. While they are warm, drizzle them with melted butter.
Whisk together the milk, eggs, vanilla, and sugar. Add the bagel pieces and stir together. Let the mixture sit for about 10 minutes, stirring occasionally.
Drain and dice the cherries into quarters. You can also use frozen cherries or fresh cherries in this breakfast bake if you prefer.
Stir the chocolate chunks and cherries gently into the bagel mixture and pour into a greased pan.
Cover with foil and bake for 30 minutes. Remove the foil and bake an additional 30 minutes. This will give the top of the French toast bake a nice crispy topping while the center says soft and delicious.
Remove it from the oven and serve immediately.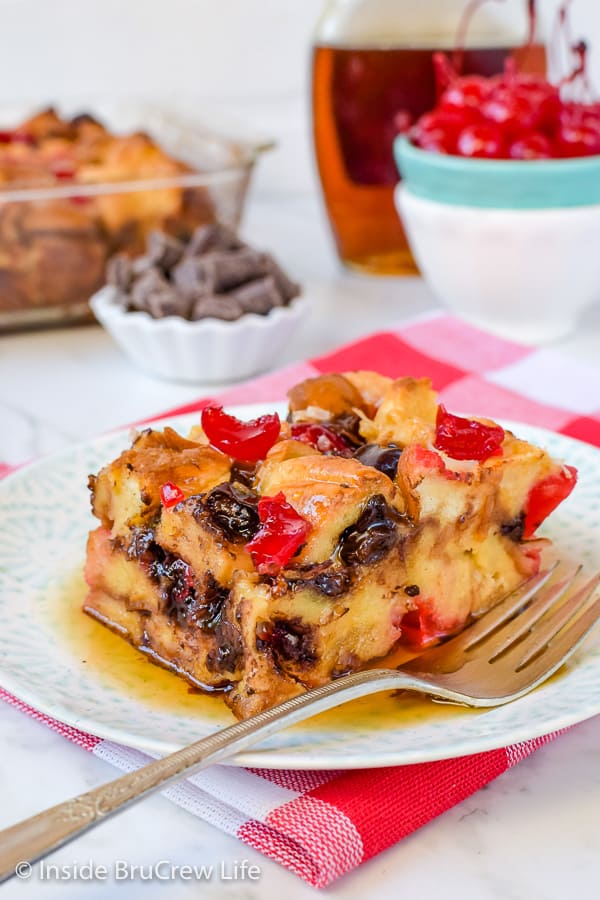 More easy French toast recipes you may enjoy:
A pan of this Maple Bacon Apple Cinnamon Roll Bake is delicious for breakfast. Soft apples, crunchy bacon, and maple drizzles all in one pan is a very good idea.
This easy Strawberry Chocolate Cinnamon Roll Bake is light and fluffy with pockets of gooey chocolate and strawberry goodness in every bite.
This Coconut Crusted Stuffed French Toast is stuffed with coconut flavored cream cheese, crusted and toasted in some coconut flakes as well.
Banana Bread French Toast Sticks are a fun way to enjoy the classic treat. Your kids will love their dunkable nature.
These Lemon Cheesecake French Toast Roll Ups are a delicious way to change up breakfast. They are easy to make, but they look so fancy and pretty.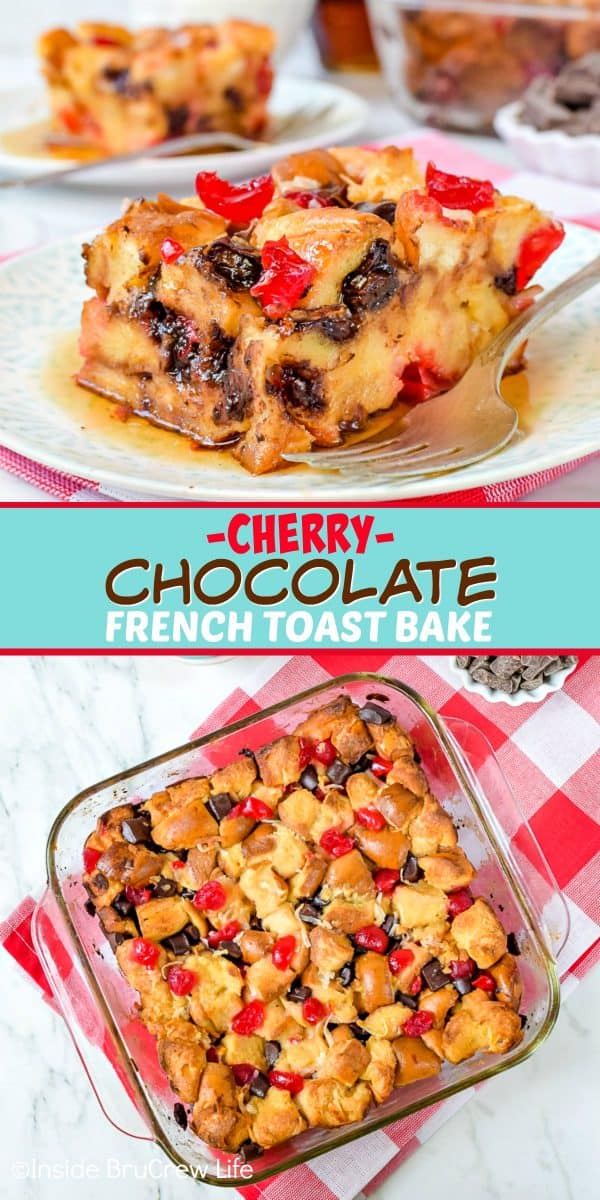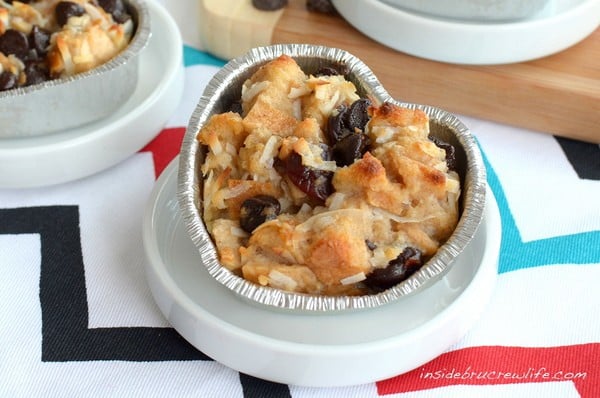 (original picture from February 2012)
*The post for Cherry Chocolate French Toast Bake was first published on February 9, 2012. The pictures and recipe has been updated and republished on May 6, 2019.