Cherry Zucchini Coffee Cake might be unexpected, but it's so delicious! The crumble topping and glaze take it over the top.
So, the other day I realized that I was out of butter. I have no idea how a crazy baking blogger runs out of butter. Usually our fridge is well stocked with sticks and sticks of butter goodness because you never know when you need to make cookies.
Anyway, I decided to make a quick run to Target for some more butter. That's where my logic when downhill. A run to Target can never be classified as quick.
And that day was no exception. I walked into the store and promptly forgot why I was there. First, I looked in the $ spot because there is always something fun to throw in the shopping cart. Then I headed over to the shoes and clothing aisles.
After mindlessly wandering and trying on a few different outfits, I headed to the home décor. Our kid's bathroom needed some fresh accessories, so I was hoping to find something inexpensive yet cute. From there I headed into the seasonal aisles where I found the best Hershey kisses ever.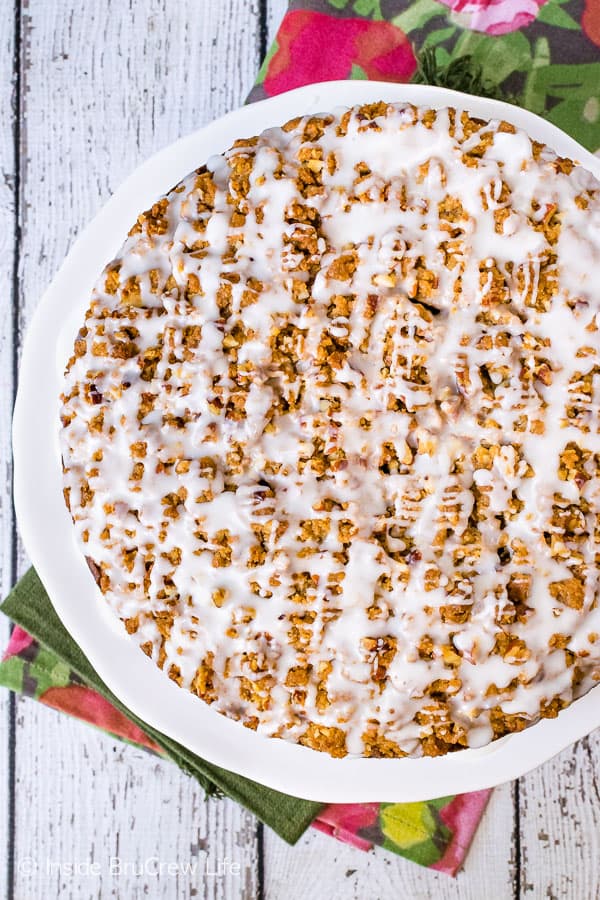 That's when I started noticing it. It seemed like every place I looked I saw an employee standing there or walking by.
At first, I didn't really give it much attention. Until I started seeing more and more employees all over the place. That's when I realized that I had been wandering the store aisles for two hours.
TWO HOURS you guys.
I'm sure it was just coincidence that I was seeing employees, but paranoia set in, and I was sure they were following me because they thought I was stealing something.
I mean who else mindlessly wanders all the aisles of the store midmorning for hours and hours? At that point, I decided it was time to get the butter and get out.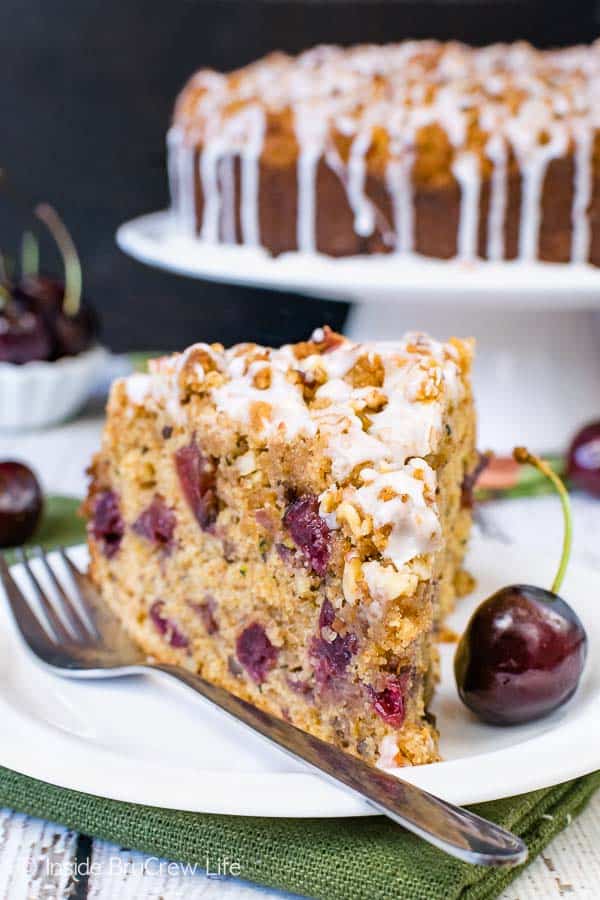 And what did all that paranoia and drama end in? Cake of course. When I'm stressed (or paranoid) I like to bake. At first, I was going to make another Sour Cream Coffee Cake because it's one of my favorite breakfast cakes.
But then I realized that I had some leftover zucchini from making these Bacon Cheeseburger Stuffed Zucchinifor dinner the other night.
So, I decided to use the butter and zucchini to make a crumble topped coffee cake.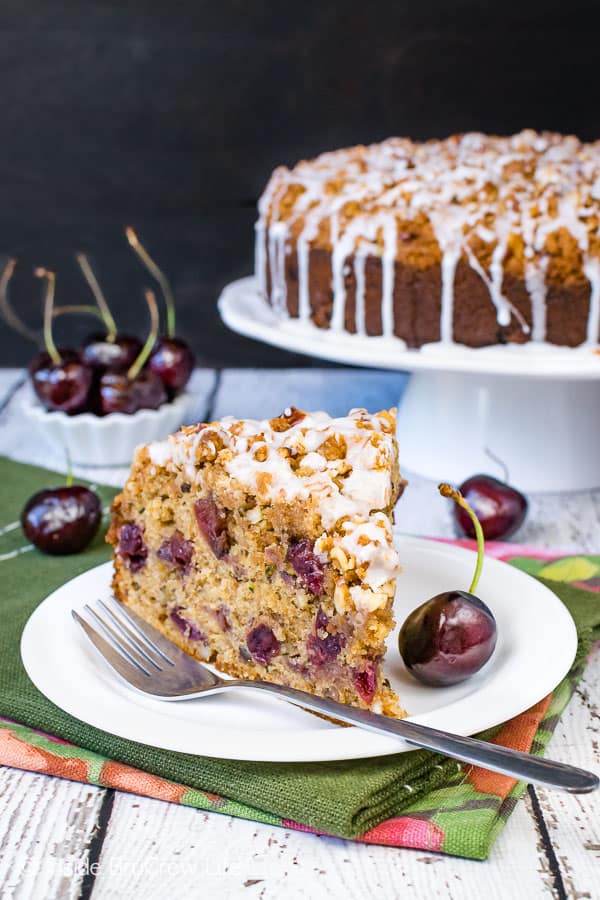 Why is it called Coffee Cake
Have you ever wondered why it is called a coffee cake when there is no coffee in the recipe?
These soft tender cakes topped with streusel are usually served alongside a cup of coffee or tea for breakfast.
Coffee cakes also stand out from other cakes because they usually have a drizzle of glaze instead of a thick layer of frosting.
How to make a Cherry Zucchini Coffee Cake
Preheat the oven and spray a springform pan with nonstick spray.
Mix together the crumble topping and set aside.
Beat the butter and sugars until light and creamy. Add the eggs, sour cream, and vanilla and mix again.
Stir together the dry ingredients and slowly add them to the butter mixture.
Add some shredded zucchini, diced cherries, and pecan chips to the cake batter gently.
Spoon the mixture into the prepared pan and top with the crumble topping.
Bake and cool the cake. Remove the sides of the pan and drizzle the top of the cake with a sweet glaze.
The addition of cherries was a last-minute addition that ended up being so delicious! I'm so glad I decided to use fresh cherries instead of the maraschino cherries in the pantry. Although, I really think either one would work and would be delicious in this easy coffee cake if that's all you have. I also think mini chocolate chips would be awesome in it too.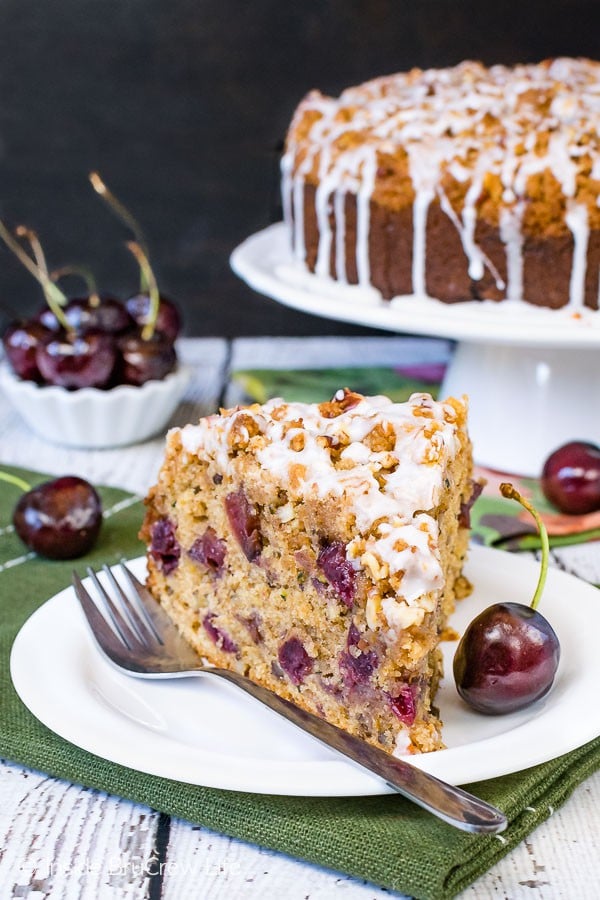 What to serve for Brunch
These sweet Carrot Cheesecake Muffins are soft and delicious and will make you think you are eating carrot cake for breakfast. Everyone at your brunch will be asking for the recipe.
A slice of Sour Cream Banana Bread and a hot cup of coffee will get smiles from everyone at brunch.
All your favorite banana split flavors make this sweet Banana Split Coffee Cake an award winning breakfast! Expect rave reviews every time you serve it.
These easy Cinnamon Muffins are loaded with lots of cinnamon flavor. They will be a favorite with everyone.
Looking for Breakfast Ideas for Kids?
Two times the chocolate makes these Double Chocolate Banana Muffins a favorite breakfast item with kids.
Nutella Pop Tarts are a fun breakfast treat. With just three ingredients you can make a homemade treat that looks just like the store-bought breakfast.
Two ingredient waffles are perfect for busy mornings. Enjoy these Easy Cinnamon Sugar Waffles with a side of Honey Blueberry Sauce.
Kids of all ages will love having these little Cinnamon Sugar Apple Donut Holes on the breakfast table.