Pockets of fresh fruit, chocolate, and buttery streusel make each bite of this Chocolate Chip Raspberry Banana Coffee Cake a delicious experience.
This amazing breakfast cake is a welcome treat to enjoy with a steamy cup of coffee.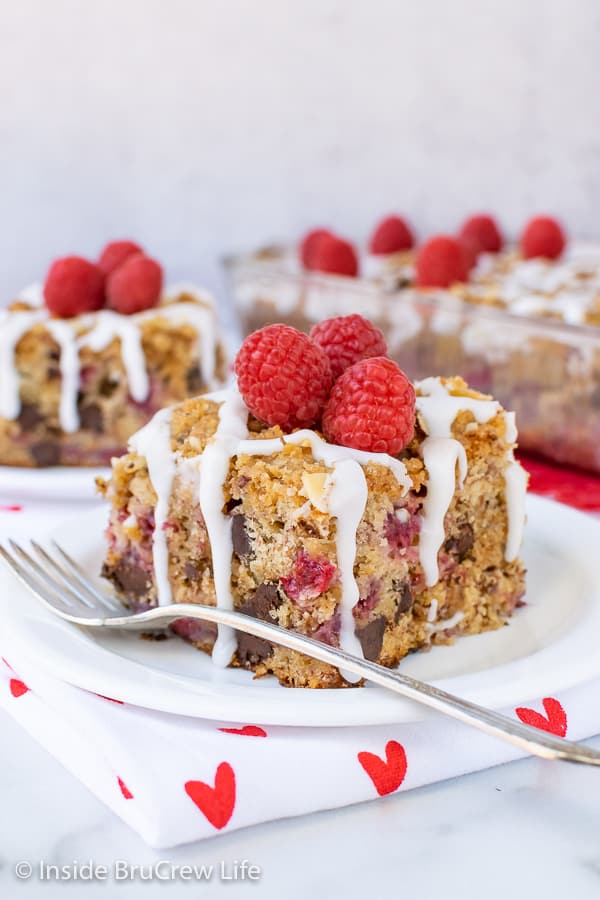 Bananas sit on our counter and die a long slow death. I buy them every couple of weeks thinking that our kids will want them for an after school snack or with oatmeal. A few get eaten, but the rest sit there until they are dark and spotty.
Not that I'm complaining. Baking with bananas is one of my specialties. Some of my favorite ways to use up the ripe fruit are these Chocolate Nutella Banana Muffins or this Maple Pecan Banana Bread. I'm powerless to resist either one when they are on the counter.
Maybe I should take that as a sign to stop buying bananas and baking treats with them...naaaaaaahhhh! That will never happen.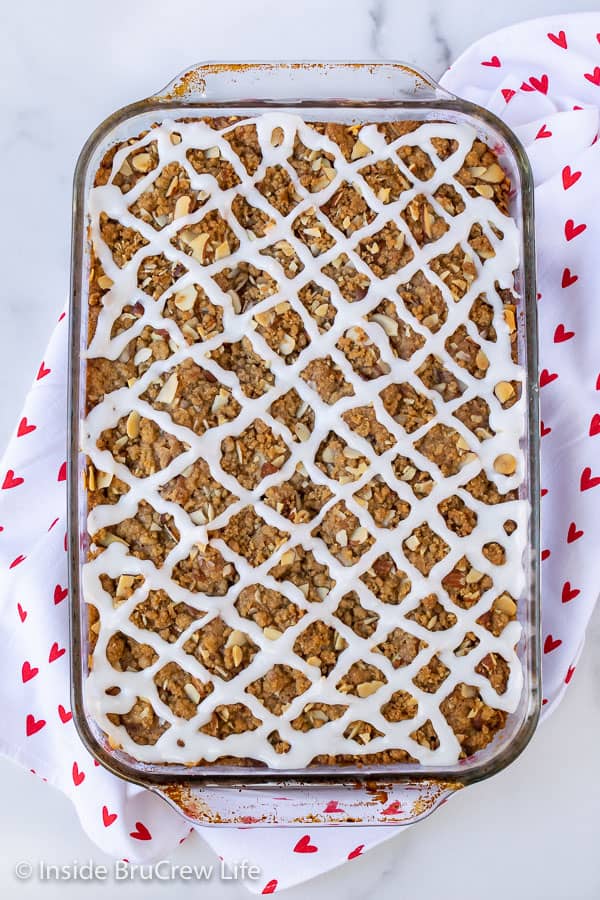 A few weeks ago the bananas on the counter were hitting their prime baking state, so I decided to change up this Banana Caramel Coffee Cake by adding fresh raspberries and chocolate to it.
Guys, this was seriously the best decision ever! I couldn't stop swiping slivers of this banana streusel cake every time I went through the kitchen. My taste buds say this flavor combo was a great thing...my jeans disagree with this baking decision. LOL!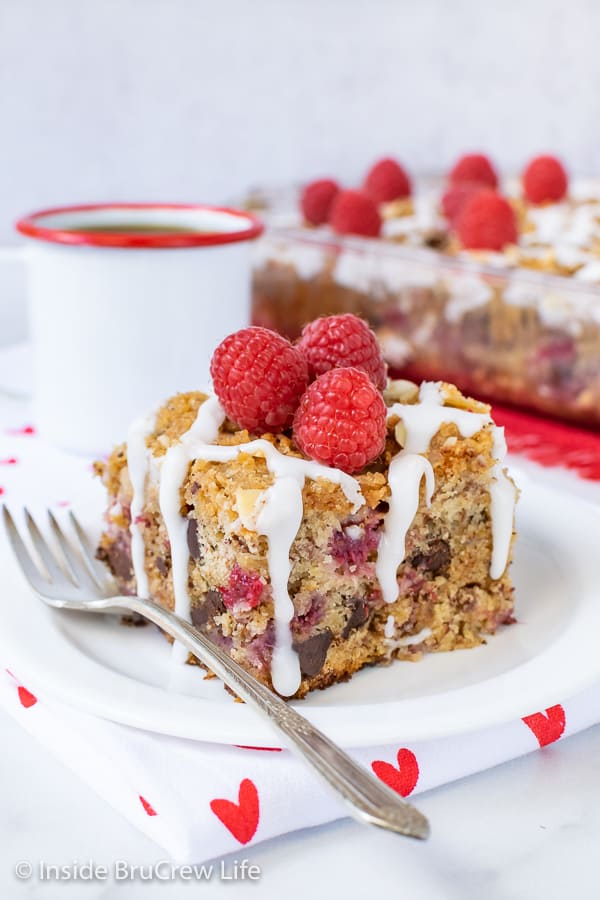 A common question that I get whenever I make coffee cakes is "where is the coffee?". Coffee cake is just a delicious reason to enjoy cake with your coffee. There is no coffee to be found in a coffee cake recipe...unless you purposefully make it a mocha coffee cake.
Why Chocolate Chip Raspberry Banana Coffee Cake is the best:
Soft, moist, and melts in your mouth
Loaded with pockets of juicy fruit and dark chocolate chips
Topped with a buttery streusel and a sweet glaze
Easy recipe to make for breakfast or brunch
There is so much flavor and goodness in every bite of this soft breakfast cake.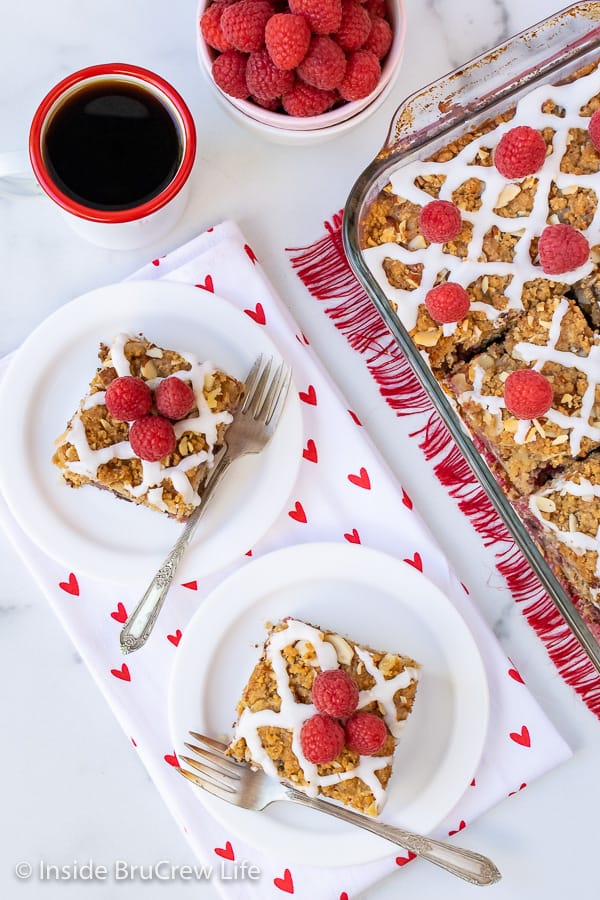 How to make a Chocolate Chip Raspberry Banana Coffee Cake:
Mix together the streusel ingredients until you have big chunks, then stir in the almond slices.
Beat the butter, cream cheese, and sugars until nice and creamy.
Add the eggs, banana, and extracts and mix again.
Stir together the dry ingredients and slowly add them to the banana mixture until everything is combined.
Gently stir in the raspberries and chocolate, then spoon into a greased 9x13 baking dish.
Sprinkle with the streusel and bake.
Add a drizzle of glaze before serving.
Recipe Tips:
Use your hands to clump together the streusel mixture into big chunks.
Set the butter and cream cheese out ahead of time because it is easier to cream it when room temperature.
Do not over mix the batter. Stop mixing once everything is combined.
Toss the fresh raspberries with a little bit of flour to keep them from sinking to the bottom of the coffee cake as it cooks.
Allow the breakfast cake to cool completely before adding a glaze.
Extra fresh raspberries on top is never a bad idea.
Can you bake this coffee cake recipe into muffins?
Yes, you can divide the batter into 20 cupcake liners and bake for about 22 minutes, or until a toothpick inserted in the center of one comes out mostly clean. I would personally skip the streusel topping though. It doesn't seem to bake as well on muffins.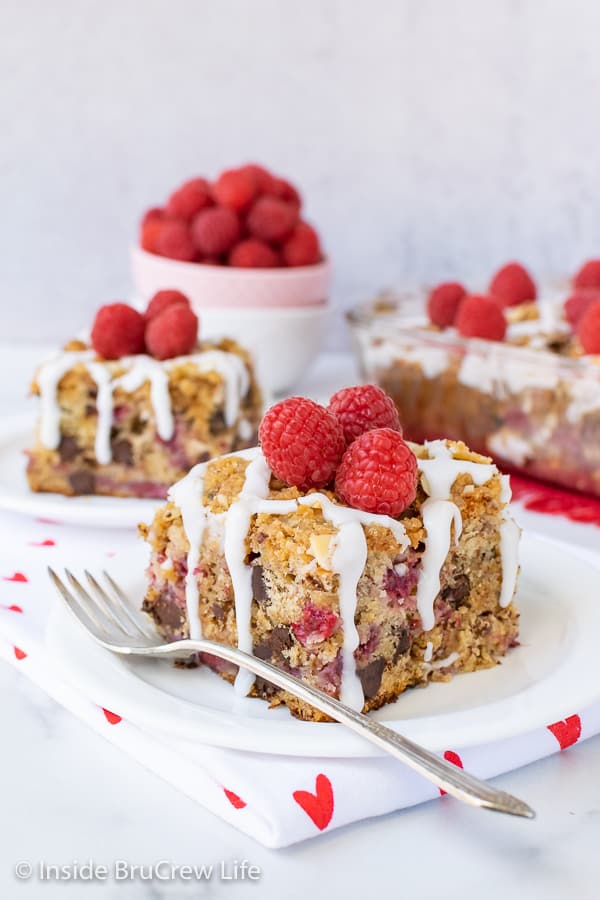 More breakfast foods made with bananas: