Spice up your breakfast with this amazing Apple French Toast Casserole! With tender-cooked apples, crispy bacon, and a sweet maple drizzle, it's the perfect way to celebrate the arrival of fall.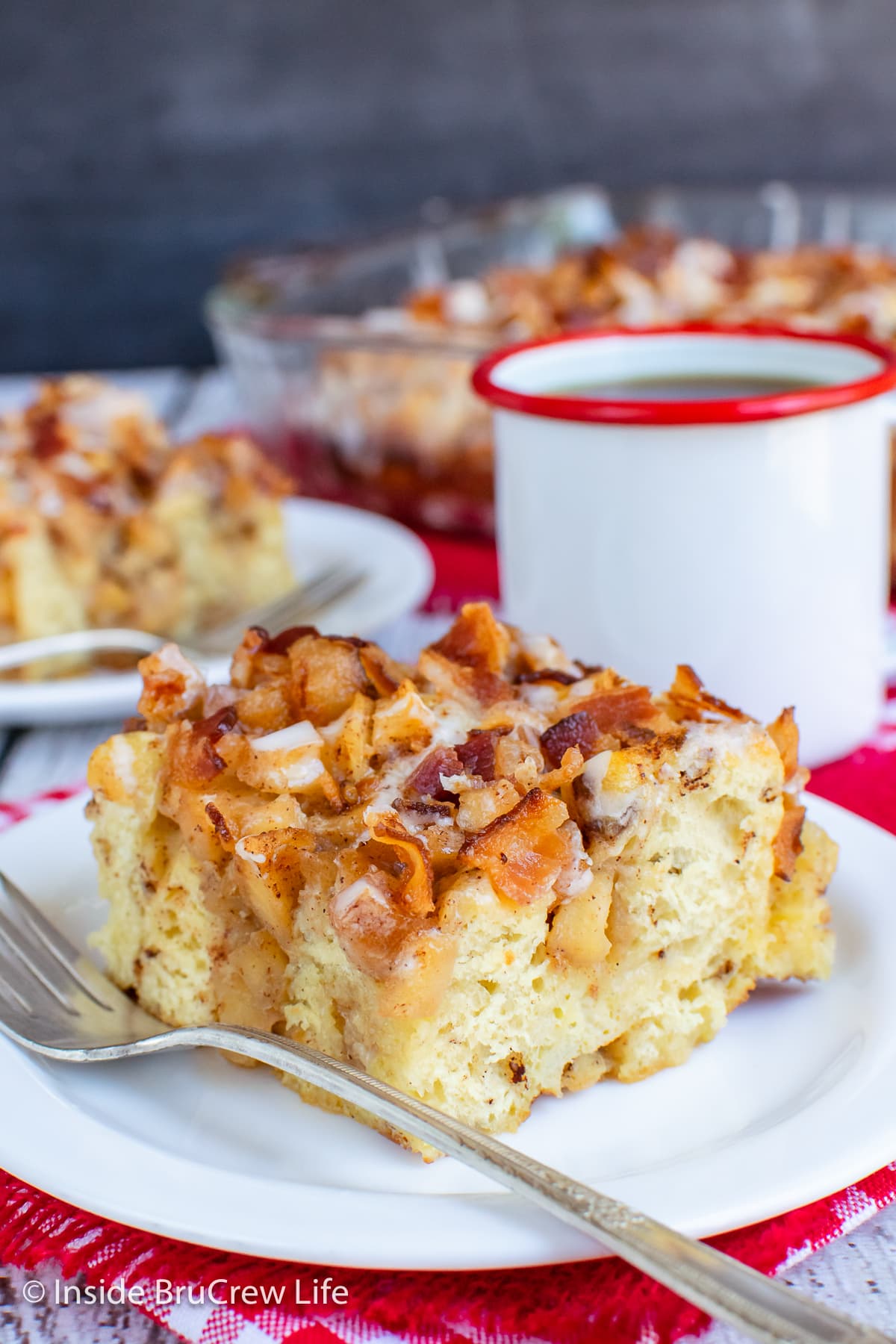 Jump to:
As the weather is cooling off, it's time to consider fall baking. I love going to the orchard to get fresh apples for caramel apple pie and apple spice cake. It's a fun activity I look forward to each fall. And, of course, we can't leave without a few apple cider donuts.
Apples are so fun to bake with this time of year. Last year, I made a strawberry French toast casserole that my family fell in love with. Adding apples, bacon, and a maple glaze was a great way to give that delicious breakfast recipe a fall makeover.
Why You Will Love This Baked French Toast
Apple French toast casserole is a popular dish that combines the comforting flavors of French toast with the sweetness of apples. Adding a maple glaze and crunchy bacon gives this easy breakfast casserole a sweet and salty flavor that is irresistible.
Great flavor combination. Combining cinnamon-spiced apples with custardy, slightly crispy bread creates a delicious French toast casserole. The sweet apples and the salty bacon perfectly complement the richness of the cinnamon rolls.
Perfect for breakfast or brunch. This breakfast bake is a great choice for weekend breakfasts, brunch, or the holidays. Sweet and savory ingredients make this a versatile dish that can fit into a brunch menu with other items.
Family friendly. This dish is a hit with everyone because of its familiar flavors, textures, and the delightful sweetness of cinnamon rolls. It's a happy fall option that the whole family can enjoy.
Versatile. While the original recipe calls for apples, this casserole can be made with other fruits, such as berries, peaches, or pears. Feel free to add your own creative touch based on personal tastes or the availability of ingredients.
Main Ingredients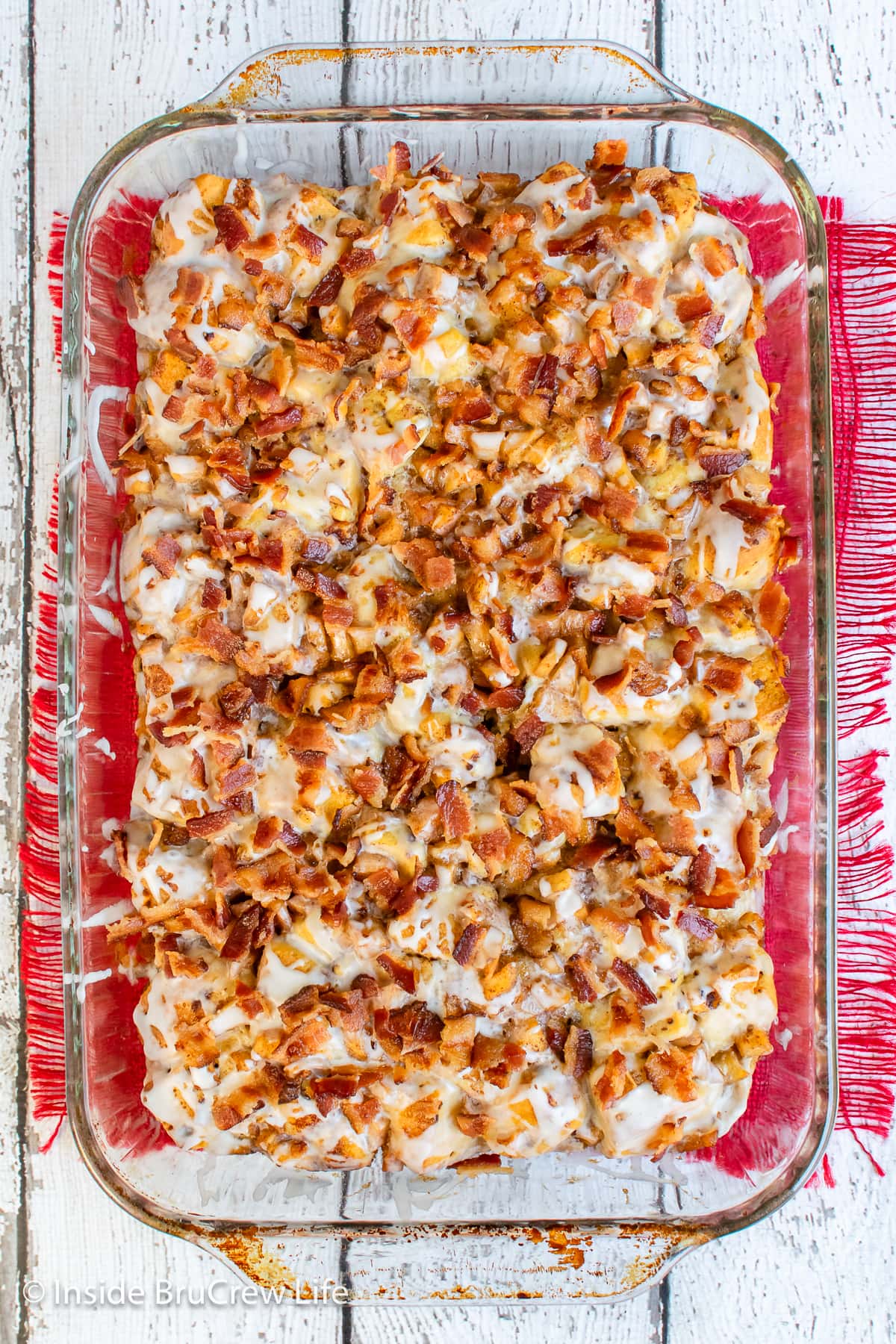 A few basic ingredients and cinnamon rolls are used to make this simple apple French toast bake.
Apples - I like to use Gala apples for all my baking because they are a little sweeter and my favorite. Feel free to use Honeycrisp, Fuji, or Granny Smith apples. We prefer peeled apples, but if skins don't bother you, you can leave them on.
Maple Syrup - Pure maple syrup will give you the best flavor, but any store-bought syrup will work.
Cinnamon Rolls - You will need two packages of refrigerated Pillsbury cinnamon rolls, so a total of 16 rolls.
Egg Mixture - A combination of eggs, milk, and maple syrup creates a rich custard.
Bacon - Crispy cooked bacon adds a delicious flavor to the top of the breakfast bake.
Optional - Whisk in one teaspoon cinnamon and add vanilla extract to the milk mixture for more flavor.
BruCrew Tip: Use leftover apples to make an apple pie filling or strawberry applesauce.
How to Make French Toast Casserole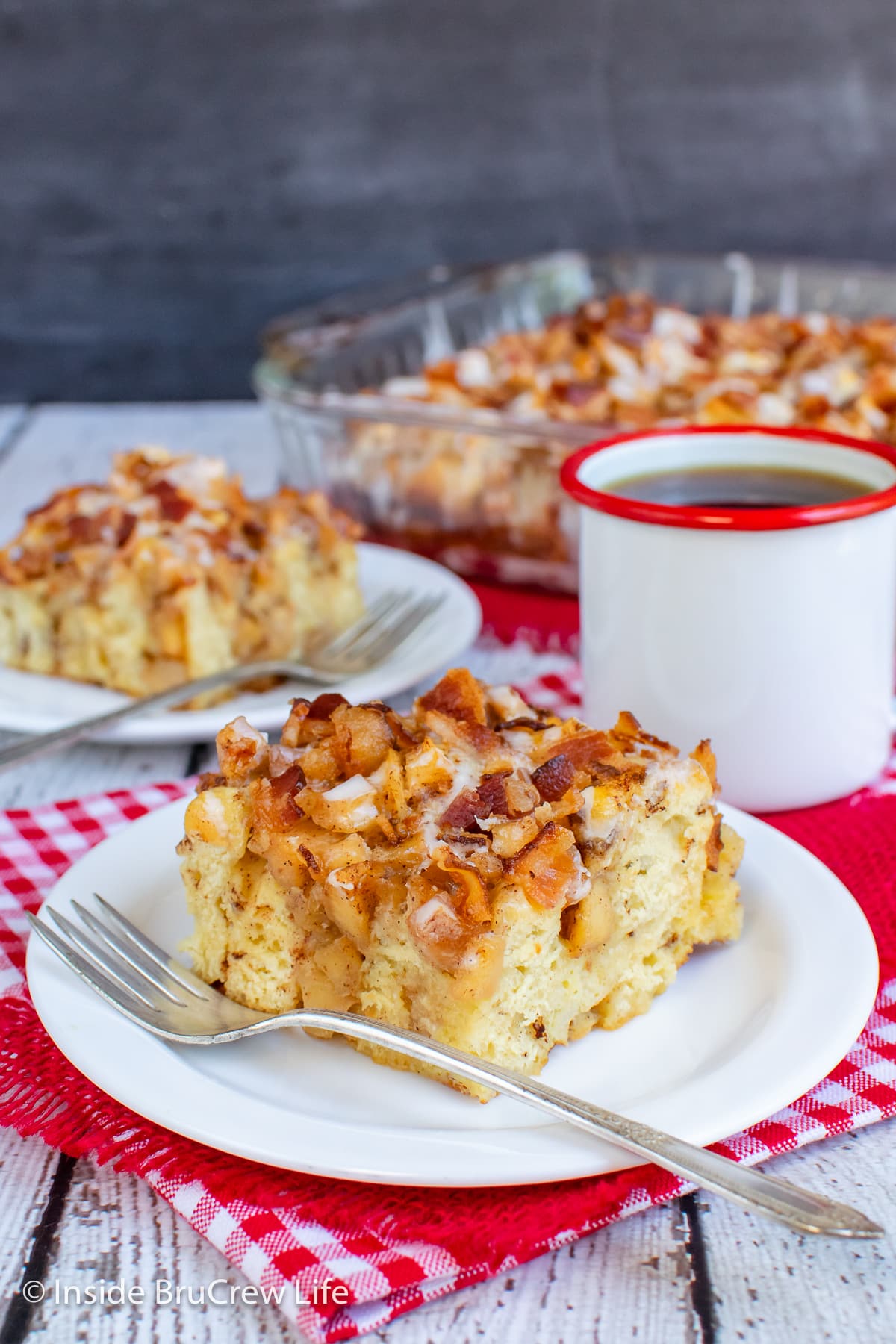 You won't believe how simple it is to prepare this baked apple french toast. Our easy recipe will walk you through making a French toast bake in under an hour. Plus, you will love the wonderful aroma coming from your oven as it bakes.
Cook the apples. Dice apples and cook them in a skillet with maple syrup until soft and tender.
Cut the rolls. Cut each cinnamon roll into quarters and place in a greased 9x13 baking dish. Stir in the cooked apple pie filling.
Make the custard mixture. Whisk the milk, eggs, and maple syrup in a medium bowl. Pour egg mixture evenly over the cinnamon rolls.
Bake and glaze. Bake in a preheated oven until golden brown, then cool for 10 minutes. Drizzle a maple glaze on top of the casserole and sprinkle with crunchy bacon pieces before serving.
Storage Recommendations
In the Refrigerator - Store any remaining casserole in an airtight container in the refrigerator for 3-4 days.
In the Freezer - Wrap the cooled casserole dish tightly in plastic wrap and foil and freeze for 1-2 months.
To Reheat - When you're ready to enjoy another slice, reheat it in a warm oven or microwave individual slices. Drizzle it with more maple syrup and enjoy.
Tips and Tricks
Use whole milk. Any milk will work, but full-fat milk will give you the best-tasting custard.
Add extra ingredients. Stir in blueberries, chopped pecans, walnuts, dried cranberries, or raisins.
Cover with foil. If the top of the bake is getting too brown, cover it with aluminum foil.
Get creative with your toppings. Add cinnamon syrup, powdered sugar, homemade whipped cream, or vanilla ice cream to each square for a more decadent treat.
FAQs
Can I make this casserole the night before?
Absolutely! You can assemble the casserole the night before, refrigerate overnight, and bake it in the morning. Just remember to add a few extra minutes to the baking time if starting from cold.
Do I need to peel the apples?
Peeling the apples before baking is a personal preference. The peels will soften as the apples cook, but some people do not like the texture they add to food.
Can I use other fruits in this baked French toast casserole?
Yes, other fruits can be used in place of the apples. You can use peaches, pears, or any other berries.
Can I use other bread in this recipe?
Yes, you can use a loaf of bread, bagels, french bread, or brioche bread. Let the bread cubes sit out because stale bread absorbs the milk mixture better.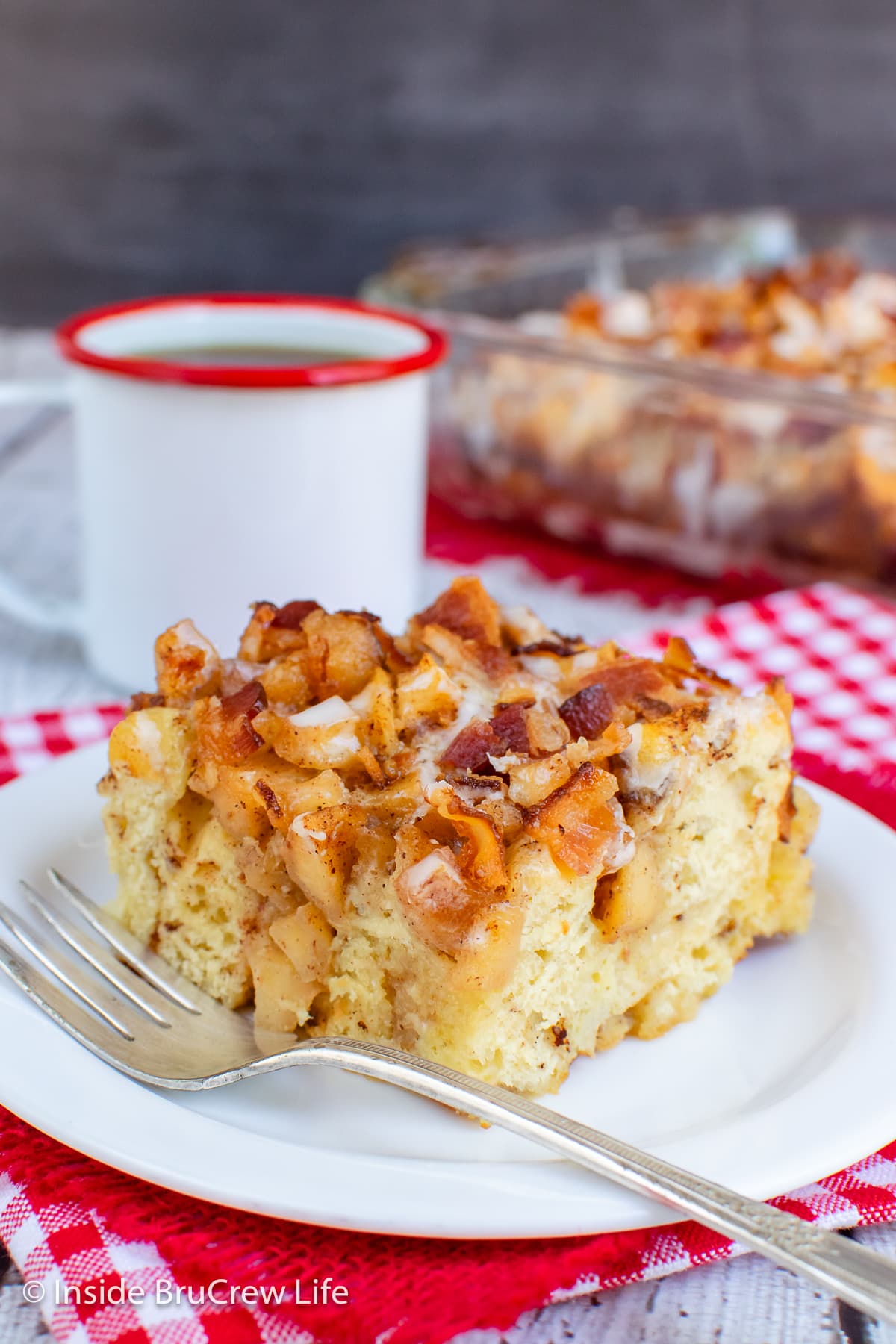 More French Toast Casseroles
Do you love a recipe you tried from Inside BruCrew Life?
Please leave a 5-star ⭐️ rating and a review in the comments section below.
*This post was first published in June 2018. It was updated and republished in August 2023.