Would you like a delicious cake with plenty of spice and crumble to start out the day with? This Apple Butter Crumble Cake has layers of cake, apple butter, cinnamon oatmeal crumble, and a sweet glaze to top it off. It is the perfect cake for breakfast or an afternoon snack.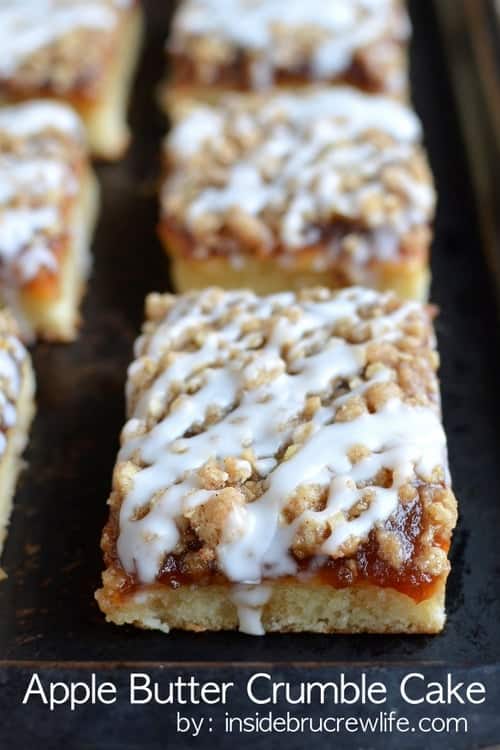 Fall is my absolute favorite season. Changing leaves, crisp air, sweaters, boots, jeans, hayrides, apple picking, and lots of bonfires are just a few of my favorite things about this season. In fact, if I could find a place that had all these things year round, I would move in an instant.
Of course, I would have to convince my family that we don't really need those other seasons. They could learn to live with out snow and hot summer days, right?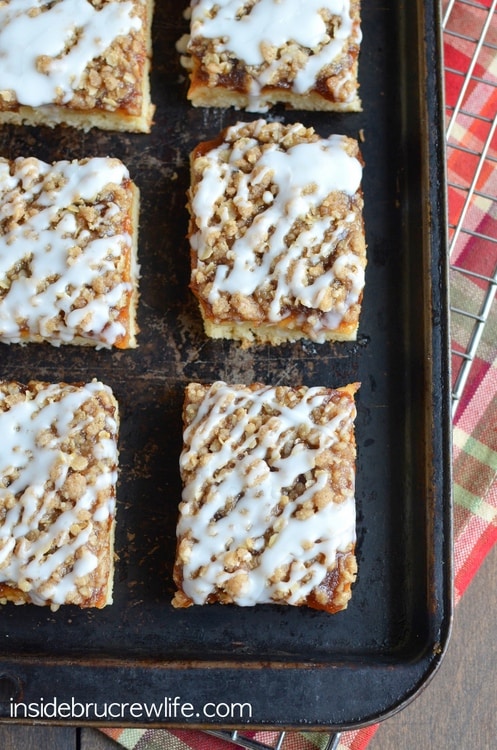 There are certain foods that totally send you back in time. I don't know what it is, but apple butter reminds me of my childhood.
I think it is because we always had a jar in our refrigerator when I was growing up. The spicy thick spread was perfect for spreading on toast or biscuits.
I was excited when Musselman's contacted me again to use apple butter in a fun recipe. Apple butter is great on toast, but there are so many more uses for apple butter. Last year I made these Apple Butter Cinnamon Rolls that are still a favorite around here.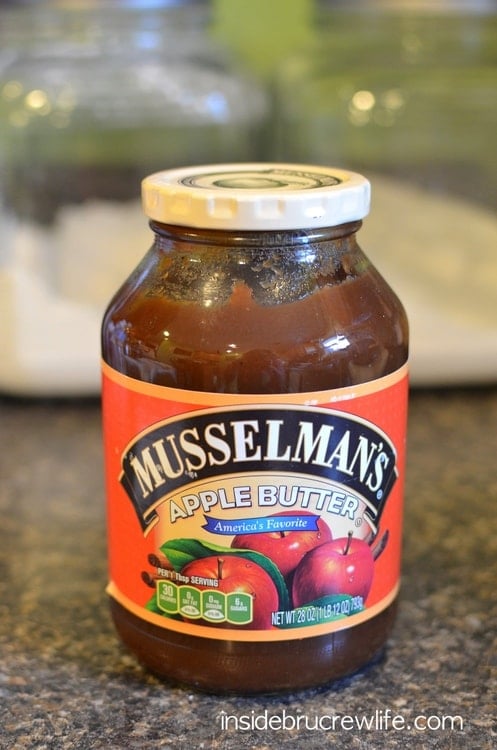 Do you remember this Strawberry Lemon Snack Cake? I have been looking for a way to make it more fall friendly, and I had a feeling adding apple butter and changing up a few other things was going to be the perfect way.
The cake needed another element of fall to it though, so I added a cinnamon crumble topping across the top. Best idea ever!!! And it only took me two tries to get it to look right.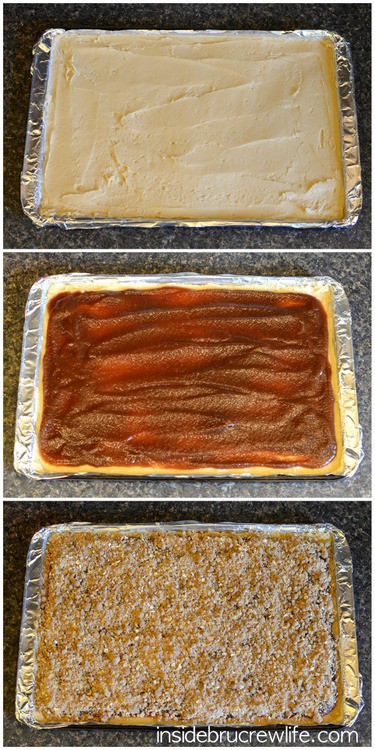 Round one I did some dough on top with the crumble. It tasted good, but it wasn't as pretty looking. So for round two, I kept all the dough on the bottom and the crumble on the top.
Of course, making two cakes in one day meant that now I had tons of cake to get rid of.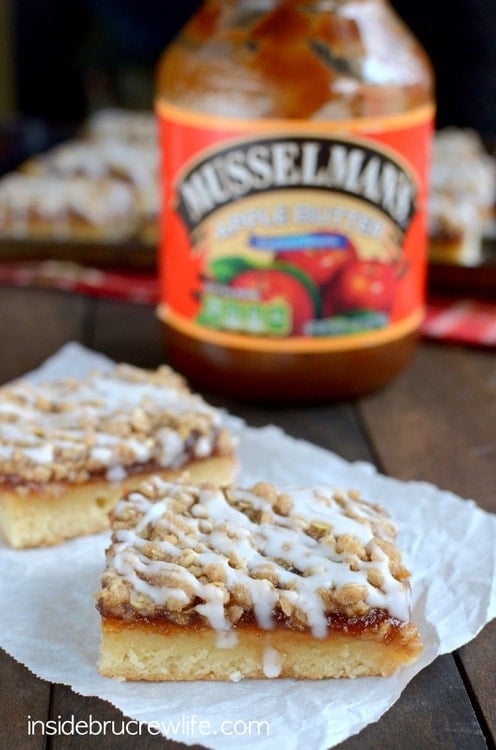 A plate of goodness went home with one of our friends for his family. We got a text later that night asking about the recipe, so I'm pretty sure that means they liked it. Then I sent a big plate full of cake with my hubby to work.
The whole time I was putting cake slices on plates, my oldest was watching to be sure I left him enough to eat. He is my self appointed taste tester...and believe me, he is usually brutally honest.
This cake got two thumbs up from him. Actually, what he really told me was that it was terrible, and that I should let him "dispose" of it. And by dispose of, he really meant devour it all by himself.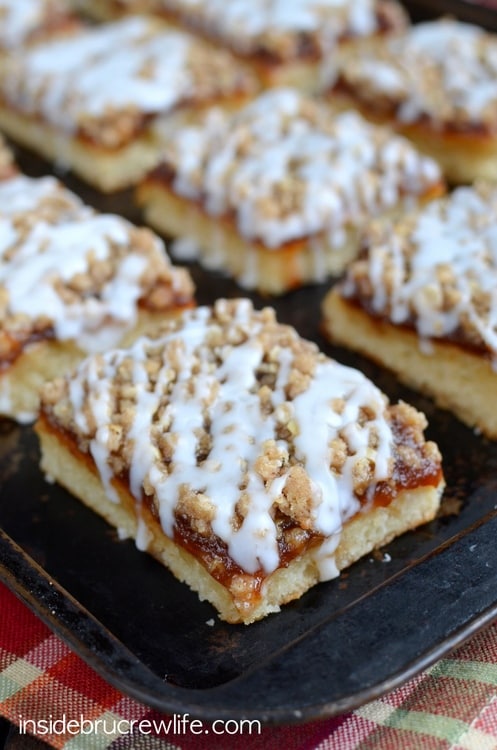 Recipe Tips
Line a 10x15 pan with foil and spray it with non stick spray. I prefer to use Baker's Joy. It makes removing the cake from the baking sheet and foil so much easier.
Do not try to spread this dough with your hands. It is too sticky, and you will end up with cake batter sticking to you. Use a spatula to evenly spread the dough in the foil lined pan.
Leave about ½ inch border all the way around the cake when spreading out the apple butter. This way the cake batter will bake up around the apple butter all the way around.
Cut the cake into squares before adding the glaze. This way the glaze can drizzle down over all the edges of each piece.
More Ways to Use Apple Butter
Do you love a recipe you tried from Inside BruCrew Life?
Please leave a 5-star ⭐️ rating and a review in the comments section below.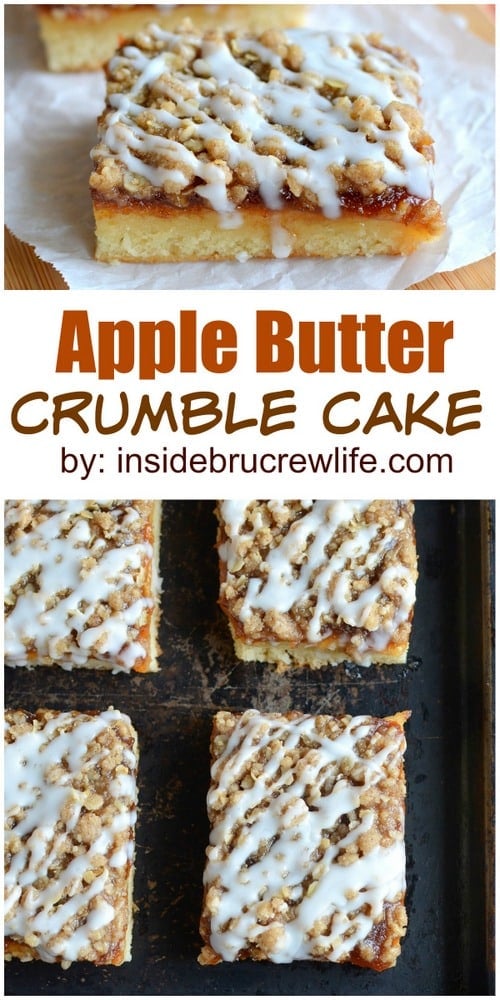 *Musselman's provided me product for review and compensated me for this recipe creation and post. All opinions and thoughts are 100% my own.