Fresh cherries and cilantro add a fun twist to this easy Cherry Walnut Chicken Salad recipe. Serve it with crescent rolls for lunch or on salad for a delicious and healthy dinner.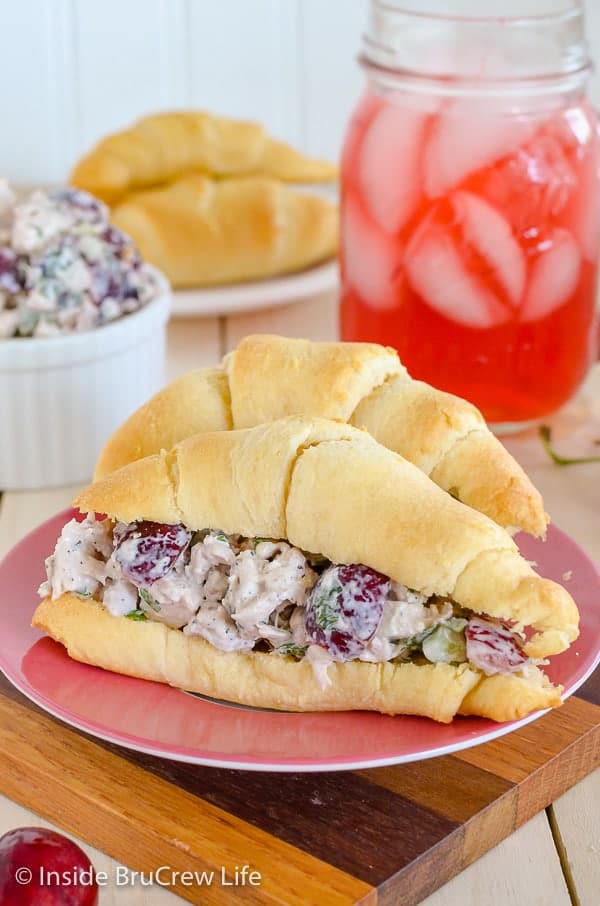 A few years ago, I had this Grape Pecan Chicken Salad at a church event. This was the first time that I had ever had chicken salad with fruit, and I have to admit I was a little bit skeptical at first.
After all, I had been eating chicken salad with pickles and eggs for years. But after one bite, I was completely hooked on this easy fruit and chicken salad.
In fact, now our whole family loves eating fruit in different salads like this Strawberry Orange Spinach Salad or this Hawaiian Chicken Salad.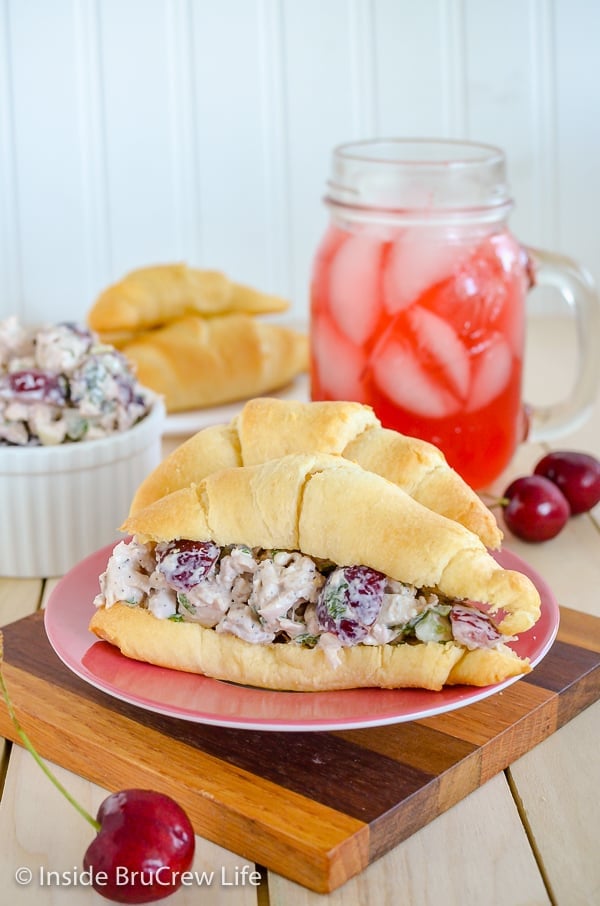 The last time that we made Chicken Enchiladas, we still had quite a bit of rotisserie chicken leftover. My first thought of course was to make a bowl of homemade chicken salad for lunch the next day.
I was talking with my husband and asking him what he wanted in the chicken salad. I was curious if he would want our normal recipe or something completely different.
He got a bright look in his eye and asked if I thought fresh cherries would be good in chicken salad. See? I've told you before, most of the good dinner ideas usually start with him.
So fresh cherries it was. We also decided to we use walnuts and cilantro instead of the pecans and dill.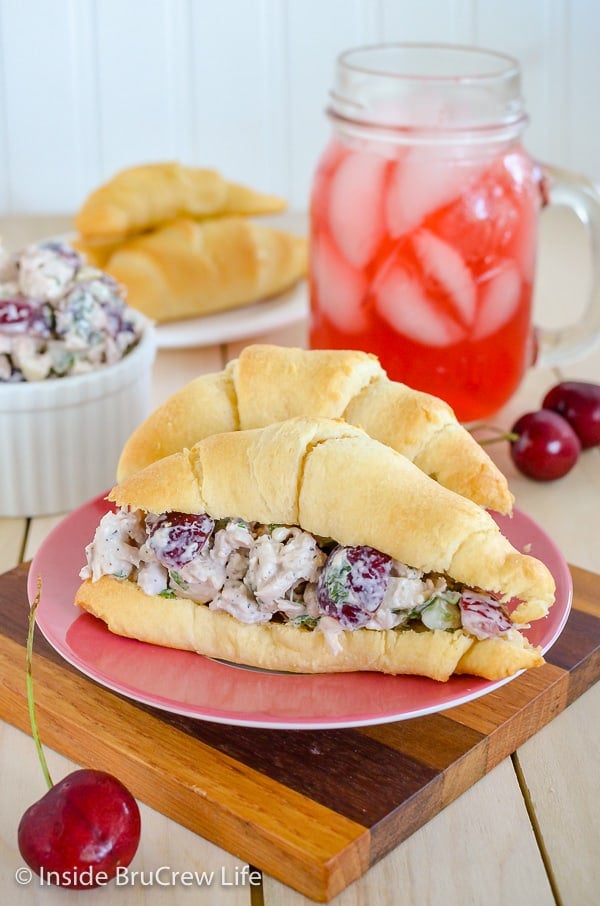 The flavors from the fresh cherries and the crunch of the walnuts added such a great flavor when mixed in with the chicken and cilantro.
How to make Cherry Walnut Chicken Salad:
Pit the fresh cherries and cut in half. Place them on some paper towels to absorb the juice.
Place the shredded chicken in a bowl. Stir in the diced celery, chopped walnuts, diced cilantro, chopped green onion, and halved cherries.
Stir in the sour cream and mayonnaise until everything is mixed in. You can also use Greek yogurt and light mayo if you would like to make this a healthier chicken salad.
Season to taste with salt and pepper. Refrigerate for a few hours, so the flavors can blend together before serving it.
How do you eat Cherry Walnut Chicken Salad?
Enjoy it on crusty french rolls, wheat bread, crescent rolls, Hawaiian rolls, wraps, or on top of a salad.
Honestly, there isn't a wrong way to eat this Cherry Walnut Chicken Salad, so pick your favorite way and go with it. I may have just finished off the rest of ours with a fork...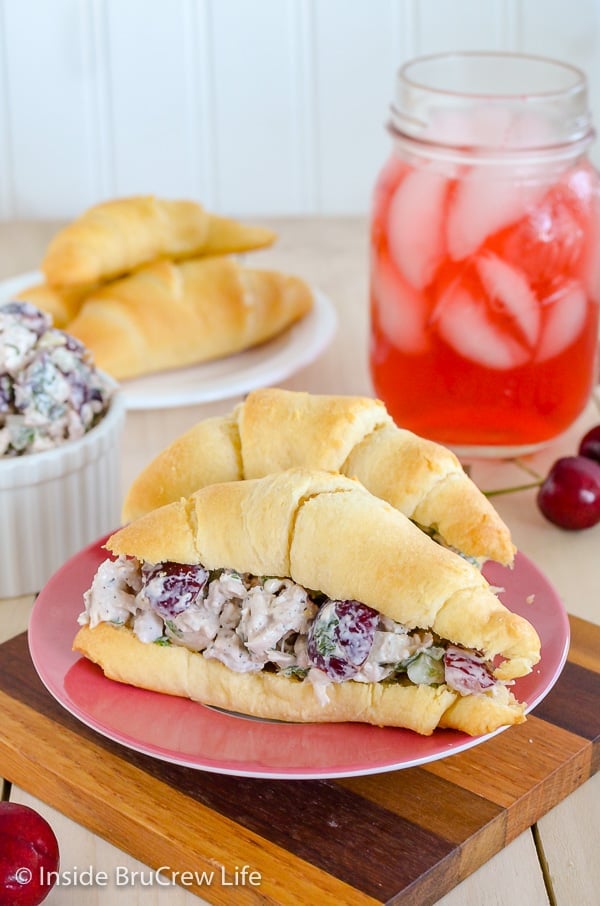 More easy chicken salad recipes: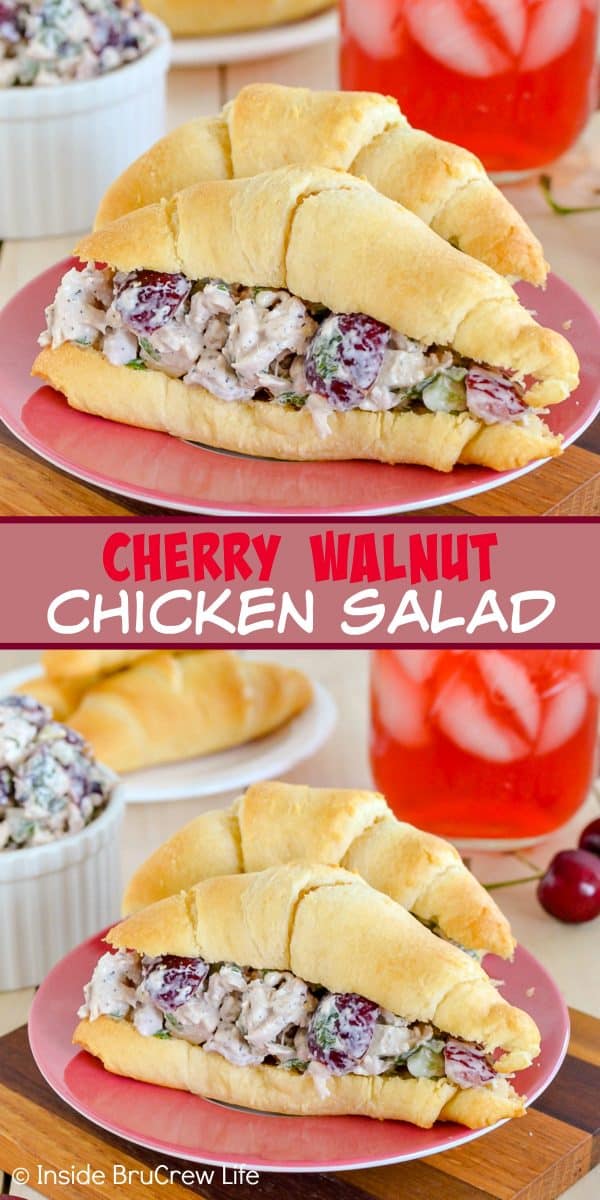 *The post for Cherry Walnut Chicken Salad was first published on July 31. 2013. The photos have been updated and republished on July 17, 2019.