Chunks of pineapple, crunchy nuts, and spicy peppers make this Hawaiian Chicken Salad a delicious and healthy dinner choice. Enjoy this easy salad on rolls or lettuce wraps!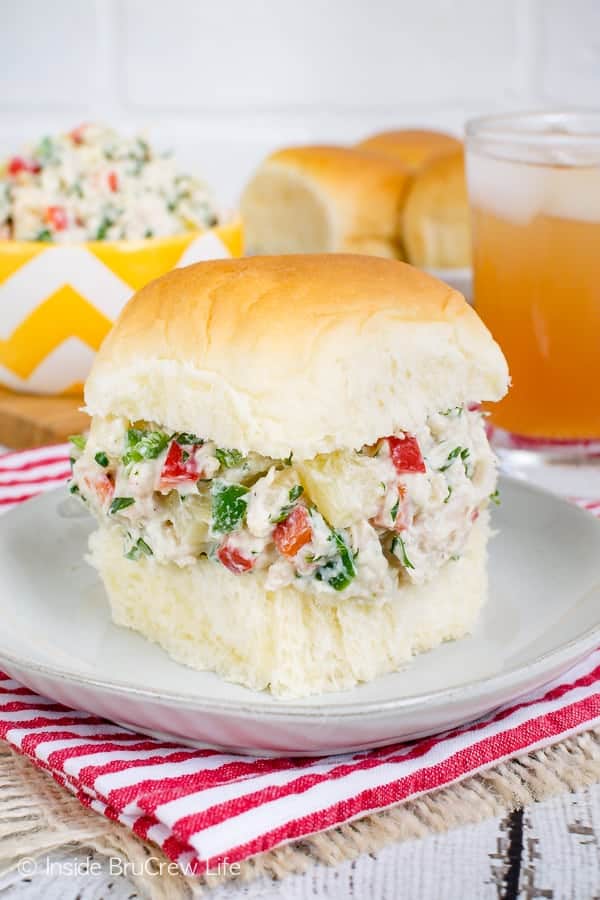 After two weeks of traveling for work and to see friends and family, we are finally back home. Yesterday was a long day of traveling across the country. I never want to ride in a car again.
In fact, my husband and I both agreed that the 18 hour drive is just too much. I think he is finally convinced that flying is the way to go. Driving is definitely cheaper, but you lose so much time.
Today is going to be spent catching up on laundry, scheduling appointments, meal planning, and doing some grocery shopping because the fridge is pretty empty right now. So, I guess I have to jump back in the car for a quick trip to the store for some healthy food.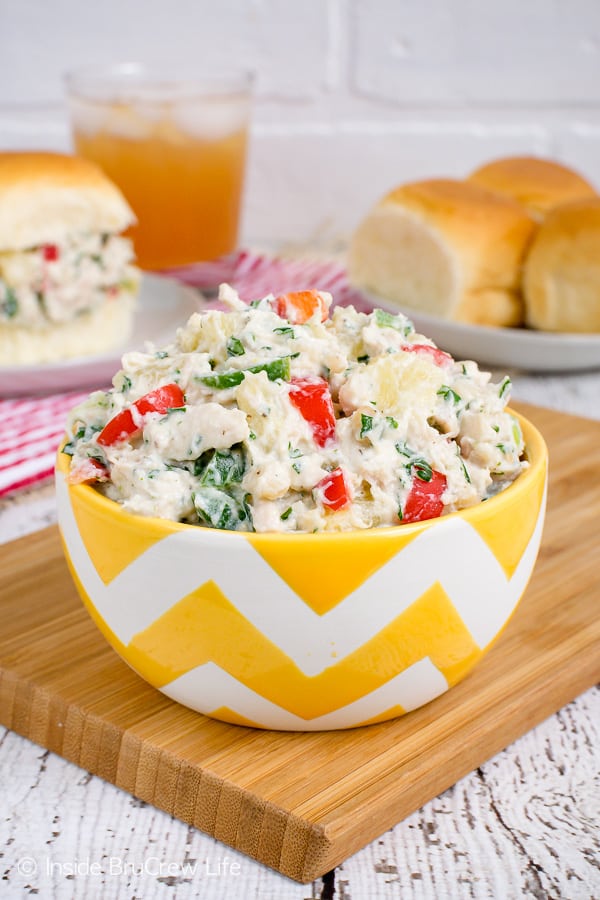 Over the years we have tried so many different recipes for our meals. Some of these recipes were keepers, and others never were made again.
This Grape Pecan Chicken Salad is one recipe that we make every couple weeks because it's that good. Our whole family enjoys this easy chicken salad during the hot summer months.
Who am I kidding? We eat it all year long. It's one of my first choices to bring to summer picnics and potlucks. Everyone loves it and asks for the recipe when we share it.
It's also such a great recipe to change up with different fruits and nuts. I like to make this Cherry Walnut Chicken Salad for a change of pace every once in a while.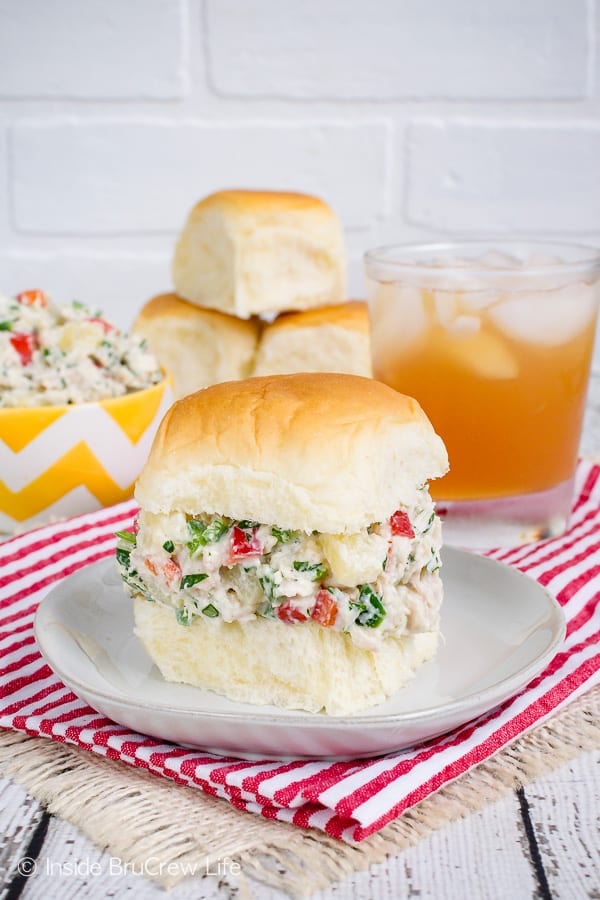 Tips for making Hawaiian Chicken Salad:
Shred your cooked chicken into a big bowl. You can either purchase a rotisserie chicken from the store or you can cook a whole chicken in a crock pot. I like to buy two chickens at a time and freeze the extra one for future dinners.
Stir in the chopped nuts, a can of drained pineapple tidbits, cilantro, and diced jalapeños and red peppers. The little bit of jalapeño in this salad adds just a little bit of spicy flavor. It really isn't that spicy, but feel free to leave it out if you want.
Whisk together the Greek yogurt, garlic powder, salt, pepper, and red wine vinegar and pour it over the chicken mixture. Refrigerate for at least an hour, so the flavors can melt together.
Serve this Hawaiian Chicken Salad on dinner rolls, bread, lettuce wraps, or a leafy green salad. It's also perfectly delicious eaten alone or with pretzels.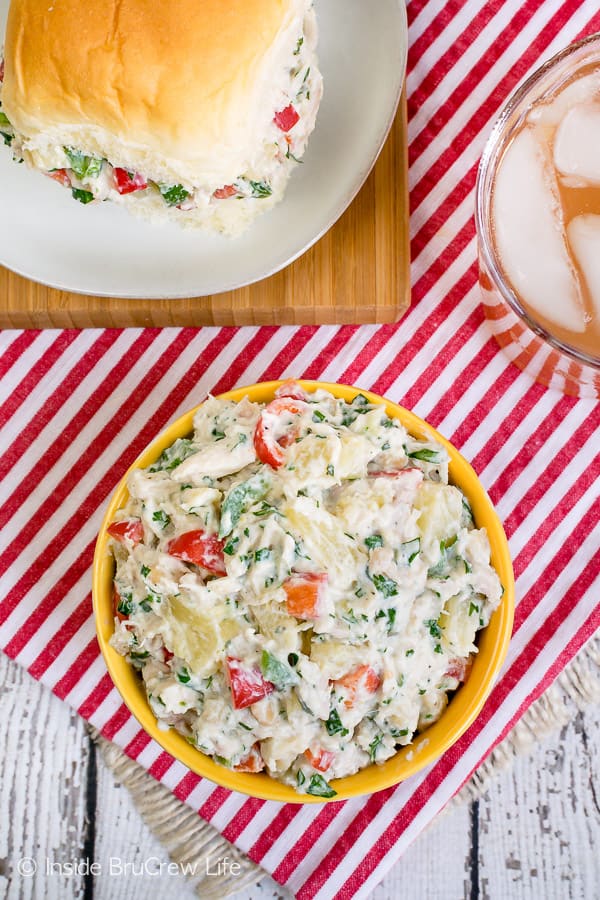 If you love this chicken salad, you may enjoy some of these easy salad recipes: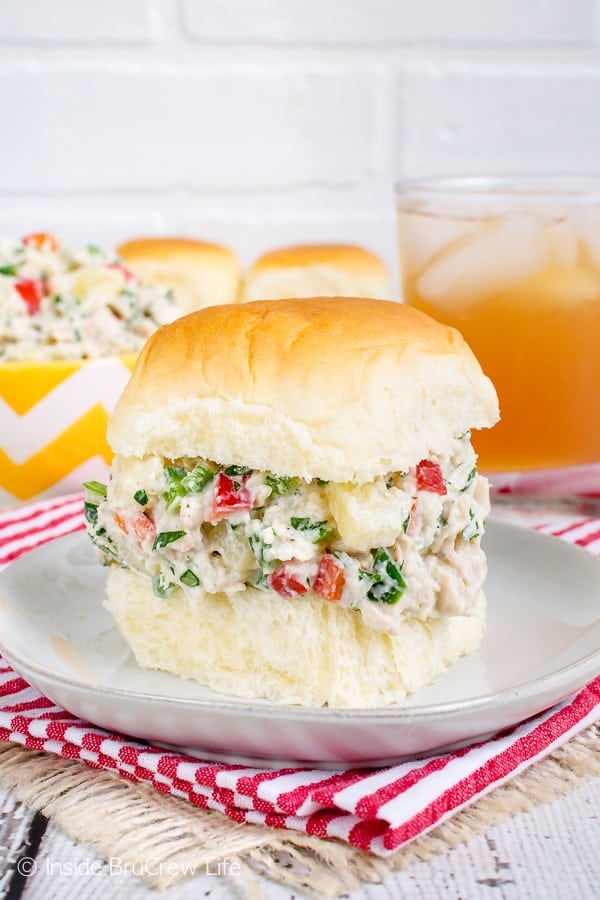 Hawaiian Chicken Salad recipe: