A Chia Pudding Parfait is an easy and healthy breakfast to grab in the morning. Stir together chia seeds, milk, and sweetener of your choice and refrigerate until thick and creamy.
Add your favorite toppings in the morning and dig in to the delicious and healthy parfait.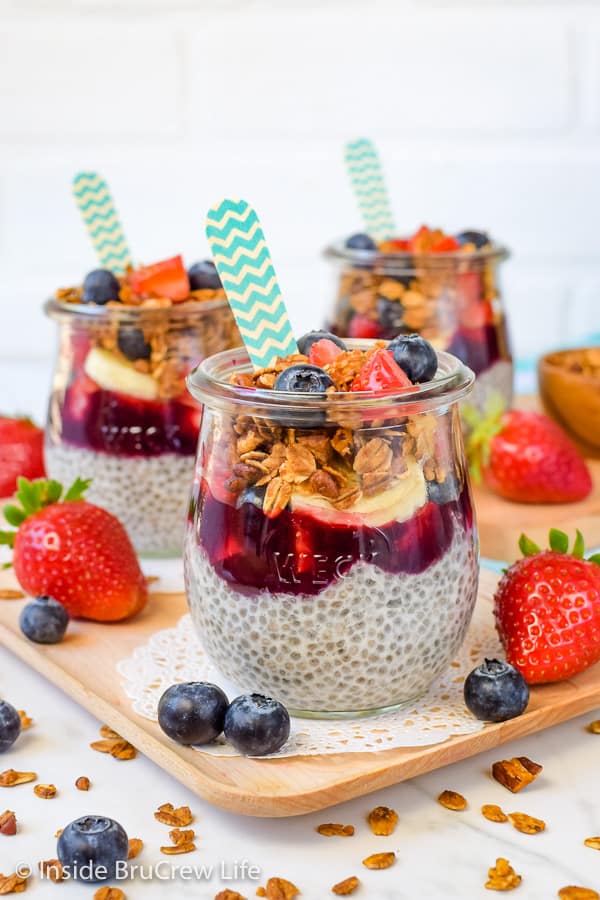 A few months ago when our son was home, we went out to breakfast at First Watch. The restaurant we chose had a chia seed pudding parfait on the menu, and I was intrigued by the flavors, so I ordered it.
I was impressed by the large bowl of pudding and fruit that came out of their kitchen. It was so light, creamy, and filling without being heavy at all. Although, I really think their serving was a little too large, so I decided to make my own version at home in small jars.
Why This Works
The first time I made this chia pudding I couldn't believe how easy and quick it was. Stir and sit.
That's it. No fancy equipment or kitchen tool is needed to achieve a healthy meal.
These little jars of chia pudding, fruit, and granola are a filling and delicious choice to start out the day. Each jar is loaded with protein, fiber, and healthy fats.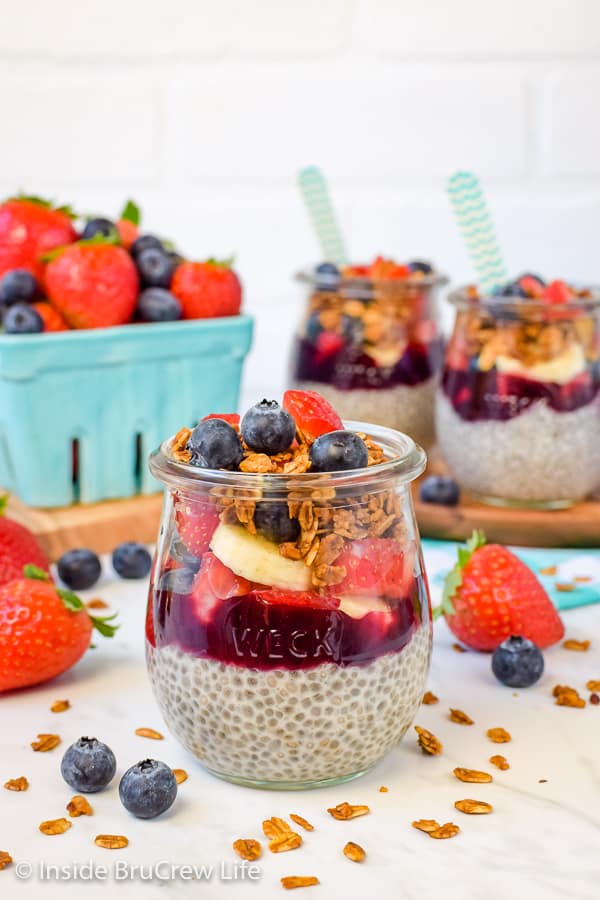 Ingredients Needed
All you need to make a batch of chia pudding are 4 simple ingredients. Stir or shake and then let it thicken.
Chia Seeds - Will thicken the milk into a creamy pudding.
Milk - Any variety will work. Use an unsweetened coconut milk, almond milk, oat milk, or cashew milk to make these parfaits dairy free.
Honey - To sweeten the pudding just a little bit. You can also use your favorite sweetener or maple syrup.
Vanilla Extract - To add a little bit of flavor.
Blackberry Preserves - Homemade blackberry preserves or store bought preserves are great.
Fruit - Any fresh fruit will be delicious in these chia parfaits.
Granola - We like using this honey nut granola but any store bought granola will work.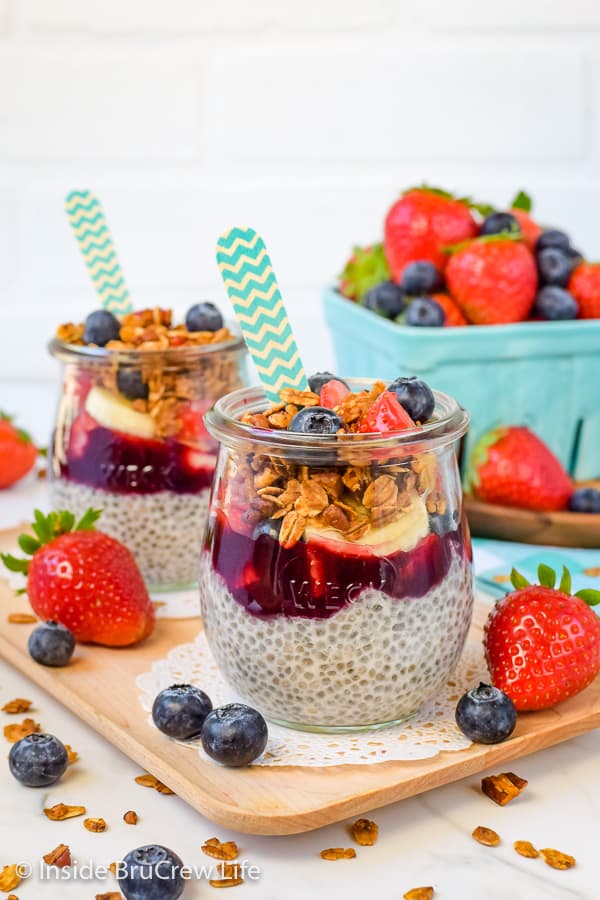 How To Make Chia Pudding
It really is as simple as stirring a few ingredients together in a mixing bowl to make chia pudding. Whisk, refrigerate, and layer it in jars.
Once the chia pudding is thickened you can layer it in jars or a bowl with your favorite preserves, fresh fruit, and granola.
Add the milk and chia seeds to a medium bowl.
Whisk in your choice of sweetener, such as honey, maple syrup, Stevia, or Swerve.
Let the pudding sit in the refrigerator overnight, or at least for a few hours.
Stir before serving.
It's a beautiful and delicious breakfast or snack choice that looks like you spent hours preparing it. Make this easy chia recipe when you have house guests and watch them smile at the restaurant quality breakfast.
Tips and Tricks
Watch your serving sizes when making chia pudding parfaits. It's easy to go overboard filling your bowl or jars with this light and creamy pudding. If you do this you will be eating way more than one serving.
Adjust your pudding thickness by using more or less milk. This is a personal preference that you can achieve by experimenting. I have found that 1 cup of milk to ¼ cup of seeds is what we like.
Serve it with different toppings to change it up each week. You can add cocoa powder, spices, or matcha powder for a different flavor profile. Top each one with different fruits, nuts, and granola.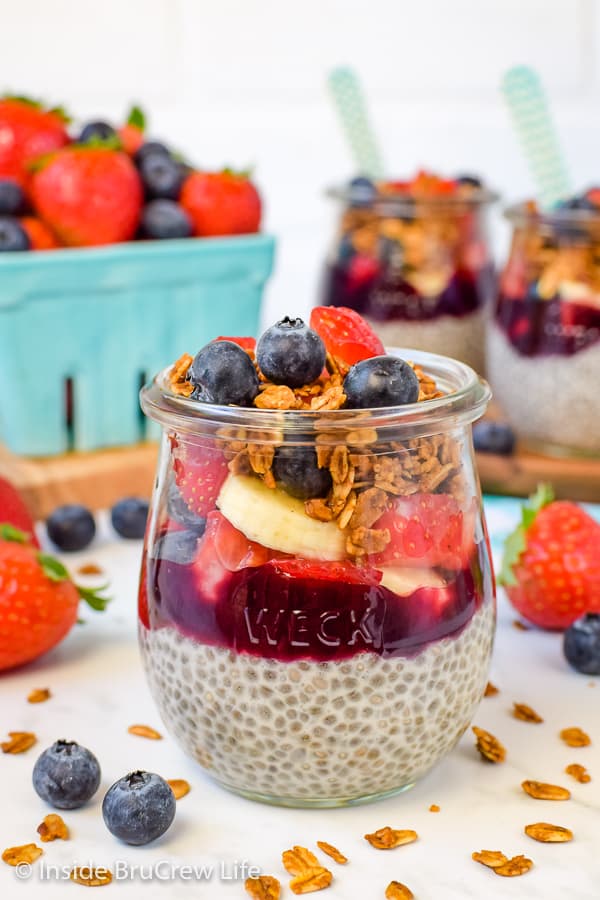 Recipe FAQ'S
What are chia seeds?
Chia seeds are edible seeds that come from a plant that is related to the mint family. These little seeds are a healthy addition to your diet. These little seeds are a powerhouse of nutrition. They are an excellent source of omega 3 and fiber.

Chia seeds can be eaten raw or prepared in a number of dishes. Sprinkle them on salads, parfaits, or oatmeal. Soak them in liquids to release their gelatinous capabilities and use them as a pudding or mixed into other meals.
What does chia pudding taste like?
The texture of chia pudding is like a creamy tapioca pudding. Chia seeds have no flavor, so the pudding will taste like whatever mix-ins you use.
How long does it take chia pudding to thicken?
Chia seeds start to absorb liquid right away, but you need to give the pudding time to gel and thicken up. Stir the seeds into your liquids, let it sit for 5-10 minutes, then stir again to make sure the seeds are evenly distributed. Refrigerate for an hour or two or overnight.
What if my chia pudding doesn't thicken?
You may have old or bad seeds. This can happen if they have been sitting in your pantry for too long. Throw them out and buy a new bag.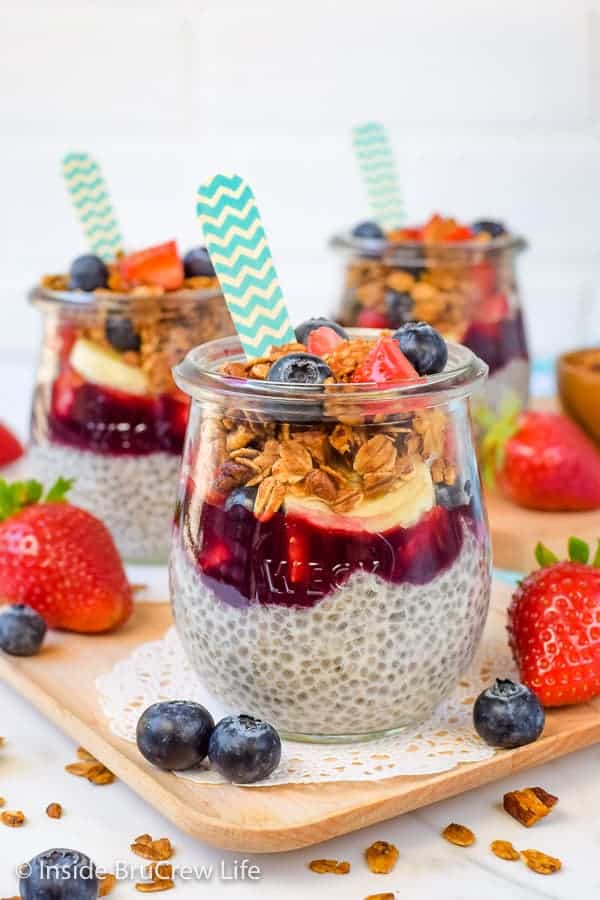 Other Healthy Breakfast Recipes
These Chocolate Protein Pancakes are just what you need to get going in the morning. Healthy and full of protein goodness!
This Cherry Banana Smoothie is full of protein and fruit goodness. It is perfect for a quick and easy breakfast or lunch, and it will keep you full longer.
Layers of fruit, yogurt, and granola make these Strawberry Yogurt Parfait for an easy and fresh breakfast choice. Start the day out right by grabbing a jar as you walk out the door.
Fresh fruit and granola on top of a Yogurt Fruit Bowl is just the healthy breakfast or snack you need.
Looking for a way to increase your protein intake but still enjoy a hot breakfast? These Healthy Banana Oatmeal Pancakes are delicious, light, and full of protein.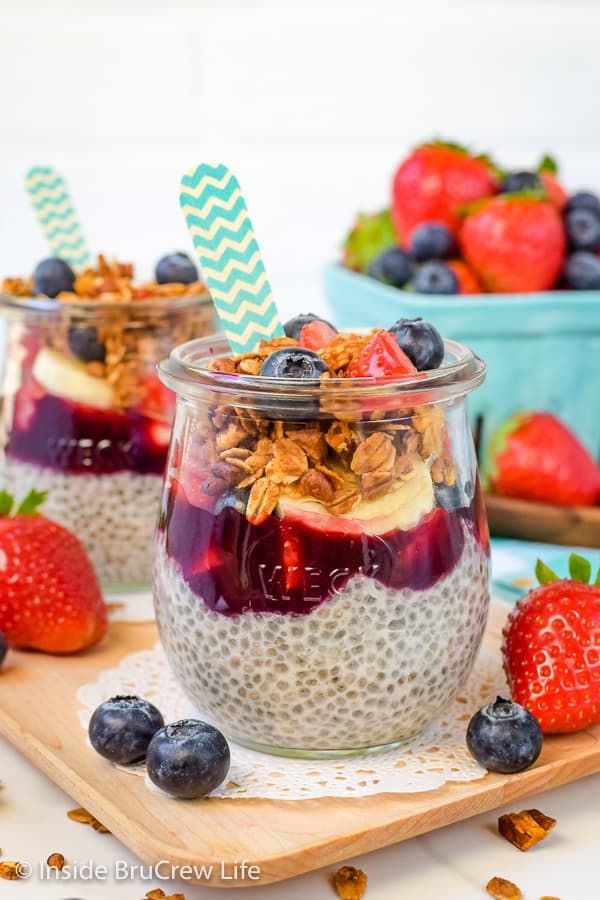 Do you love a recipe you tried from Inside BruCrew Life?
Please leave a 5-star ⭐️ rating and a review in the comments section below.