These Healthy Banana Oatmeal Pancakes are easy to make in the blender with just a few ingredients and are full of protein. Fresh fruit and easy flourless pancakes are a delicious and healthy way to start any day.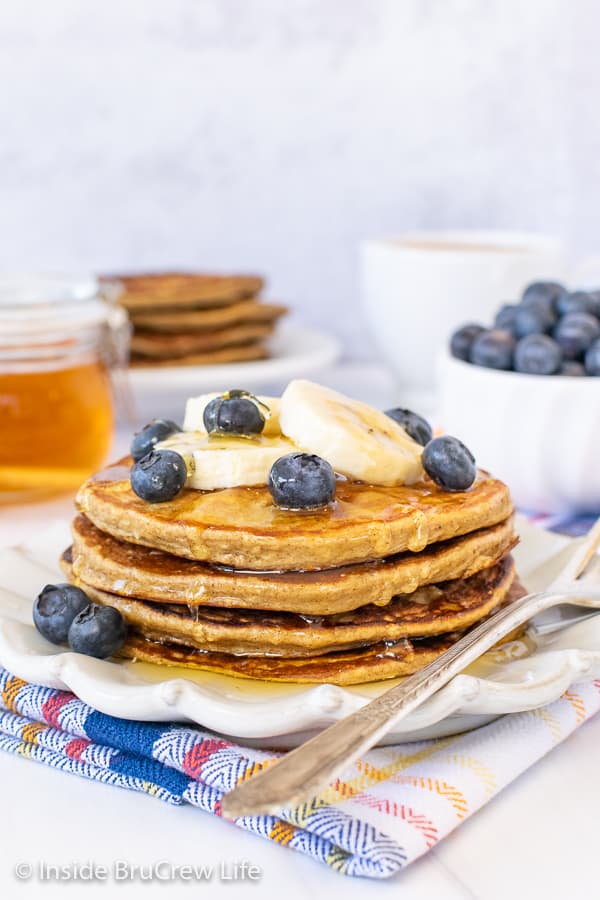 Did you know that you could make healthy pancakes from just two eggs and a ripe banana?
My mind was blown on this one. My husband saw these two ingredient pancakes on Facebook, and of course, we had to try it out right away with the ripe bananas on our counter. I have to admit I was extremely skeptical about this easy breakfast recipe.
Seriously, pancakes from just that? But you know what? I was proved wrong because they really do look and taste like pancakes. Well, pancakes might be stretching the name slightly. Banana crepes is a little more like it.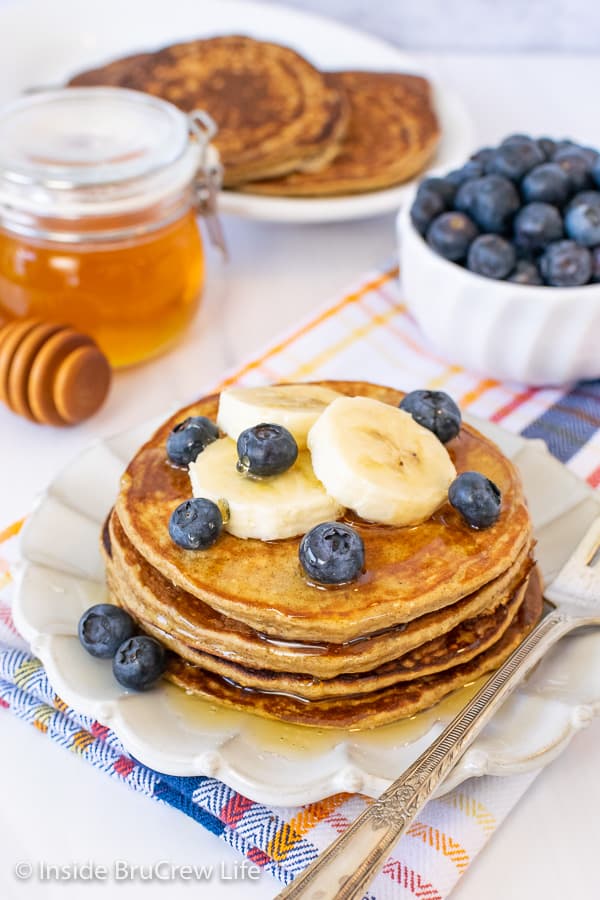 What I do know is that these flourless pancakes are delicious and healthy for you. The banana give a little bit of sweetness and texture to the eggs.
The first time we made them with just the banana and eggs. They were the perfect breakfast with a little drizzle of honey on top.
The next time I made these easy blender pancakes I added some vanilla protein powder and rolled oats in with the eggs. The rolled oats give it a slightly thicker texture. Plus, it makes it easier to flip the pancakes when the first side is done cooking.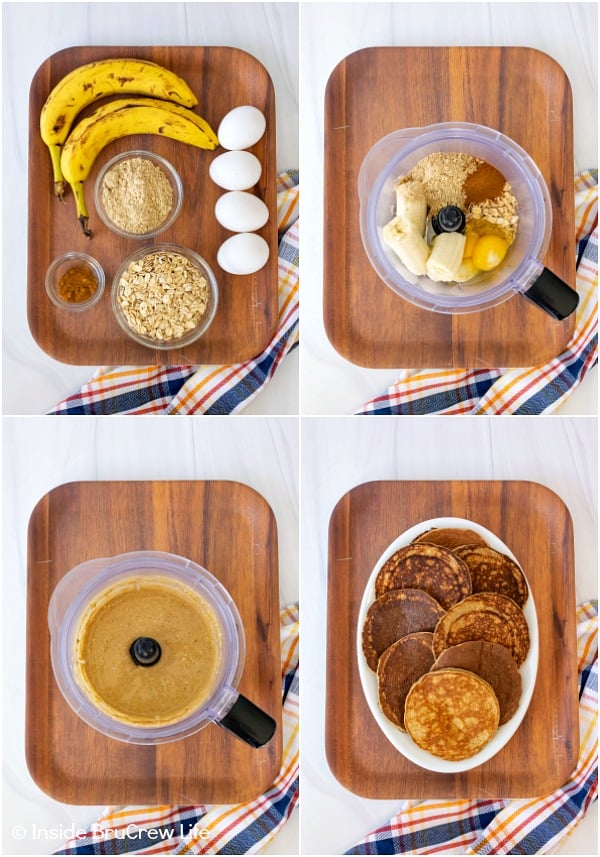 Eggs and protein powder give these healthy pancakes a double shot of protein for your muscles. Protein is important to better muscle recovery after working out. It also helps your hair and nails grow better.
How to make Healthy Banana Oatmeal Pancakes:
Add the eggs, banana, cinnamon, oats, and protein powder to the blender.
Pulse until combined.
Drop by ¼ cup onto a hot, greased skillet. Cook each side until lightly browned.
Serve with your favorite topping.
Love chocolate? You have to try these Healthy Chocolate Banana Oatmeal Pancakes with some fresh strawberries on top! They are seriously so good!!!

Pancake Toppings:
Healthy flourless pancakes are completely delicious on their own, but I'm all for adding some toppings for a fun breakfast. Here are other toppings that are great on banana pancakes.
Honey
Fresh Fruit - bananas, blueberries, raspberries, strawberries
Pure Maple Syrup
Peanut Butter or Nut Butters
Mini Chocolate Chips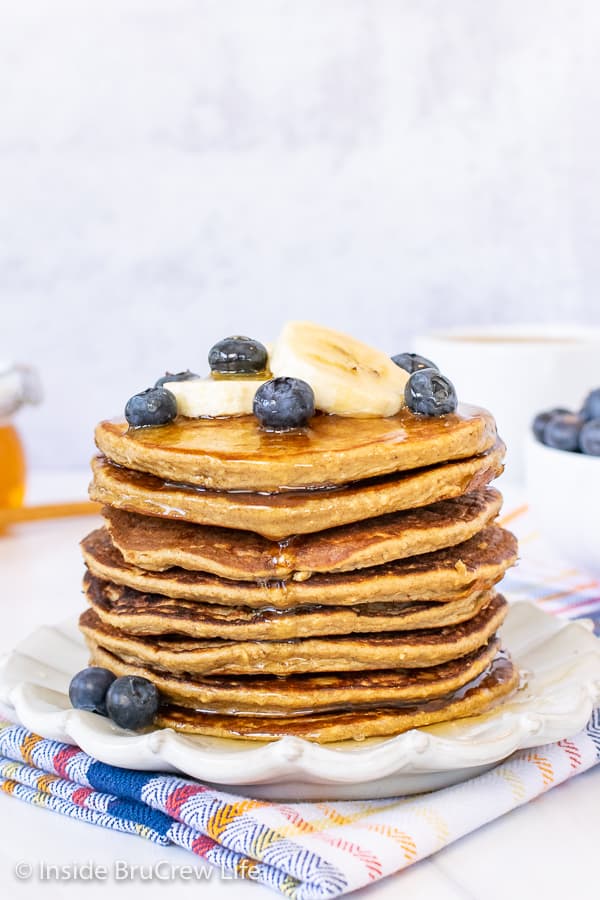 More healthy banana recipes you may like: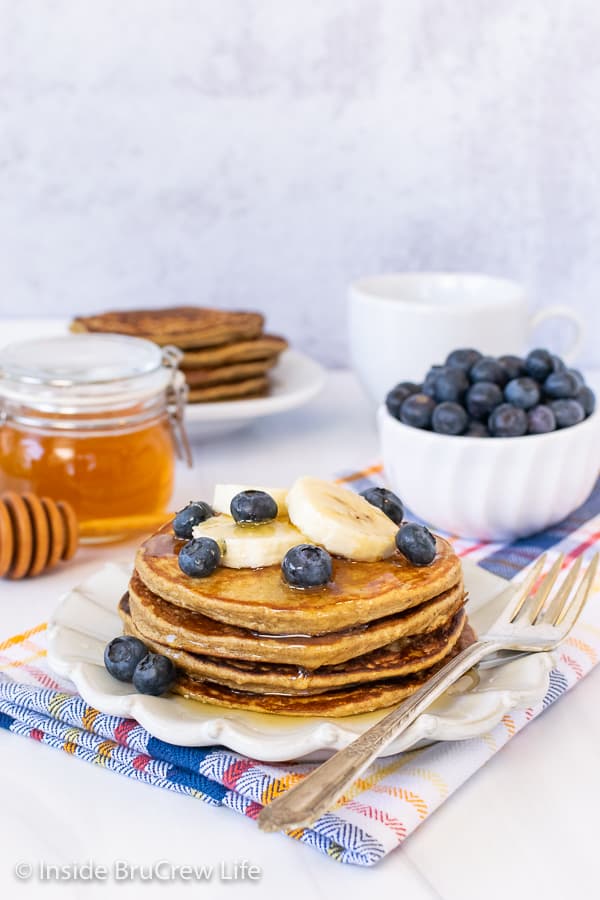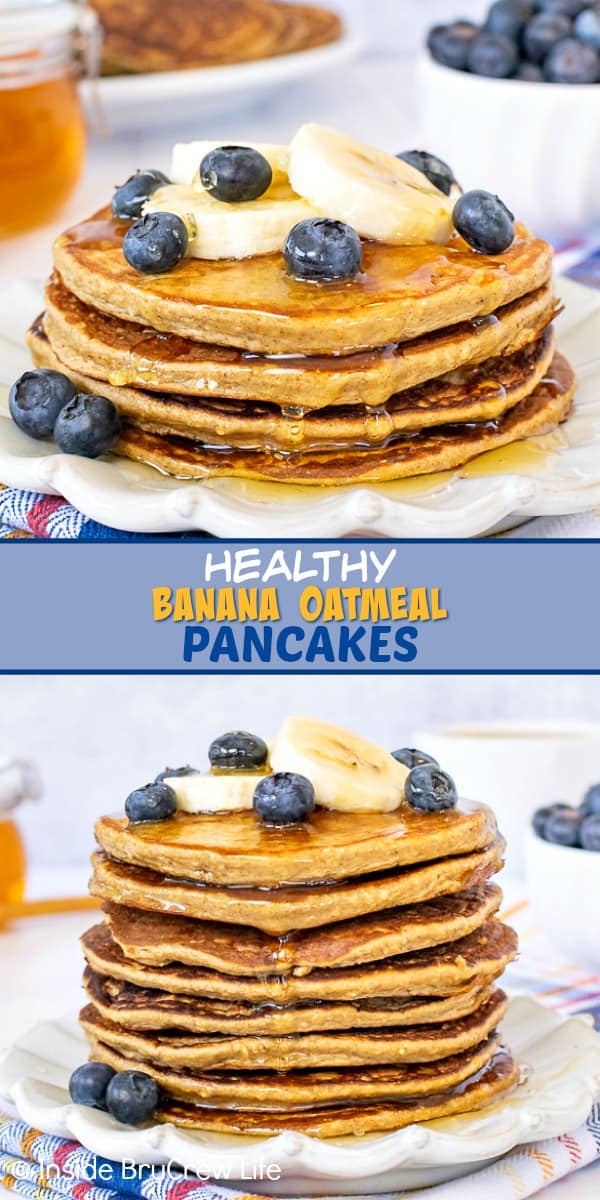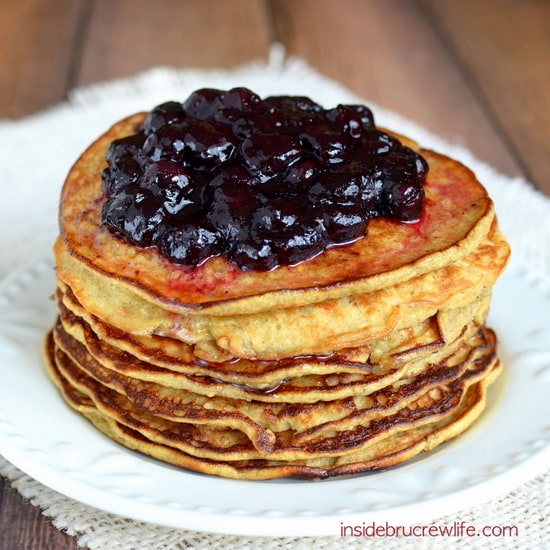 (original photo from February 2014)
*The post for Healthy (Skinny) Banana Oatmeal Pancakes was first published on February 25, 2014. The photos and post were updated and republished on May 15, 2020.