Looking for a way to increase your protein intake but still enjoy a hot breakfast?  These Banana Oatmeal Pancakes are delicious, light, and full of protein.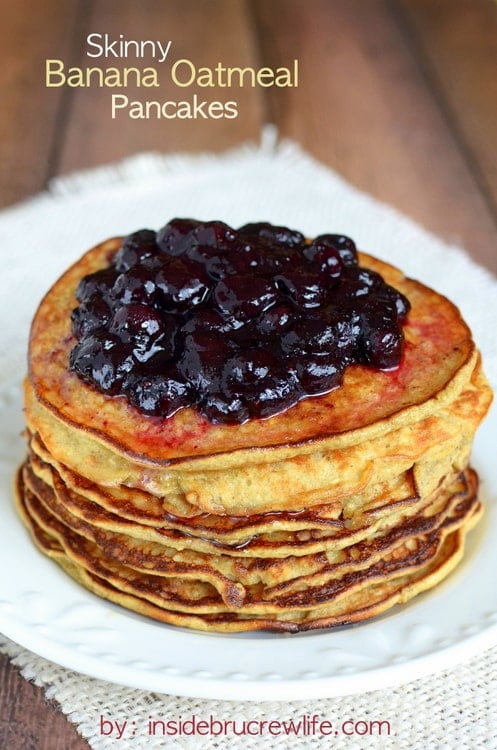 Did you know that you could make pancakes from just eggs and ripe bananas?
Mind blown on this one.  My husband saw this on someone's Facebook, and of course we had to try it out right away.  I have to admit I was extremely skeptical. Seriously, pancakes from that?  But you know what?  I was proved wrong because they really do look like pancakes.  But I still say pancakes might be stretching the name slightly.  Banana crepe is more likely.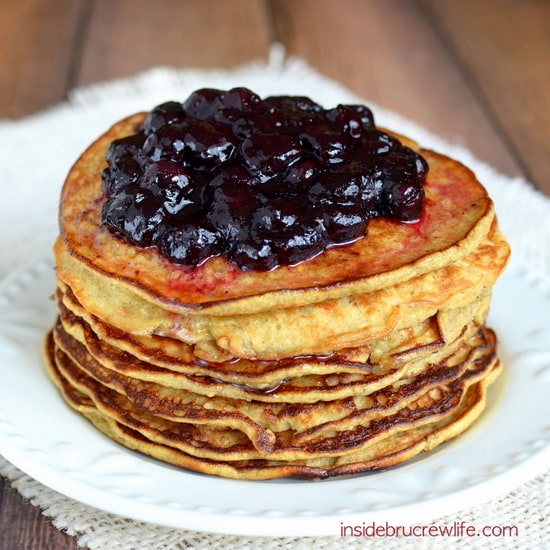 What I do know is that these are delicious and healthy for you too.  The banana gives sweetness and texture to the eggs.  The first time we made them just with banana and eggs.  They were the perfect breakfast with a drizzle of honey on top.
Of course I can never just do a recipe like it is.  The next time I whipped up the eggs and banana, I had protein powder sitting on the counter.  Why not?  I threw a scoop of vanilla protein powder in with the eggs and some rolled oats to give it a slightly thicker texture.  The little bit heartier texture also makes it a lot easier to flip when the first side is done cooking.  The eggs and protein powder give it a double shot of protein for your muscles.  Protein is important to better muscle recovery after working out.  It also helps your hair and nails grow better.
Now I did add a homemade blueberry sauce to the top of mine.  What?  At least it wasn't chocolate.  I have to admit that I did seriously consider adding mini chocolate chips to the pancakes too.  But then I really would be stretching the skinny factor a little bit much.  Not that I haven't done that before!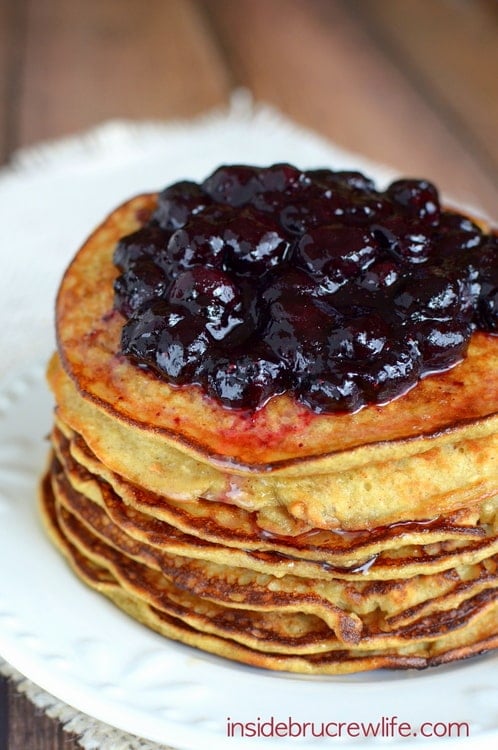 Stay up to date on all the BruCrew baking here:
FACEBOOK | PINTEREST | GOOGLE+ | TWITTER | INSTAGRAM | BLOGLOVIN
Yield: 10 pancakes
Skinny Banana Oatmeal Pancakes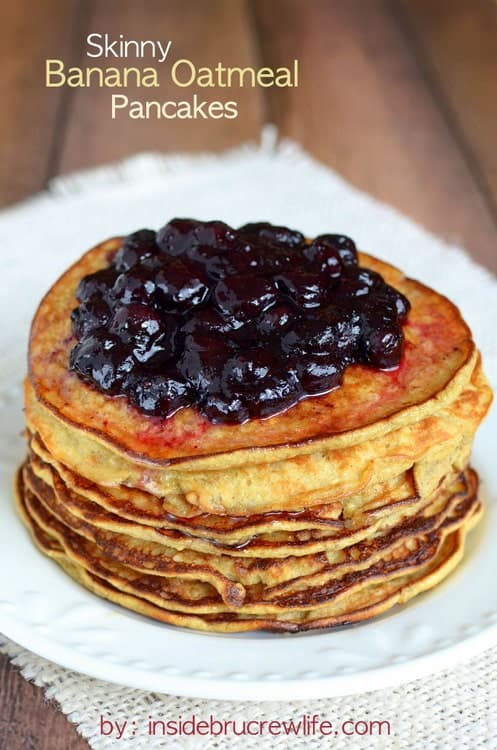 Eggs and protein powder really amp up the protein in these Skinny Banana Oatmeal Pancakes. The easy blueberry topping gives it all the sweetness and fruit you need.
Ingredients
4 eggs
2 ripe bananas
1/2 teaspoon cinnamon
1/2 cup rolled oats
1 scoop protein powder (plain or vanilla)
Instructions
Combine all the ingredients in a blender of food processor and blend. (you can also just use a bowl and a fork to whisk it.)
Drop by 1/4 cup onto a hot, greased skillet. (I used coconut oil for my pan) Cook on each side until lightly brown on each side. Makes about 10 pancakes.
Top your pancakes with a spoonful of blueberry sauce. Drizzle with more honey if desired.
Nutrition Information:
Yield:
10
Serving Size:
1
Amount Per Serving:
Calories:

83
Total Fat:

3g
Saturated Fat:

1g
Trans Fat:

0g
Unsaturated Fat:

1g
Cholesterol:

75mg
Sodium:

92mg
Carbohydrates:

10g
Fiber:

1g
Sugar:

4g
Protein:

6g
More ways to incorporate bananas into your breakfast…and your cookies 🙂