In just minutes you can make a jar of Blackberry Preserves using fresh blackberries. The sugar free jam is delicious on toast, yogurt parfaits, ice cream, or breakfast pastries.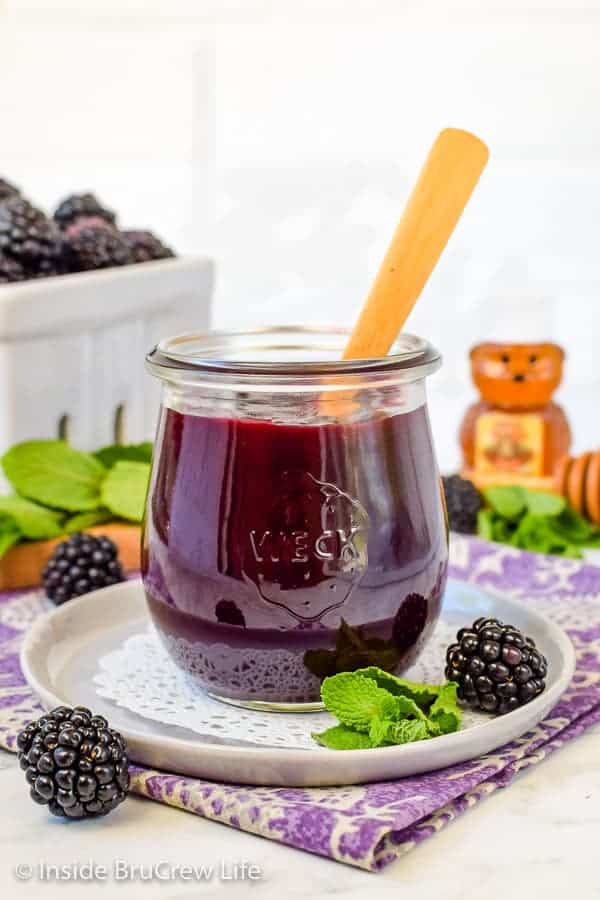 One thing I remember from growing up was walking along our country road picking fresh raspberries and blackberries. We always tried to fill a bucket with berries so we could make a pie. But most of the time the few berries we did pick got eaten before we got back home.
There is just something about a fresh warm berry picked right off the bushes. Of course, our kids grew up in town, so the only berry picking they have experienced was on different fruit farms we visited when they were younger. I actually don't think they ever picked blackberries though.
I think they would give me evil glares if I suggested picking berries in the hot sun now. Their idea of picking berries is going to the store and picking out a box that doesn't have mold on it. I get it. That's easier, but I still really do enjoy being out in the fields picking my own berries.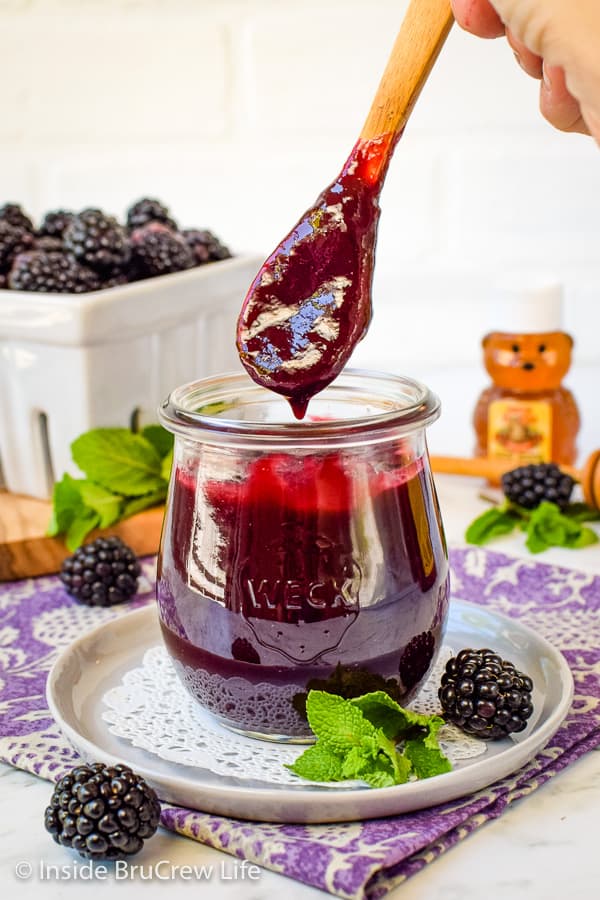 Of course, that isn't always possible, so I take advantage of fruit being on sale. A few weeks ago one of the stores in our area had blackberries for $1 a box.
You bet I picked up at least six boxes that week!!! I needed to make sure we had enough for the fruit monsters to eat, and so I could make more homemade jam.
One thing that I have realized over the past few years is how much sugar is actually in a jar of jelly. It's crazy ridiculous actually. I know that the sugar is to make it sweet.
Fruit is naturally sweet on its own though, so there is NO need to add cups of sugar to any jelly. If you cook fruit down and add a little bit of honey, it is sweet enough.
It also thickens up just fine, although sometimes I add a little cornstarch depending on if I want a fruit sauce or fruit preserves. I left the cornstarch out of this strawberry reduction, and it was plenty thick enough for spooning on top of all the things.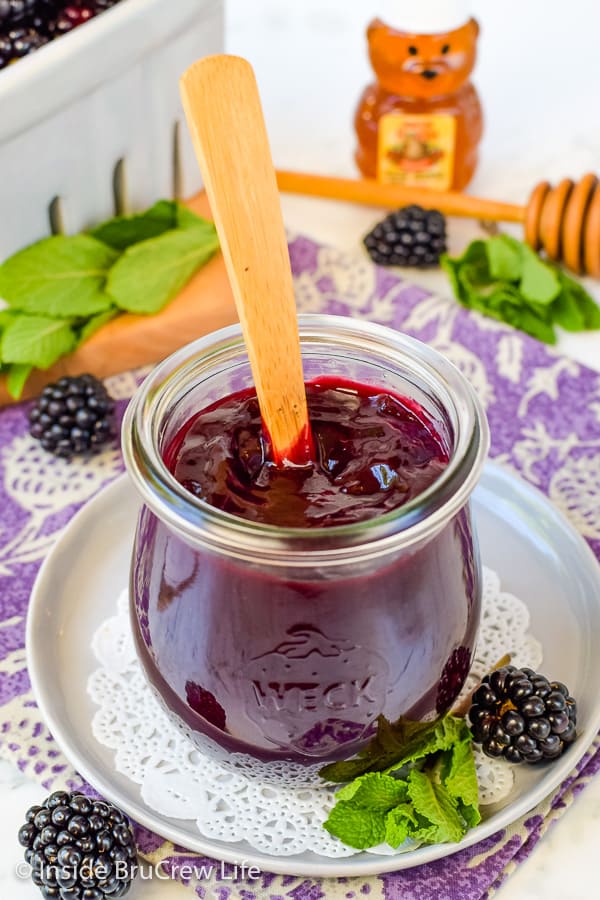 So I have been using different fruits and making my own sugar free jelly. We love using this cherry preserves recipe in chia pudding parfaits and on sandwiches or toast.
Most fruit can just be cooked and thickened without much work. I love the flavor of blackberries, but I absolutely hate all the seeds.
So, when I decided to make blackberry preserves, I knew the seeds had to go. It takes a little bit more work, but the end result is so worth it.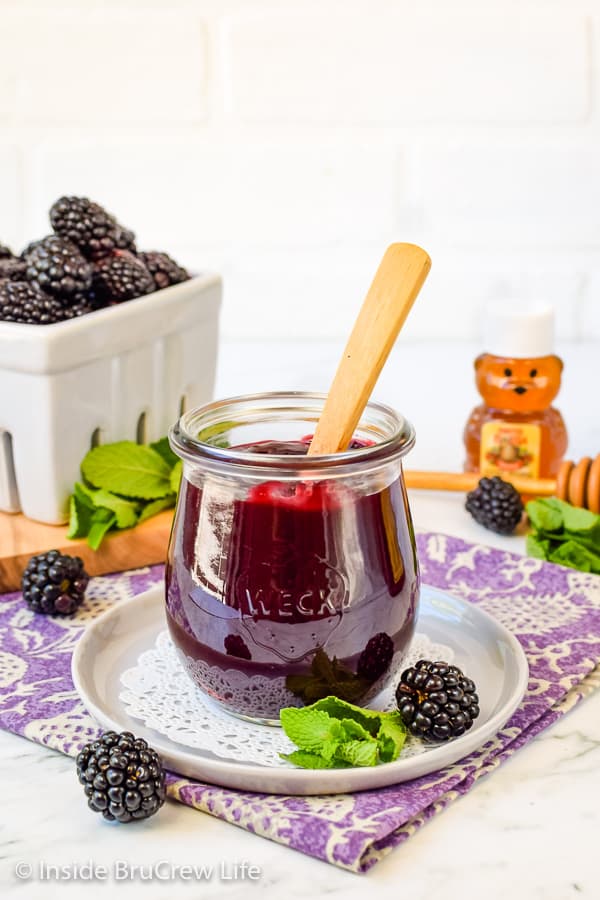 How to make Blackberry Preserves
Place the blackberries in a pan over low heat. Heat the berries until they soften and release their juices.
Mash the berries using a fork or a small potato masher. Remove the pan from the heat and press spoonfuls of the berry mixture through a fine mesh sieve.
Use the back of the spoon to press the mixture firmly against the sieve. Remove the excess pulp and berries and repeat until all the fruit has been pressed through. You should get about ¾ cup of juice.
Whisk a Tablespoon of cornstarch into 2 Tablespoons of the juice. Pour the remaining juice in the pan again.
Stir honey and the cornstarch mixture into the pan of juice and heat over low to medium heat until it comes to a slight boil and thickens. It should take about 3-4 minutes.
Remove the pan from the heat and let it cool before spooning it into a jar. The blackberry preserves will thicken after you refrigerate the mixture.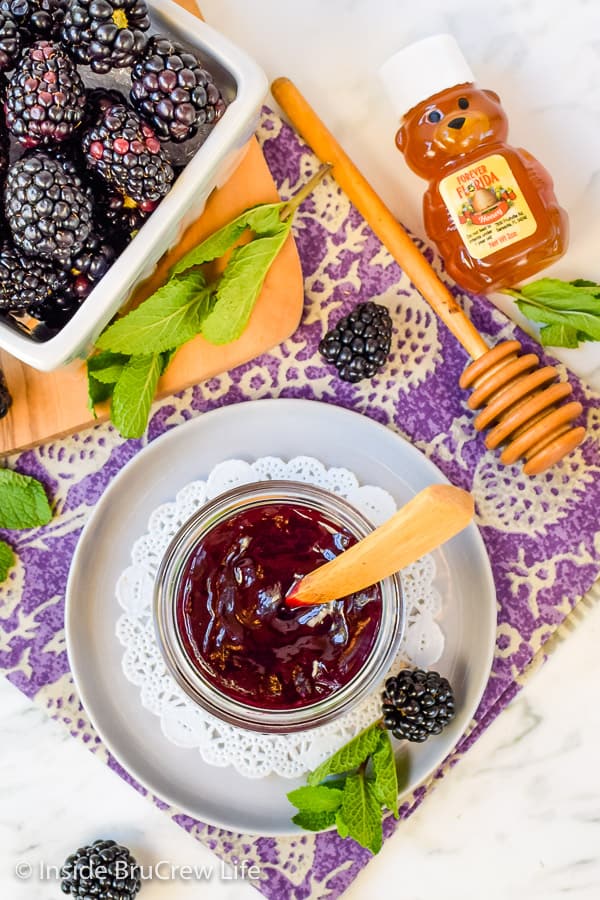 Frequently Asked Questions
How much jam does this recipe make?
This is a small batch recipe. It will make about ½ cup of preserves. This will fill 1-2 jars, depending on the size of the jars.
How long will blackberry preserves last in the fridge?
It depends how many people in your house are eating the preserves. The first batch I made disappeared within a day or two. The second one lasted a little bit longer. The preserves should last at least 5-7 days in the refrigerator.
Can you use other fruits in this homemade preserves recipe?
You sure can. I have used blueberries, cherries, raspberries, and strawberries so far.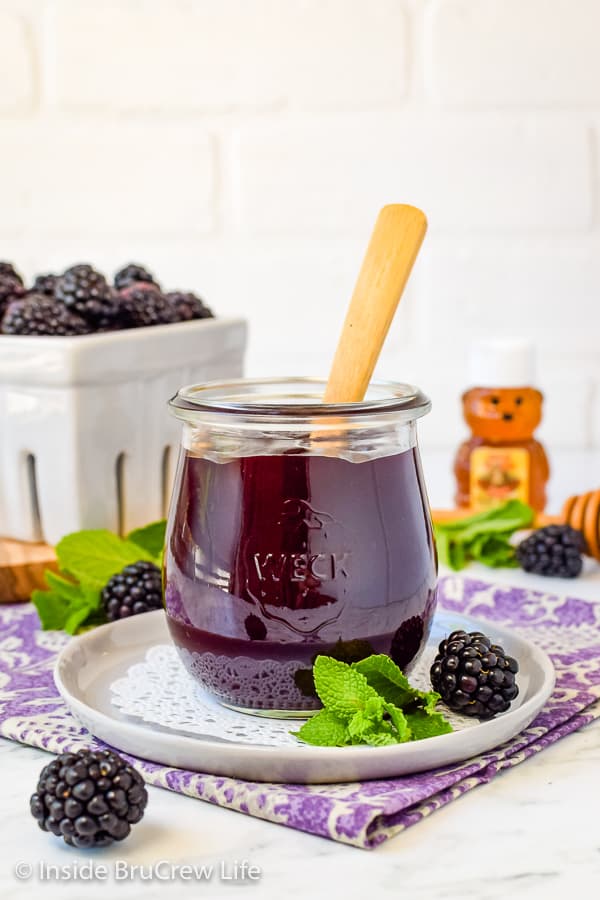 More blackberry recipes
CLICK HERE TO PIN THIS RECIPE FOR LATER!