These Chicken and Broccoli Pizza Rolls have three kinds of cheese wrapped inside an easy pizza crust. Melted cheese and chicken rolls get smiles any time we serve them here.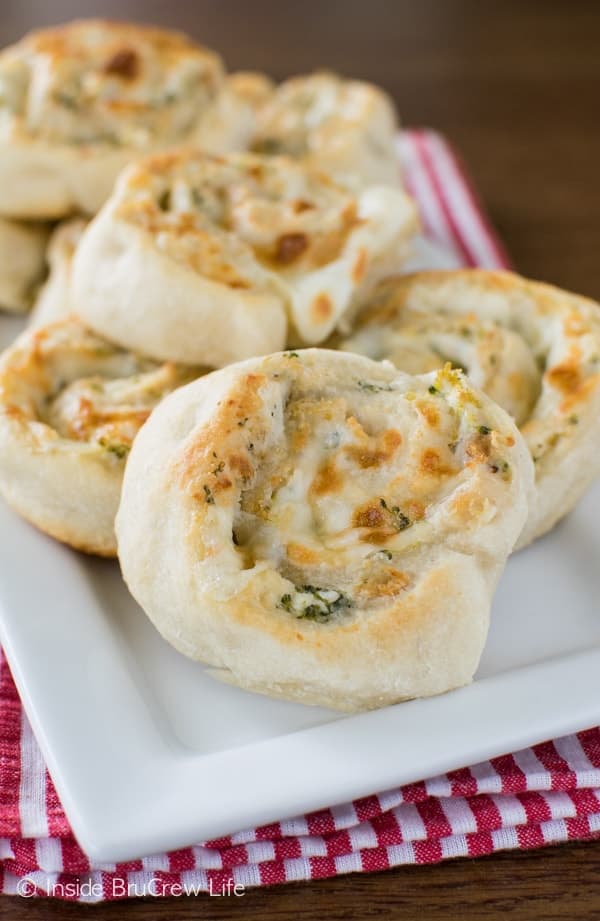 Many, many, many years ago, I worked at the mall as a sales associate at Sears. Now you probably think that I worked in the woman's or junior's department because I do like shopping and putting outfits together so much, but I actually worked in the men's department.
Yup, I got the joy of measuring men for suits, picking out ties to go with their dress shirts, and of course selling socks and underwear to men of all ages. It was interesting some days.
Luckily I worked with some of the nicest, older ladies who were always looking out for me. They jumped in and helped do the measuring when it was kind of embarrassing or awkward. They also were pretty good at pointing out the cute boys and embarrassing me.
Thank goodness for lunch breaks when I could walk through the mall to find something to eat. One of my favorites was a little pizza shop in the food court. They had a tomato and broccoli pizza that was my favorite.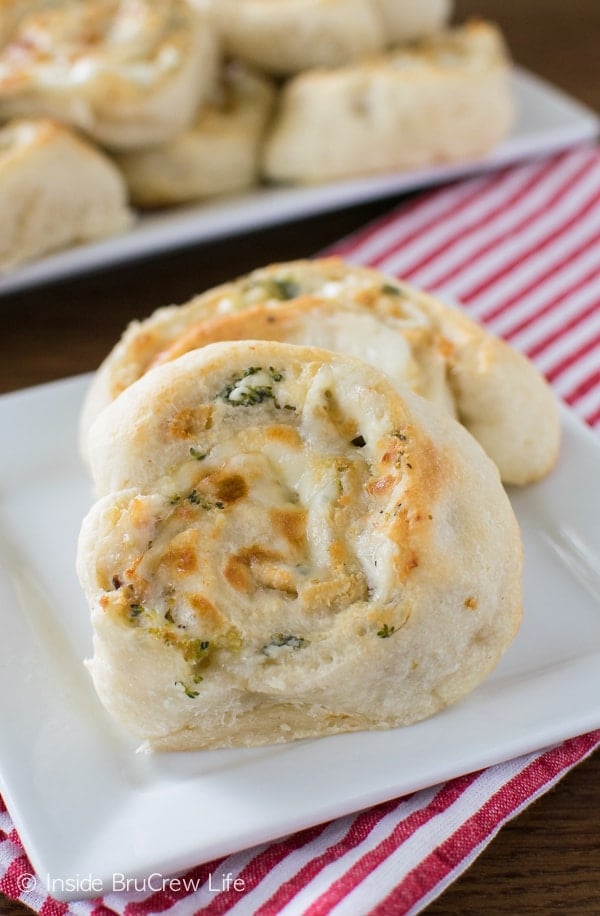 Now that the kids are back in school, I have to keep snacks around the house and ready to go when the hungry monsters get home. Most days they have practices after school, so I send them with energy bars and water for their afternoon break.
But Wednesday is usually an optional practice day for most of them, so I like to have something they can eat or munch on when they come home hungry.
I have been trying to use up some of the food in our cupboards and fridge before going shopping again. Now that school is in session, all the money is going to school supplies and sports stuff.
Time to get a handle on how much money we spend on food each week. Most of the time we just grab whatever our little heart desires in the store, and then it just sits there when we get home.
That's got to change. So my plan is to come up with a meal, snack, or dessert twice a week that comes from the things we have on hand. Now to go through the cupboards, so I know just what we have in there.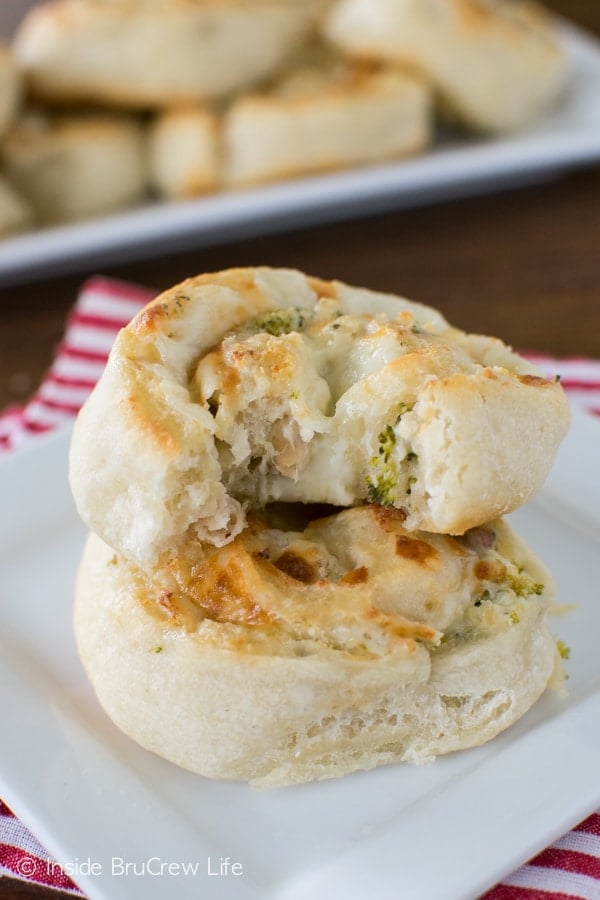 Yesterday I was looking in the back of the fridge, and I saw a refrigerated pizza crust that I had grabbed a few weeks ago. I couldn't even tell you what I was planning on making with it, so it became part of my "use up the food" experiment.
I knew right away that I want to create something like these Spicy Bacon and Cheese Pinwheels. As I rummaged through the fridge and freezer, I came up with three kinds of cheese, chicken, and broccoli.
That's when I knew I was going to recreate that pizza that I used to get on my lunch breaks. Of course this one had a chicken twist and no tomatoes, so I guess it wasn't really the same at all.
How to make Chicken and Broccoli Pizza Rolls
1. Melt the cream cheese, chicken, and broccoli in a skillet over low-medium heat.
2. Spread that mixture over the unrolled pizza crust and sprinkle with more cheese.
3. Start from the long side of the dough and roll it up tightly.
4. Use a serrated knife to cut the dough gently, so the cheesy goodness doesn't squish out!
5. Bake it in a greased pan for 20 minutes.
If you want to brown it a little, turn the broiler on for a few minutes. Just make sure you watch the cheese closely. No one wants scorched pizza rolls for dinner!
Then pull the cheesy pizza rolls from the oven and watch them disappear when the hungry monsters get a whiff of them!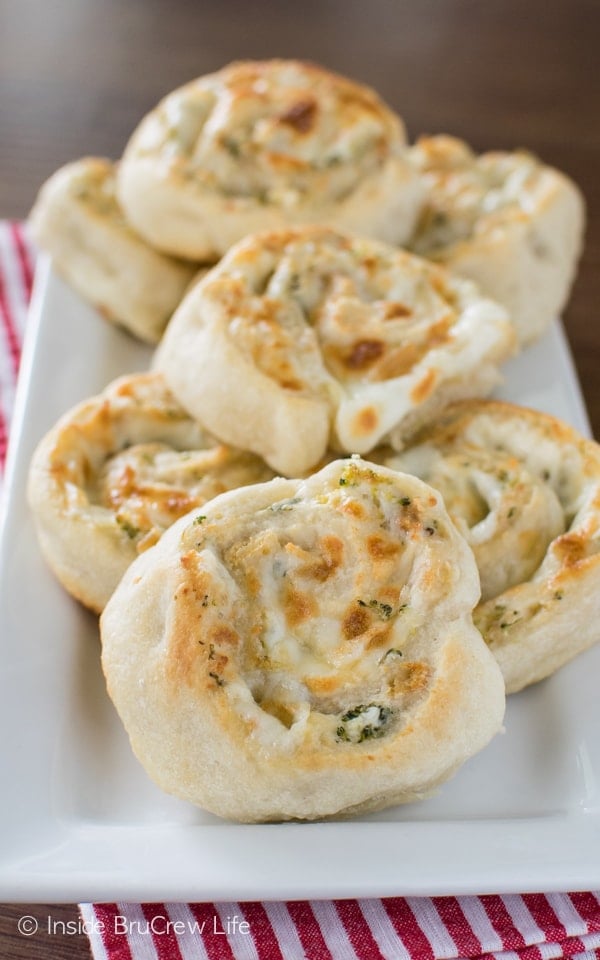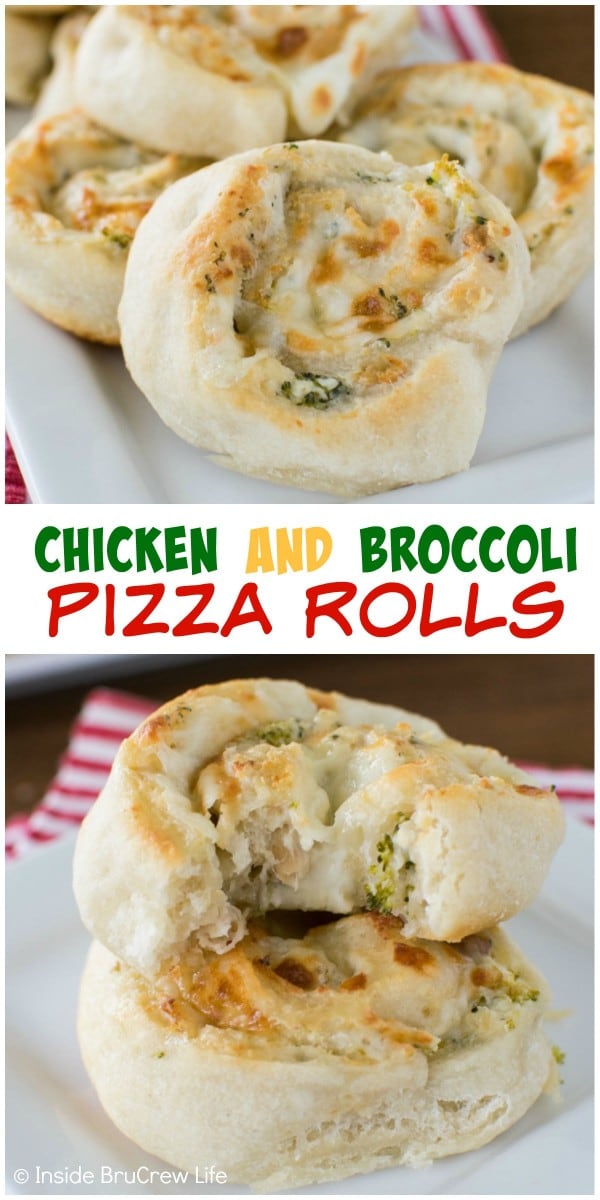 Other Easy Appetizers