These easy Turkey Club Pinwheels are layered with meat, cheese, and veggies. Such a great snack to pack in lunches or to eat as an after school snack.
*I am partnering with the American Dairy Association to bring you a fun Back to School recipe.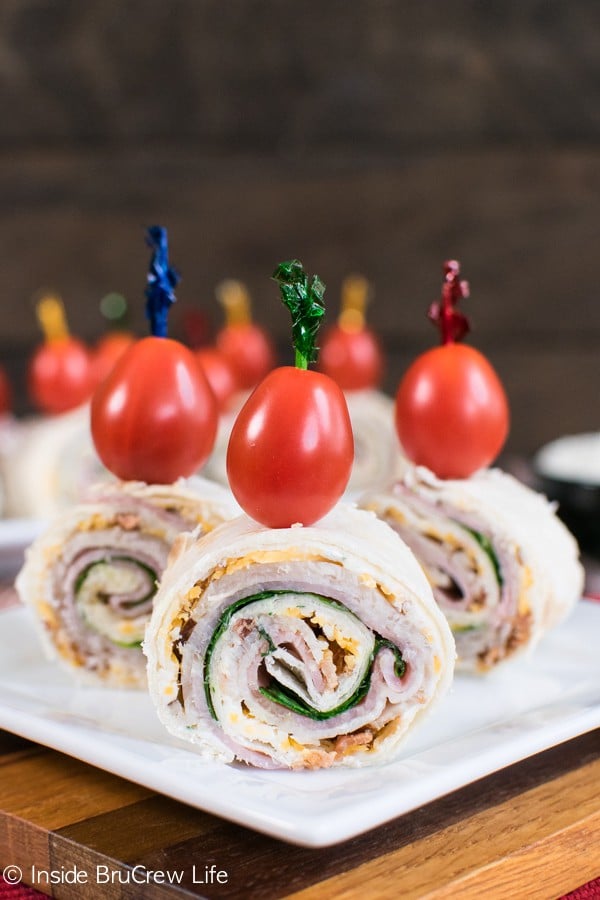 It's that time of year again. Time to send the kids back to school with backpacks full of binders, pencils, and red pens. Is it just me or does summer seem to go by faster and faster each year? It seriously feels like we just got out. Although I'm sure some of that has to do with the midwest weather being so much cooler and wetter than we are used to during the summer months.
This past week our kids went camping with their grandparents. My hubby and I headed over to the parent orientation at the school, and then we went to the store to get the basic school supplies.
Our daughter was so upset that we would do school shopping without her. I can't tell you how many countless texts she sent saying not to go. We tried to explain that we were just getting the boring stuff…pencils, pens, notebooks, paper, and binders.
Then the texts started being specific about what kind of pens and paper she wanted. I think we did pretty good at getting what she wanted. Although she was pretty happy when we took her clothes shopping when they got home.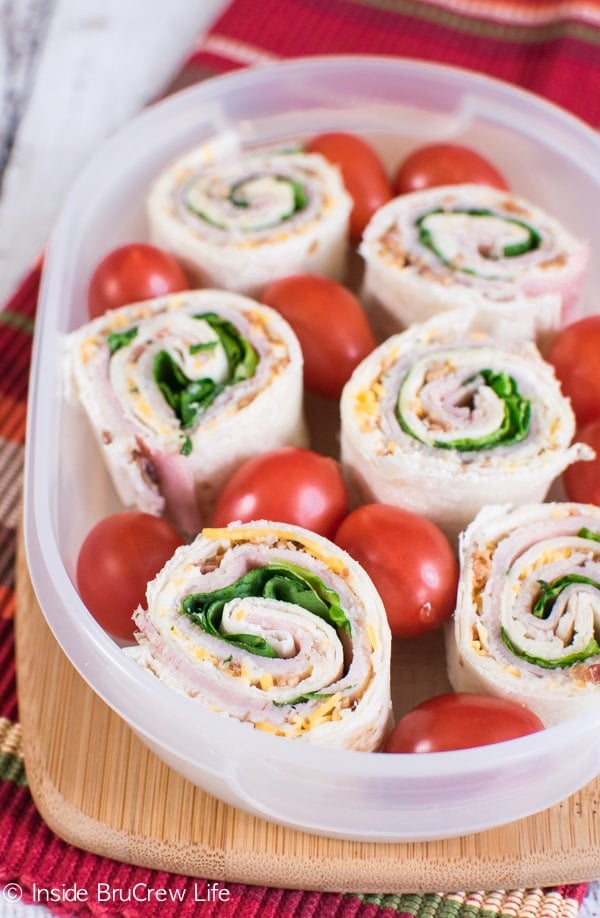 Another thing our kids love doing is planning out what food they want for breakfast and lunch during the school year. Of course they ask for the basics like chips and cookies, so we have to "suggest" healthy food like meats and cheese. One thing they all really like are these fun pinwheels. They are full of different cheeses, meats, and some yogurt.
These pinwheels are so easy to make. Spread on the dip and layer the meats, cheese, and lettuce. Then roll them up and refrigerate until you need to pack them in lunches.
Our kids are old enough that they can make their breakfast and pack their lunches without much help in the morning. We just keep the fridge stocked with fresh milk, cheese, and yogurt to encourage them to eat healthier.
These healthy choices in the morning keep them fuller longer and also helps them focus more on school work.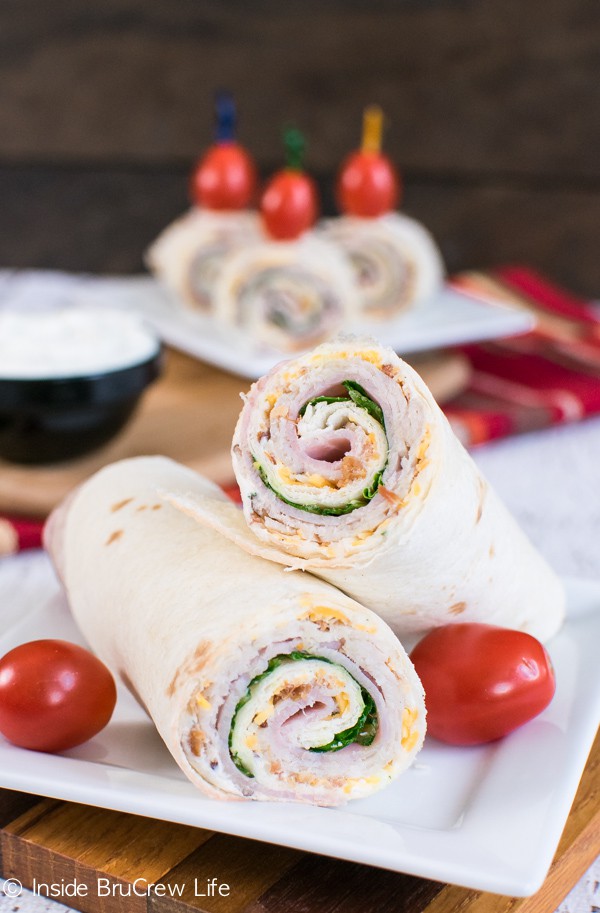 These little pinwheels are great for packing in lunches or eating after school. There is just something fun about eating bite sized food. Of course if you have an older child, you might want to just give them the full size roll up. I know my oldest would not be so thrilled if he had to munch on these little bites at the school lunch table.
These are also a great snack to share at any tailgating party or game night. Feel free to customize the meats and cheeses to fit your taste. Just spread a little bit of dip on the tortilla before layering on the meats and cheeses. Then set out a bowl of the dip or pack a small cup in case someone would like more on their pinwheels.
A plate of these fun turkey club pinwheels with toothpicks will disappear in a hurry no matter where you serve them. And you can just sit back and smile knowing you helped everyone get one of their dairy servings for the day.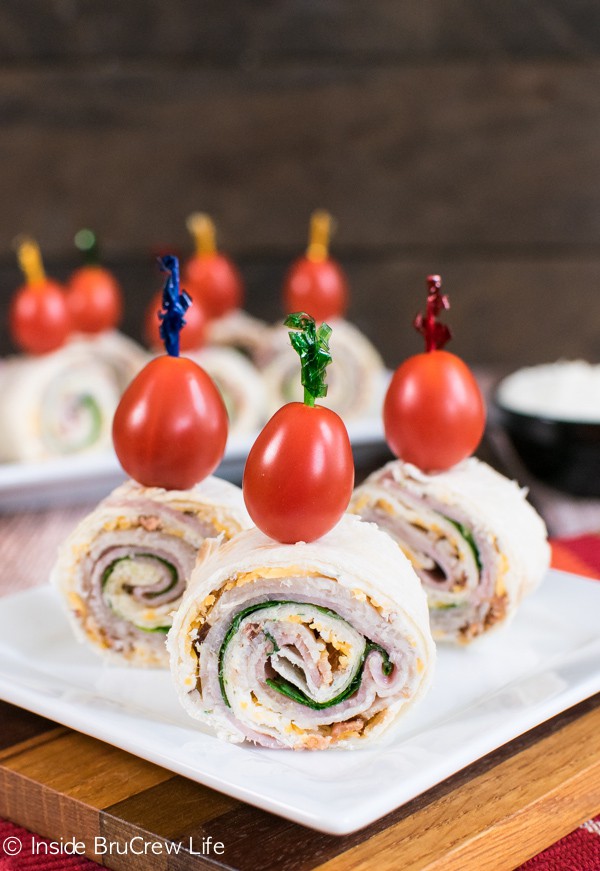 More back to school recipes:
Yield: 24 pinwheels
Turkey Club Pinwheels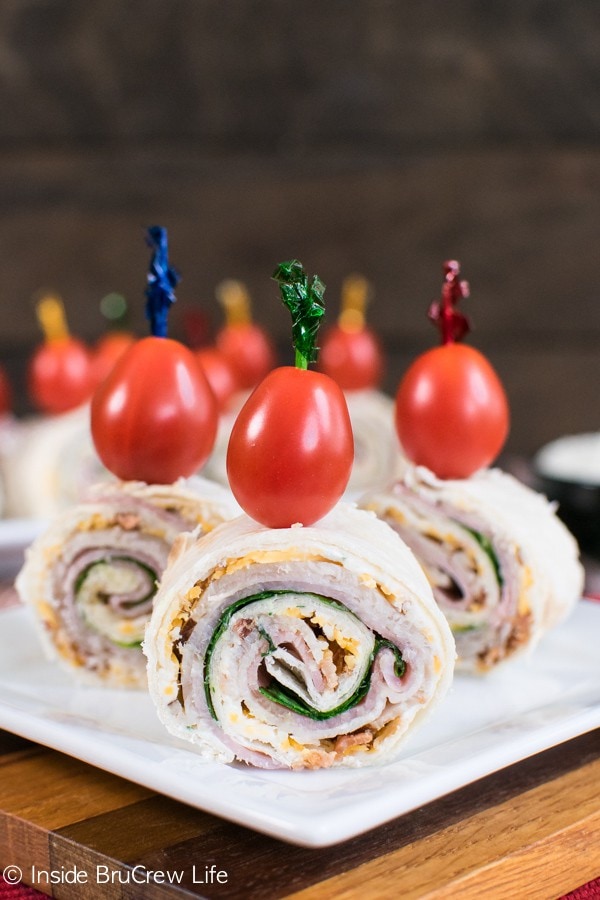 These easy Turkey Club Pinwheels are layered with meat, cheese, and veggies.  Such a great snack to pack in lunches or to eat as an after school snack.
Ingredients
4 ounces cream cheese, softened
1/4 cup Greek yogurt
1 Tablespoon dry ranch powder
1/2 cup shredded cheddar jack cheese
1/4 cup cooked crumbled bacon
4 (8 inch) soft tortilla shells
8 slices deli ham
8 slices deli turkey
shredded romaine lettuce
24 grape tomatoes
Instructions
Mix together the cream cheese, yogurt, and ranch powder. Spread a spoonful of dip over each tortilla.
Sprinkle the cheese and bacon on top of the dip.
Place 2 slices of ham and 2 slices of turkey on each tortilla.
Then layer some lettuce on top of the meat. Gently roll up and wrap in plastic wrap.
Refrigerate for one hour. Cut each tortilla in 6 slices. Top with a toothpick and grape tomato.
Nutrition Information:
Yield:
24
Serving Size:
1
Amount Per Serving:
Calories:

65
Total Fat:

4g
Saturated Fat:

2g
Trans Fat:

0g
Unsaturated Fat:

2g
Cholesterol:

18mg
Sodium:

275mg
Carbohydrates:

2g
Fiber:

0g
Sugar:

1g
Protein:

4g
Nutrition facts are an estimate and are not guaranteed to be accurate. If you need special diet advice, please see a registered dietician.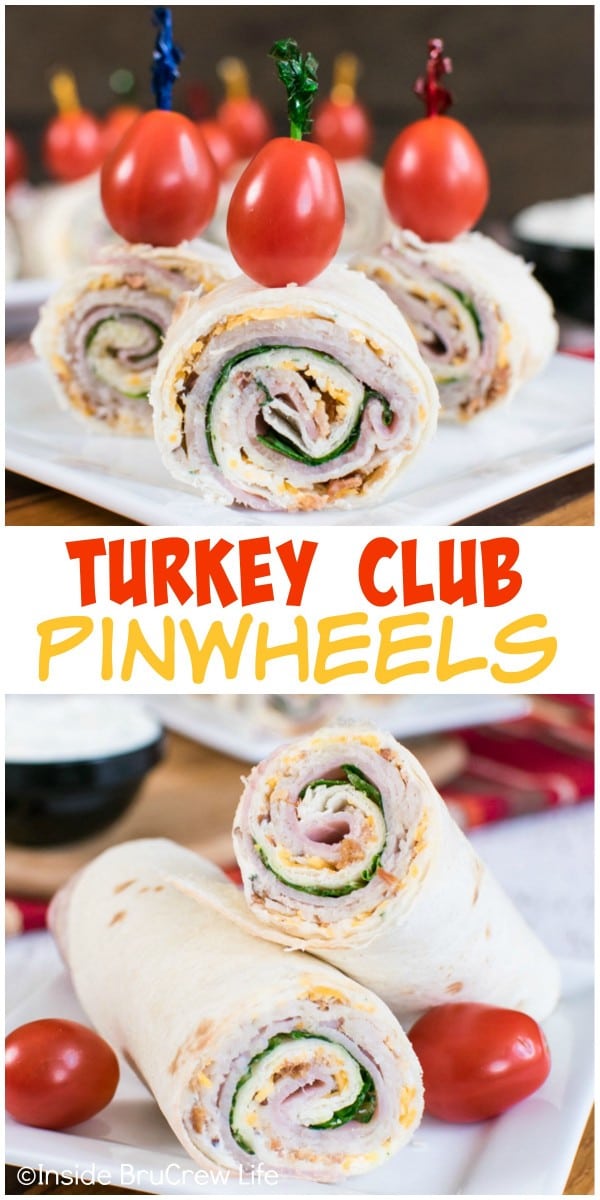 *This post has been sponsored by ADA Mideast. As always, all opinions are 100% my own.