Did you know that you can waffle just about anything? This Turkey Club Waffle Sandwich happens when you layer sandwich goodness inside a croissant and then put it into your waffle iron. This is such a fun way to change up lunch and dinner sandwiches.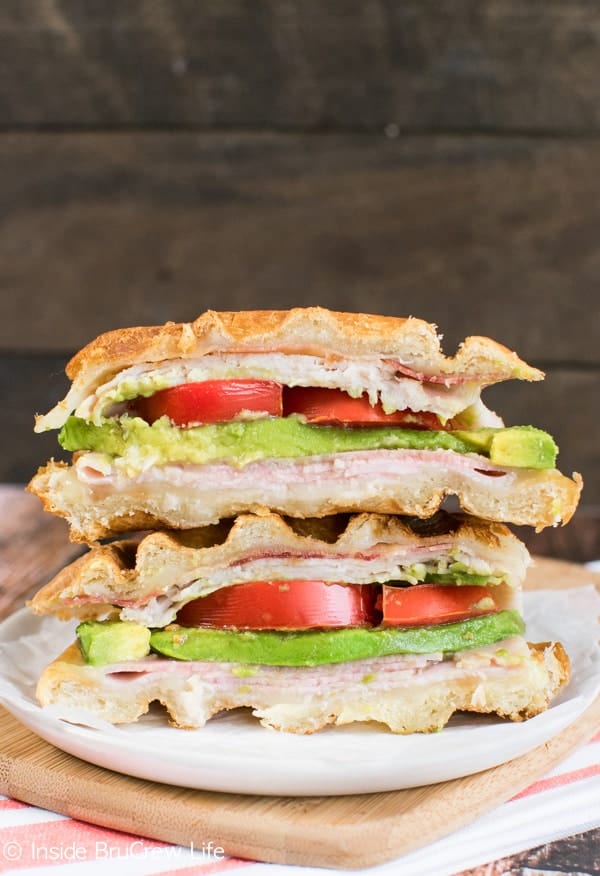 Does anyone else have a picky eater that lives with them? We used to say what great eaters we have, and that we were blessed that all of our kids would eat just about anything.
Lately our youngest seems to be developing into a picky eater. He really did eat most things as a toddler and little boy. Now that he is heading toward those teen years, he doesn't want to eat most meats. In fact, that boy could live on mac and cheese and homemade brownies. Oh, and string cheese too. We don't buy it that often though because he devours them.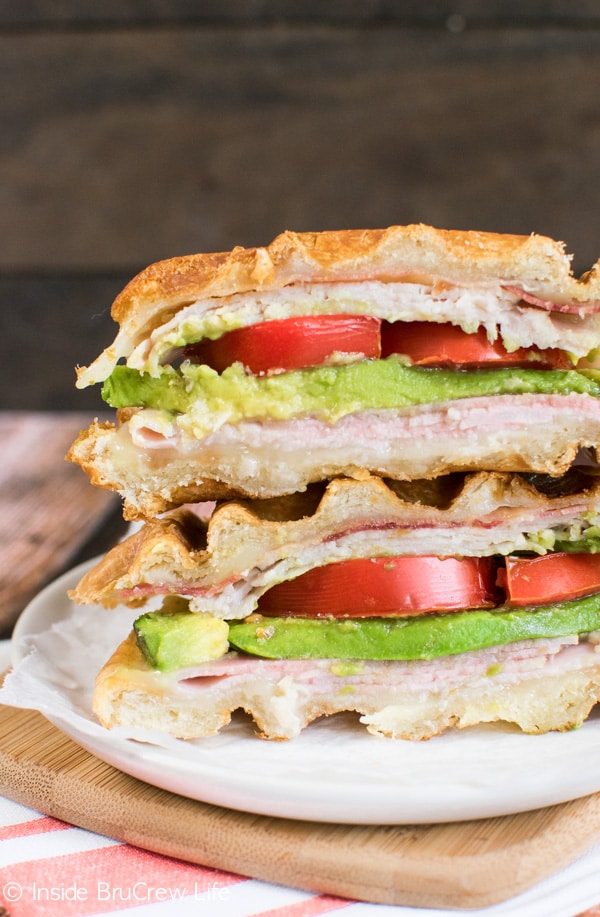 He used to eat hot dogs and chicken without any problems at all. Then one day he decided that he was done with it and wanted to eat just veggies. Well, now how can you argue with a kid that wants to eat veggies?
So, most days he gets more than enough of his veggies, although we stretch him and make him eat a few bites of whatever meat we are having for dinner. Sound familiar to you, mom? Yeah, I used to be the exact same way growing up. In fact, to this day I am not a huge meat eater. So, I don't force him to eat much meat, although he is tiny so we encourage him to try different meats because he needs the protein.
A few weeks ago we picked up some ham and turkey from Sam's Club along with some ready-made crescent rolls. Can you believe our shock and amazement when the picky eater made a turkey sandwich on a roll and declared it good?!?!?!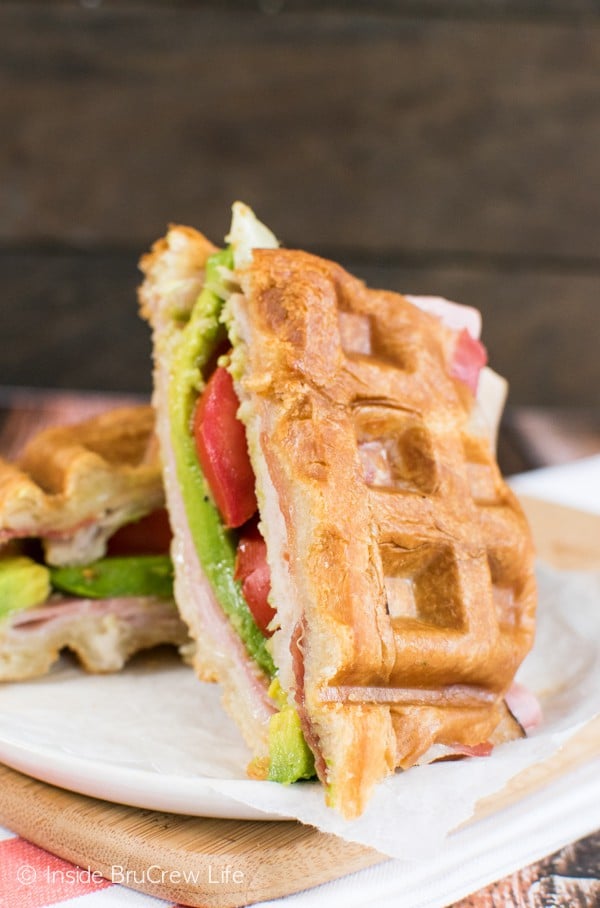 I don't know what changed his mind about turkey, but I'm not going to question it at all because this week he is eating a meat. You better believe I bought another container of turkey and box of crescent rolls the next week. Although I can just see him over-eating this sandwich, and deciding he doesn't like it next month. Guess we can fight that battle when it comes time, right?
So with all these crescent rolls sitting on my counter, I started wondering what else I could do with them. It just so happened that the griddle was sitting out, and I thought that a grilled crescent roll could be a good thing.
Then I saw the waffle plates and a lightbulb went off! A waffled sandwich sounded 100 times better than a plain grilled sandwich for lunch that day!
I piled cheese, ham, turkey, bacon, tomato, and avocado inside a crescent roll and plopped it into my hot griddle. A few minutes later I had an awesome sandwich staring back at me. How fun is this waffle sandwich?!?!?
I totally want to waffle everything right now. Who's with me??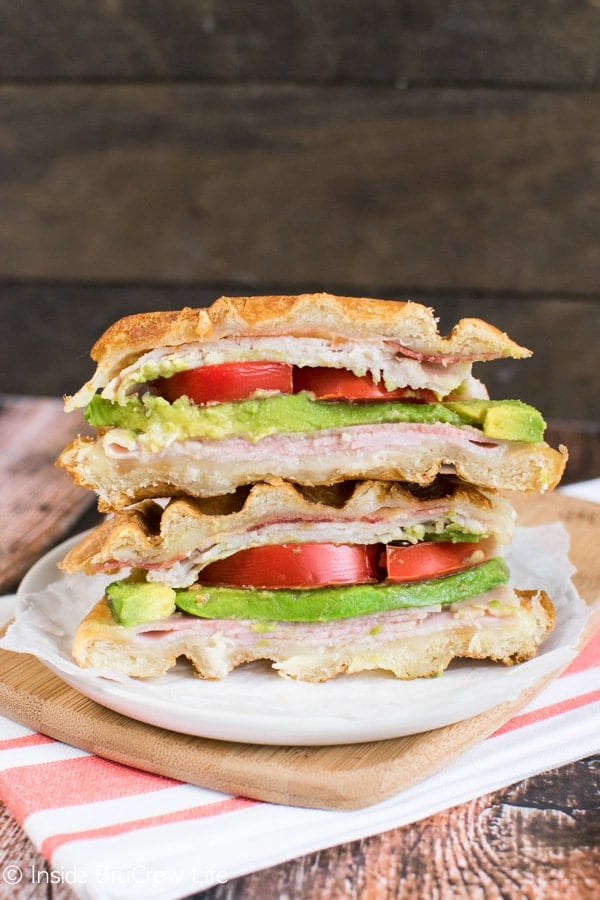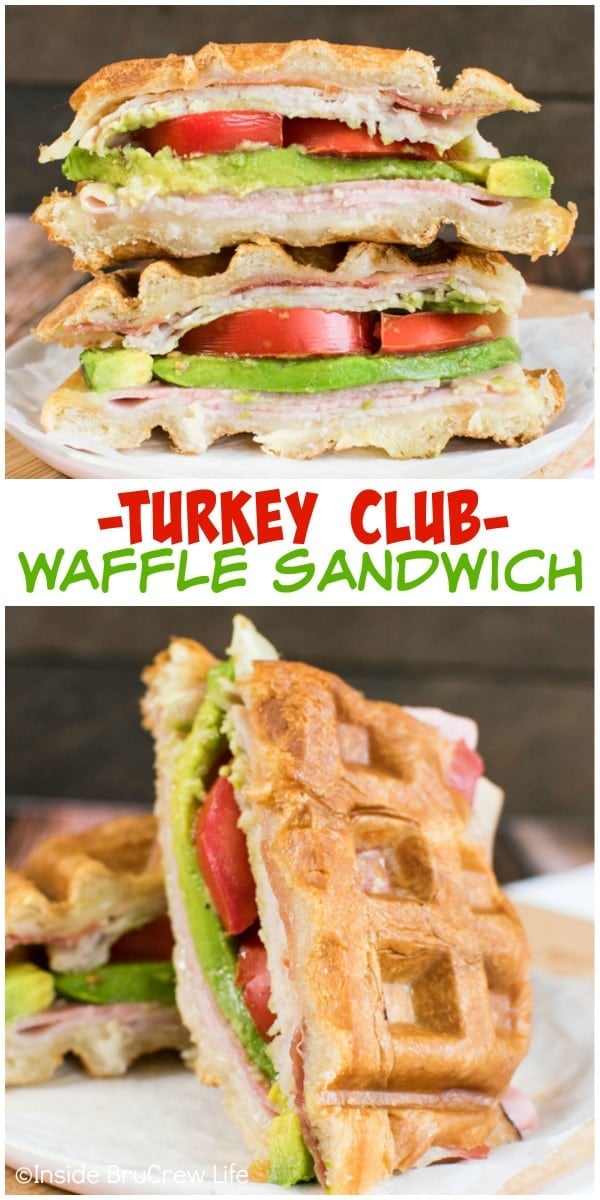 More great sandwich options for lunch or dinner: