This Easy Chicken Enchilada Soup is loaded with veggies, meat, and pasta. It is a delicious recipe to make in under 20 minutes and is perfect for cold nights.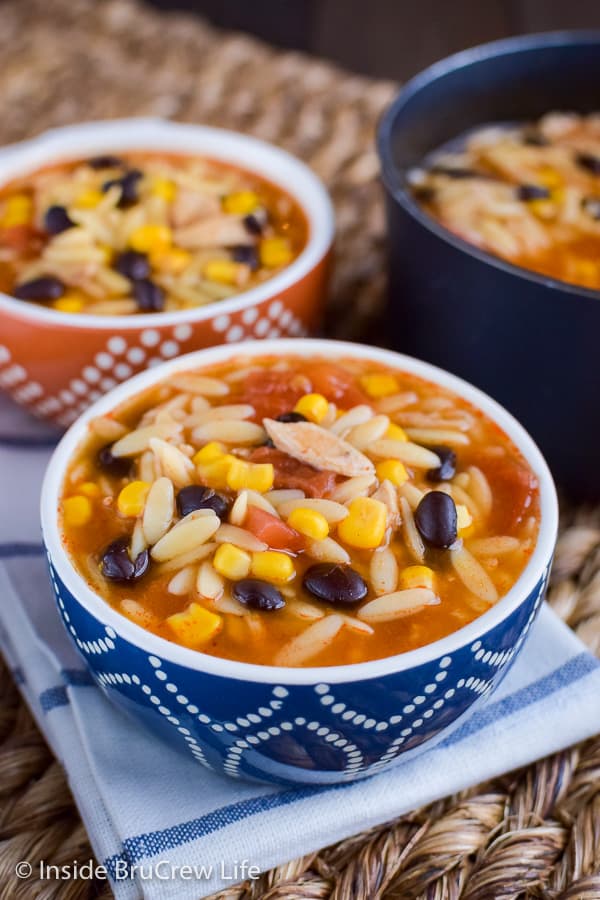 Winter weather around here has been crazy. Warm 80 degree weather one day, then chilly 50 degree weather the next day. I guess those are the benefits to living in Florida during the winter. You never know what you are going to get.
I really have been trying to do better with cooking dinner. But then there are those weeks that I totally slack off because my husband is out of town, so the kids ate cereal and quesadillas all week long. It could be worse I guess.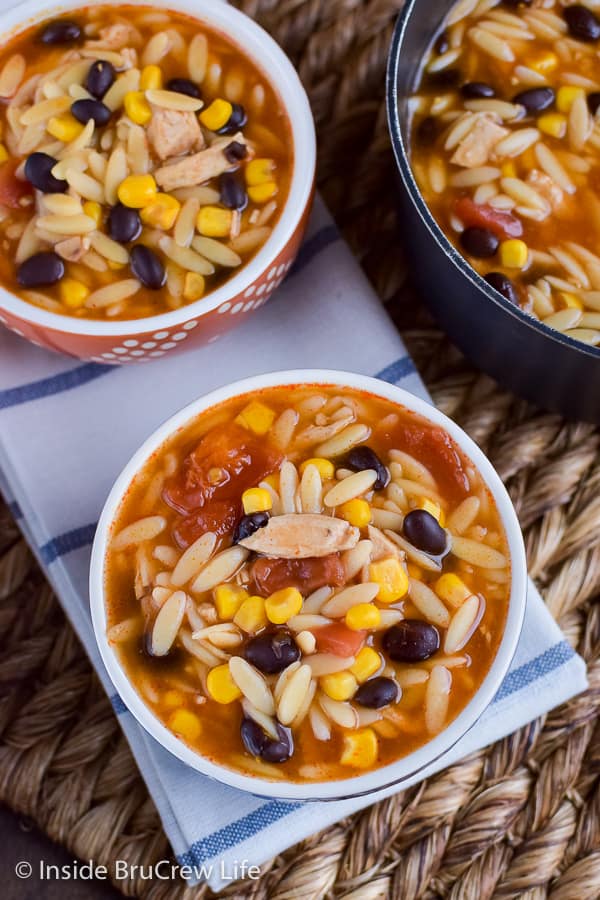 The weather took a chilly turn again, so I knew I wanted a bowl of warm soup to help with the chill. But I totally forgot to plan ahead and put one on the menu. In fact, I totally forgot to plan any meals this week because of projects and deadlines, so I had to improvise on dinner.
It's a good thing there is always chicken broth, canned veggies, and boxes of pasta in the cupboard. It's times like these that I am glad I buy an extra can or two here and there because it makes dinner time simple.
All I had to do was chop up the rest of the rotisserie chicken in the fridge while the pasta was boiling in the broth. You could also use canned chicken if that's all you have on hand at the moment.
We love to buy one or two rotisserie chickens from Sam's Club and use them all week long. They are perfect for adding to things like this Chicken Supreme Pasta Bake or this Grape Pecan Chicken Salad.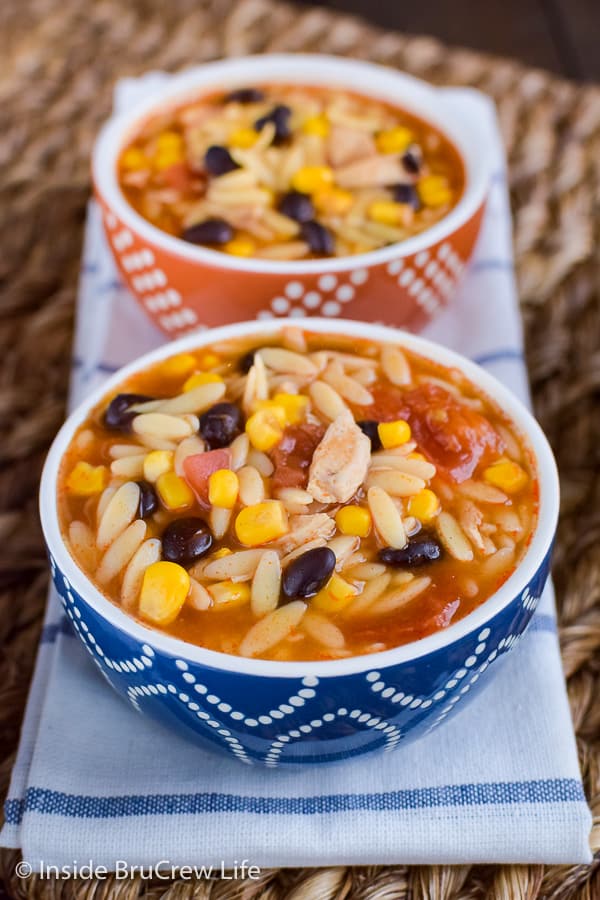 This soup is the perfect comfort food meal on a cold day. It is an easy one pot dinner that the whole family will love.
How to make an Easy Chicken Enchilada Soup:
Sauté the onions in oil until soft. Add some garlic. (full recipe at bottom of post)
Pour in the chicken broth and bring it to a boil. Stir in the pasta noodles. Cook until al dente.
Stir in the enchilada sauce, chicken, tomatoes, beans, and corn. Continue to heat until warmed through.
Season to taste with salt and pepper.
Serve plain or with your favorite soup toppers.
Topping Ideas for Enchilada Soup:
Crackers or Chips
Cheese
Sour Cream
Avocados
Black Olives
Green Onions
Cilantro
Tips for this Soup Recipe:
You can use any type of chicken in this recipe, such as grilled, roasted, rotisserie, or even canned chicken.
Eating low carb? Use cauliflower rice, zucchini noodles, or edamame noodles in place of the pasta.
If you like spicy food, use a medium heat enchilada sauce and a can of diced tomatoes with chiles.
Frozen corn can also be used instead of canned corn.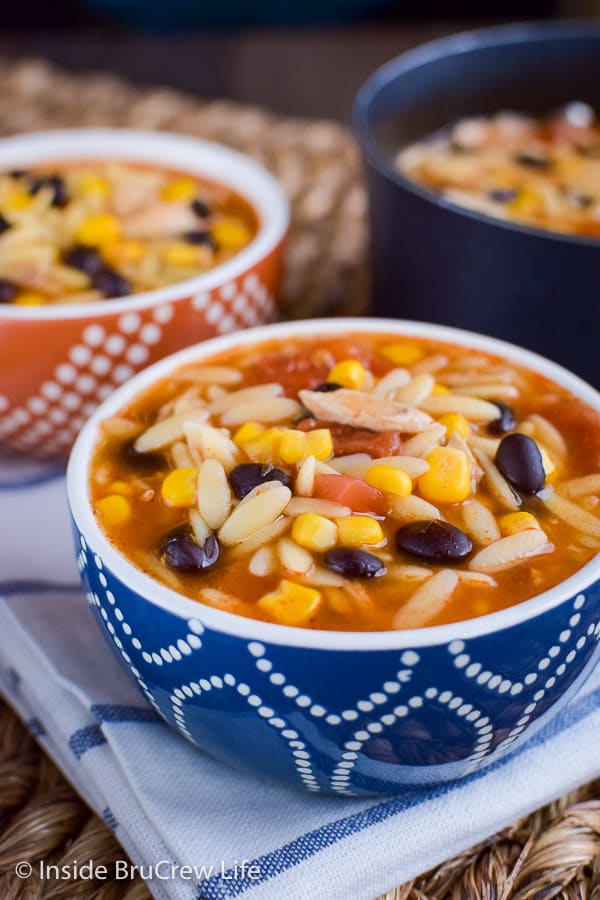 More easy soup recipes you may like: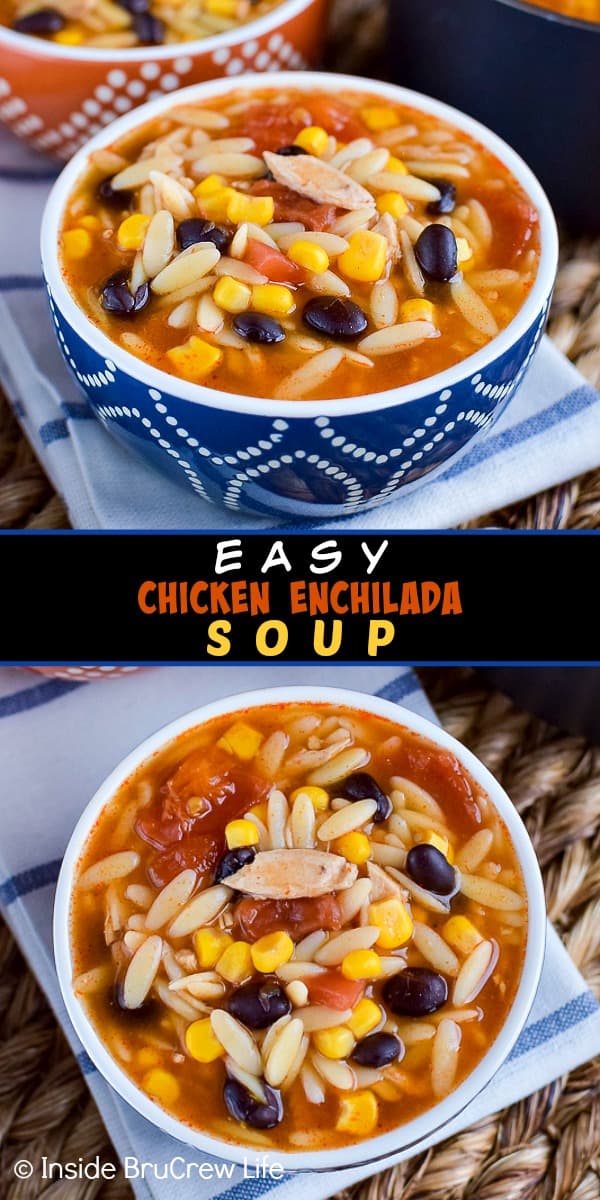 *The post for Easy Chicken Enchilada Soup was first published on January 30, 2015. The photos and post have been updated and republished on January 20, 2020.