This quick and easy Chicken Enchilada Orzo Soup can be on the table in 2o minutes.  Perfect for those busy nights when you still want a home cooked meal.
*Love these recipes? Be sure to sign up for the BruCrew email to have these recipes delivered to your inbox each day.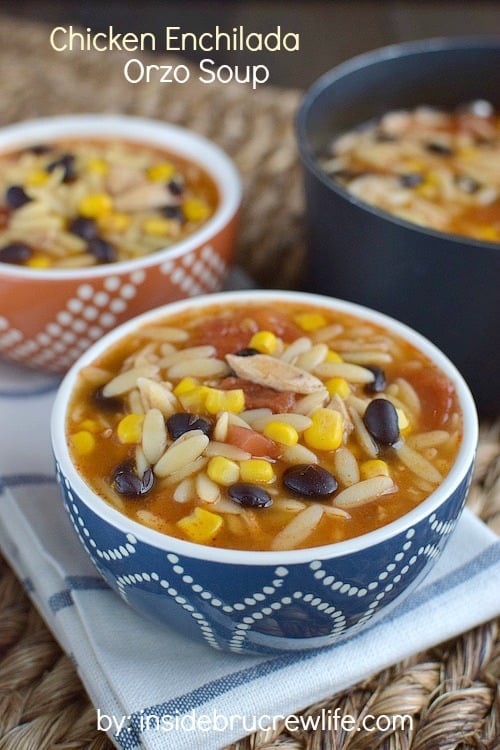 Winter weather around here has been crazy. Snow one day, then spring like weather the next day.  I guess that's the benefits to living in the Midwest.  You never know what you are going to get.
I have been trying to do better with meals.  But then there are those weeks that I totally slack off and the kids eat cereal or leftovers all week long.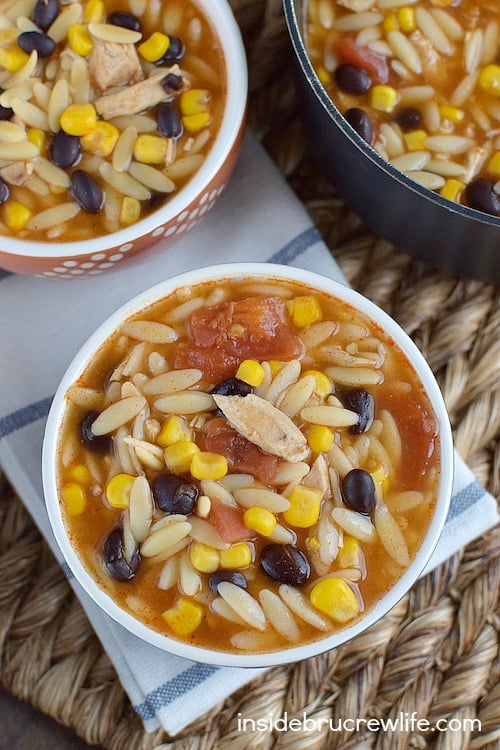 The spring like weather took a turn for chilly again, so I knew I wanted a nice warm soup to help with that chill that was setting in.  It's like it is still winter here or something.  But I totally forgot to plan ahead and put one on the menu.  I may have totally forgot to plan all meals this week because of projects and deadlines.  Thank goodness for a hubby who likes to cook, right?
So, the other night when we got home and the kids were asking what the dinner plan was…I had to improvise.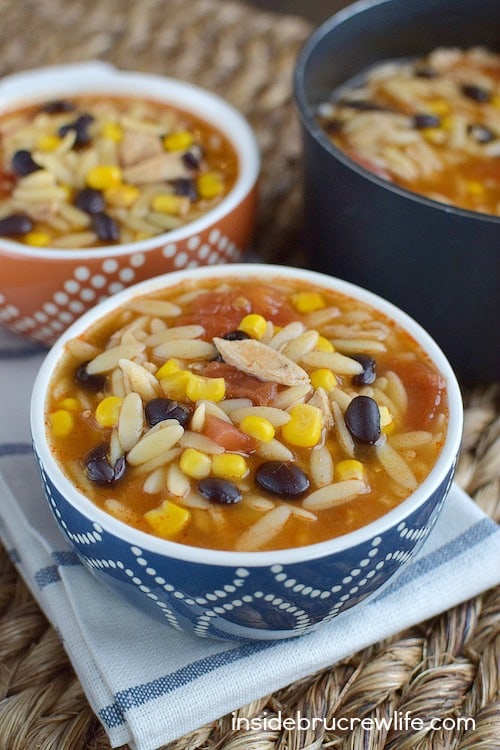 Good thing there was some extra chicken broth, canned veggies, and boxes of pasta in the cupboard.  It's times like these that I am glad I buy an extra can or two here and there.
All I had to do was chop up the rest of the rotisserie chicken in the fridge while the orzo was boiling in the broth.  We love to get one or two rotisserie chickens from Sam's Club and have them on hand all week long.  It's perfect for adding to things like this Chicken Supreme Pasta Bake or this Grape Pecan Chicken Salad.
Stir in the enchilada sauce and veggies to the pasta & broth and let it all warm up for a few minutes.  The mild enchilada sauce adds the perfect amount of spice to the rest of the ingredients.  If you like it even spicier, buy a can of medium sauce. I think I'm going to try a can of diced tomatoes and chilies next time to ramp up the spice factor even more.  We do love a good spicy meal here!
You can also serve it with cheese, sour cream, and chips if you want.  But we enjoyed it just as it was.  Simple and hot is just what we needed on the cold night.
Dinner in minutes…ya gotta love it!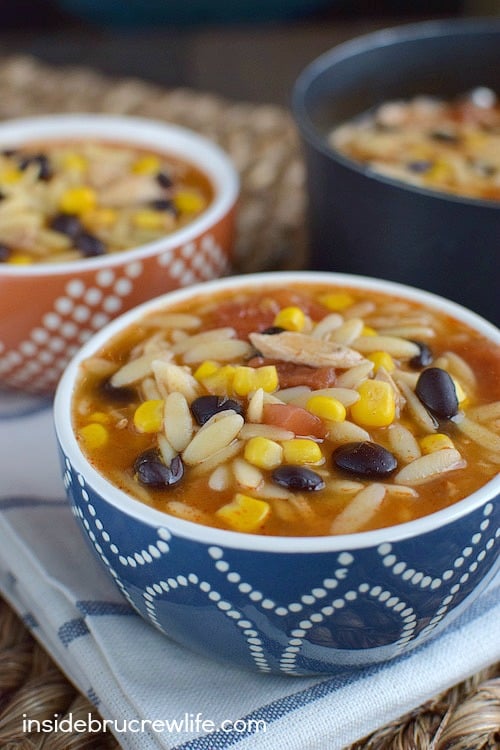 Stay up to date on all the BruCrew baking here:
FACEBOOK | PINTEREST | GOOGLE+ | TWITTER | INSTAGRAM | BLOGLOVIN
 Sign up to receive an email in your inbox for each new recipe:
EMAIL SUBSCRIPTION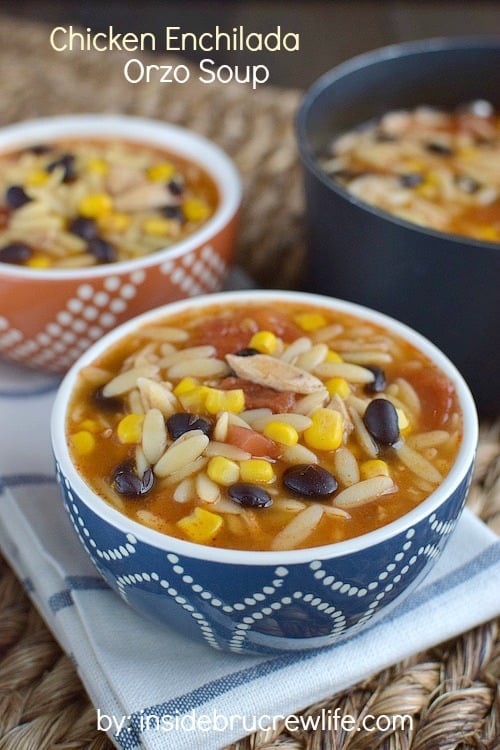 This chicken enchilada soup can be made in no time at all. Perfect for those busy nights when you still want a home cooked meal.
Ingredients
8 cups chicken broth
1 cup uncooked orzo pasta (8 oz.)
1 - 10 oz. can mild enchilada sauce
2 cups cooked, diced chicken
1 - 14.5 oz. can diced tomatoes
1 - 15 oz. can black beans, drained and rinsed
1 - 15 oz. can corn, drained
salt and pepper
Instructions
Bring the chicken broth to a boil in a large sauce pan. Add the orzo and cook until al dente.
Stir in the enchilada sauce, chicken, tomatoes, beans, and corn. Cook until warmed through.
Season to taste with salt and pepper. Serve immediately.
https://insidebrucrewlife.com/chicken-enchilada-orzo-soup/
Copyright Inside BruCrew Life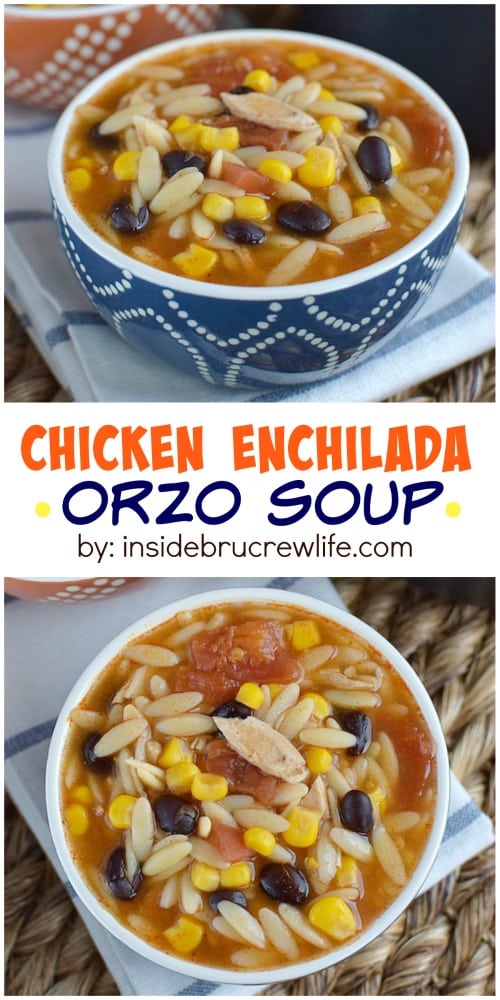 More delicious soup recipes to try on a cold, chilly day: