A pot of this Cheesy Chicken Soup can be on your dinner table in under 40 minutes.  This soup is loaded with noodles, chicken, and tomatoes and is pure comfort food for a chilly night.
*Love these recipes? Sign up for the free BruCrew email to have them sent to your inbox.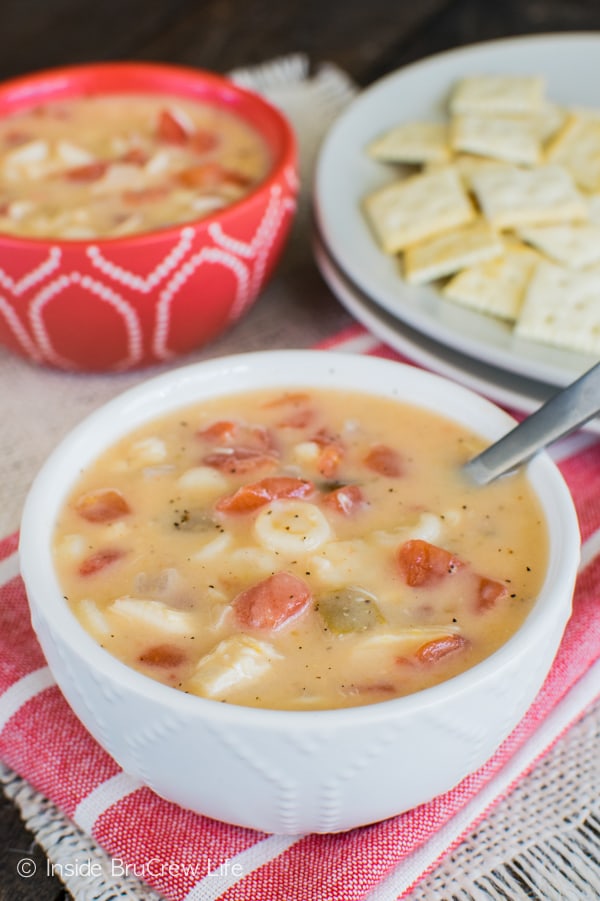 We are slowly adjusting to the weather here in west Texas.  And when I say adjusting, I really mean loving being in 70 degree weather in February and March wearing t-shirts.  We have not had to pull out our winter coats once since moving here.  Love that!
I can honestly say I do not miss the cold or snow from the midwest at all.  As I have gotten older, my body has resisted that kind of weather.  I totally understand now why so many older people have second homes in Florida for the winter months.  My guess is that we will try very hard to be able to afford to do that too.  At least in my mind we will…the budget may say otherwise.
Even though it has been very warm and sunny during the days, we learned the nights do cool off very quickly here. I may love these warm days, but I like chilly nights when I can make a big pot of hot soup for us to warm up with.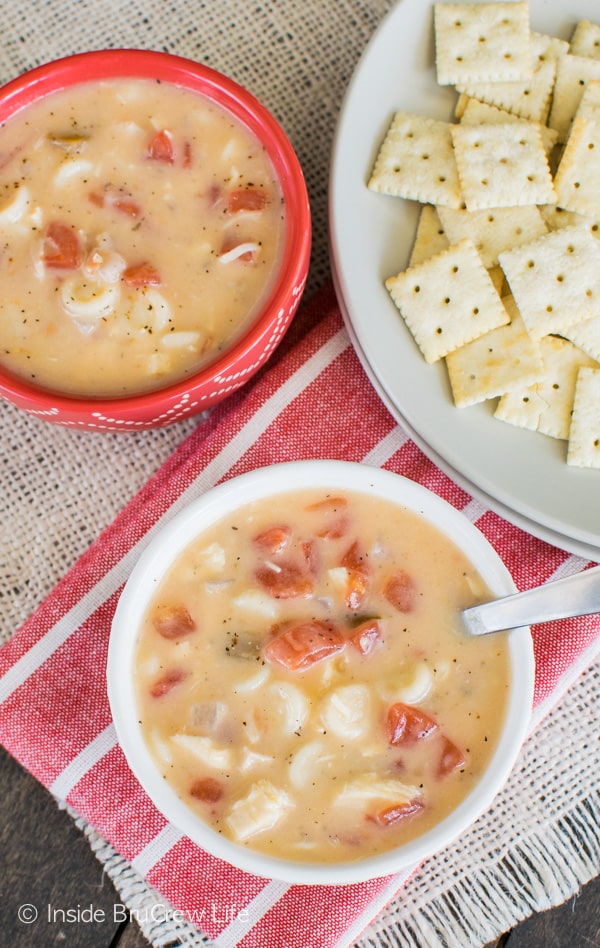 This soup was one of those last minute, "Oh, yeah.  The family needs to eat real food. I should probably make something."  I have been super busy with a big project lately that has had me pretty distracted.  Let's just say I'm ready to be done with it. Yay for the end being in sight!
This white chicken chili is one of my go to's when I need a quick dinner, but I didn't have all those ingredients this time.  So, I quickly grabbed a few things from the cupboard and fridge and threw it all in one big pot.  Voilà!  Cheesy chicken soup in no time at all.
My kiddos devoured it in no time at all, so I knew I had to make it again.  Luckily I wrote things down as I threw them in the pot, so it was easy to make for dinner (and pictures) the next week too.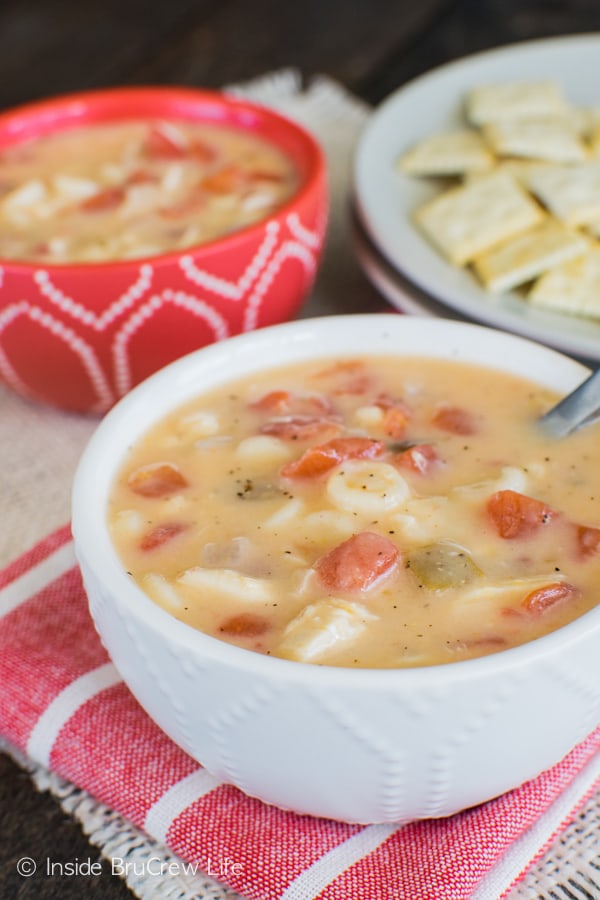 What I love most about this soup is that you only need one pot to cook everything in.  Less dishes to wash after dinner is always a big plus, right?
I keep plenty of cans of veggies in our cupboard for quick easy add in's to our dinners.  We love spicy food so we always buy the tomatoes with green chilies.  If your family isn't into spicy, go ahead and use regular tomatoes.  
Another convenience food that we always buy are the ready-to-go whole chickens at Sam's or Costco.  $5 for a chicken that someone else roasted?  Heck to the yeah!!!  We buy 2 at a time usually.  One to eat and one to freeze for easy meals later.
Use whatever pasta you already have in your cupboard.  This soup is great for using up all those leftover boxes.  Just make sure to adjust your boil time for whatever pasta you choose.  I found these cute little wagon wheel pasta noodles at the store that cook in about 10 minutes, so I have been using them in everything lately.
Today looks like another cool and chilly day, so I'm thinking a pot of cheesy chicken soup might need to happen again.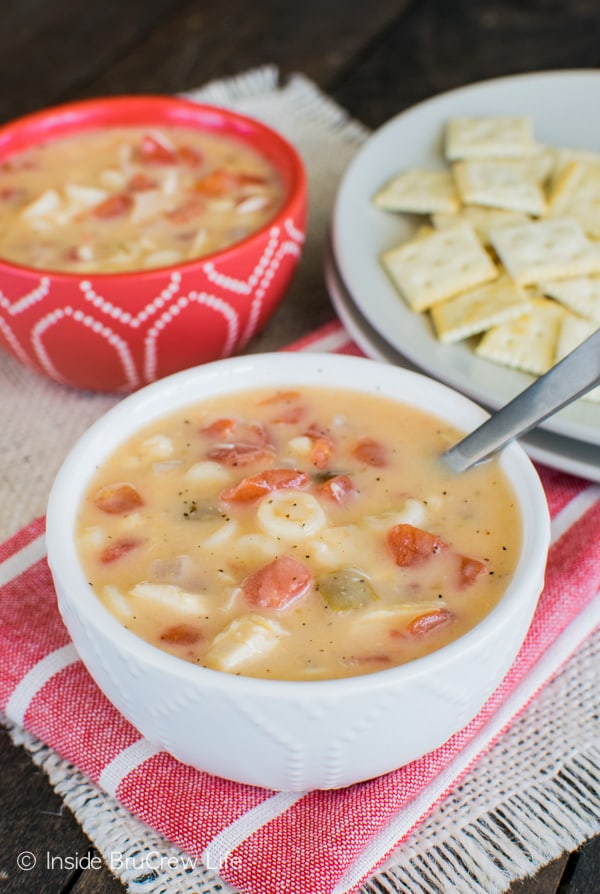 Stay up to date on all the BruCrew baking here:
FACEBOOK | PINTEREST | GOOGLE+ | TWITTER | INSTAGRAM | BLOGLOVIN
 Sign up to receive an email in your inbox for each new recipe:
EMAIL SUBSCRIPTION
This easy one pot cheesy chicken soup is loaded with tomatoes, noodles, and chicken and is ready to eat in less than 40 minutes.
Ingredients
1/2 cup diced onion
2 Tablespoons olive oil
2 Tablespoons flour
4 cups chicken broth
1 - 14 ounce can diced tomatoes & green chilies*
1 cup chopped cooked chicken
1 cup uncooked pasta noodles
1 1/4 cups milk
1 1/2 cups shredded cheddar cheese
salt and pepper, to taste
Instructions
Place the onions and oil in a large pot. Sauté for 3-4 minutes on medium heat until the onions are soft.
Sprinkle the flour over the onions and stir in. Cook for 2 minutes.
Whisk in the chicken broth until the flour has been dissolved. Stir in the tomatoes and chicken and bring to a boil.
Add noodles and bring to a boil again. Reduce heat and simmer for about 10 minutes or until noodles are al dente.
Stir in the milk and cheese until melted and creamy. Season to taste with salt and pepper. Serve immediately. Serves 6.
Notes
*If you do not like spicy food, substitute a can of regular diced tomatoes.
https://insidebrucrewlife.com/cheesy-chicken-soup/
Copyright Inside BruCrew Life

More delicious soups that our family loves: