Make a pot of this Cheesy Chicken Soup for dinner tonight in under 40 minutes. This easy soup recipe is loaded with noodles, chicken, and veggies. It is the perfect comfort food meal for a cold, winter night.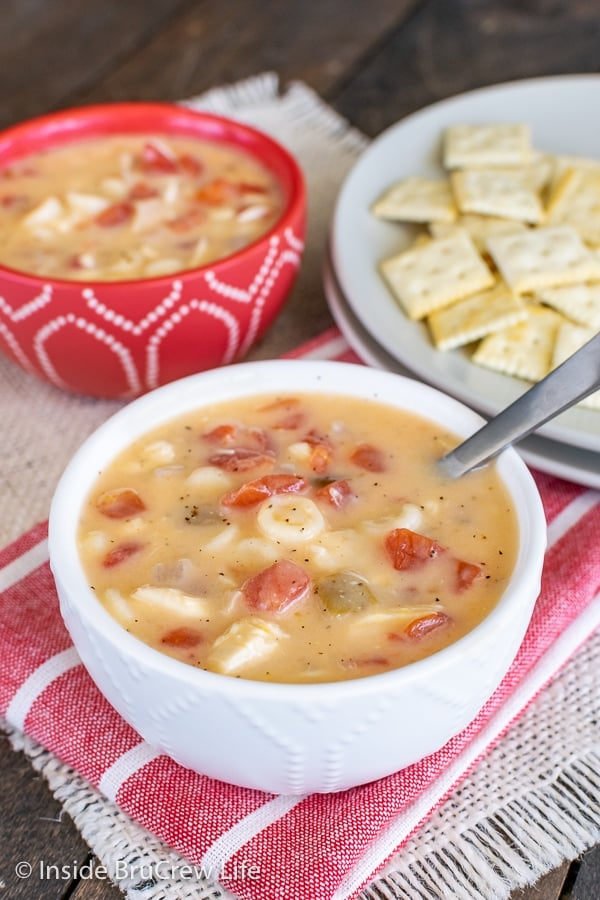 This week we have been busy with a room redo project, so I have been pretty distracted cleaning and organizing. So, making dinner has been the last thing on my mind.
This chicken soup was one of those last minute, "Oh, yeah. The family needs to eat real food, so I should probably make something." Normally, this White Chicken Chili is one of my go to's when I need a quick dinner, but I didn't have all the ingredients for it this time.
So, I quickly grabbed a few things from our cupboards and fridge and threw it all in one big pot. Voilà! Cheesy chicken goodness in no time at all.
Our kiddos devoured the soup and a loaf of this Easy Garlic Herb Bread no time at all, so I knew I had to make it again. Luckily, for me and you, I wrote all the ingredients down as I threw them in the pot, so it was easy to make it again for dinner (and pictures)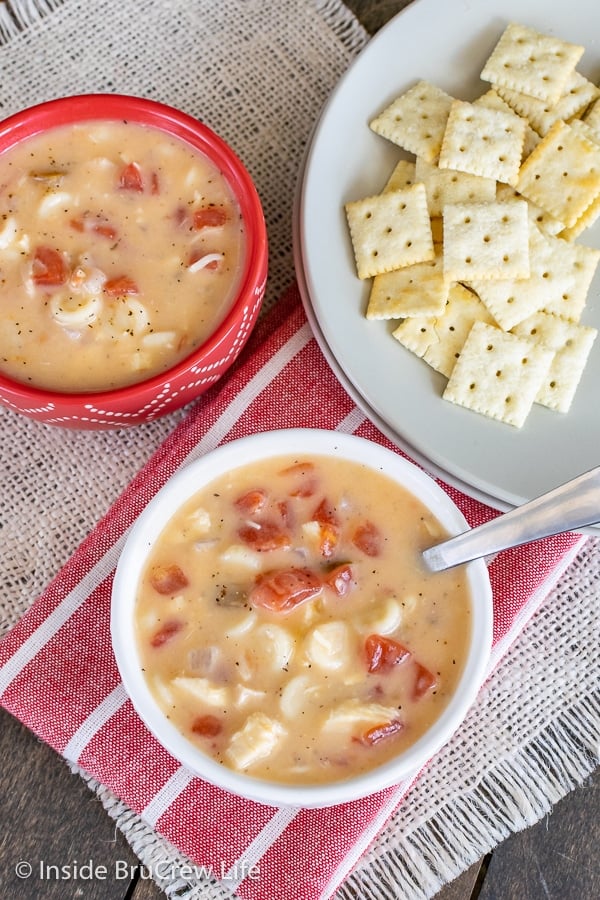 What I love most about this cheesy chicken soup with Rotel is that you can cook everything in one pot. Less dishes to wash after dinner is always a big plus, right?
I keep plenty of cans of veggies in our cupboard for quick easy add in's to our meals. We love spicy food, so there are always cans of diced tomatoes with green chiles in our pantry. If your family isn't into spicy food, go ahead and use regular diced tomatoes.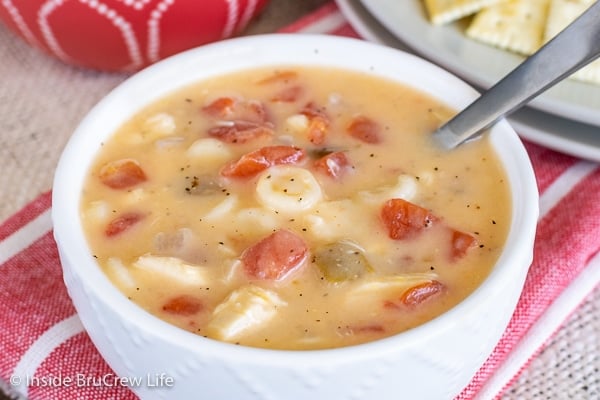 Another convenience food that we like to buy is a rotisserie chicken from Sam's Club. $5 for a chicken that someone else roasted? Heck to the yeah!!!
We usually buy 2 at a time. One to eat for dinner that night, and one to make a bowl of Grape Pecan Chicken Salad and a skillet of Cheesy Chicken Pasta.
Pro Tip: You can also use canned chicken, grilled chicken, or roast chicken for this soup. Basically, use whatever cooked chicken you have on hand or like to eat.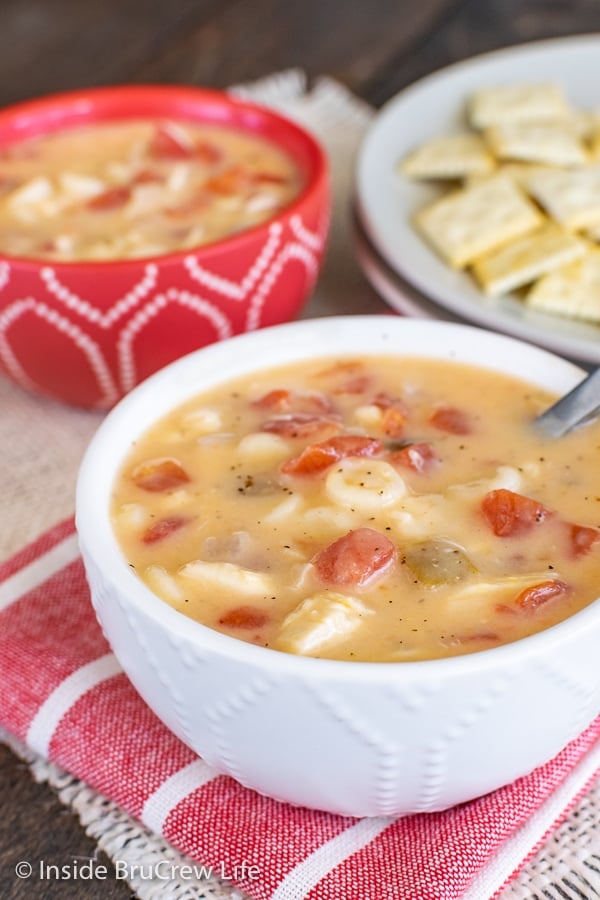 I found these cute little wagon wheel pasta noodles at the store that cook in about 10 minutes, so I have been using them in everything lately.
Use whatever pasta you already have in your cupboard. This creamy chicken noodle soup is great because you can use up leftover boxes or bags of pasta in your pantry. Just make sure to adjust your boil time for the pasta you choose.
How to make Cheesy Chicken Soup:
Sauté onions in oil until soft and tender. Sprinkle with flour and cook another minute. (full recipe at bottom)
Whisk in chicken broth until flour is dissolved.
Stir in chicken and diced tomatoes and bring to a boil.
Add noodles and bring to a boil again. Reduce heat and simmer for 10 minutes. This time will vary depending on what pasta you use.
Stir in milk and cheese until melted and creamy.
Season to taste with salt and pepper and serve immediately.
PRO TIP: Bagged cheese has a coating on it to keep it from sticking, so it doesn't melt as easily. Freshly shredded cheese melts the best.
Today looks like another cool and chilly day, so I'm thinking another pot of this cheesy chicken noodle soup needs to happen again.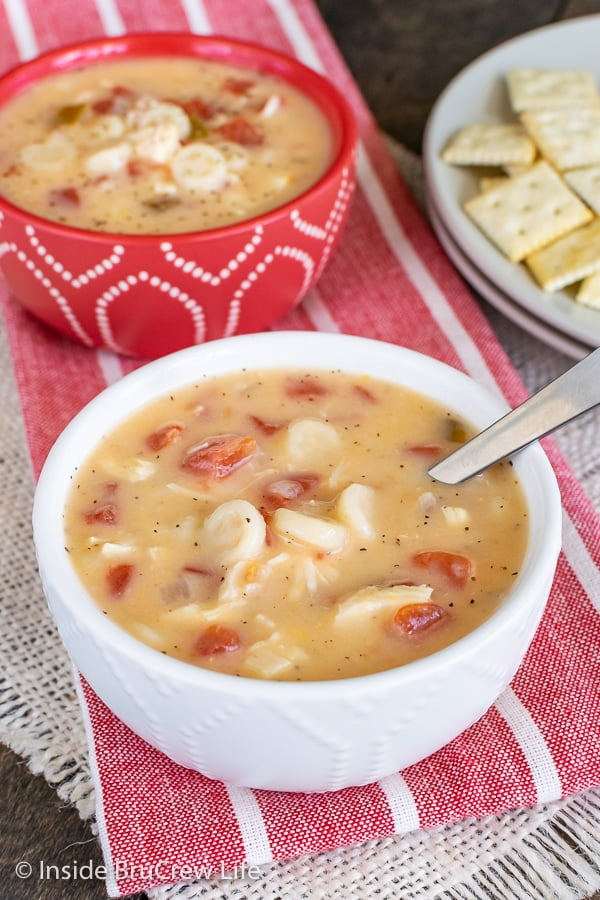 More Soup Recipes
*The post for Cheesy Chicken Soup was first published March 10, 2016. The photos and post were updated and republished January 9, 2021.