A bowl of Low Carb Vegetable Soup is the perfect meal for anyone who wants to eat healthier and not sacrifice taste. This lean and green soup recipe is packed with fresh veggies and is easy to make in 30 minutes.
Looking for more healthy dinners? This fish taco bowl and these cheeseburger zucchini boats are two of our favorites.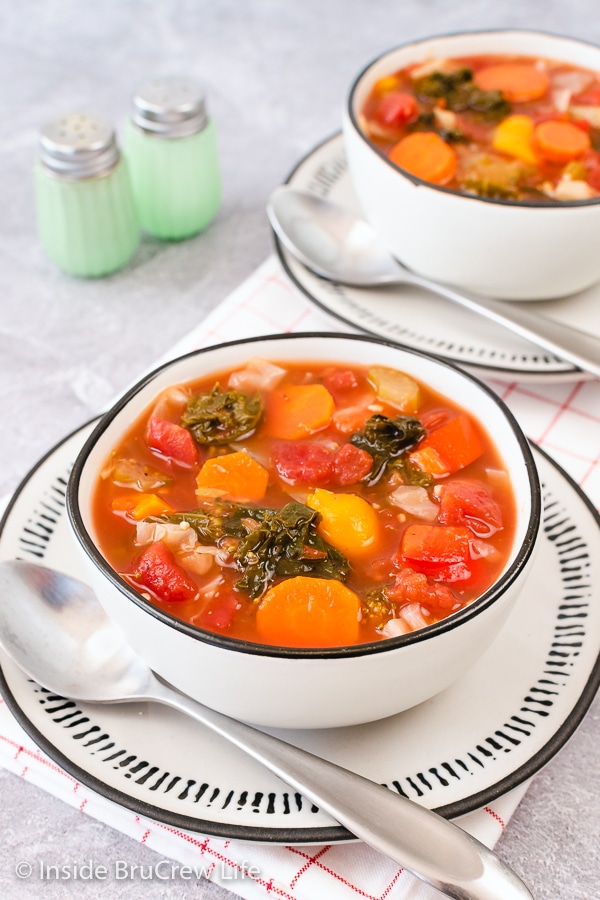 This healthy veggie soup is the most delicious way to get enough daily servings of vegetables. You can even meal prep and make this cabbage soup ahead of time, so it is ready to enjoy whenever you want.
Years ago the cabbage soup diet took the world by storm. The first time I tried this fad diet, I wasn't impressed. It took me a few batches to come up with a version that I actually wanted to eat every day. A few extra ingredients made this a soup recipe that I actually crave now when we have cold days.
What I love most about this low carb soup is that it is packed with so many fresh vegetables. It is also high in fiber and has incredible flavors. And if you do not like one of the ingredients we used, you can swap it out for something else that works better for you. There are no rules here!
Since this low carb vegetable soup is made with just veggies and water, it is a great recipe for anyone that is on a strict diet or has dietary allergies. It's the perfect detox soup for anyone that is on a keto diet or weight loss journey because it is low calorie.
Why You Will Love this Veggie Soup
Loaded with low carb vegetables. You can use whatever you have on hand or like.
Great way to clean out the veggie drawer in the fridge!
Healthy way to warm up in the winter.
Low in fat, calories, and carbs, so it is perfect if you are on a low carb diet.
Ingredient List
These are the veggies and herbs that we use to make this easy cabbage soup with. A serving of this soup will give you 17 net carbs.
This is a great vegetarian soup because it is loaded with so many great veggies. Feel free to use other ones that you like in place of something else.
Cabbage - low in calories, but it is high in so many nutrients and vitamins, and fiber.
Broccoli Florets - high in fiber, vitamin C, and protein
Carrots - a great source of vitamins and fiber.
Celery - full of antioxidants, vitamins, and minerals
Onions - antibodies that help cleanse and detox the body
Radishes - high in fiber, high in vitamin C and so many other nutrients
Peppers - low in calories, loaded with various vitamin and minerals and high in vitamin C
Tomatoes - the canned tomatoes and tomato paste are full of fiber and are a great source of vitamin C & K. You can also dice fresh tomatoes if you don't want to use canned ones.
Kale - low in fat, nutrient dense, loaded with antioxidants and vitamin C
Oregano - gives it flavor and is rich in antioxidants. You can also use an Italian seasoning if you prefer that instead.
Garlic - highly nutritious, low in calories, and contains antioxidants
Turmeric - anti-inflammatory effects and a strong antioxidant.
Liquid - We usually use water and let the fresh vegetables give it flavor. You can also use vegetable broth, chicken broth, beef broth, or bone broth to add more flavor and nutrients.
Lemon Juice - Add a small amount of lemon to brighten the flavor.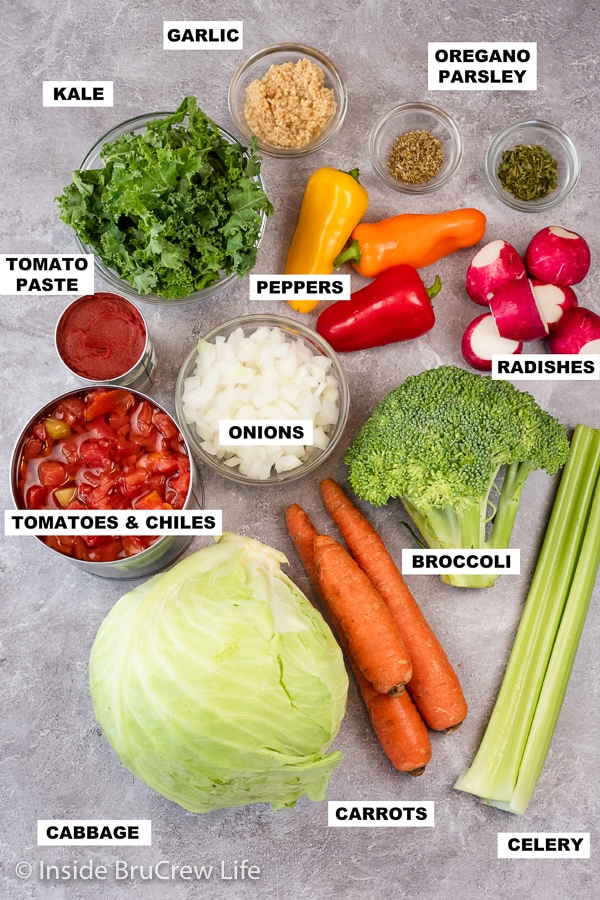 How to make Low Carb Vegetable Soup
Making veggie soup does not need to be hard. Simply chop your veggies, throw them into a pot of water, and simmer for 20 minutes. Season to taste and enjoy the easy recipe!
Start by chopping all the vegetables into uniform pieces.
Stir the veggies (except kale), water, and seasoning in a big pot.
Bring the mixture to a boil, then reduce the heat and simmer for 20-30 minutes or until the fresh veggies are soft.
Remove from the heat and stir in the kale.
Season to taste with the salt and pepper.
Cooking Variations
Slow Cooker or Crock Pot - Add the veggies and water to a crock pot and cook on low for 8 hours or high for 4 hours.
Instant Pot - Stir the ingredients together. Lock the lid and set the machine to cook at high pressure for 12 minutes. When it is finished, turn steam valve to vent and release pressure. Season and serve the nutritious meal.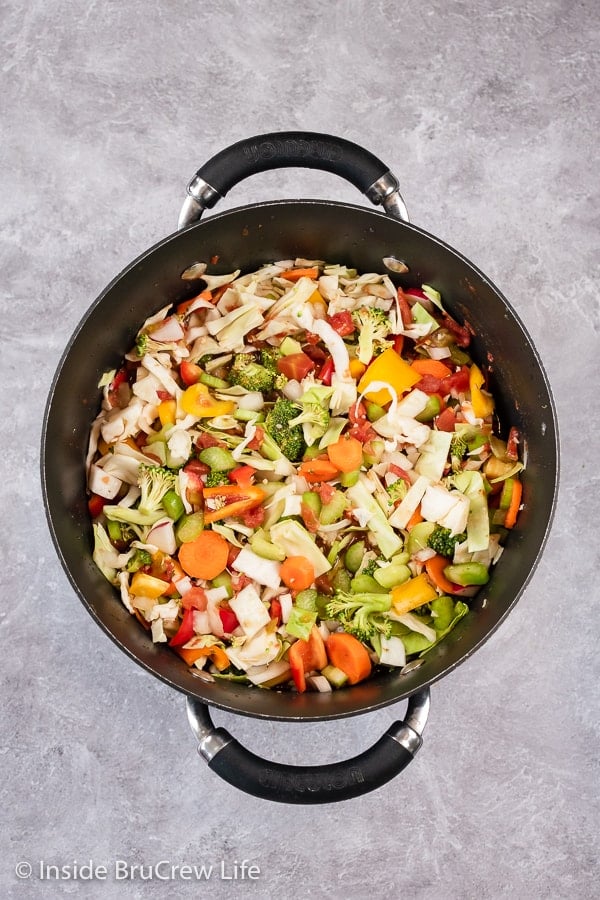 How to Store Leftovers
This cabbage soup recipe really does make a big batch, so if you are not going to eat it every single day for a week, I recommend freezing some of it.
Refrigerator - Let the soup come to room temperature, then cover and store in the refrigerator for 4-5 days.
How to Reheat - Microwave single servings or reheat the whole pot on medium heat until warm.
Freezer - Spoon cooled soup into freezer bags or containers and freeze for 2-3 months. Thaw overnight in the fridge.
Recipe Tips
Use your favorite fresh veggies to change up the soup and make it your own. Fresh green beans and green bell peppers are great choices.
Chop all your veggies ahead of time. Keep them in containers in the fridge, so the detox soup recipe can be made in minutes.
Make sure you chop all the veggies the same size, so they cook evenly.
Want to add protein? Stir in cooked chicken breast, ground beef, or ground turkey to make it a great lean and green meal for Optavia.
Keep it vegetarian by adding vegan protein such as beans, chickpeas, or edamamme.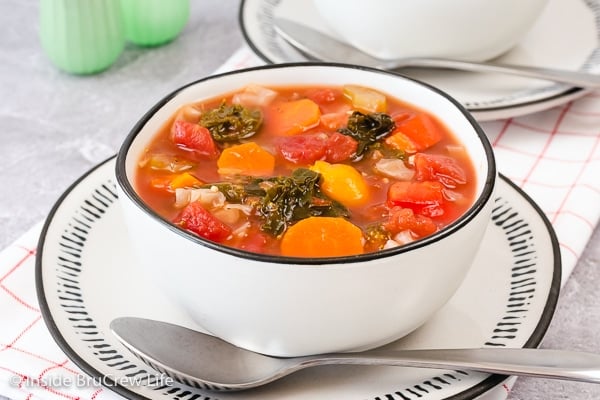 FAQ'S
Can you freeze vegetable soup?
Yes, let the soup cool completely then spoon into containers or freezer bags. Freeze for 2-3 months. To save space in your freezer, lay the bags flat while freezing. To serve, thaw in the fridge overnight, then reheat in the microwave or in a pot.
Why is a detox soup good for you?
This cabbage soup recipe is full of healthy foods that are loaded with nutrients. These foods help to clean out your system and give you a healthy gut.
Why is this soup spicy?
The tomatoes with green chiles can make this soup spicy. If you are not a fan of spicy food, use regular diced tomatoes without chiles.
You can also stir in a little bit of heavy cream or coconut milk to tame the spicy flavor down. This will also turn it into a creamy vegetable soup.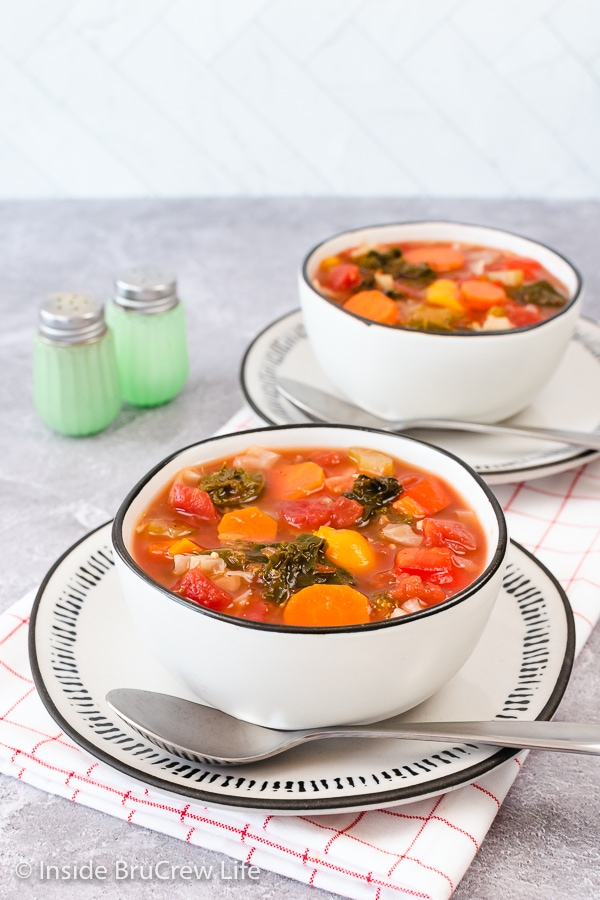 Other Low Carb Soup Recipes
Do you love a recipe you tried from Inside BruCrew Life?
Please leave a 5-star ⭐️ rating and a review in the comments section below.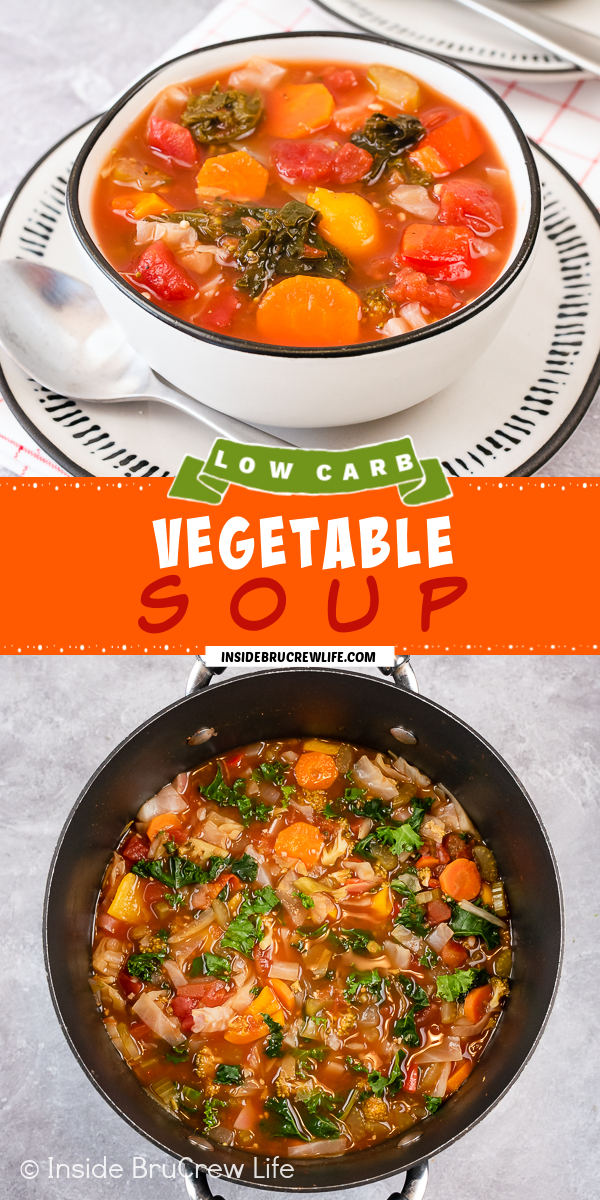 *The recipe for Lean Mean Veggie Soup was originally published on January 2012. The post was republished January 2019, and the pictures were updated January 2022.