This easy to make fudge has little pockets of cherries and marshmallows all the way through it.  You should make a batch of this Chocolate Cherry Marshmallow Fudge for everyone you know for Valentine's Day.  Just make sure you keep some for yourself too.
*Love these recipes?  Be sure to sign up for the BruCrew email to get these recipes delivered to your inbox each day.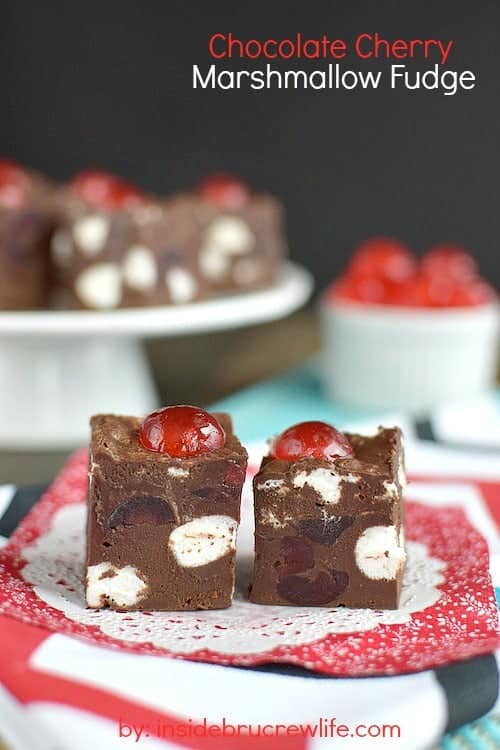 So I have been holding out on you guys…this chocolate fudge was actually made back in December.  Doesn't it look pretty and Christmas-y?  It even got sent out in packages along with some of this Hot Chocolate Fudge to our out of town family.
The problem I have as a food blogger is that I over make for every holiday.  Food bloggers you get me, right?  There are only so many days that I can post food.  I mean I could post a recipe every day I guess…if I never wanted to sleep or see my hubby and kiddos.  So nope, that's not an option.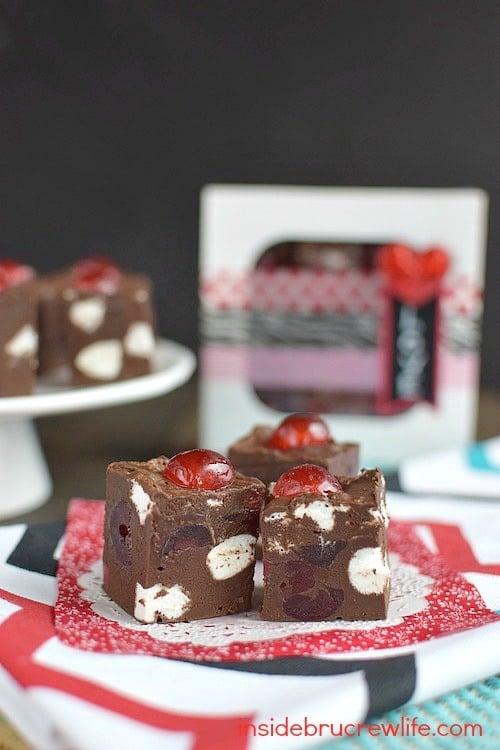 As I was setting up my fudge to take pictures, I was mentally thinking about everything else I already had made for the month.  There was no way this fudge was going to get posted.  And it was way to yummy to wait an entire year to share it.
But candied cherries
 and chocolate are the perfect Valentine's Day treat too.  So, out came the heart day supplies!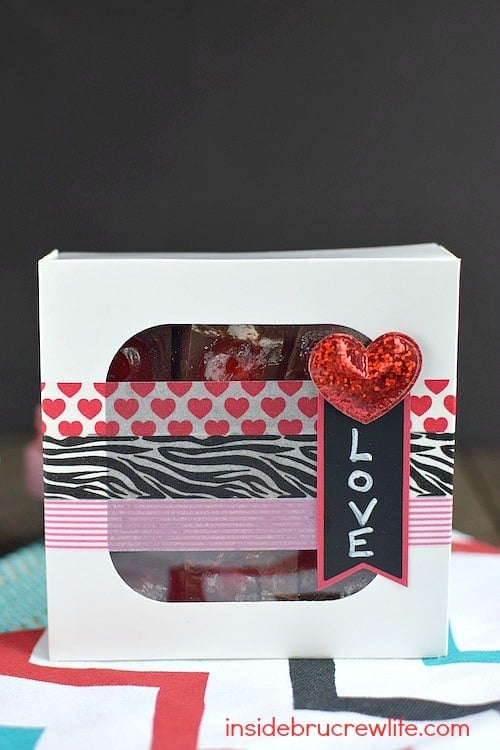 I love using these Treat Boxes
 to gift fudge in.  They are the perfect size to fit 9 good size pieces of fudge.  I don't like wimpy fudge, so I usually cut my batches into 36 squares. You really could do 49.  If you are into portion control or something like that.
My hips and thighs wish I would learn about this portion control thing!  They are tired of going to the gym and doing crazy WOD's, only for me to come home and ruin all their progress with Banana Cream Fudge and Peanut Butter Balls.
Anyway, some Washi Tape
 and some heart stickers on tags makes this Chocolate Cherry Marshmallow Fudge so fun to share with those you love.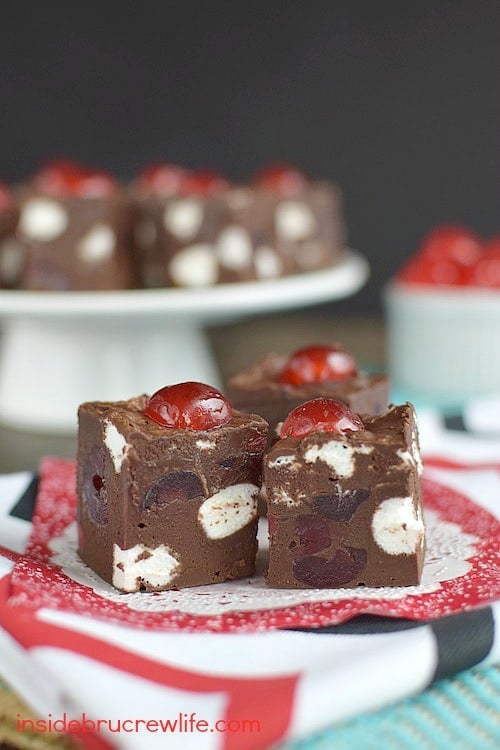 Stay up to date on all the BruCrew baking here:
FACEBOOK | PINTEREST | GOOGLE+ | TWITTER | INSTAGRAM | BLOGLOVIN
 Sign up to receive an email in your inbox for each new recipe:
EMAIL SUBSCRIPTION
Yield: 36 fudge squares
Chocolate Cherry Marshmallow Fudge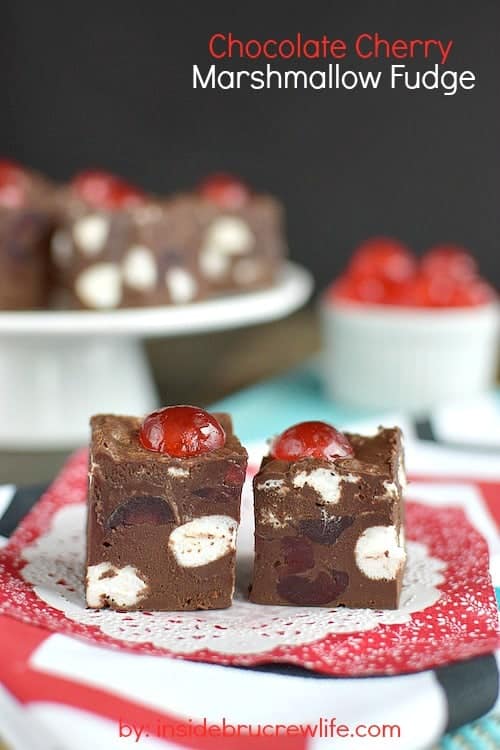 Chocolate fudge filled with cherries and marshmallows is a fun treat to share with friends and family.
Ingredients
3 cups dark chocolate chips
2 Tablespoons butter
1 - 14 ounce can sweetened condensed milk
3/4 cup marshmallow cream
1 cup halved candied cherries + 18 extra cherries for garnish
1 1/2 cups miniature marshmallows
Instructions
Line an 8x8 pan with foil.
Combine the chocolate chips, butter, and sweetened condensed milk in a large sauce pan. Heat over medium heat until melted and creamy.
Stir in the marshmallow cream and stir until mixed in.
Let cool 5 minutes. Stir in the halved cherries and mini marshmallows into the fudge quickly. Pour into prepared pan immediately.
Cut the extra 18 cherries in half and press into the top of the fudge before it sets.
Let the fudge cool completely. Cut into 36 squares. Store in a sealed container.
Nutrition Information:
Yield:
36
Serving Size:
1
Amount Per Serving:
Calories:

177
Total Fat:

6g
Saturated Fat:

4g
Trans Fat:

0g
Unsaturated Fat:

2g
Cholesterol:

8mg
Sodium:

34mg
Carbohydrates:

29g
Fiber:

1g
Sugar:

22g
Protein:

2g