Fudge is always one of my favorite treats on any dessert tray. This Banana Cream Fudge gets its fun flavor from a Jell-o pudding mix. The extra chocolate and sprinkles give it that fun party look that's sure to get smiles.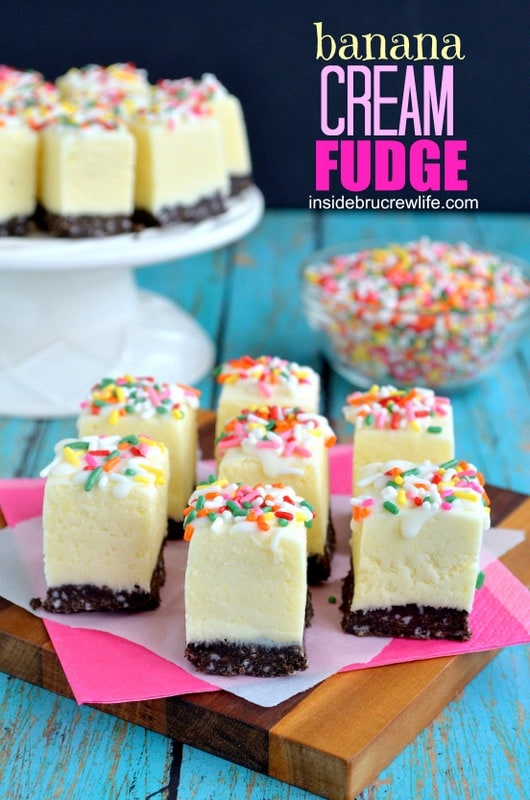 So, I realized something after I got my pictures edited for today…I am on a banana kick right now…which shouldn't surprise most of you who read this blog regularly. Apparently I am slightly obsessed with making treats from the yellow fruit. I should probably change my blog name to BruCrew Bakes Bananas or something like that because yesterday I shared these Banana Caramel Cookies, today I have a recipe for Banana Cream Fudge, and tomorrow…yup, you guessed it. I have a banana pie recipe to share for Pi Day.
I'll make you a promise. No more banana treats for at least another week. Deal? Mmmmmkkk!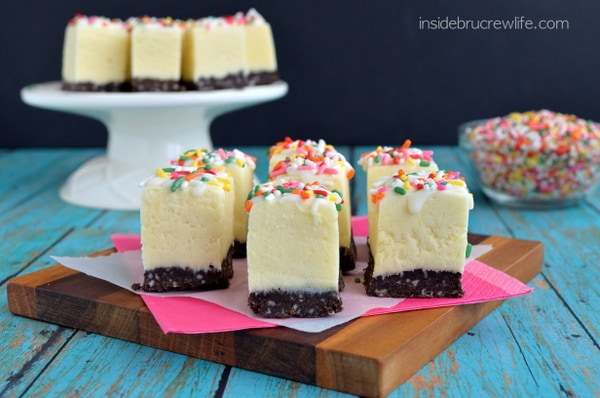 These fudge pictures make me so happy to look at. I think it is the bright sunny color and the fun sprinkles on top. These are the perfect pick-me-up treat when you have had a not so good, feel bad for yourself week. Fudge is a happy treat that makes me smile and gets me out of that bad funk.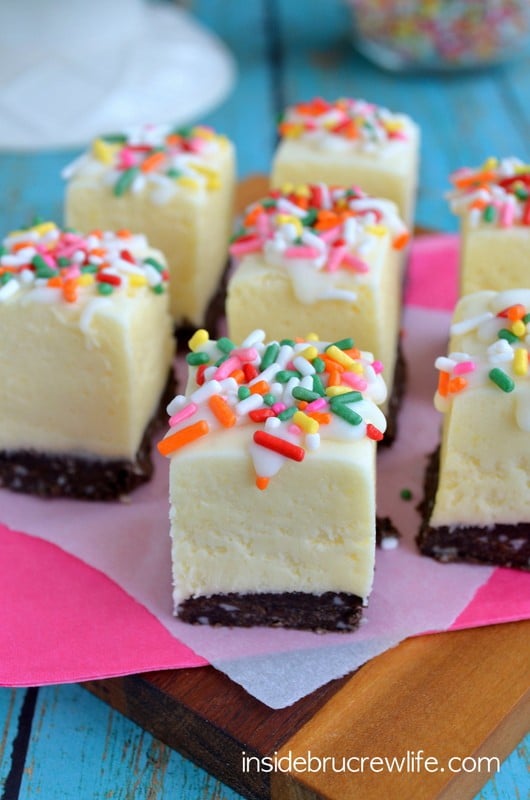 I never used to make fudge except at the holidays…then I started reading Aimee's blog, and she always has so many fun fudge recipes from her kitchen, that now I am addicted to easy pudding fudge. I blame her for my jeans being mad at me. LOL! Haha! Just kidding!
I adore Aimee! She is the best blog friend, and she can always makes me smile when I am discouraged. So this fudge is for you Aimee. I wish you were here so we could devour it with a big pot of coffee.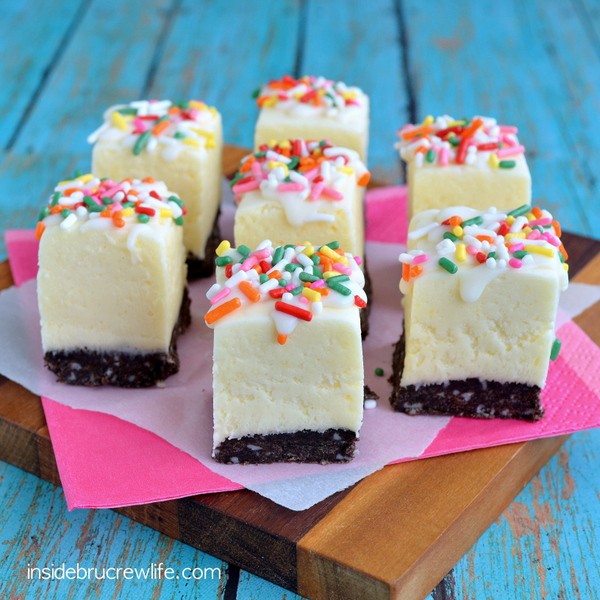 Let's talk about this easy fudge recipe for a second shall we? You can seriously have this Banana Cream Fudge in your fridge in 15 minutes. Now, because of the time it takes to set up…you will have to wait a few hours to actually enjoy it. I have no patience for that kind of stuff, so I always make fudge right before going to bed. That way it sets up overnight and is ready to go first thing in the morning.
All it takes is a big pot and a few ingredients. I wanted this fudge to have a crust kind of like a pie does. Plus, that gives it fun layers and that is my favorite way to make fudge apparently:-) I was going to go with a traditional vanilla wafer crust, but then I saw these chocolate shortbread cookies dipped in white chocolate, and I knew that was the fun different look I wanted to go for in this fudge. If you can't find those shortbread cookies, any chocolate cookie will work. Add a little butter and press it in the bottom of your pan.
The fudge gets is started by melting white chocolate chips with some butter and a can of sweetened condensed milk. That stuff is heaven in a can, am I right? After that gets all melty and smooth, you will stir in the box of Jell-0 pudding mix . You will want to use the whole box, so you get all the flavor. Make sure you stir and cook the pudding for at least one minute. This just helps the pudding mix to dissolve a little more. No one wants gritty fudge.
Then comes more good stuff…you add an entire jar of marshmallow cream. I always have a jar or two of the ooey gooey marshmallow on hand because we are addicted to Fluffernutter sandwiches. Stir in the marshmallow cream and pour on top of your prepared crust.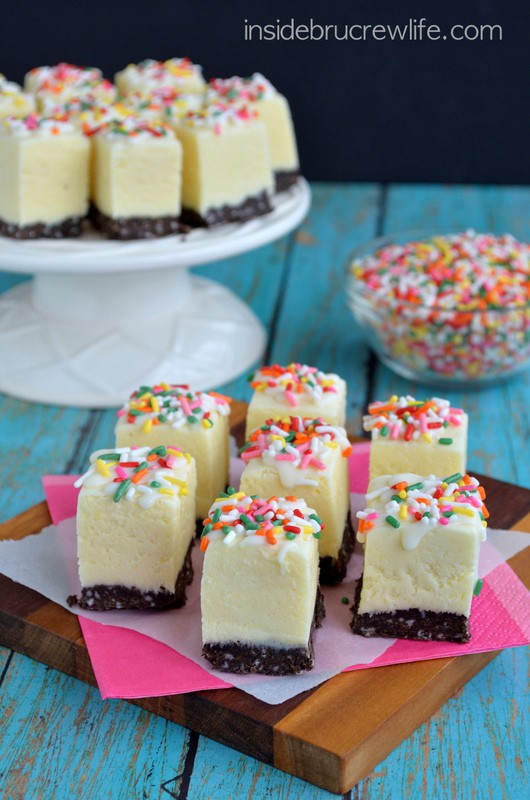 After it has set up, you can cut it and go to town eating it, OR you can add a little bit of white chocolate and some sprinkles for that fun party look.
I recommend the sprinkles! They will make you smile all day long because sprinkles just make everything better.
Stay up to date on all the BruCrew baking
by following here:
FACEBOOK | PINTEREST | GOOGLE+ | TWITTER | INSTAGRAM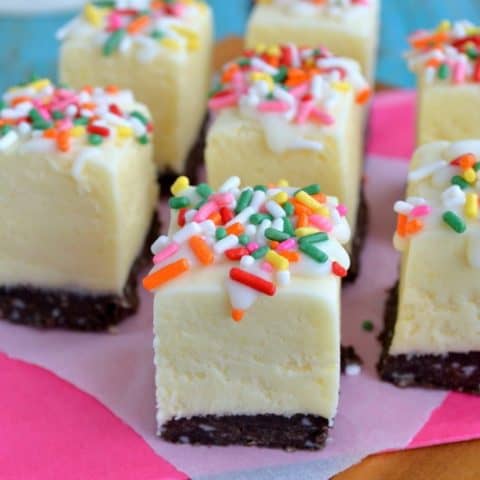 Banana Cream Fudge
This fun banana pudding fudge with a white chocolate drizzle and sprinkles is sure to brighten your day.
Ingredients
For the Crust
2 cups chocolate cookie crumbs
5 Tablespoons butter, melted
For the Banana Fudge
3 cups white chocolate chips
2 Tablespoons butter
1 - 14 ounce can sweetened condensed milk
1 3.4 ounce box instant banana cream pudding mix
1 - 7 ounce jar marshmallow cream
For the Topping
1/4 cup white chocolate chips, melted
1 4 cup colored sprinkles
Instructions
Line an 8x8 pan with foil or parchment.
Combine the cookie crumbs and melted butter. Firmly press the mixture into the pan. Set aside.
In a large sauce pan combine the white chocolate chips, butter, and sweetened condensed milk. Stir over medium heat until melted and smooth.
Add the pudding mix and stir 1-2 minutes longer.
Spoon in the marshmallow cream and stir until melted and smooth again.
Pour the fudge mixture onto the prepared crust. Refrigerate a few hours or until hard.
Remove the fudge from the pan and cut into 49 small squares. Drizzle with melted white chocolate and top with sprinkles.
Store in a loosely sealed container for 4-5 days. No refrigeration needed.
Notes
This can also be made in a 9x13 pan, but I would double the crust if you do that. The squares will be a lot shorter that way too.
Nutrition Information:
Yield:

49
Serving Size:

1
Amount Per Serving:
Calories:

219
Total Fat:

11g
Saturated Fat:

4g
Trans Fat:

0g
Unsaturated Fat:

6g
Cholesterol:

11mg
Sodium:

60mg
Carbohydrates:

29g
Fiber:

0g
Sugar:

24g
Protein:

2g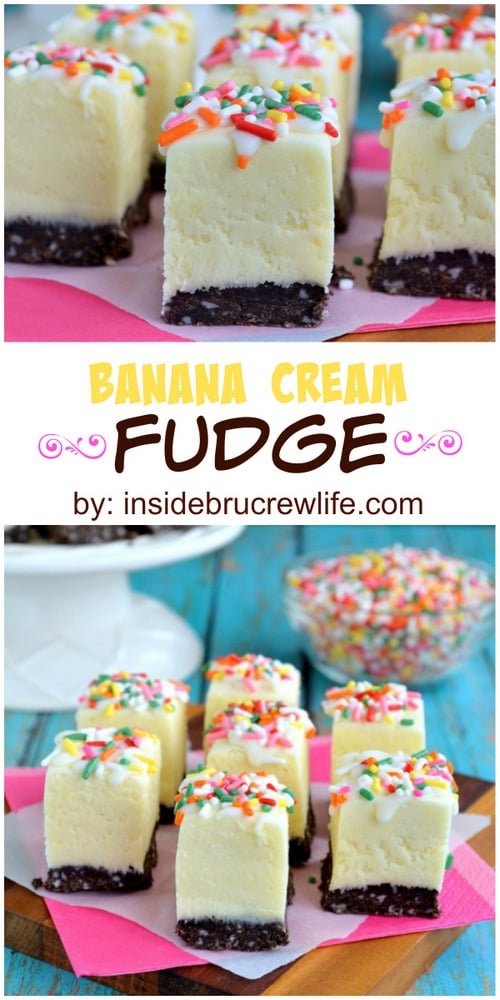 ********************************
More fun recipes to use Jell-o pudding mixes in: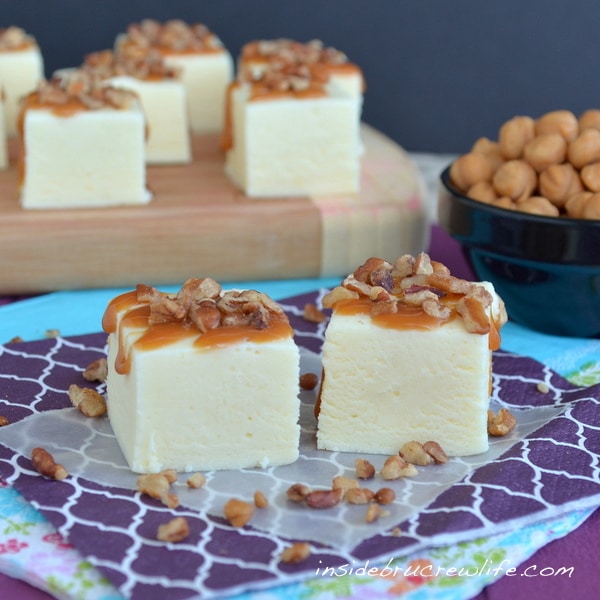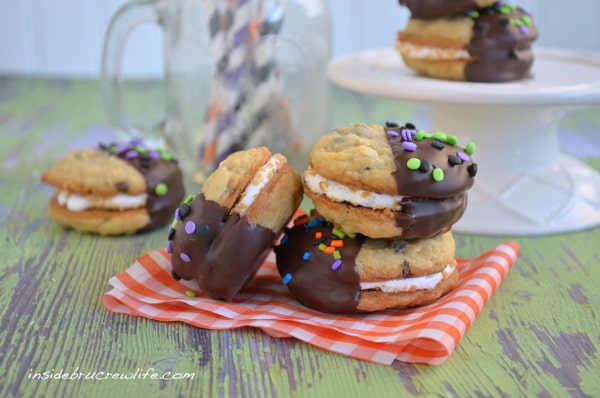 Coconut S'mores Pudding Sandwiches