Kraft's original Fantasy Fudge Recipe is a timeless treat that everyone loves. This easy no fail fudge is loaded with crunchy walnuts and has a smooth chocolate texture that melts in your mouth. Enjoy this sweet treat for any holiday.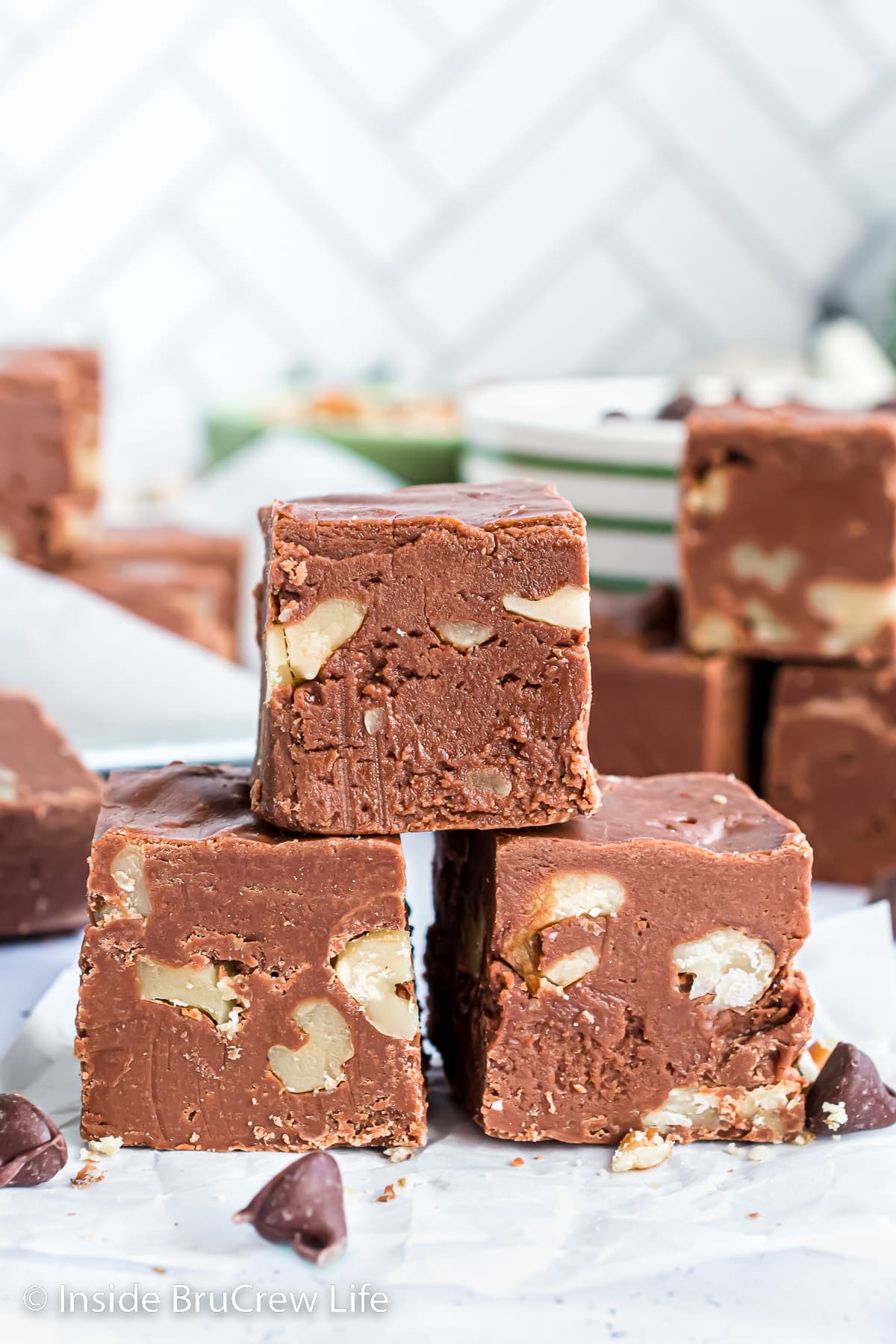 Jump to:
Fudge is honestly one of my favorite no bake treats to make when I'm short on time. A few that we make all the time are this cappuccino fudge and this banana fudge.
Recently, my mom gave me a box of old recipes that she had inherited from her great aunt. I was so excited to find a fantasy fudge recipe in the box.
Growing up I remember my aunt making this chocolate walnut fudge for holiday dinners. After all these years, I finally learned her secret ingredient - marshmallow creme.
Why Make this No Fail Fudge
The original fantasy fudge recipe was published on the back of Kraft Jet Puffed marshmallow creme jars years ago. It is a vintage recipe that brings back so many memories.
Make this easy fantasy fudge on the stove top or in the microwave.
The smooth and creamy fudge will literally melt in your mouth.
Adding walnuts to this no fail fudge gives it a delicious crunch and flavor.
Fudge is a great no bake dessert that you can make ahead of time.
Main Ingredients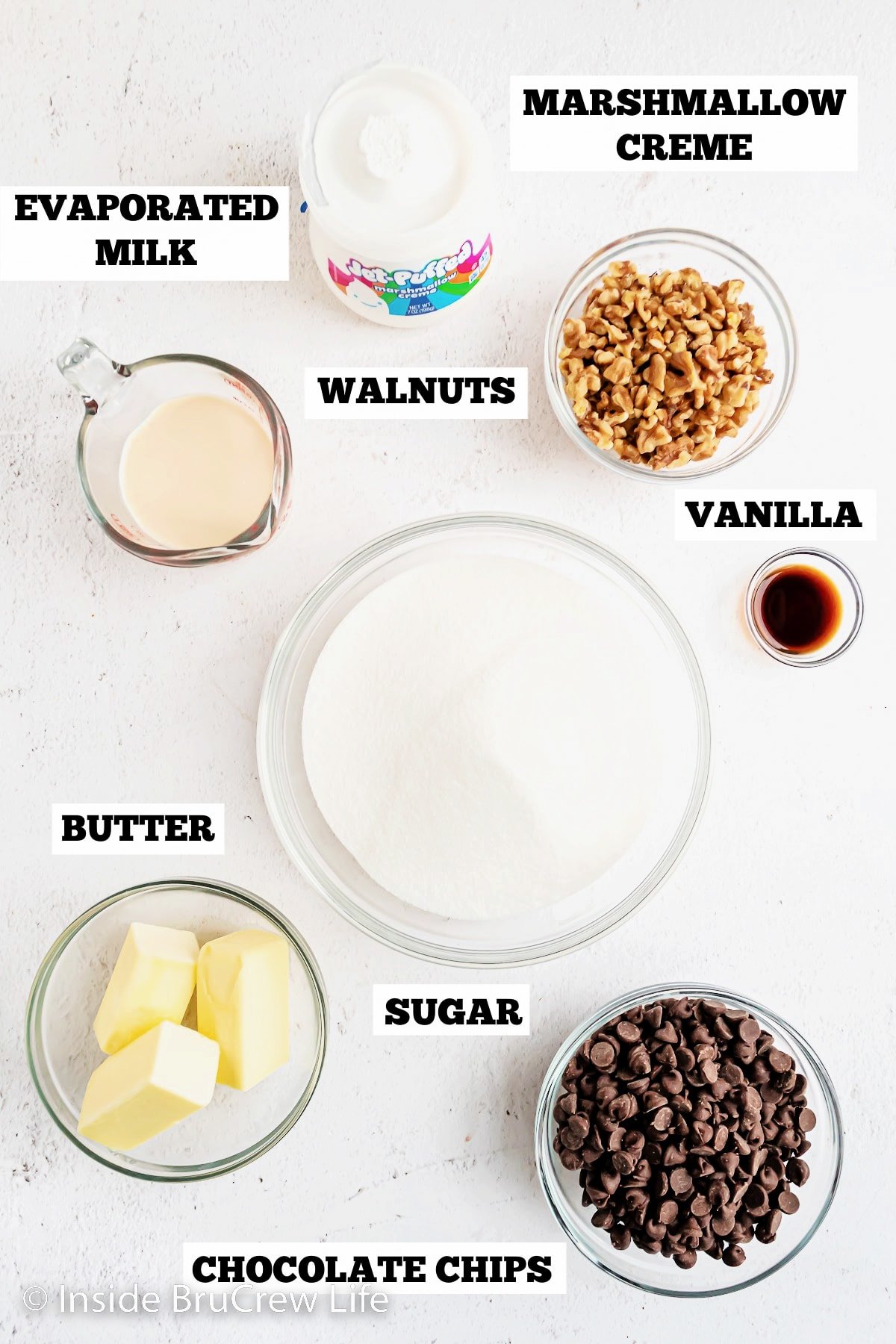 All you need are just a few simple ingredients and a heavy pan to make the original jet puffed fudge recipe.
Butter - The Kraft fudge recipe used margarine, but I prefer butter. Margarine has a higher water content which can cause your fudge to not set properly. Real butter is always the way to go because it gives the best flavor!
Sugar - For the absolute best results use granulated sugar. It will melt into the butter and milk to create a creamy mixture.
Evaporated Milk - It is very important that you use canned milk in this fudge recipe. You cannot use regular or sweetened condensed milk because they do not have the right texture.
Chocolate Chips - Use your favorite high quality chocolate for the best results and taste. We love Nestle Tollhouse and Ghirardelli for that reason.
Marshmallow Creme - The original recipe calls for the Kraft marshmallow creme. Fluff is another option. The marshmallow is what gives the fudge a creamy texture and helps it from crystalizing and becoming grainy.
Walnuts - This is totally optional, but we like the flavor and crunch that walnuts give this chocolate fudge recipe. You can also use almonds or pecans.
How To Make Fantasy Fudge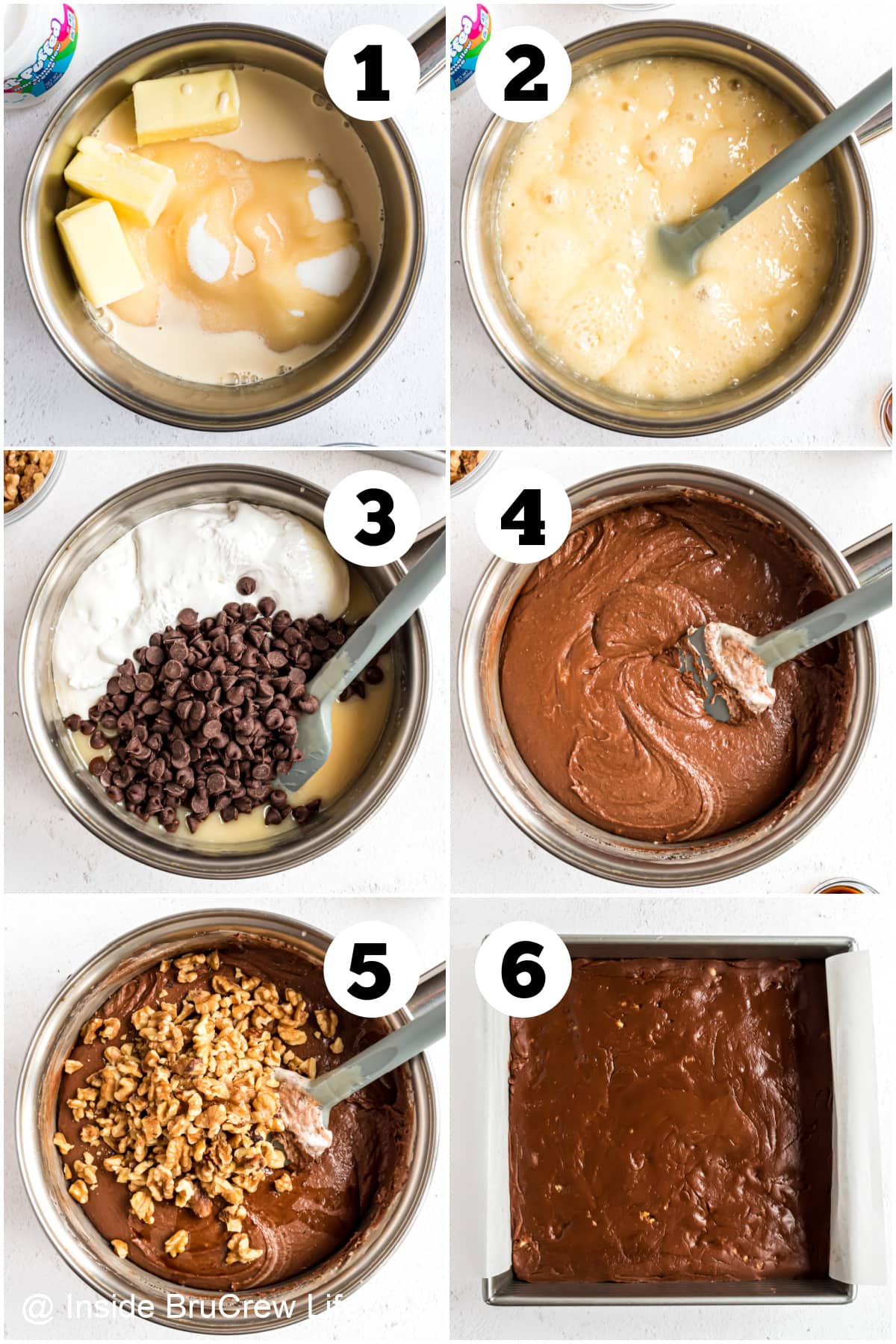 Fantasy fudge is really easy to make, but be sure to stir the boiling mixture constantly. This recipe will need your undivided attention for about 10 minutes.
Stir together the sugar, butter, and milk. In a heavy saucepan, heat the sugar, butter, and evaporated milk over medium-low heat until it boils. This can take around 10 minutes until it starts to fully boil.
Boil the fudge mixture. Let the mixture boil rapidly for 5 minutes while you stir it constantly.
Add chocolate and marshmallow. Remove the pan from the heat and add the chocolate chips and marshmallow creme.
Stir thoroughly. Stir the chocolate fudge mixture until there are no white streaks.
Stir in remaining ingredients. Gently fold in the chopped walnuts and vanilla extract.
Chill the fudge. Pour the hot fudge into a parchment lined 9x9 pan. Allow it to cool a few hours because you want it to be set before cutting into squares.
BruCrew Tip: Refrigerate the pan of fudge to speed up the setting process.
Storage Recommendations
Counter - Keep fantasy fudge in a covered container at room temperature for up to a week.
Refrigerator - Store the fudge in an airtight container in the refrigerator for 2 weeks.
Freezer - Tightly wrap the entire block of fudge in plastic wrap and place in an airtight container. Freeze for up to 3 months. Thaw it in the refrigerator overnight to help maintain the fudge consistency.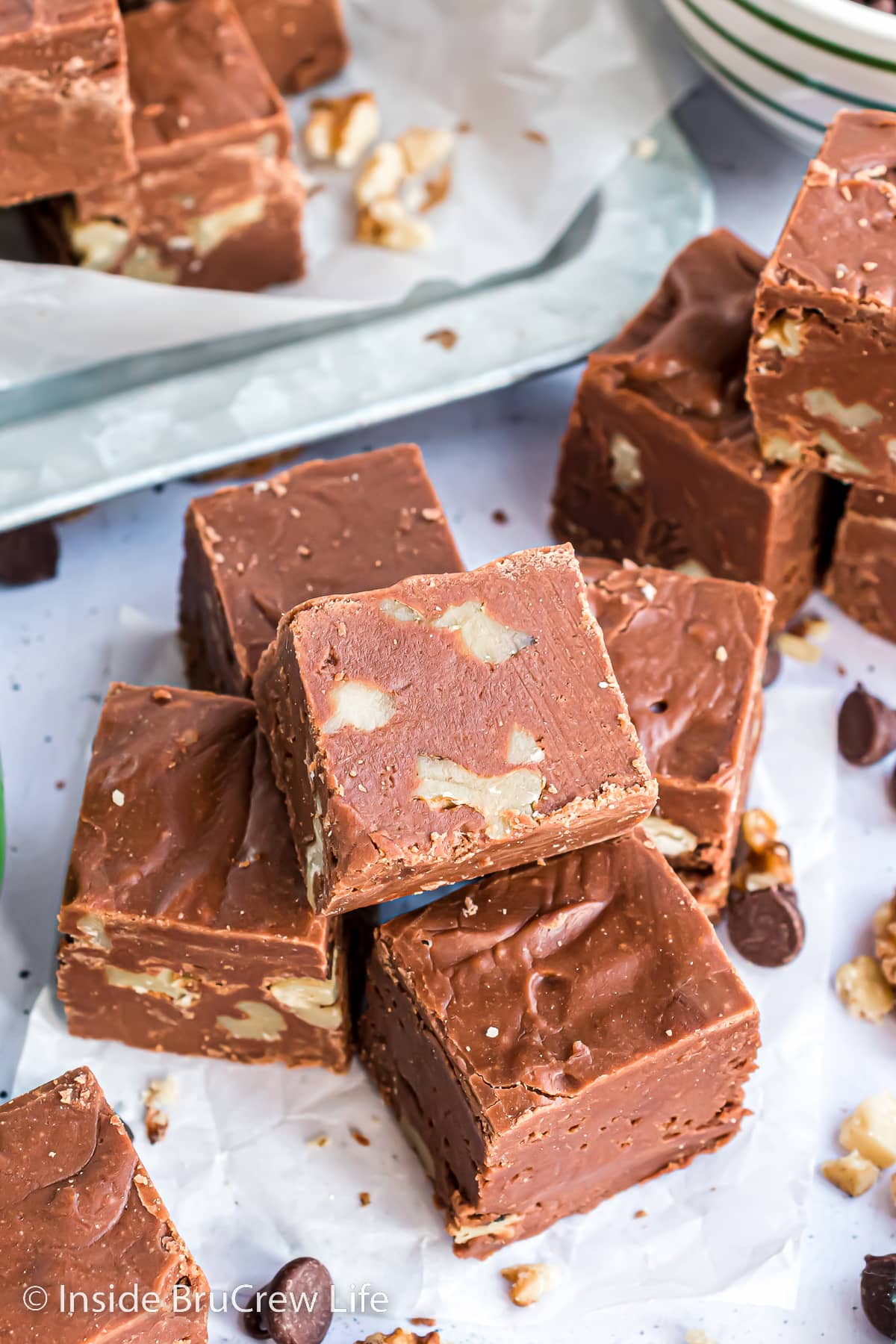 Tips and Tricks
Spread the marshmallow cream fudge in a 9x13 pan for thinner squares.
Toast the walnuts in a sauce pan or in the oven to bring out the flavor and oils in the nuts. This makes a big difference in the taste.
Have a nut allergy or don't like nuts? Feel free to leave them out of the recipe.
The original fantasy fudge recipe uses margarine. You could use that or the butter as directed.
The original recipe said to cook the mixture until the temperature was 234°. You can use a candy thermometer to check the temperature, however that isn't absolutely necessary.
Make sure to let the fudge mixture rapidly boil for 5 minutes exactly. If you are using a candy thermometer to monitor the mixture, it may take less time to reach 234°.
Use different flavors of chocolate chips or mix-ins because it is fun to create new and delicious fudge recipes like orange creamsicle fudge or pineapple upside-down cake fudge.
Recipe FAQs
What is fantasy fudge?
This was originally a jet puffed fudge recipe. It was on the back of their marshmallow fluff containers. The recipe was made with chocolate chips, marshmallow creme, and walnuts for a delicious consistency.
Why is my fudge grainy?
Fudge becomes grainy when the sugars crystalize. Constantly stir the fudge mixture while it is boiling. Once the 5 minutes is up, let it cool without moving it.
Can I make fantasy fudge in the microwave?
Yes! Microwave the butter until melted. Stir in the sugar and milk and microwave on high for 3 more minutes.

Stir and microwave for another 2 minutes. Stir again and then microwave for approximately 3 more minutes or until the temperature is 234°.

Add the chocolate chips and marshmallow and stir until melted and no white streaks remain. Spread in a pan and cool.
Why is my fudge too soft?
Soft fudge usually means the mixture was not boiled long enough for the liquid to reduce.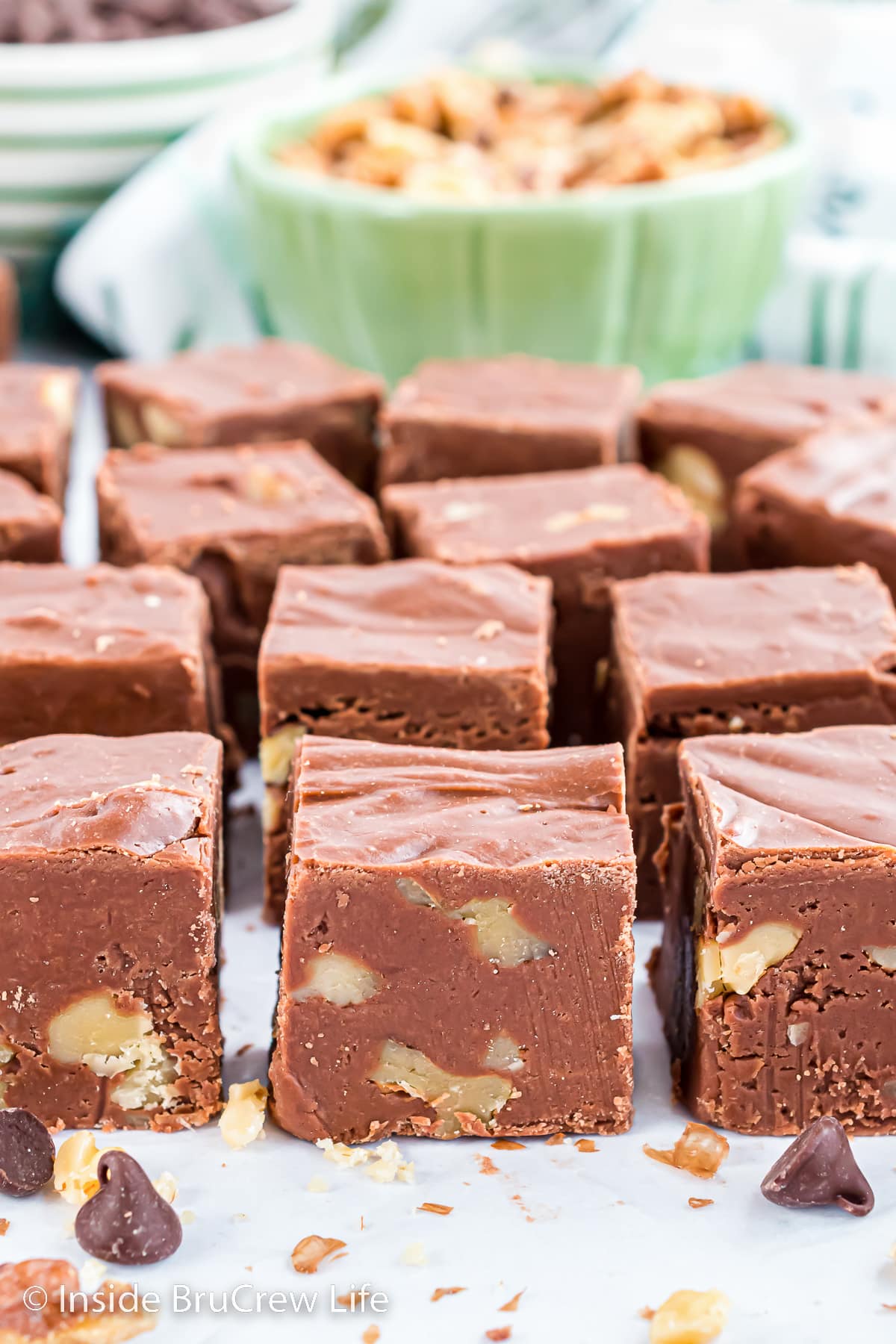 More Fudge Recipes
Do you love a recipe you tried from Inside BruCrew Life?
Please leave a 5-star ⭐️ rating and a review in the comments section below.