Layers of chocolate, candy canes, and mini marshmallows make this Candy Cane Hot Chocolate Fudge so fun to make and to eat. Package it in cute little boxes to give as little holiday gifts for friends.
*Be sure to sign up for the BruCrew email to get these recipes in your inbox each day.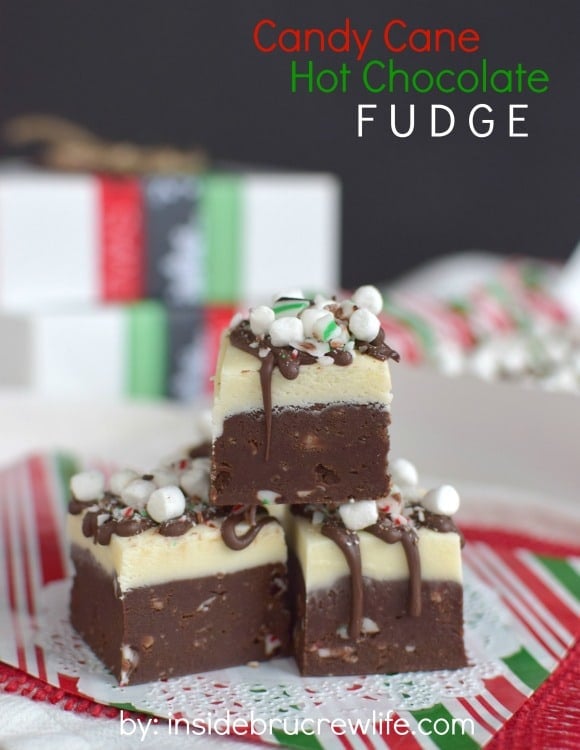 Are you as busy this time of year as me? It seems like every year we get so busy, and I tell myself that next year will be different. But here we are again with all the things of the holidays upon us, and I feel just as busy.
Cards to address, presents to buy, lights to put up, and some Chocolate Peppermint Fudge to make are just a few of the things I want to accomplish in the next week. Then maybe it will slow down and we will enjoy some family time together without all the busy-ness. I'm really looking forward to that!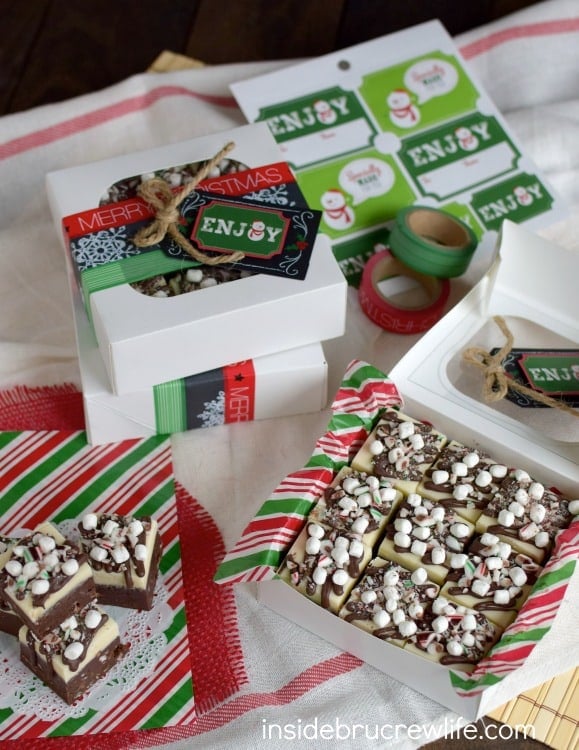 So this week was a rough one for me. My computer crashed!!! Taking with it all the photos that I had stored in iPhoto.
The past few days I have struggled with dealing with the loss of the computer and the pictures. It is tough, but I do know that they are just things. My family is all healthy, and we can make new memories and take new pictures. Losing one year of pictures is really not that big of a deal in the grand scheme of things. There are definitely worse things in life to lose! Although I did have a big ugly cry over the missing pictures…ok, it might have been a few cries, but I'm doing better about it now.
I must say that having delicious Candy Cane Hot Chocolate Fudge to eat does help when you are sad and mourning pictures of your cute kiddos that you will never see again.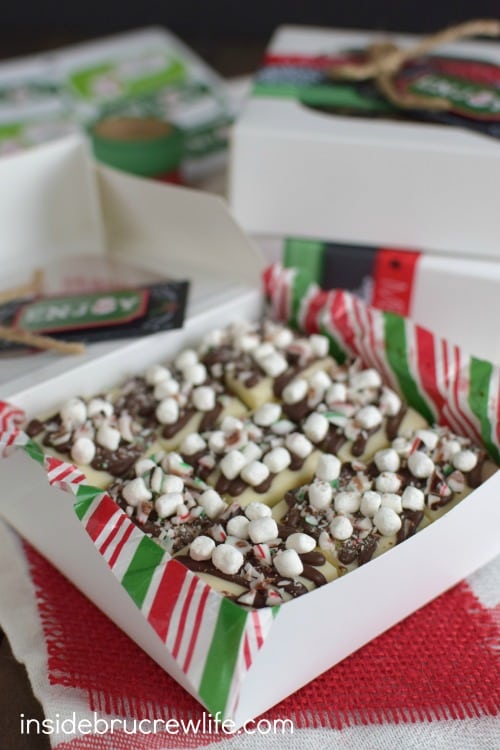 This fudge was made to mimi a hot chocolate drink. We love to drink our hot chocolate with a layer of Cool Whip, chocolate drizzles, and sprinkles. Well, it is the holidays and candy canes are everywhere, so I wanted to add a candy cane twist to the hot chocolate.
A layer of hot chocolate fudge with candy canes inside it, a layer of white chocolate fudge to resemble Cool Whip, and then chocolate drizzles, marshmallows, and more candy canes made this such a delicious little treat! And is is so pretty and eye catching too! It would look so pretty on all those holiday treat tables.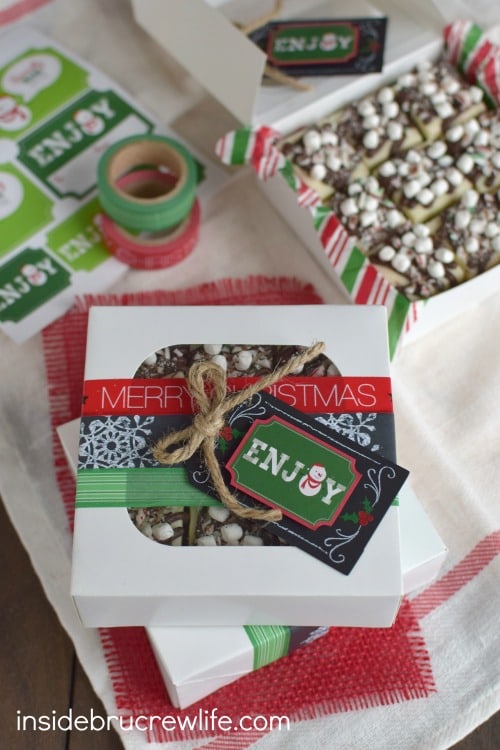 The last thing I did with the fudge was to decorate these Treat Boxes
with some washi tape, patterned paper, and a holiday gift tag. (I got most of the packaging at Michael's Craft Store)
The boxes are the perfect size to hold 9 squares of this Candy Cane Hot Chocolate Fudge. If you cut the batch of fudge into 36 squares, you can get 4 boxes of fudge to hand out to your friends.
Or save the boxes of fudge to help you get through your bad days. It's your call.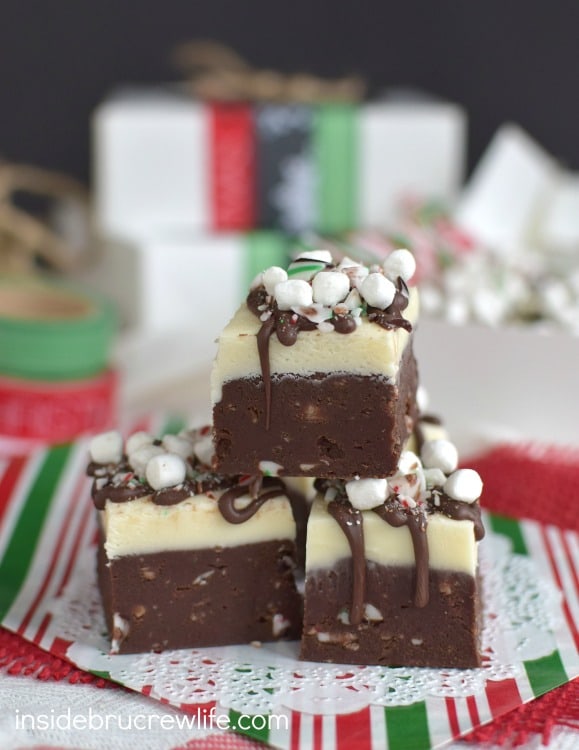 Stay up to date on all the BruCrew baking here:
FACEBOOK | PINTEREST | TWITTER | INSTAGRAM | BLOGLOVIN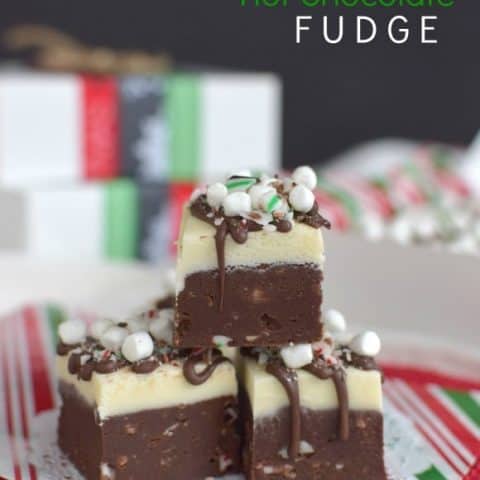 Candy Cane Hot Chocolate Fudge
Hot chocolate mix and candy canes makes this delicious layered fudge a fun treat to share at those holiday parties.
Ingredients
For the Hot Chocolate layer
1 Tablespoon butter
2 cups chocolate chips
2/3 cup sweetened condensed milk
1/3 cup powdered hot chocolate drink mix
2/3 cup marshmallow cream
1/2 cup crushed chocolate mint candy canes
For the White Chocolate layer
1 Tablespoon butter
1 cup white chocolate chips
1/3 cup sweetened condensed milk
1/3 cup marshmallow cream
For the topping
1/4 cup chocolate chips
1/2 teaspoon shortening
Kraft Marshmallow Bits
2-3 Tablespoons crushed candy canes
Instructions
Line an 8x8 pan with foil. Set aside.
Melt the butter, chocolate chips, and sweetened condensed milk in a sauce pan over low heat. Stir until melted and creamy.
Add the powdered hot chocolate mix and stir it in completely. Stir in the marshmallow cream until completely mixed in.
Let it cool 4-5 minutes before stirring in the crushed candy canes. Pour into the prepared pan right away. Place in the refrigerator while you prepare the next layer.
Place the butter, white chocolate chips, and sweetened condensed milk in a sauce pan over low heat until melted and creamy.
Add the marshmallow cream and stir until completely mixed in. Gently pour over the chocolate layer in the pan. Let set until cooled completely.
Remove the foil and fudge from the pan and cut into 36 even squares.
Melt the chocolate chips and shortening in a microwave safe bowl for 1 minute. Stir until melted and creamy.
Drizzle over the tops of the fudge and top with mini marshmallow bits and crushed candy canes. Store in a sealed container on the counter.
Nutrition Information:
Yield:

36
Serving Size:

1
Amount Per Serving:
Calories:

145
Total Fat:

7g
Saturated Fat:

4g
Trans Fat:

0g
Unsaturated Fat:

2g
Cholesterol:

7mg
Sodium:

28mg
Carbohydrates:

20g
Fiber:

1g
Sugar:

18g
Protein:

2g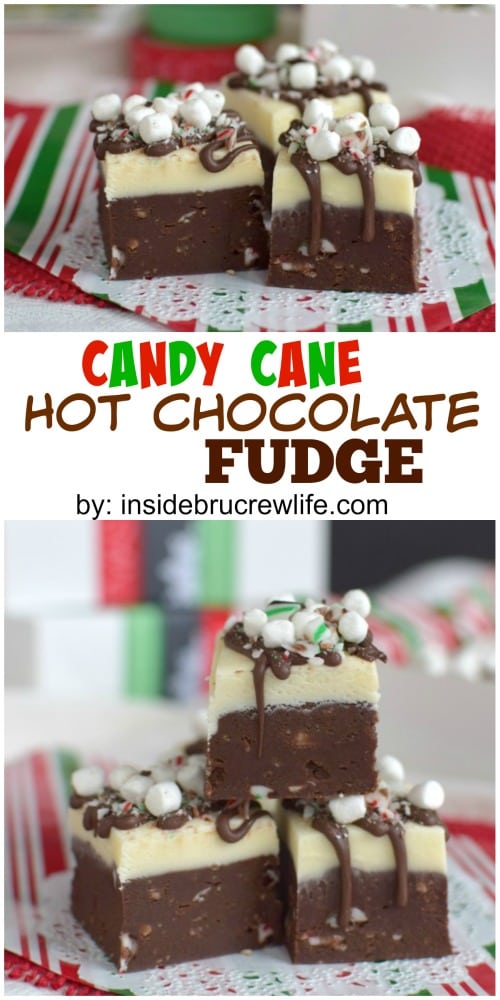 *This post does contain an affiliate link. Inside BruCrew Life receives a very small percentage of sales made through these links. Thank you for letting us share products we use this way.