This easy Nutella Pop Tarts recipe makes a fun breakfast treat. You will only need a few ingredients to make a homemade treat that looks and tastes better than the store bought version. Your family will be so impressed with your kitchen skills.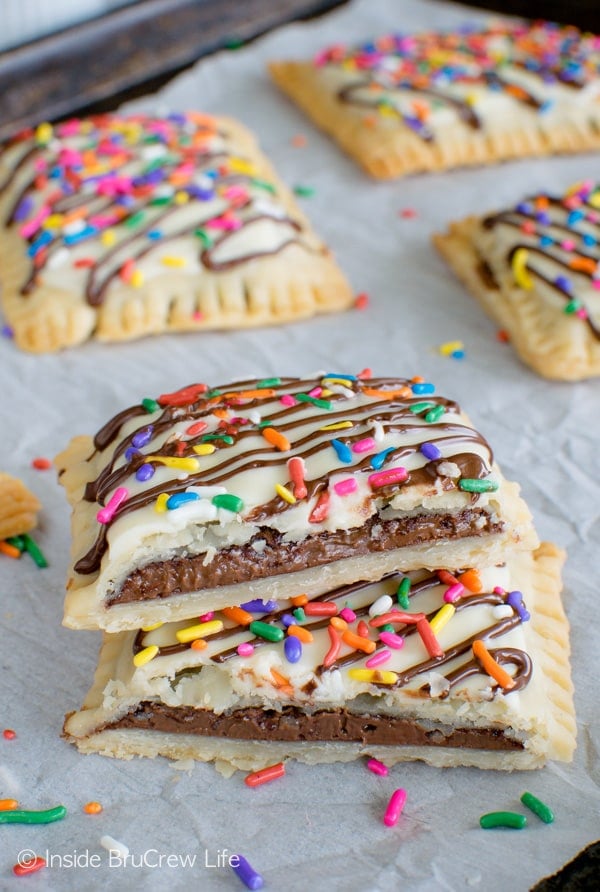 Nutella is one of my favorite foods to indulge in!!! Our cupboards are always full of the yummy, creamy, chocolatey goodness in a jar.
I can't believe it took me so long to get on the Nutella train. It's amazing in homemade pop tarts and Banana Nutella Quesadillas.
Or maybe just for eating with a spoon right from the jar. What??? You know you do it too! Wink, wink!
It is made with skim milk, so it has to be good for you, right?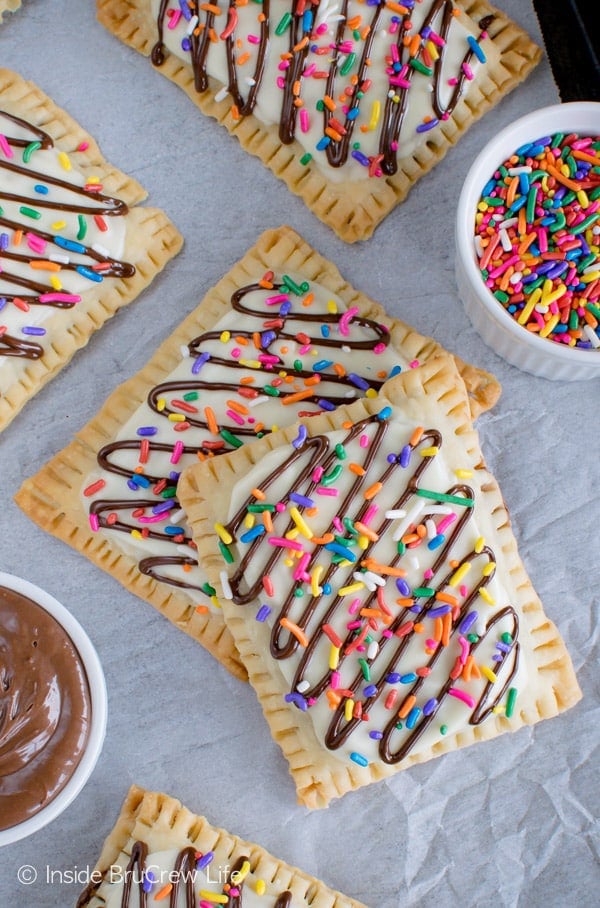 I grew up eating boxed pop tarts, and I actually still like them. Crazy, I know.
There is something so comforting about eating one for breakfast with a Coconut Nutella Latte or in the afternoon.
(my fav are the cookie dough ones...mmmmm)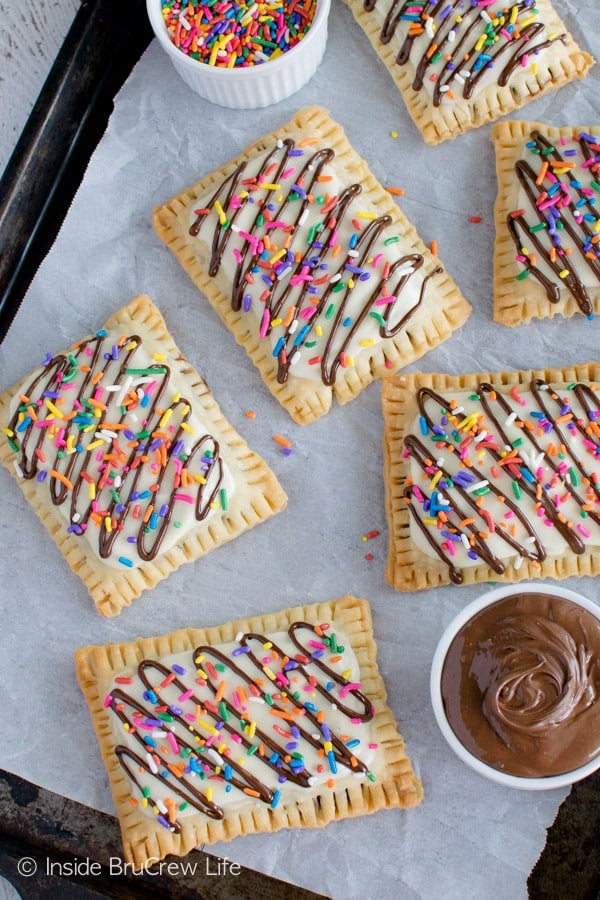 Our kids love these little breakfast goodies too.
They are the perfect grab and go snack for mornings when everyone is running a little behind.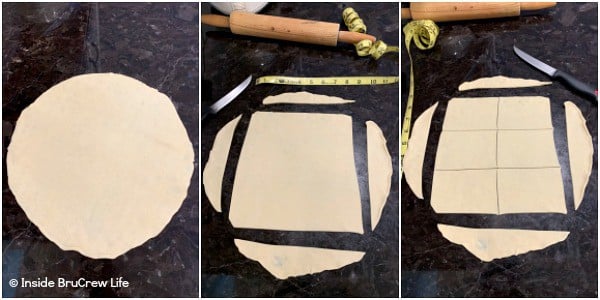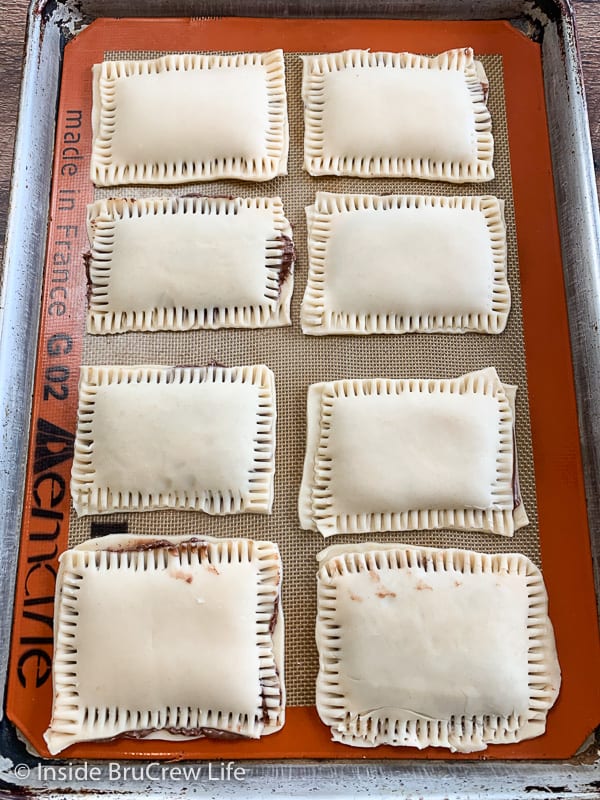 I decided to try making a homemade pop tarts stuffed with Nutella. Mainly because those were the few ingredients I had on hand.
How to make Nutella Pop Tarts:
Unroll the pie crust and cut each one into 8 rectangles for a total of 16. You may need to re-roll the dough to get enough.
Fill 8 of the rectangles with Nutella and top with the other 8 dough rectangles.
Use a fork to press together the edges before baking.
Let the pastries cool completely before topping them with melted white chocolate.
Chocolate drizzles and sprinkles made these fun breakfast treats look just like the originals. Our kids couldn't believe I actually made these tasty little Nutella pastries.
Score one point for mom in the kitchen!!!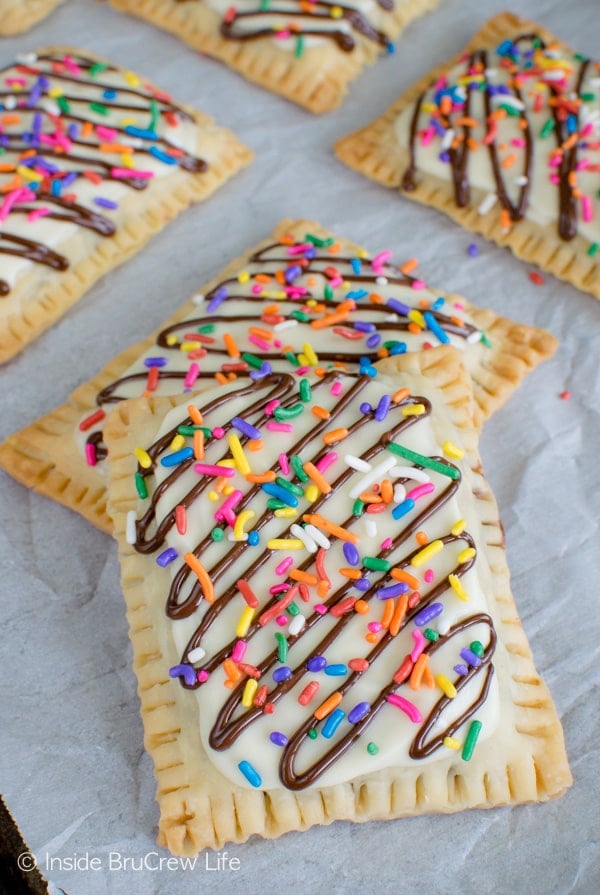 I see a whole lot more homemade pop tarts in our breakfast future!!! And I see lots of other fun flavors being tried too!!!
Other homemade pop tart flavors:
Cinnamon Apple
Blueberry
Strawberry
Brown Sugar
Cookies and Cream
How to store Pop Tarts:
Homemade pop tarts can be kept in an air tight container on the counter for 1-2 days. These are best eaten at room temperature. I do not recommend heating them up or the chocolate coating will melt.
You can also freeze homemade pop tarts. Once they are cooled, place in a freezer safe bag or container in layers separated with parchment paper. Freeze for up to one month.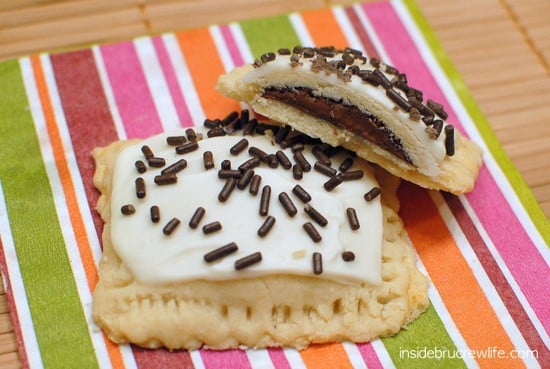 (original photo from August 2010)
More easy breakfast recipes you may like: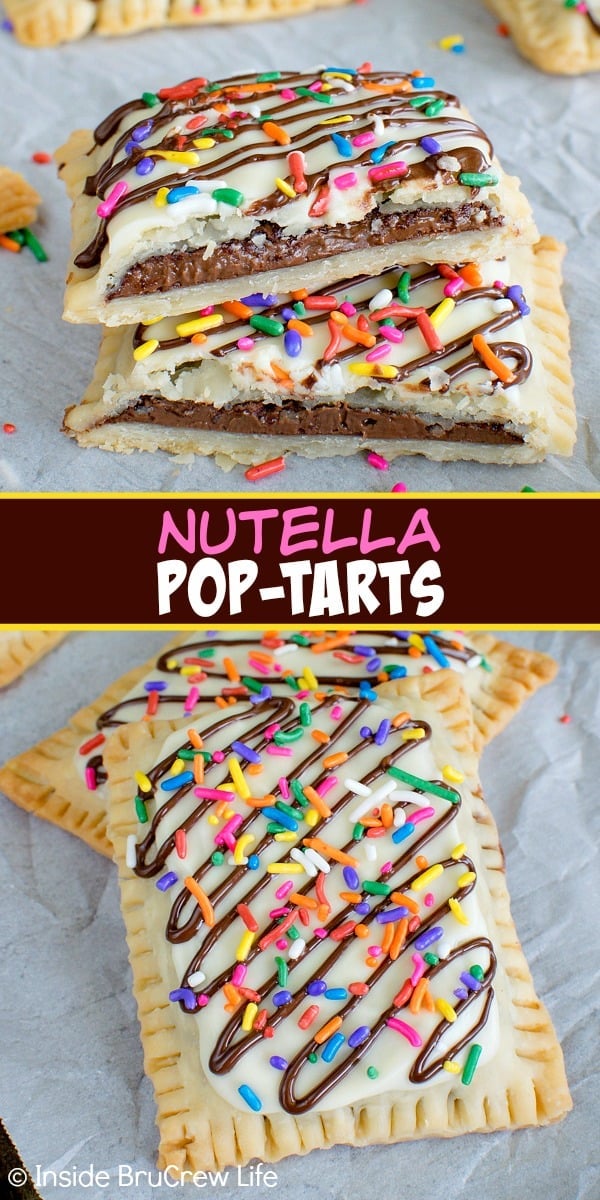 *The post for Nutella Pop Tarts was first published August 31, 2010. The photos were updated April 2016 and the post was updated and republished April 2020.