A pan of these easy Apple Butter Cinnamon Rolls makes a great breakfast or afternoon snack. It's like having a warm bite of fall on a plate.
*I am partnering with Musselman's this fall. As always, all thoughts and opinions are 100% my own.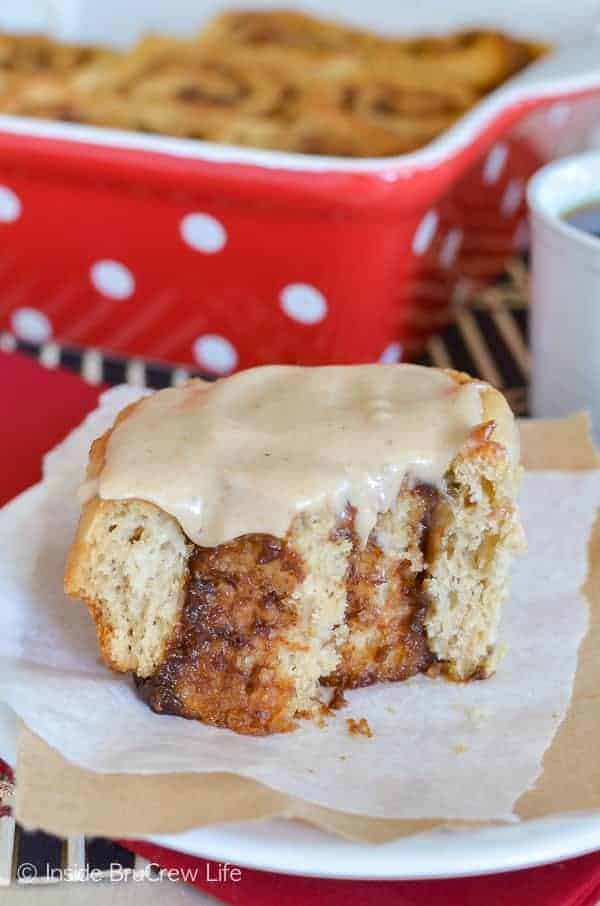 It's supposed to be fall here. Remember how I talked about how excited I was for the chilly weather, the changing leaves, and wearing sweatshirts?
The weather is not cooperating with my desire to be cold and have a cozy sweatshirt on. There were a few days this week when we had the windows open all night long and the house was chilly in the morning, so I got a little too excited and pulled out the sweatshirts.
Both days when I was sitting in the pick up line for school...in the 80* heat...I was seriously regretting my clothing choice. Never mind that I did that two days in a row.
I finally got smart to the fact that we are in the middle of a heat wave, and I wore a t-shirt to our son's soccer game yesterday. An hour and a half of sitting in the sun with a sweatshirt would have definitely distracted me from the game.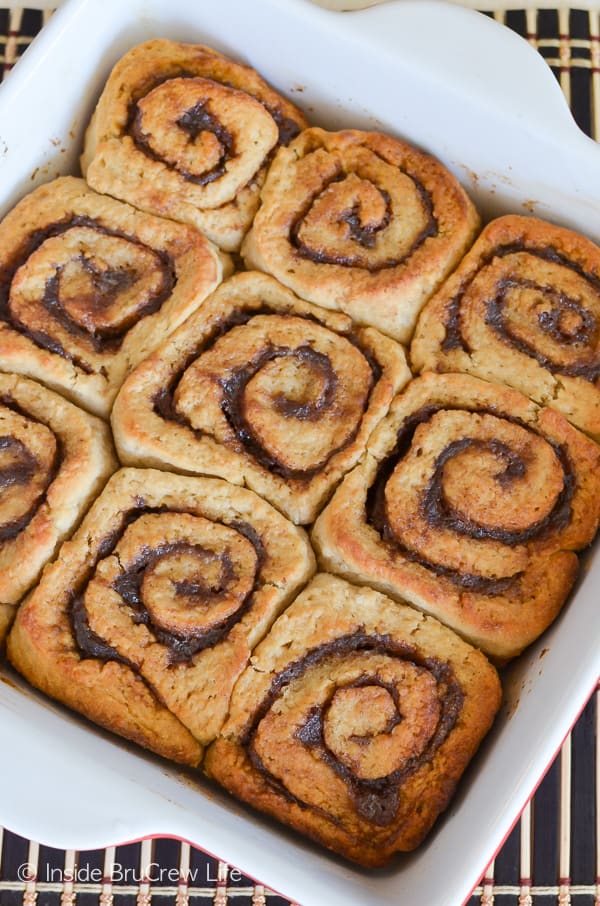 Until our weather decides to cooperate with the calendar, I will just dream of all things fall.
I have fall candles burning in my house, pumpkin decorations in my living room, Apple Butter Cinnamon Rolls in my oven, and the air conditioner cranked to a nice chilly 72 degrees.
Take that summer. I can beat you at this game.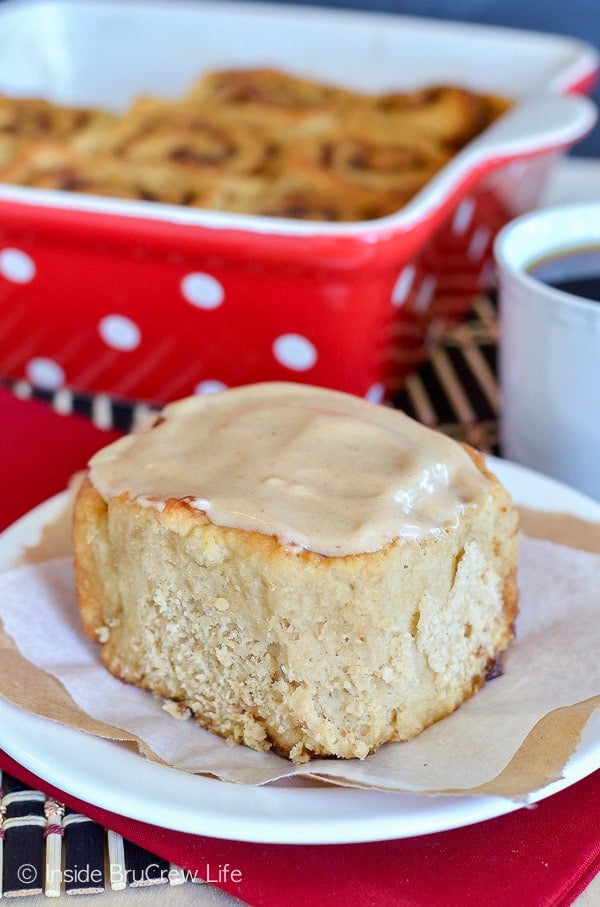 This fall Musselman's contacted me again to create an apple butter spin on a classic recipe.
I remember growing up eating apple butter on toast when I was little. Warm bread coated in melted butter and spicy apple butter is definitely a breakfast to get excited about. I just can't get enough of that stuff!
Apple butter is applesauce that has been slowly cooked down into a caramelized thick spread. The smell while it is cooking is absolutely amazing. It will fill your house with a spicy apple orchard kind of a feeling.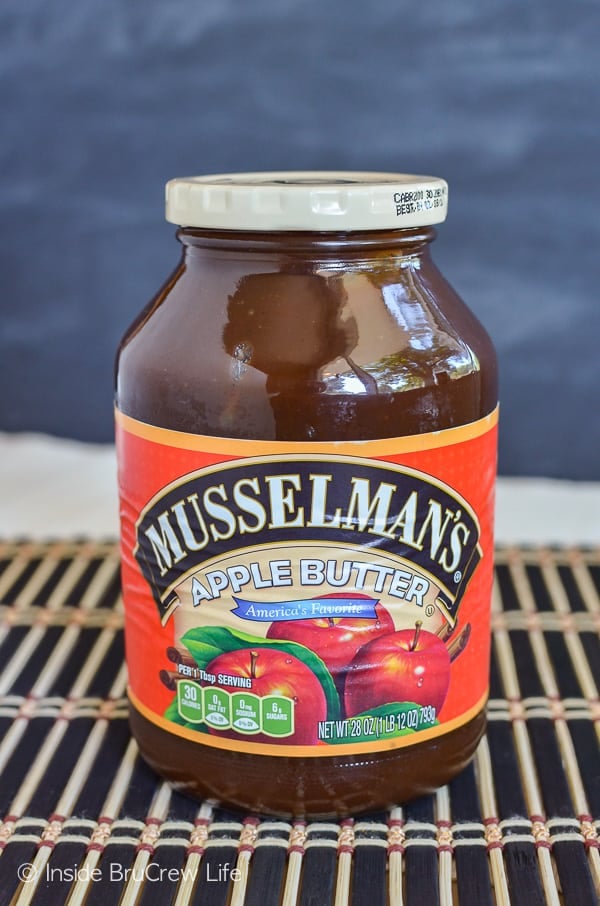 I do love to eat apple butter and toast, but I also love to bake with it. Last year I made this Apple Butter Cake that I am thinking needs to happen again with my leftover jar of apple butter.
When I was trying to decide on what sweet treat I wanted to share with you that was full of apple butter taste, I kept thinking about the classic cinnamon roll. I decided to use my recipe for these Mocha Chip Cinnamon Rolls and change it up with apple butter.
These easy cinnamon rolls can be made, rolled, and baked in about 40 minutes. That's what I like to hear when I am craving homemade cinnamon rolls.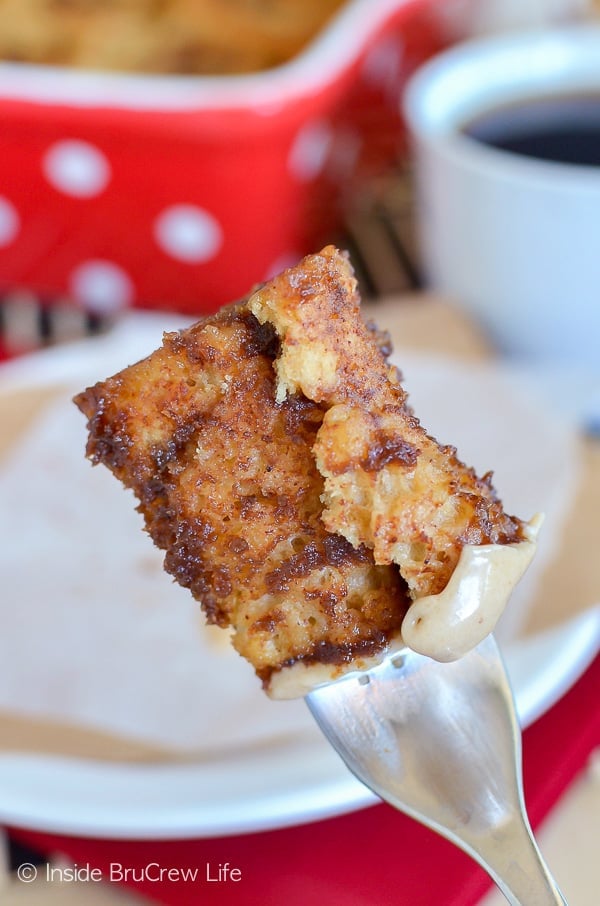 How to make Apple Butter Cinnamon Rolls
I cut back on the butter milk in the recipe and substituted apple butter. I wanted these rolls to have apple butter shining through in every element.
Pat the dough out on your counter or table. Now the dough is going to be sticky, but don't worry. Keep a layer of flour between the dough and your work space. Go ahead and knead the dough with some flour just to make it workable.
Pat the dough out with your hands to form a 10x14 rectangle, trying to keep it as even as possible all over.
Time to add some more apple butter. Spread a layer of apple butter over the dough, making sure not to go all the way to the edges.
Sprinkle that with a little bit of sugar and cinnamon. Usually I use more for my filling, but I knew that I didn't want to overwhelm the apple butter.
Start to roll up the dough from the shortest side. It will stick to your counter, so use a butter knife to gently loosen it as you go. Cut the roll into 9 even pieces and place them in a pan that has a thin layer of melted butter in the bottom.
20 minutes in the oven and these rolls will be a nice golden brown. Pull the pan out to cool slightly while you make the apple butter glaze. I told you I wanted these rolls to be full of apple butter goodness. I would say I accomplished that by having apple butter in all three elements of these cinnamon rolls.
Who else is ready for chilly weather and apple butter on everything?
More Uses for Apple Butter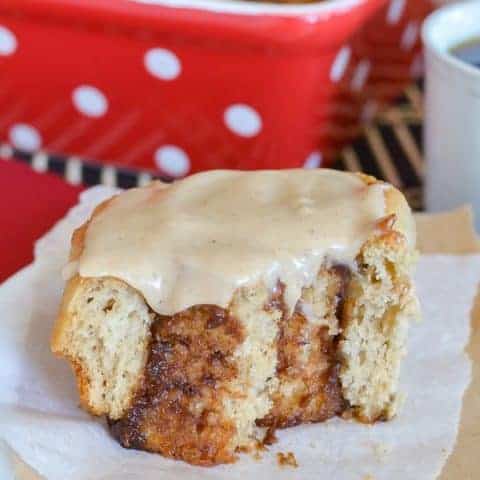 Apple Butter Cinnamon Rolls
These soft Apple Butter Cinnamon Rolls are a delicious and sweet breakfast for fall mornings.
Ingredients
For the Dough
2 ½ cups flour
2 Tablespoons sugar
1 ½ teaspoons baking powder
½ teaspoon baking soda
½ teaspoon salt
1 cup buttermilk
¼ cup Musselman's Apple Butter
5 Tablespoons melted butter, divided
For the Filling
6 Tablespoons Musselman's Apple Butter
⅓ cup brown sugar
2 Tablespoons sugar
1 teaspoon cinnamon
For the Glaze
4 ounces cream cheese, softened
1 cup powdered sugar
2 Tablespoons Musselman's Apple Butter
Instructions
Preheat the oven to 425 degrees.
Sift together the flour, sugar, baking powder, baking soda, and salt.
Create a well in the center and pour in the buttermilk, apple butter, and 4 Tablespoons melted butter. Slowly beat on low with a mixer until a soft dough forms. You can also use a fork.
Place the dough ball on a floured surface and knead a few times to make the dough more manageable. The dough is very sticky.
Pat out the dough to form a 10x14 rectangle, making sure to keep flour underneath and to keep it evenly patted out.
Spread the apple butter over the dough, making sure to not go all the way to the edges.
Mix together the brown sugar, sugar, and cinnamon and sprinkle over the apple butter.
Gently and slowly start to roll up from the shortest side. The dough may stick to your work surface, so use a butter knife to gently loosen the dough as you roll.
Cut a very small piece of each end to even it up. Cut the dough roll into 9 even pieces.
Place the rolls cut side down into an 10x10 pan that has been coated with 1 Tablespoon melted butter. Bake for 20 minutes. Remove from the oven.
Beat together the cream cheese, powdered sugar, and apple butter until creamy. Spread over the slightly cooled rolls. Serve immediately. Keep uneaten rolls refrigerated. Can be warmed in the microwave for 30-40 seconds to eat the next day.

*BruCrew Life was sent a jar of apple butter and compensated to develop a recipe for Musselman's. All opinions in this post are 100% my own.