These no yeast Banana Nut Cinnamon Rolls can be made and on the table in under 45 minutes. Banana and nuts gives these easy rolls a fun banana bread flavor.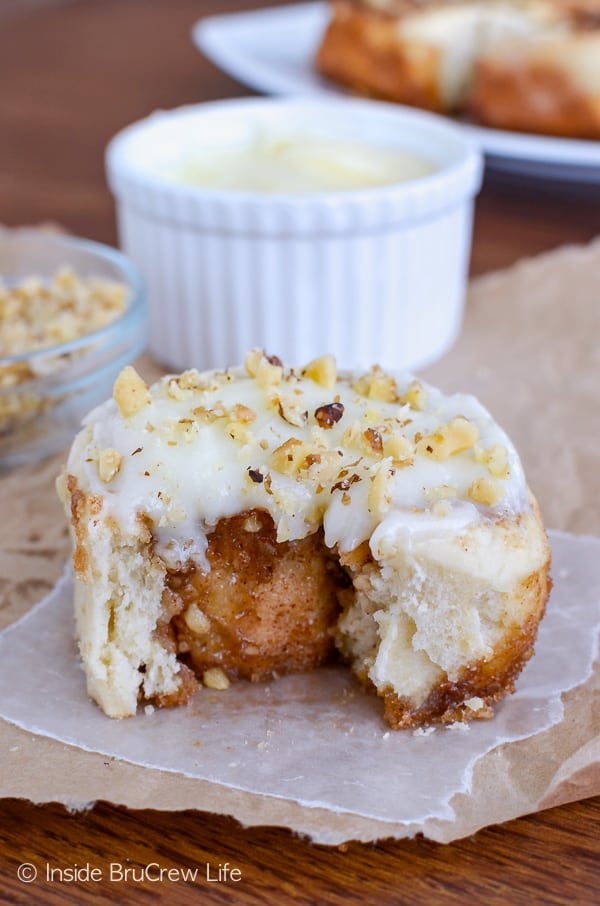 CLICK HERE TO PIN THIS RECIPE FOR LATER!
I have come to realize that the one ingredient that I use the most in my baking are bananas. Muffins, donuts, breads, cakes, cupcakes! And the list goes on and on.
Now if you have been reading for any length of time, you know that I cannot stand to eat ripe bananas. Seriously, I won't touch them with a 6 foot pole once they turn yellow.
Hello, my name is Jocelyn, and I prefer to eat my bananas green and crunchy. Seriously, the bananas have to crunch when I open the peel.
Yes, I know I'm strange. My hubby tells me that every single time he sees me eating green bananas.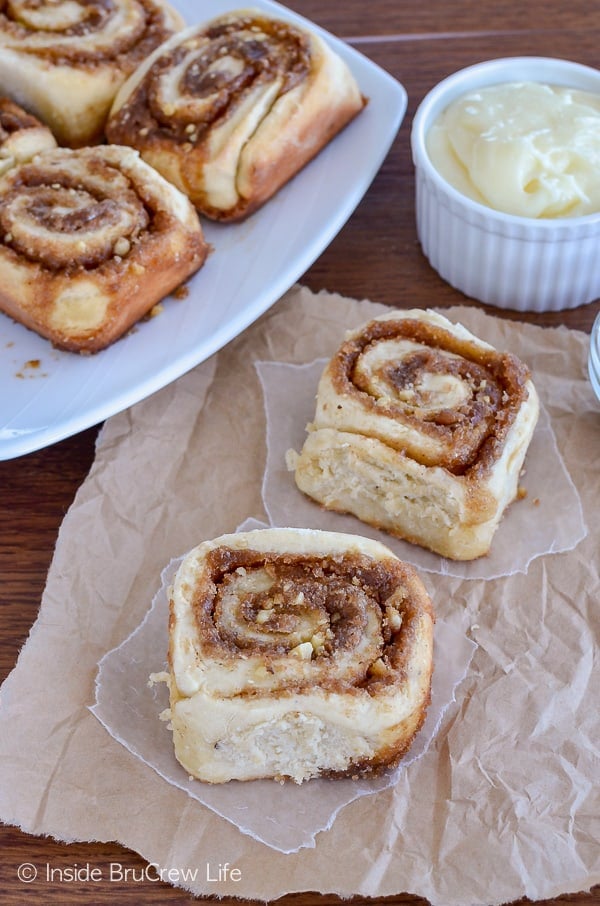 Once those bananas start to get yellow and a few brown spots, I know that I will be baking with them in a few days. That is if everyone else doesn't eat them first.
You see, everyone else in my family is fairly normal because they eat ripe bananas. So it becomes a race against time.
I see the ripening bananas and start to get ideas on what delicious recipe they will go into next. Best Banana Cake, anyone? The family sees the bananas and thinks snack and lunch.
I have gotten smarter over the years because now I buy two bunches of bananas every week. One very green bunch and one just barely ripe bunch.
By the time the very green bunch ripens, my family has had their fill of bananas for the week. I know that extra bunch of bananas will still be sitting there turning brown and spotty. They will be perfect in a few more days for some easy banana recipes.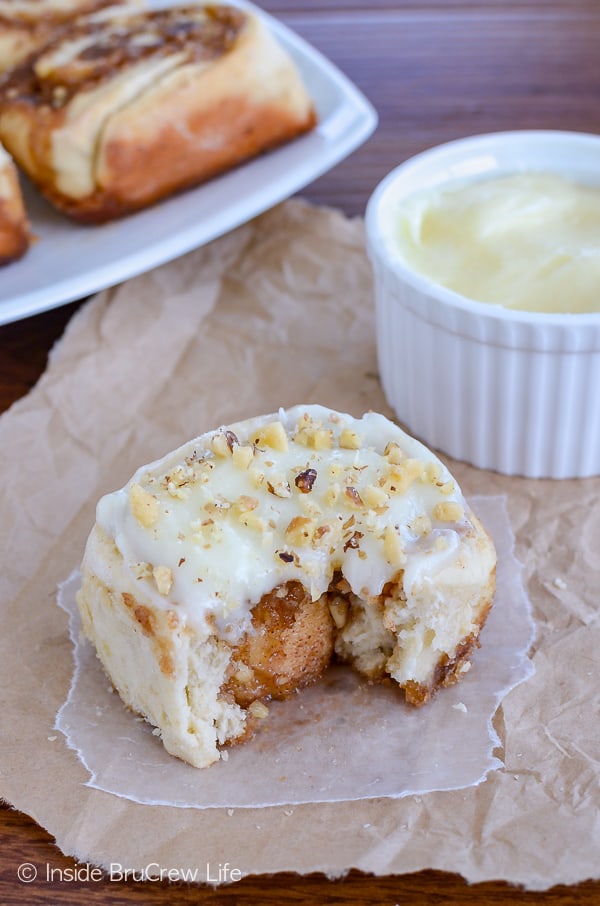 These no yeast banana bread cinnamon rolls were the perfect way to incorporate some ripe fruit. I had so many brown bananas all at once that I made a few new recipes recently.
And I still have bananas coming out of my ears. Time to freeze the rest for Peanut Butter Banana Ice Cream.
Are you ready for some banana goodness? Let's get started with these banana cinnamon rolls and a batch of these Banana Pancakes for breakfast this weekend.
Start by mixing together your cinnamon filling. If you and your family likes nuts, include some in the filling and reserve the rest for the topping. If you or someone in your family has a tree nut allergy, leave the nuts out!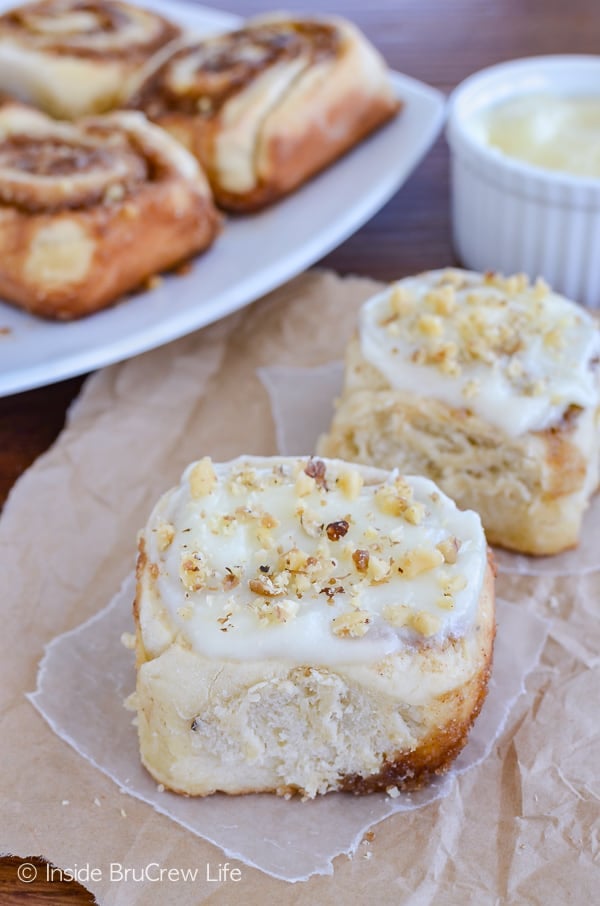 Tips for making Banana Nut Cinnamon Rolls:
This dough comes together so easily. Put all the dry ingredients in a bowl and stir with a fork.
Add the buttermilk, bananas, and melted butter and continue to stir with your fork until a soft dough forms.
Once the dough comes together into a soft ball, you will turn it out onto a floured surface and knead it a FEW times. Do not knead too many times because too much flour will make the dough tough. You want soft fluffy rolls to enjoy hot from the oven.
Press and roll the dough out with your fingers gently. It will have some elasticity to it, so just keep working it gently until you get it into a 10″ x 14″ rectangle.
Brush melted butter on top and add the cinnamon filling. Make sure you do not spread the cinnamon sugar all the way to the edges. Leave a 1 inch border all around.
Carefully roll the dough and sugar up. The dough may stick to the counter if you do not have enough flour under it. It's ok. Use a butter knife or flat edge spatula to loosen the roll if this happens.
Finish rolling it up and cut the dough log into 9 even rolls. Place in a buttered pan and pour more butter on top.
Bake for about 18-20 minutes. This is just enough time for you to clean up the flour mess you have made in the kitchen. Oh, maybe that's just me that makes a big mess when baking.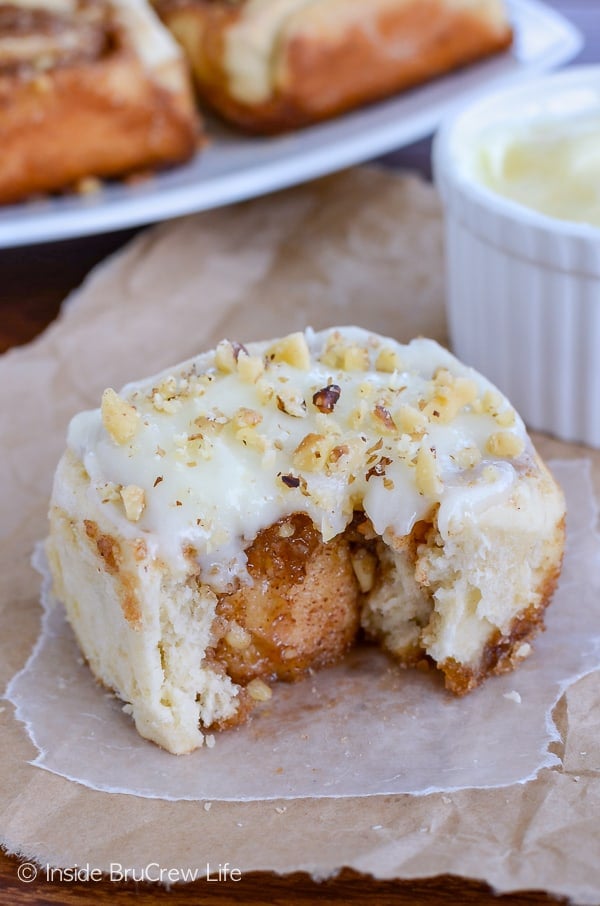 Banana Bread Rolls with Cream Cheese Frosting
Mix up your frosting while you are waiting too. You want to be ready to slather it on the warm rolls when they come out of the oven.
cream cheese
powdered sugar
milk
vanilla
Stir in the cream cheese, powdered sugar, milk, and vanilla until it is creamy. Spread it on top of the warm rolls and sprinkle on some extra nuts.
Time to sit down and relax with your coffee and warm cinnamon rolls. Go ahead and have some extra Banana Nut Cinnamon Rolls because I know you want to!
What to make when you have lots of bananas: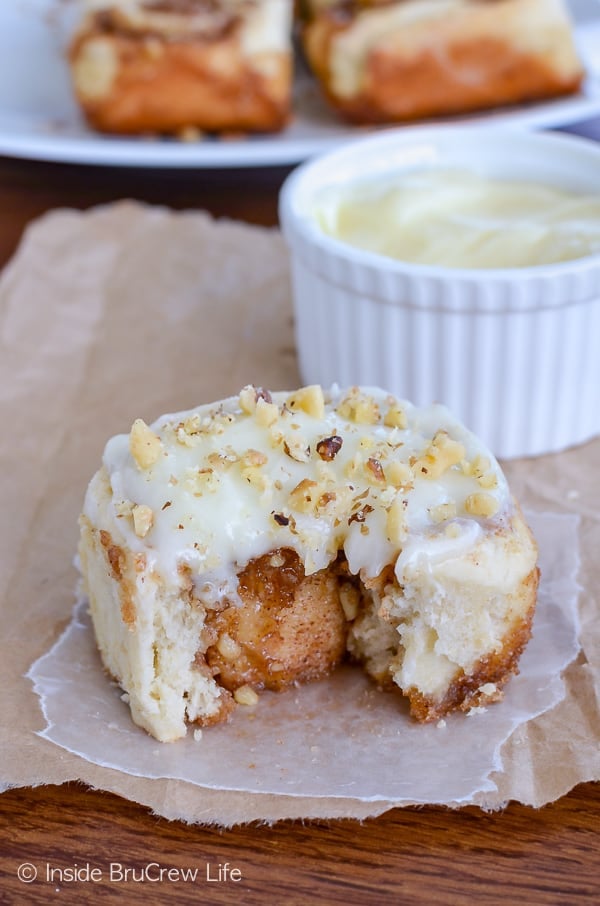 Connect more with Inside BruCrew Life!
Follow us on social media, so you never miss a post.
Email Subscription | Facebook | Pinterest | Twitter | Bloglovin
I also created a fun new Facebook group, and I would love for you to join. It's a group where you can share your favorite recipes, ask questions, share photos, and see what's new with the BruCrew. If you would like to check it out, you can request to join HERE.
Be sure to follow me on Instagram and tag #brucrewlifebaking, so I can see all the Inside BruCrew Life recipes you are making.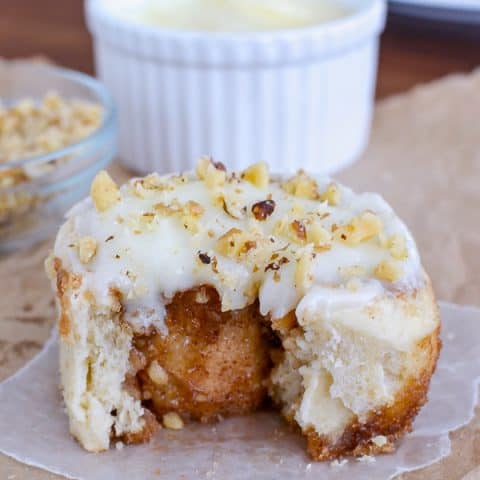 Banana Nut Cinnamon Rolls
These easy no yeast Banana Nut Cinnamon Rolls are a great way to have breakfast on the table in under 45 minutes. The banana flavor really shines through and make the dough sweet and soft.
Ingredients
For the Cinnamon Filling
3/4 cup brown sugar
1/4 cup sugar
2 teaspoons cinnamon
1/4 teaspoon nutmeg
1/4 cup finely chopped walnuts
1 Tablespoon, butter, melted
For the Rolls
2 3/4 cups flour
2 Tablespoons sugar
1 1/2 teaspoons baking powder
1 1/2 teaspoons baking soda
1/2 teaspoon salt
1/2 cup mashed banana (1 banana)
7 Tablespoons butter, melted and divided
3/4 cup buttermilk
For the Cream Cheese Frosting
4 ounces cream cheese, softened
1 cup powdered sugar
1 teaspoon milk
1/4 teaspoon vanilla extract
1/4 cup finely chopped walnuts (optional)
Instructions
Preheat the oven to 425 degrees. Spread 1 Tablespoon butter in an 8x8 pan.
Mix together the filling ingredients until they resemble sand. Set aside.
Sift together the dry ingredients. Create a well in the center of the flour.
Add the buttermilk, banana, and 2 Tablespoons melted butter. Mix with a fork until a soft dough forms.
Turn the dough out onto a floured surface. Knead a few times, but do not over mix or the dough will get tough.
Press the dough out with your fingers into a 10" by 14" rectangle.
Spread 2 Tablespoons melted butter over the dough. Sprinkle with the cinnamon filling, leaving 1/2 inch on all sides.
Roll up gently from the shortest end. Use a spatula or butter knife to loosen the roll if the dough sticks to the counter.
Cut a small piece off each end to even it up. Cut the roll into 9 even slices.
Place the rolls in the prepared pan.
Drizzle the rolls with the last 2 Tablespoons of melted butter. Bake for 18-20 minutes.
Let cool for a few minutes.
Stir together the frosting ingredients. Serve the rolls warm with frosting and extra nuts, if desired.
Notes
*Leave the nuts out if you or a family member has a tree nut allergy.
Nutrition Information:
Yield:

9
Serving Size:

1
Amount Per Serving:
Calories:

477
Total Fat:

20g
Saturated Fat:

10g
Trans Fat:

0g
Unsaturated Fat:

8g
Cholesterol:

41mg
Sodium:

574mg
Carbohydrates:

71g
Fiber:

2g
Sugar:

38g
Protein:

7g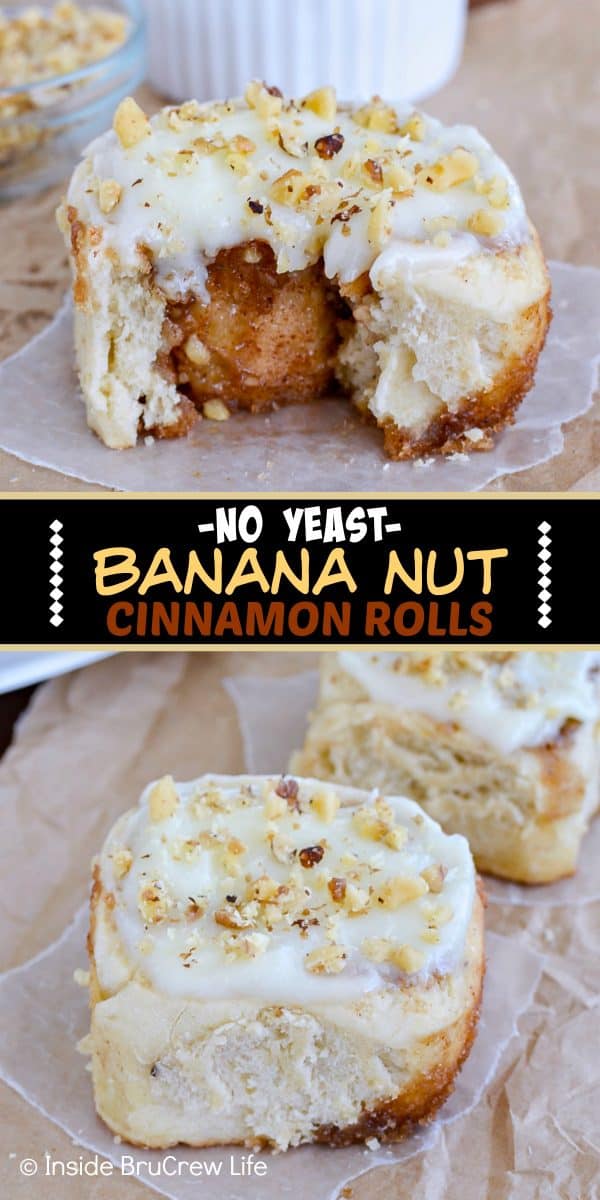 *The recipe for Banana Nut Cinnamon Rolls was originally published on February 23, 2014. The post and pictures have been updated and republished on January 11, 2019.