The sweet chocolate glaze and sprinkles gives these easy baked Chocolate Chip Pumpkin Donuts a fun flair. These are the perfect fall breakfast for any day of the week.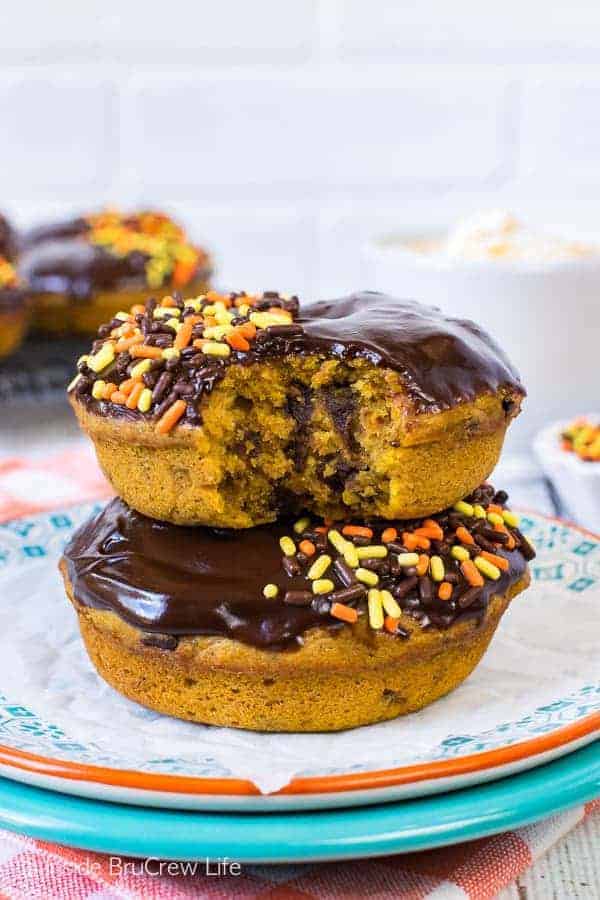 CLICK HERE TO PIN THIS RECIPE FOR LATER!
I'm slowly winning my family over to the pumpkin side. You see I love pumpkin treats, so every fall I go a little bonkers in the kitchen making pumpkin inspired goodies. Our oldest son loves pumpkin too, so he and I usually devour said goodies.
But now that he is away at college, it's all up to me to continue the pumpkin fest. My plan is to continue making things like pumpkin Oreo cheesecake and cinnamon roll pumpkin cake until I convert another pumpkin lover.
And my diabolical plan is working! Mwhwhahahah! Yes, that was totally an evil laugh right there. You see, I decided that I needed more pumpkin donuts in my life last week. Let's call it a veggie craving...yeah, that's what it was. Wink, wink!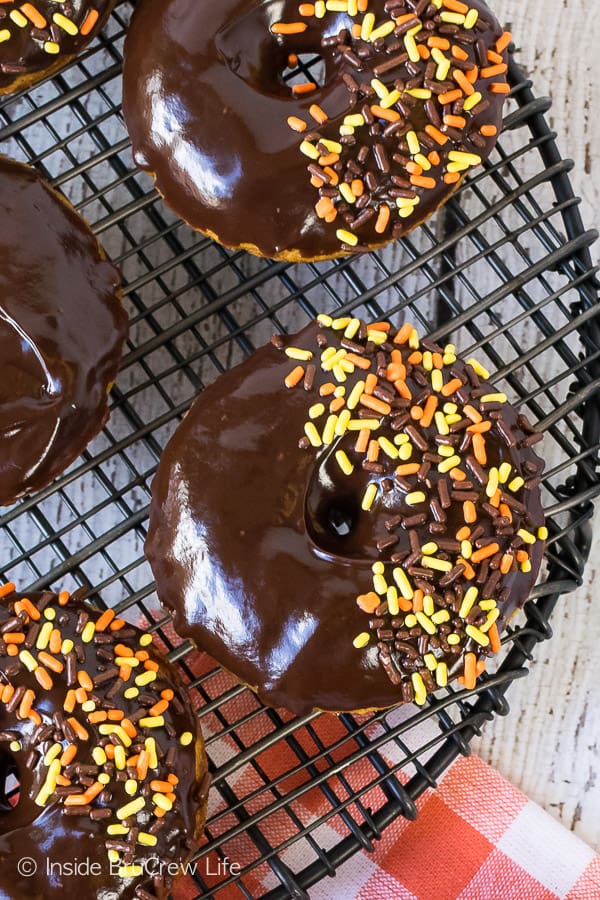 I have decided to convince my daughter first that pumpkin is amazing. She loves chocolate. I mean she is my daughter after all. So, I added mini chocolate chips and a sweet chocolate glaze to the top of my creation in order to lure her into trying a donut after school.
And it worked!!! She took a bite and turned around with wide eyes and said they were amazing! I then told her that they were pumpkin, and she has decided that she likes pumpkin as long as it has chocolate with it.
Baby steps! I'll get her to a full blown pure pumpkin obsession with a few more treats! In fact, she has already requested another batch of these chocolate chip pumpkin donuts, so I think she is close.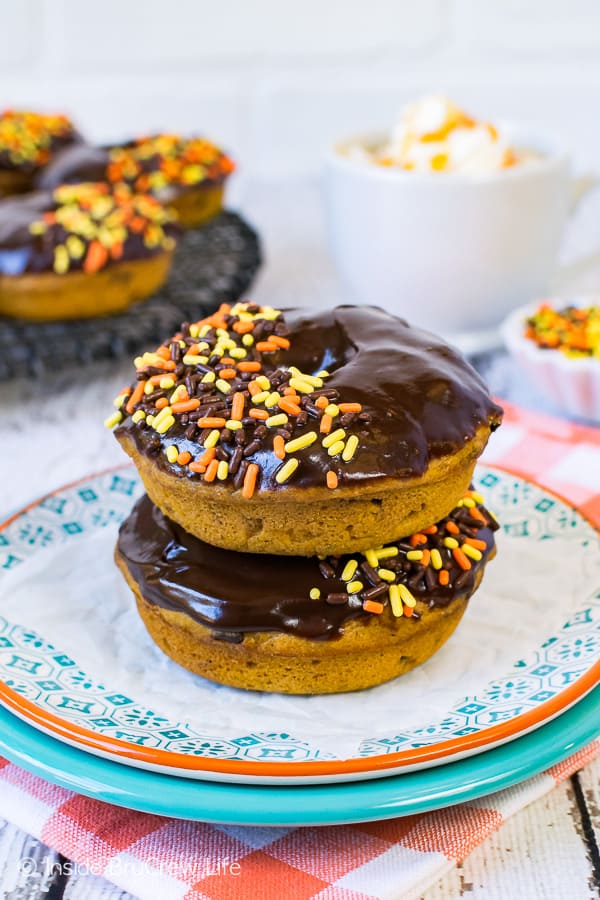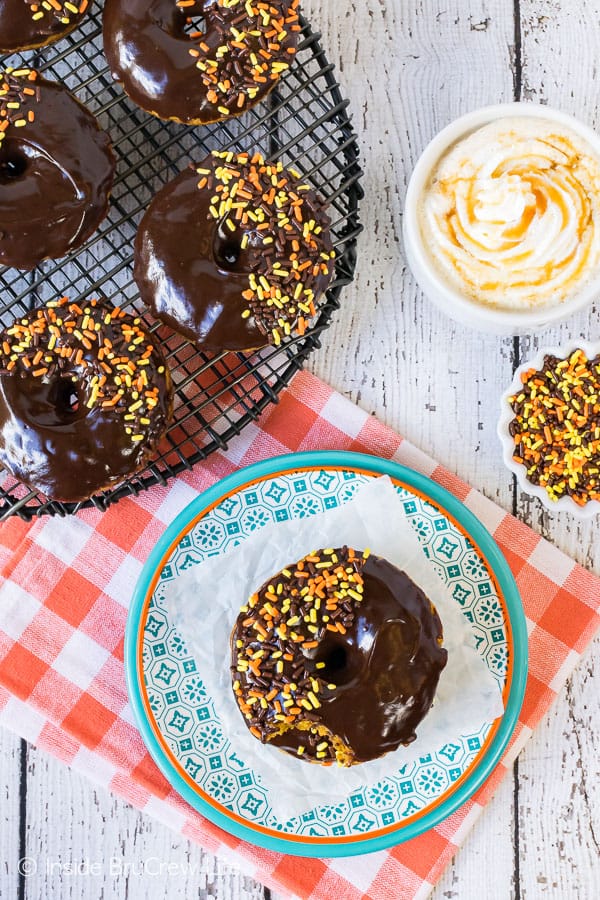 Here are a few tips, so that you can have your own batch of chocolate chip pumpkin donuts today.
Set your butter out ahead of time. It is so much easier to cream butter and sugar when it is room temperature.
Do not over beat your donut batter. Just mix everything until combined.
Spray your donut pan with a good dose of nonstick spray. (I like to use Bakers Joy.) You do not want to leave any part of the donut behind after they bake.
Fill the donut cavities completely full. This recipe only makes 12 donuts. If it is easier, divide your batter in half before you start filling the pan.
After the donuts bake, let them cool in the pan for another few minutes. This just gives them time to set up before you lift them out gently with a butter knife.
Let the donuts cool on a wire rack completely before glazing them.
Dip the tops of the donuts in the chocolate and add sprinkles while the chocolate is wet. Sprinkles are optional, but really why leave them off, right?
Enjoy a few of these donuts with a salted caramel pumpkin latte this afternoon. It's a great way to relax.
Looking for more ways to indulge in pumpkin treats? You have to check out a few of these recipes that I found. Look how soft and delicious these bakery pumpkin cookies look. I would love to dunk a few in milk. This pumpkin coffee cake looks like the perfect weekend breakfast! It's a must make for sure. And I am absolutely dying over this death by chocolate pumpkin bread. I need a slice of that goodness in my life ASAP!!!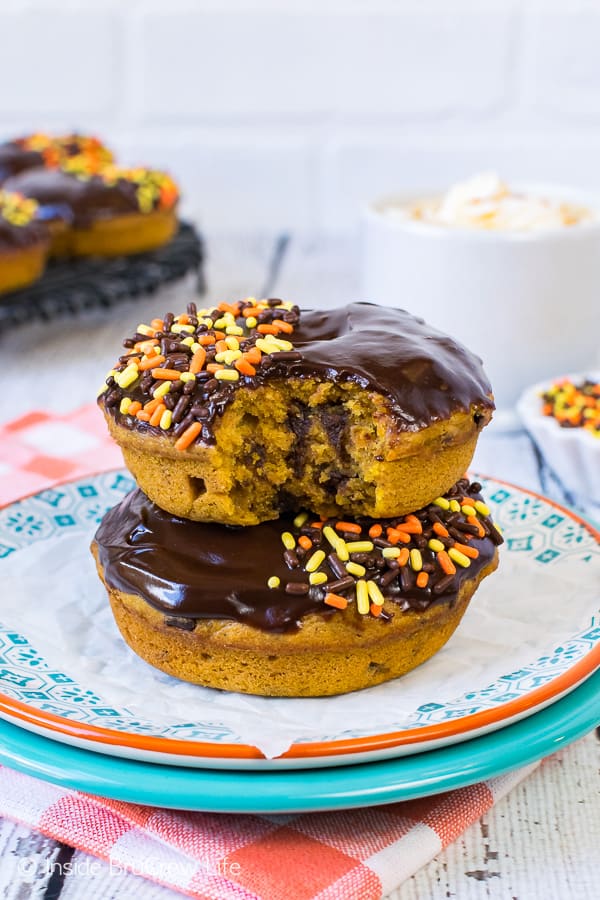 Stay up to date on all the BruCrew baking here:
FACEBOOK | PINTEREST | TWITTER | INSTAGRAM | BLOGLOVIN
Sign up to receive an email in your inbox for each new recipe:
EMAIL SUBSCRIPTION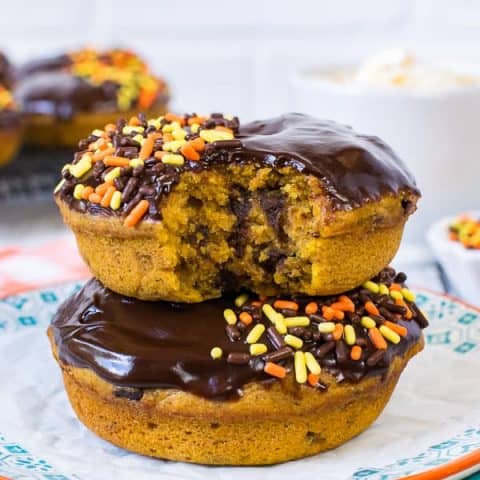 Chocolate Chip Pumpkin Donuts
The sweet chocolate glaze and sprinkles gives these easy baked Chocolate Chip Pumpkin Donuts a fun flair. These are the perfect fall breakfast for any day of the week.
Ingredients
For the Donuts
½ cup unsalted butter, softened
⅔ cup brown sugar
1 egg
1 cup pumpkin
⅔ cup sour cream
2 teaspoons cinnamon
½ teaspoon nutmeg
1 teaspoon baking powder
½ teaspoon baking soda
1 teaspoon salt
2 cups flour
1 cup mini chocolate chips
For the Glaze
½ cup semisweet chocolate chips
3 Tablespoons heavy whipping cream
sprinkles
Instructions
Preheat the oven to 375 degrees. Spray a donut pan with nonstick baking spray.
Beat the butter and sugar until creamy. Add the egg, pumpkin, and sour cream and beat again.
Stir together the cinnamon, nutmeg, baking powder, baking soda, salt, and flour. Slowly beat it into the pumpkin mixture.
Stir in the chocolate chips gently.
Divide the batter in half. Spoon half the batter into the prepared donut pan. The cavities will be full. Bake for 15 minutes.
Remove the pan from the oven and let the donuts sit for 2-3 minutes in the pan before removing them gently with a butter knife. Place on a wire rack to cool completely.
Wipe the donut pan out with a paper towel, and then spray it again. Fill it with the remaining batter. and bake again.
Place the chocolate chips and heavy whipping cream in a microwave safe bowl. Heat for 30 seconds. Stir until creamy.
Dip the tops of the donuts in the chocolate and top with sprinkles while wet. Let set completely. Store in a tightly sealed container.
Recommended Products
As an Amazon Associate and member of other affiliate programs, I earn from qualifying purchases.
Nutrition Information:
Yield:

12
Serving Size:

1
Amount Per Serving:
Calories:

339
Total Fat:

19g
Saturated Fat:

11g
Trans Fat:

0g
Unsaturated Fat:

6g
Cholesterol:

48mg
Sodium:

287mg
Carbohydrates:

42g
Fiber:

2g
Sugar:

23g
Protein:

4g

*This post contains affiliate links. We may receive a small percentage from sales made through these links. As always, these links are free to you and do not cost you any extra. Thank you for letting us share products we use this way.